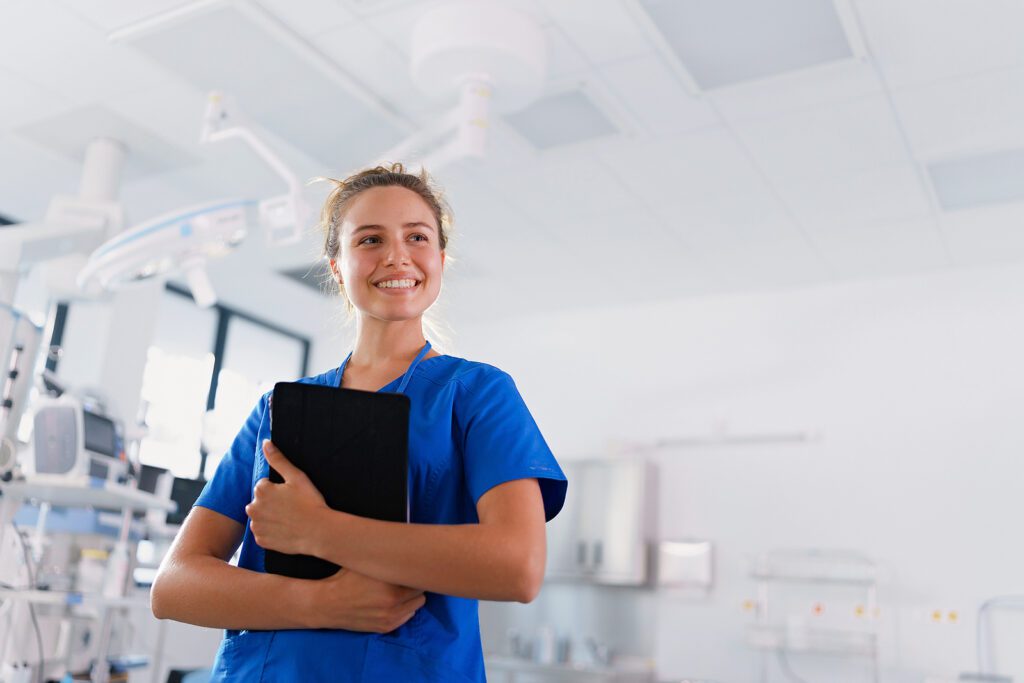 There are many paths to a career in nursing. Since a licensed practical nurse provides basic care, the educational requirements are not as extensive as that of a registered nurse. The benefit here is that you can commence practice as part of the health care team in 12 months or less. The role of a practical nurse may be rewarding in itself but there are some limitations – especially if you thrive on challenges. The role and responsibility of a practical nurse are limited compared to that of a registered nurse. LPNs and registered nurses share some common duties but RNs are trained to manage more complex medical issues. RNs assess patients to develop patient care plans, record and update patient medical history, draw urine and blood samples, and take directions from physicians. They are trained to think critically and exercise clinical judgment for the best interest of their patients. Registered nursing requires a degree (an associate's degree at minimum or a diploma in some states) while practical nursing calls for a one-year certificate. Due to their advanced training registered nurses earn more – as much as 42%- than practical nurses. Fortunately, you can climb the ladder of success and reap the benefits of registered nursing by enrolling in an LPN to RN bridge program. These programs bridge the gap to the associate degree allowing you to prepare for licensure and practice as a registered nurse in just one year.
Educational Requirements
Completing an LPN to RN bridge program is one way to develop your nursing skills, enhance your career potential, and bring your career goals within reach. But what really is an LPN to RN bridge program? It fills in the educational gap required for a registered nursing degree and includes preparation for success on the registered nursing licensure exam. Passing the NCLEX for Registered Nurses is a requirement for practice as a registered nurse in all states. The program builds on your prior education and experience in nursing so you can start your career as a registered nurse in 12 months or less. You will receive credit for your previous education based on the school's evaluation of your transcripts. The amount of credit received depends on the courses completed, the school's policy, and your success on a transition course. The final allocation of credits awarded is typically awarded at the conclusion of the bridge program.
Like the traditional RN program, the LPN to RN program includes theory, hands-on practice, and a clinical externship to develop skills as a registered nurse. Some colleges in North Carolina do not have a standalone LPN to RN program but facilitate an entry-point for practical nurses to enter the RN program at the second year based on the award of advanced standing credits. The second-year coursework emphasizes those skills that are critical to success as a registered nurse including critical thinking, evidence-based practice, medical surgical nursing, mental health, leadership, family nursing, and transition to registered nursing practice.
If finding a program that will let you study while maintaining your work schedule is a concern, you might want to consider a program with flexible scheduling options. There are several part-time programs in North Carolina. Some programs also offer a hybrid option so you'll have the opportunity to complete some of the coursework online. There may not be much flexibility in the clinical component of the program, so you must be prepared to align your schedule to fulfil this requirement.
At the conclusion of the LPN to RN program you will be eligible to sit for the NCLEX for Registered Nurses. Moreover, you will be qualified for positions in hospitals, outpatient facilities, urgent care centers, clinics, and others. You will also be qualified to work in a healthcare specialty of your choosing. These include geriatric care, emergency care, oncology, family practice, pediatrics, maternity, to name a few.
Eligibility Requirements
The LPN to RN program is open only to a licensed practical nurse or one who has completed a practical nursing program and plan to pursue licensure before a specified point in the program. Practical nursing students are admitted conditionally until they complete the prerequisite coursework and obtain licensure from the Board of Nursing after passing the NCLEX-PN exam. While work experience as a practical nursing is not a requirement for some programs, others require a minimum of one year's practice as an LPN. These are the more intensive programs that offer a fast-track to success as a registered nurse. Programs that admit LPNs in the second year of a traditional associate degree program are extremely space-limited, admitting only a few students for each cycle. If you are considering admission to a program like this, you must meet or exceed all the listed requirements to have the best chance of selection.
Some of the basic requirements for admission to a LPN to RN program include:
Must have an active, unencumbered practical nurse license in North Carolina
Must have experience as a practical nurse
Must have current healthcare provider CPR/BLS certification
Must be in good physical and mental health
Must have and maintain health insurance
Must have graduated from an accredited practical nursing program
Must meet criminal background check and drug screen requirements
Practical nursing graduates may apply to the program but must complete the requirements for licensure before the start of the first semester.
Duration and Cost
If you're nervous about the cost of nursing school, it is with good reason. The cost of education has most likely doubled or tripled since you were last enrolled. Your practical nursing education provides a good head start that will reduce your overall cost of earning the registered nursing degree. The bridge program reduces the completion time by one year thereby reducing the total cost of tuition. Attending a community college is another way to keep costs down. Community colleges cost an average of 57 percent less than private universities. The average cost of completing one year of nursing at community colleges in North Carolina is $6,800. Apart from the direct tuition cost, you must also factor the cost for books, uniforms, transportation, supplies, licensure exam, and state board application. The total cost of the program can vary quite a bit depending on where you live. If you are serious about keeping your costs low, you might consider moving to another area where the costs are lower. Also, explore opportunities for tuition reimbursement from your employer, scholarships, grants, and financial aid.
North Carolina LPN to RN Licensure Requirements
The first step to your application for licensure as a registered nursing in North Carolina is to declare your residency status using a valid driver's license indicating your home address, voter registration card with a home address, federal income tax return declaring the primary state of residence, military form #2058, or W2 from US Government or any bureau, agency, or division.
You cannot apply for licensure as a registered nursing in North Carolina if your primary state of residence is another Compact State.
You must have a temporary license or a permanent license issued by the Board of Nursing before you begin practicing in the state. Orientation is a form of practice, so a valid license is required before you begin an orientation. You may apply for a temporary license to practice. It is valid for 6 months and cannot be renewed.
Instructions for Criminal Background Check
The North Carolina Nursing Practice Act requires applicants for nurse licensure to undergo a fingerprint-based State Bureau of Investigation (SBI) and Federal Bureau of Investigation (FBI) criminal history check.
If you have prior criminal convictions (misdemeanors and/or felonies) regardless of the age of conviction, you must submit the following to the Board of Nursing:
Original Certified Court Documents for all Convictions (Misdemeanors or Felonies); and
A detailed explanation of the events leading to the arrest and any other pertinent details if the conviction occurred within the last 5 years
The Board of Nursing may deny your application based on a conviction of a crime only if it finds that your criminal conviction history is directly related to the duties and responsibilities of a registered nurse, or the conviction is for a crime that is violent or sexual in nature.
Instructions for North Carolina residents:
North Carolina residents must use LiveScan to transmit their digital fingerprints electronically to the State Bureau of Investigation (SBI) and Federal Bureau of Investigation (FBI)
Pay the non-refundable background check fee of $38 using a credit or debit card only
Submit the signed and dated Electronic Fingerprint Submission Release of Information form to the Board of Nursing. Mail the forms to the Board after the local Sheriff's office transmits the fingerprints directly to the SBI.
Instructions for out-of-state candidates:
If you reside outside of North Carolina, you will submit the background check application within the initial application process. The background check fee is $38 and is non-refundable. It must be paid via credit or debit card. Print and sign your background check forms including the Fingerprint Submission Release of Information and the Applicant Information. Take both the printed and signed forms to your fingerprinting appointment. Mail the forms to the Board after your fingerprints are submitted to SBI.
Licensure By Examination
North Carolina Board of Nursing does not restrict the number of times a candidate can test for NCLEX Registered Nurse. If you have completed a nursing program but have never been licensed, current laws and regulations grant you with the opportunity to become licensed upon successful completion of the NCLEX without restriction or mandatory refresher courses.
In accordance with the North Carolina Code of Laws, candidates applying for a professional license must provide a social security or alien identification number to establish, enforce, and collect child support obligations and to report to certain databanks established by law. Failure to provide your social security number will lead to denial of licensure.
Submit your Examination application
Complete the Examination application through the Nurse Gateway
Log in to your profile or create a Username and Password to create a profile
Select Exam Application and complete the application
Pay the non-refundable application fee of $75 using a credit or debit card or a business check made out to the North Carolina Board of Nursing
Check that your Electronic School Verification has been submitted to the North Carolina Board of Nursing by the nursing program director
Submit your registration and fee of $200 directly to Pearson Vue – this should be submitted at least two weeks prior to completing the nursing program
You can log in to your profile at Nurse Gateway to check the status of your application at any time. Allow at least 10 business days for processing of your application.
RN Renewal Requirements North Carolina
Your registered nursing license will expire on the last day of your birth month. If you do not renew by this date, your license will go into expired status at midnight on the last day of the expiration month. You shall not practice as a registered nurse if your license expires. You must apply for reinstatement of your license before you practice.
Guidelines for renewal:
Log in to your profile in the Nurse Gateway
Select your license, license number, expiration date, and license status
Select Renewal/Reinstatement
Complete application full
Pay the application fee of $100 using a credit card or debit card
The Application Confirmation which serves as your official receipt will be available in your Nurse Gateway profile upon successful completion of the application process. You will also receive confirmation via email if you provided a valid email address.
Continuing Competence Requirements for North Carolina RNs
Registered nurses must complete all continuing competence requirements before renewal or reinstatement licenses. There will be no grace periods and or exceptions to this policy.
During each period, registered nurses must complete one of the following:
15 contact hours of continued education and at least 640 hours of active practice within previous two years
National certification or re-certification ny a National Credentialing Body recognized by the Board
30 contact hours of continued education
Completion of a board-approved refresher course
15 contact hours of continued education and completion of a nursing project as a Principal Investigator
15 contact hours of continued education and authoring or co-authoring a nursing-related article, paper, book, or chapter of a book
Completion of a minimum of two semester hours of post-licensure nursing-related education
15 contact hours of continued education and developing and conducting a nursing continuing education presentation or presentations totaling a minimum of 5 contact hours
Candidates are selected for random audits sent via the Nurse Gateway. You must be prepared to provide evidence of continuing competence if selected by the Board.
Contact the Board of Nursing
North Carolina Board of Nursing
4516 Lake Boone Trail
Raleigh, NC 27607
Post Office Box 2129
Raleigh, NC 27602-2129
(919) 782-3211
(919) 781-9461
North Carolina LPN To RN Programs:
Albermarle, NC LPN to RN programs:
Stanly Community College
141 College Drive, Albemarle, NC 28001
704-982-0121
Asheville, NC LPN to RN programs:
Asheville-Buncombe Technical Community College
340 Victoria Road, Asheville, NC 28801
828-398-7900
Boiling Springs, NC LPN to RN programs:
Gardner-Webb University
110 South Main Street, Boiling Springs, NC 28017
704-406-4000
Bolivia, NC LPN to RN programs:
Brunswick Community College
50 College Road, Bolivia, NC 28422
800-754-1050
Charlotte, NC LPN to RN programs:
Central Piedmont Community College
P.O. Box 35009, Charlotte, NC 28235-5009
704-330-6145
Clinton, NC LPN to RN programs:
Sampson Community College
1801 Sunset Avenue, Clinton, NC 28328
910-592-8081
Concord, NC LPN to RN programs:
Cabarrus College
401 Medical Park Drive, Concord, NC 28025
704-403-1555
Dallas, NC LPN to RN programs:
Gaston College
201 Highway 321 South, Dallas, NC 28034
704-922-6200
Dobson, NC LPN to RN programs:
Surry Community College
630 S Main St, Dobson, NC 27017
(336) 386-8121
Dublin, NC LPN to RN programs:
Bladen Community College
7418 NC Highway 41 West, Dublin, NC 28332
910-879-5500
Durham, NC LPN to RN programs:
Durham Technical Community College
1637 East Lawson Street, Durham, NC 27703
919-536-7200
Elizabeth City, NC LPN to RN programs:
College of Albemarle
1208 North Road Street, Elizabeth City, NC 27909
252-335-0821
Fayetteville, NC LPN to RN programs:
Fayetteville Technical Community College
2201 Hull Road, Fayetteville, NC 28303
910-678-8433
Goldsboro, NC LPN to RN programs:
Wayne Community College
3000 Wayne Memorial Drive, Goldsboro, NC 27534
919-735-5151
Greenville, NC LPN to RN programs:
Pitt Community College
PO Drawer 7007, Greenville, NC 27835-7007
252-493-7200
Hamlet, NC LPN to RN programs:
Richmond Community College
1042 West Hamlet Avenue, Hamlet, NC 28345
910-410-1700
Henderson, NC LPN to RN programs:
Vance-Granville Community College
200 Community College Road, Henderson, NC 27536
252-738-3210
Hendersonville, NC LPN to RN programs:
Blue Ridge Community College
805 6th Avenue West, Hendersonville, NC 28739
(828) 694-1700
Hickory, NC LPN to RN programs:
Catawba Valley Community College
2550 US Highway 70 Southeast, Hickory, NC 28602
828-327-7000
Hudson, NC LPN to RN programs:
Caldwell Community College
2855 Hickory Boulevard, Hudson, NC 28638
828-726-2200
Jacksonville, NC LPN to RN programs:
Coastal Carolina Community College
444 Western Boulevard, Jacksonville, NC 28546
910-455-1221
Jamestown, NC LPN to RN programs:
Guilford Technical Community College
601 East, Main Street, Jamestown, NC27282
336-334-4822
Morehead City, NC LPN to RN programs:
Carteret Community College
3505 Arendell Street, Morehead City, NC 28557
252-222-6000
Pinehurst, NC LPN to RN programs:
Sandhills Community College
3395 Airport Rd, Pinehurst, NC 28374
(910) 692-6185
Pittsboro, NC LPN to RN programs:
Central Carolina Community College
764 West Street, Pittsboro, NC 27312-8822
919-542-6495
Raleigh, NC LPN to RN programs:
Wake Technical Community College
9101 Fayetteville Road, Raleigh, NC 27603
919-866-5000
Rocky Mount, NC LPN to RN programs:
Nash Community College
522 N Old Carriage Rd, Rocky Mount, NC 27804
(252) 443-4011
Roxboro, NC LPN to RN programs:
Piedmont Community College
P.O. Box 1197, Roxboro, NC 27573
336-599-1181
Salisbury, NC LPN to RN programs:
Rowan-Cabarrus Community College
1333 Jake Alexander Boulevard South, Salisbury, NC 28146
704-216-7222
Shelby, NC LPN to RN programs:
Foothills Nursing Consortium
137 South Post Road., Shelby, NC 28150
704-669-4073
Smithfield, NC LPN to RN programs:
Johnston Community College
245 College Road, Smithfield, NC 27577
919-934-3051
Spruce Pine, NC LPN to RN programs:
Mayland Community College
P.O. Box 547, Spruce Pine, NC 28777
828-766-1200
Statesville, NC LPN to RN programs:
Mitchell Community College
500 West Broad Street, Statesville, NC 28677
704-878-3200
Sylva, NC LPN to RN programs:
Southwestern Community College
447 College Drive, Sylva, NC 28779
828-339-4000
Tarboro, NC LPN to RN programs:
Edgecombe Community College
2009 W Wilson St, Tarboro, NC 27886
(252) 823-5166
Thomasville, NC LPN to RN programs:
Davidson County Community College
297 DCC Road, Thomasville, NC27360
336-249-8186
Washington, NC LPN to RN programs:
Beaufort County Community College
5337 Highway 264 East, Washington, NC 27889
252-946-6194
Weldon, NC LPN to RN programs:
Halifax Community College
100 College Dr, Weldon, NC 27890
(252) 536-2551
Wentworth, NC LPN to RN programs:
Rockingham Community College
215 Wrenn Memorial Road, Highway 65, Wentworth, NC 27375
336-342-4261
Winston-Salem, NC LPN to RN programs:
Forsyth Technical Community College
2100 Silas Creek Parkway, Winston-Salem, NC 27103
336-723-0371
Morganton, NC LPN to RN programs:
Western Piedmont Community College
1001 Burkemont Avenue, Morganton, NC 28655
828-438-6000
Wilkesboro, NC LPN to RN programs:
Wilkes Community College
1328 South Collegiate Drive, Wilkesboro, NC 28697
336-838-6100