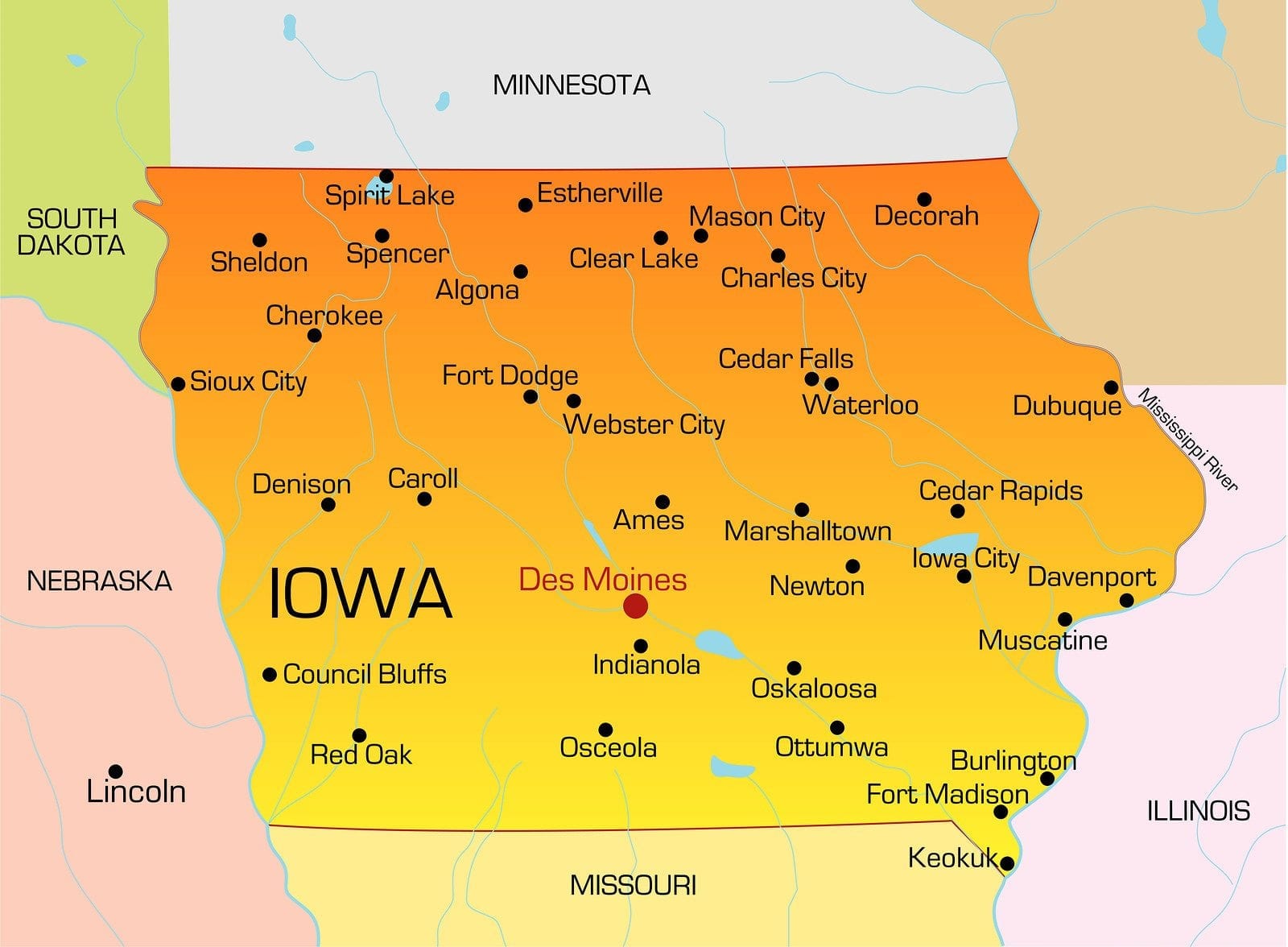 Nurses are trusted health professionals. Approximately 45 percent of the nursing workforce in Iowa comprises of Licensed Practical Nurses. If you're considering a career in nursing, you should be compassionate, caring, detail-oriented, flexible, and responsible to work with patients and families with acute and chronic diseases. LPNs work primarily in long-term care settings, clinics, home health care and physicians' offices. Nursing education programs provide the foundational knowledge and skills students need to function as a part of a healthcare team. Training also prepares graduates for the NCLEX-PN for state licensure. Successful completion of the NCLEX-PN and other Iowa Board of Nursing requirements gives candidates the authorization to practice as Licensed Practical Nurses.
LPN Training Iowa: Prerequisites and Program Content
Nursing programs emphasize the central goal of the profession to help graduates launch a rewarding career. The entire training focuses on the key skills practical nurses need to function within the Board-defined scope of practice. At the conclusion of the program, students will be able to:
Remove sutures and staples
Perform patient history
Perform glucometer readings
Perform sterile CVP dressing changes
Monitor patients' nutrition
Irrigate urethral catheter
Administer and evaluate tuberculosis skin tests
Do nasal suctioning and administer newborn hearing tests
Perform other tasks that the supervisor deems necessary as long as they fall within the regulatory guidelines.
To obtain the Board's approval to take the NCLEX-PN exam, you must complete an approved program comprising of classroom and supervised clinical training. The clinical experience is a mandatory component of all board-approved programs as it equips student nurses with the "doing" principles to reinforce the theoretical instruction in the classroom. It is the clinical experience that helps students build integral, critical thinking skills for solving problems on the job.
Enrolling in a program is a competitive exercise, especially in light of the small number of approved institutions in the state. Only applicants 18 years and older with a high school diploma will be eligible for admissions. The school may require prospective students to attend an informative orientation session before enrolling. Other requirements for entry will include a criminal background check, CPR card, TB clearance, a vaccination record, a physical exam, and prerequisite courses, such as medical terminology, chemistry, anatomy, and physiology.
Check the school's NCLEX-PN pass rate as it demonstrates the school's commitment to ensuring students' success. Graduate nurses are eligible to take the licensing exam and/or progress to associate nursing degree programs.
Duration and Cost of Training: Nursing graduates can expect to spend up to $11,200 to complete a practical nursing program in Iowa. The estimated cost is based on the full-time schedule and assumes that the students have completed all the prerequisite courses. Part-time students will pay more for training. Prerequisite courses, textbooks, and administrative fees will increase the final cost of the program. Financial aid may be available for qualifying students.
NCLEX Iowa
The National Council Licensure Examination (NCLEX-PN exam) has one purpose: To determine candidates' readiness to practice as entry-level nurses. The computer adaptive test will be different from others exams you took during your nursing education. Rather than test your knowledge alone, NCLEX-PN tests your application and analysis of the knowledge you gained during your educational program. It tests your ability to use critical thinking to make sound judgments.
Registering for the exam is simple and convenient using the online portal, or you may register by phone if it's more convenient. Pay the $200 registration fee using your credit card during the internet or phone registration. If a money order or cashier's check is your preferred method of payment, you should register for an account online, print the payment voucher, and enclose the money order/cashier's check with the voucher.
Register for the exam and state licensure by exam at the same time. The Iowa Board of Nursing must authorize your request to take the exam, and they can only do so after reviewing your completed application (for licensure), your nursing education transcript, and criminal background report. Pearson Vue will send the Authorization to Test (ATT) letter after the Board approves. Both applications will expire 90 days after receipt of the ATT letter, so it vital that you schedule and take the exam within that timeframe. If you fail to take the test, you must resubmit both applications.
Iowa has three testing centers – West Des Moines, Coralville, and Davenport. However, you may take the test in any state for licensure in Iowa. Persons with disabilities may request special testing accommodations.
It is ideal to pass the test the first time. However, if you fail the test, you can retake it after a minimum 45-day wait. You will receive an NCLEX Candidate Performance Report (CPR) with your results. The CPR is a great resource that you should review to identify your weak points and succeed on your next attempt. Successful candidates will obtain Iowa State licensure, which includes the authority to work in other NLC states.
Iowa LPN Licensure Requirements
No person shall engage in the practice of nursing without holding a license in active status issued by the Iowa Board of Nursing. Licensed Practical Nurses are responsible for reading and understanding the rules and regulations embedded in the Administrative Code and to adhere to the scope of practice and evolving standards of care.
To qualify for a license, applicants must graduate from a board-approved nursing education program with the criminal-free background. The candidate must also pass the NCLEX exam as prescribed by the board. The IBON is the only authority to determine a candidate's eligibility to take the NCLEX, and can only grant approval after receiving a completed application for licensure by exam, two completed fingerprint cards, and a signed waiver form. The Board also needs to review official transcripts sent directly from the nursing education program – it is the candidate's responsibility to arrange the delivery of the transcript if the educational institute does not send the transcripts automatically.
Graduates of foreign programs should submit evidence of education in the form of an official evaluation report from the CGFNS.
Nurses who reside in a state that is a member of the Nurse Licensure Compact Agreement must apply for licensure in their primary state of residence – this includes Iowa nurses. As part of the NLC, the IBON issues a multi-state license that lets license holders practice in other NLC states without acquiring a license.
Licensure By Examination
Following are some guidelines for submitting an application or licensure by exam:
Complete the application for licensure by exam. You can also submit your application online. Disclose your Social Security Number on the application as required by the Iowa Code. The number is necessary to accurately identify licensees and check for outstanding child support, student loans, and debts owed to the state.
Submit an application to Pearson Vue to take the NCLEX.
Enclose the application fee of $143, which includes the fee to conduct the criminal history background check. The fee is payable via credit card online or with a money order, personal check, or cashier's check by mail. All checks should be made payable to the Iowa Board of Nursing.
Attach two completed fingerprint cards and signed waiver form. The application will be returned if the fingerprint cards and waiver form are not included.
Include a copy of court documents and a brief summary of the conditions that led to the charge if you have a history of criminal offense(s) or disciplinary actions.
Request your official nursing transcript to be sent directly from the program administrator to the Board of Nursing. The Board will retain the transcript on record for a period of twelve months.
First-time testers and those retaking the exam more than 12 months after their initial application must submit fingerprint cards. The cards are available at the Board's office, local police stations or sheriffs' offices, and at nursing schools. The application is valid for the dates indicated on the ATT letter (90 days). You must resubmit an application to Pearson Vue and the Board if your ATT expires.
To check the status of your application, you should use IBON Online Services and navigate to the "Check the Status of an Application in Process" tab.
Licensure By Endorsement
If you have a nursing license in a non-compact state, you may apply for licensure by endorsement to practice nursing in Iowa.
The Board will return your application if you submit a request for licensure by endorsement while residing in a state that is a member of the NLC agreement. Your primary state of residence is defined as the state where you hold a driver's license, pay taxes and vote.
Submit your application for endorsement online or using a paper endorsement form along with the following:
Two completed fingerprint cards and signed waiver form.
Online payment or check (business, personal, cashier's check) or money order in the amount of $169 and payable to the Iowa Board of Nursing. The registration fee is non-refundable and includes the fee for the criminal records check.
Official transcript from the nursing education program sent directly to the Board. The transcript should indicate the graduation date and degree conferred.
Verification of your original license using Nursys or an Original License Form from the licensing agency from your original state of licensure.
Include a copy of court records and a brief summary of the conditions leading to the charge if you have a criminal history.
All applicants must provide a Social Security Number.
Request a CGFNS Professional Report to be sent directly to the Board if you graduated from a foreign nursing program. You must hold a valid license/registration in the original country to be eligible for licensure by endorsement.
To check the status of your application, you should use IBON Online Services and navigate to the "Check the Status of an Application in Process" tab.
Renewing Your LPN License
LPN licenses expire on the 15th of the license holder's birth month. Renew your license online with IBON Online Services. Your wallet card will reveal your license renewal date. You can renew up to 60 days prior to the license expiration date. Although the Board encourages online renewal and payment using a credit card for immediate processing, you may request a paper form in writing.
There are no monetary penalties for failing to renew within the 30 days prior to expiration. However, failing to renew on time could disturb your ability to practice if the old license expires.
Iowa law requires that the renewal be completed 30 days prior to expiration. If the renewal is submitted after the deadline, the Board will impose a $50 late fee.
The IBON does not prohibit practice during the 30-day grace period (from the 15th to the 16th of the following month) but employers have the prerogative to prohibit practice during this period. Candidates who renew late will receive an audit of their continuing education activities.
The renewal fee is $99. Paper submissions will be processed within three to five working days.
Salary and Job Outlook LPNs Iowa
The aging population and an LPN workforce on the verge of retirement contribute to the continued demand for practical nurses in Iowa. Nursing educational institutions should produce more graduates to meet demands. Instead, limited faculty and classroom space result in long waiting lists for enrollment.
The job outlook for LPNs in Iowa is a bright one. According to a U.S. Bureau of Labor Statistics report, growth in healthcare outpaces other careers by more than 15 percent. The health care sector alone accounts for one out of every five new jobs in Iowa. Recruitment for LPNs in long-term care accounts for a sizeable portion of new health care jobs.
Nursing graduates will almost always find employment immediately after graduation to replace positions left vacant by retiring nursing. More than 52 percent of Iowa's practical nurses are 58 years or older, so there will be greater demands in the next decade.
New nursing graduates have to be competitive and flexible in their search for employment. There's an abundance of new positions in long-term care and home health as administrators seek to care for an aging population. LPNs in Iowa earn a median salary of $35,710 annually.
Contact the Board of Nursing
Iowa Board of Nursing
400 S.W. 8th Street
Suite B
Des Moines, IA 50309
Phone: (515) 281-3255
Fax: (515) 281-4825
Iowa Board of Nursing Approved Training Programs and NCLEX Pass Rates
Calmar, IA LPN Training Programs:
Northeast Iowa Community College
1625 Hwy 150 South, Calmar, IA
(563) 562-3263
NCLEX-PN Pass Rate:96.00%
Cedar Rapids, IA LPN Training Programs:
Kirkwood Community College
6301 Kirkwood Blvd. SW, Cedar Rapids, IA
(319) 398-5411
NCLEX-PN Pass Rate: 100.00%
Kaplan University
3165 Edgewood Parkway, Sw, Cedar Rapids, IA 52404
(319) 363-0481
NCLEX-PN Pass Rate: 100.00%
Council Bluffs, IA LPN Training Programs:
Iowa Western Community College
2700 College Rd, Council Bluffs, IA 51503
(712) 325-3200
NCLEX-PN Pass Rate: 89.00%
Creston, IA LPN Training Programs:
Southwestern Community College
1501 West Townline Street, Creston, IA
(641) 782-7081
NCLEX-PN Pass Rate: 98.00%
Davenport, IA LPN Training Programs:
Eastern Iowa Community College District
306 W River Dr, Davenport, IA 52801
(563) 441-4001
NCLEX-PN Pass Rate: 84.00%
Des Moines, IA LPN Training Programs:
Des Moines Area Community College
1100 7th St, Des Moines, IA 50314
(800) 362-2127
NCLEX-PN Pass Rate: 96.00%
Estherville, IA LPN Training Programs:
Iowa Lakes Community College
300 S 18th St, Estherville, IA 51334
(712) 362-7231
NCLEX-PN Pass Rate: 43.00%
Fort Dodge, IA LPN Training Programs:
Iowa Central Community College
1 Triton Cir, Fort Dodge, IA 50501
(515) 576-7201
NCLEX-PN Pass Rate: 93.00%
Marshalltown, IA LPN Training Programs:
Iowa Valley Community College District
3702 South Center Street, Marshalltown, IA
(641) 752-4643
NCLEX-PN Pass Rate: 93.00%
Mason City, IA LPN Training Programs:
North Iowa Area Community College
500 College Dr, Mason City, IA 50401
(641) 423-1264
NCLEX-PN Pass Rate: 88.00%
Ottumwa, IA LPN Training Programs:
Indian Hills Community College
525 Grandview Ave, Ottumwa, IA 52501
(800) 726-2585
NCLEX-PN Pass Rate: 83.00%
Sioux City, IA LPN Training Programs:
Western Iowa Tech Community College
4647 Stone Avenue, Sioux City, IA
(712) 274-6400
NCLEX-PN Pass Rate:94.00%
Sheldon, IA LPN Training Programs:
Northwest Iowa Community College
603 W Park St, Sheldon, IA 51201
(712) 324-5061
NCLEX-PN Pass Rate: 94.00%
Waterloo, IA LPN Training Programs:
Hawkeye Community College
1501 E Orange Rd, Waterloo, IA 50701
(800) 670-4769
NCLEX-PN Pass Rate: 85.00%
West Burlington, IA LPN Training Programs:
Southeastern Community College
1500 W Agency Rd, West Burlington, IA 52655
(319) 752-2731
NCLEX-PN Pass Rate: 90.00%
Get Your Degree!
Find schools and get information on the program that's right for you.
Powered by Campus Explorer