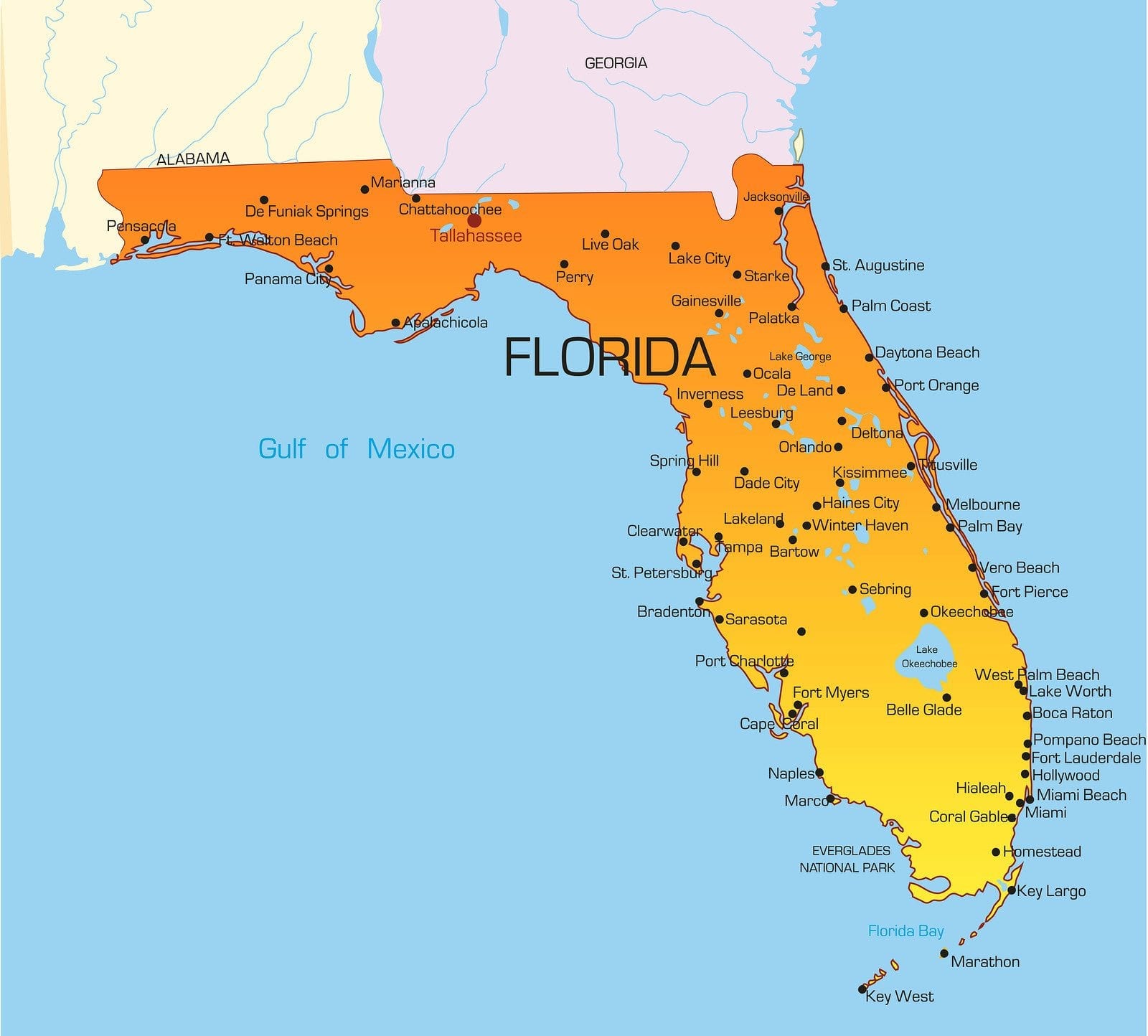 Nursing is a rewarding career that promises job security, excellent compensation, and opportunities for professional growth. Entry into the field is simple with approximately 12 months of training and passage of the NCLEX-PN to become Licensed Practical Nurses. Many LPNs pursue further education to branch out into other specialties, such as emergency and trauma care, pediatrics, geriatrics, mental health, hospice, surgery, and neonatal care. As the industry reorganizes, many LPNs take their practice to long-term care facilities, home health, and rural hospice centers where they care for elderly patients and continuous support to persons suffering from chronic illnesses. With the demands for nurses projected to grow by 25 percent over the next decade, the industry promises numerous opportunities for new graduates. The Florida Board of Nursing regulates the profession and ensures all LPNs operate within the defined scope of practice.
LPN Programs in Florida:
LPN Training Florida: Prerequisites and Program Content
The Practical nursing Program equips individuals with no previous experience with the skills and knowledge to become Licensed Practical Nurses. Students must attend Florida Board approved programs to be eligible to take the licensure exam to practice in Florida. In accordance with state requirements, students learn through a blend of classroom lessons, laboratory procedures, and clinical experience.
Classroom content includes, but is not limited to, growth and development over lifespan, medical-surgical nursing, anatomy and physiology, nutrition, fundamentals of Nursing and Health, nursing skills, pharmacology, maternal child nursing, pediatric and geriatric nursing, vocational nursing, anatomy and physiology. Other topics include mental health concepts, interpersonal relationship skills, Basic Life Support, administration of medication, family and community health, and the legal aspects of practice. Students must participate in the clinical experience which reinforces the theory.
Applicants seeking admission to the program must be at least 18 years, possess a high school diploma, provide letters of recommendation, attend a general information session, provide proof of current immunization (Hepatitis B series, Varicella, Tetanus), and pass a TABE test. A tuberculin skin test, level 2 criminal background screen, random drug screen, and CPR for Healthcare Providers (BLS) are some other requirements that students may have to complete before beginning the clinical experience. Some schools may have prerequisite course requirements that students must complete before enrolling in the practical nursing program.
Admission is a competitive process, and many schools turn away qualified applicants each year. It is important to submit your application and required documents early to increase your chances of selection. There are currently 84 Board approved programs in Florida. Check the program's NCLEX-PN pass rate as it is an indicator of the school's rate of success. Graduates are eligible to take the NCLEX-PN to become a Licensed Practical Nurse. LPNs may continue their education by pursuing an Associate of Science degree or Bachelor of Science in Nursing.
Duration and Cost of Training: Most practical nursing programs are based on a full-time schedule. Day classes run for 12 months and evening classes are 18 to 24 months. Programs leading to a diploma cost approximately $5,650 for resident students. Students are responsible for other expenses, such as textbooks, lab supplies, administrative fees, clinical supplies, criminal background check, liability insurance, and miscellaneous expenses. Prerequisite courses will increase the final cost of training. Financial aid in the form of grants, private loans, federal loans, and scholarships may be available to qualifying students.
NCLEX Florida
Practical nursing programs prepare students for the National Council Licensure Examination (NCLEX). The computer adaptive test evaluates graduates' knowledge, skills, and competency to provide safe and competent care for as LPNs. Success on the national exam is essential for practicing in the Florida. Any candidate who fails the exam three consecutive times (regardless of jurisdiction) must complete a remedial program approved by the Board of Nursing. After completing the program, the candidate is free to attempt the exam three additional times and retake remediation to once again attempt the exam.
To apply for the exam, candidates must submit an application online or over the phone and pay the $200 registration fee using a credit or debit card. An application for the licensure exam must go to the Board at the same time the candidate submits an application to Pearson Vue. The Board will authorize the candidate's request after reviewing the application, verifying receipt of the applicable fee, and reviewing transcripts from the nursing education program. Pearson Vue will issue an Authorization to Test (ATT) with the Board's approval. The ATT contains vital information; starting with your name, address, email, and other contact information – verify that it contains the correct spelling of your name. Pay attention to the guidelines for scheduling your exam date and make sure to take the exam before the ATT expires. The ATT cannot be extended under any circumstances.
The Board recommends all candidates download and read the Candidate Bulletin, which contains vital information on preparing for the exam and what to expect on exam day. The exam results will be available within 48 hours to 10 business days. If you pass the exam and meet all other requirements for licensure, the Board will mail your license to the address you provided on the application.
The Board will mail a diagnostic profile outlining your performance on the exam if you fail. Review the candidate performance report in preparation for retaking the exam. You must wait a period of 45 days before submitting another application to Pearson Vue and the Board to take the exam.
Florida LPN Licensure Requirements
Any person desiring to practice as a practical nurse must first obtain licensure from the Florida Board of Nursing; licensure is available through examination or endorsement. The Board will issue a license to an individual who completes an application form and remit the application fee. All applicants must graduate from an approved nursing education program, demonstrate the ability to communicate in English, demonstrate good mental and physical health, possess a high school diploma, and possess a good moral character.
A criminal background search of Florida and national criminal history records is a necessary part of the application process. The Board accepts fingerprints must be submitted electronically by a Livescan service provider – the Board no longer accepts hard fingerprint cards. Out-of-state applicants must request hard cards from the Board, complete the fingerprints, and have it converted by a Livescan, service provider. Fingerprints are processed by the Florida Department of Law Enforcement (FDLE) after electronic submission by the Livescan service provider. The Care Provider Background Screening Clearinghouse receives the results and makes them available to the Board.
Applicants with a criminal history must submit:
Final dispositions/ arrest records for each offense – available at the clerk of the court.
Completion of Probation/Parole/Sanctions
Explanatory letter describing the circumstances of each offense.
Letters of professional recommendation from 3 to 5 people you have worked for or with.
Licensure By Examination
Submit your application for licensure to the Board and register to take the NCLEX-PN within 6 months of graduating from an approved program. You must successfully complete a board-approved licensure exam preparatory course if you fail to take the licensure exam within 6 months of graduation.
Follow the guidelines below to take the licensure exam.
Submit your application for licensure online. The name listed on the application must match the name used on your NCLEX application. There will be delays in processing your authorization to test if the name does not match.
Submit the $110 application and licensing fee to the Board of Nursing.
Schedule an electronic fingerprint appointment with a Livescan service provider. All fees for fingerprint processing and the criminal history check are the candidate's responsibility.
Submit court records, explanatory letter, letters of recommendation, and completion of probation/ parole, sanctions if you have a criminal history.
Provide evidence of completing a board-approved or military nursing education program.
Attest to completing the Prevention of Medical Errors course. All applicants must complete this requirement before receiving approval to take the NCLEX.
Request Special Accommodations (for persons with disabilities) early as the process is lengthy and could take a minimum of 60 days to process.
The Board processes applications in date order, and it could take up to 10 days to process a completed application. If your address changes, you must inform the Board of the change in order to receive updates from the office.
Licensure By Endorsement
An LPN with a license to practice in another state or territory is eligible for licensure by endorsement. Those who completed the State Board Test Pool Examination (SBTPE) or the NCLEX and those who actively practiced for 2 out of the preceding 3 years without revocation of a license are also deemed eligible.
Follow the guidelines below for licensure by endorsement:
Submit the application for endorsement online.
The application fee is $110 – instructions for payment will be available during the online process.
Schedule an electronic fingerprint appointment with a Livescan service provider. All fees for fingerprint processing and the criminal history check are the candidate's responsibility.
Contact the licensing agency where you hold initial and current active licenses to request verification of your license. The agency should send verification directly to the Florida Board of Nursing.
Contact your previous or current employers to send verification of your employment to the Florida Board of Nursing – not a requirement for all applicants.
Attest to completing the Prevention of Medical Errors course.
Submit court records, explanatory letter, letters of recommendation, and completion of probation/ parole, sanctions if you have a criminal history.
Provide evidence of completing a board-approved or military nursing education program.
Endorsement applications take a minimum of 14 days to process. You can check the status of your application using the online status check.
Renewing Your LPN License
LPNs must submit a completed renewal application and required fees before their licenses expire on July 31 biennially.
Members of the Armed Forces of the United State may be exempt from the renewal requirements while engaged in active duty and up to 6 months after discharge – the licensee cannot practice in the private sector for profit during this time. A military spouse may also be exempt from renewal requirements only in cases of absence from the state due to a spouse's duties with the Armed Forces.
Renewal is available online if you do not need to change the status of your license and have a credit card to complete the transaction. If you're renewing the license after it expires, you may be able to renew after paying a delinquent fee if the status indicates 'Clear/Active' or 'Clear/Inactive.'
If your license is in 'Military, Active' status you should use the paper renewal application. Paper submissions are also available for those who need to change the status of their license or pay using a money order or cashier's check.
LPNs, who receive initial licensure in the current biennium, are exempt from the general 20-hour CEU requirements for the first renewal. However, they must complete 2 hours of medical error, 2 hours of Florida laws and rules, and 1 hour of HIV/AIDS. The same requirements apply to endorsement licensees who receive licensure during the current biennium.
Others must complete 1 hour of CEU per month or partial month remaining in the biennium from the date of licensure. The CEU must include 2 hours of medical error, 2 hours in Florida laws and rules and 1 hour of HIV/AIDS.
The Board does not require licensees to submit certificates of completing the CEU requirements, but they must maintain the records for a period of four years for auditing purposes.
The license renewal process may take as much as two to three weeks, so submit your renewal requests early.
The fee for general Active to Active renewal is $80 or $135 if renewing an expired license.
Salary and Job Outlook LPNs Florida
There are numerous vacancies for LPNs in home health according to the Florida Center for Nursing. The demand is expected to stay strong as thousands of seniors move to Florida for retirement. Department of Health records indicate that there are 72,632 licensed practical nurses statewide, but only 60% are practicing. There are several factors that shift supply and demand in Florida one of them being retiring nurses. As nurses retire, employers advertise vacancies to replace them. Depending on the number of new graduates, there may or may not be sufficient qualified nurses to replace outgoing nurses. Approximately one out of every five nurse graduates apply for state licenses, so the enrollment/graduation rate is no indicator that there will be sufficient LPNs to replace the outgoing ones.
Another factor that affects the workforce is the advancement of existing LPNs to other positions. The field facilitates easy growth opportunities with continuing education, so many LPNs bridge to registered nurses and advanced registered nurse practitioner.
A misconception that employers are phasing out LPNs has caused some hesitancy among persons who are desirous of entering healthcare as licensed practical nurses. While many hospitals shift LPNs out of inpatient care, there are numerous employment opportunities in outpatient and community nursing. LPNs are also dominant in long-term care facilities and home health care. They're also visible in dialysis centers, schools, and correctional facilities. In Florida, nursing homes and assisted living facilities employ 5 out of 10 LPNs in Florida. The home health accounts for another 19 percent of working LPNs, and hospitals employ 12 percent. Others work in physicians' offices where they update records, administer shots, educate patients and assess the urgency of patients' symptoms. LPNs in Florida earned a median annual salary of $41,540 in May 2014.
Contact the Board of Nursing
Florida Board of Nursing
4052 Bald Cypress Way, BIN C02
Tallahassee, FL 32399-3252
Phone: (850) 245-4125
Fax: (850) 245-4172
Florida Board of Nursing Approved Training Programs and NCLEX Pass Rates
Altamonte Springs, FL LPN Training Programs:
Cambridge Institute of Allied Health and Technology – Altamonte Springs
460 E Altamonte Dr, Altamonte Springs, FL 32701
(407) 265-8383
NCLEX-PN Pass Rate: 66.67%
Arcadia, FL LPN Training Programs:
DeSoto County School of Practical Nursing
310 West Whidden Street, Arcadia, FL 34266
(863) 993-1333
NCLEX-PN Pass Rate: 100.00%
Avon Park Springs, FL LPN Training Programs:
South Florida State College
600 W College Dr, Avon Park, FL
(863) 453-6661
NCLEX-PN Pass Rate: 100.00%
Belleview, FL LPN Training Programs:
Taylor College
5190 Se 125th St, Belleview, FL 34420
(352) 245-4119
NCLEX-PN Pass Rate: 82.73%
Boca Raton, FL LPN Training Programs:
Techni-Pro Institute
414 Nw 35th St, Boca Raton, FL 33431
(561) 395-1444
NCLEX-PN Pass Rate: 54.00%
Boynton Beach, FL LPN Training Programs:
South Technical Academy
1300 Sw 30th Ave, Boynton Beach, FL 33426
(561) 369-7004
NCLEX-PN Pass Rate: 44.00%
Bradenton, FL LPN Training Programs:
Manatee Technical Institute
5530 Lakewood Ranch Blvd, Bradenton, FL 34211
(941) 751-8479
NCLEX-PN Pass Rate: 86.84%
Cape Coral, FL LPN Training Programs:
Cape Coral Tech
360 Santa Barbara Blvd N, Cape Coral, FL
(239) 574-4440
NCLEX-PN Pass Rate: 100.00%
Chipley, FL LPN Training Programs:
Washington-Holmes Technical Center
757 Hoyt Street, Chipley, FL 32428
(850) 638-1180
NCLEX-PN Pass Rate: 50.00%
Clearwater, FL LPN Training Programs:
Pinellas Technical Education Center – Clearwater
6100 154th Avenue N, Clearwater, FL 33760
(727) 538-7167
NCLEX-PN Pass Rate: 100.00%
Cocoa, FL LPN Training Programs:
Brevard Community College
1519 Clearlake Rd, Cocoa, FL 32922
(321) 632-1111
NCLEX-PN Pass Rate: 79.02%
Coconut Creek, FL LPN Training Programs:
Atlantic Technical Center
4700 Coconut Creek Parkway, Coconut Creek, FL
(754) 321-5100
NCLEX-PN Pass Rate: 100.00%
Cutler Bay, FL LPN Training Programs:
Vintex Training Institute
18812 South Dixie Highway, Cutler Bay, FL 33157
(786) 293-0092
NCLEX-PN Pass Rate: 35.79%
Davie, FL LPN Training Programs:
Broward McFatter Technical Center
6500 Nova Drive, Davie, FL 33317
(754) 321-5700
NCLEX-PN Pass Rate: 84.62%
Daytona Beach, FL LPN Training Programs:
Daytona State College
1200 W International Speedway Blvd, Daytona Beach, FL
(386) 506-3000
NCLEX-PN Pass Rate: 86.21%
DeFuniak, FL LPN Training Programs:
Emerald Coast Technical College
761 North 20th Street, DeFuniak Springs, FL
(850) 892-1240
NCLEX-PN Pass Rate: 94.26%
Eustis, FL LPN Training Programs:
Lake Tech
2001 Kurt Street, Eustis, FL
(352) 589-2250
NCLEX-PN Pass Rate: 81.25%
Fort Myers, FL LPN Training Programs:
Fort Myers Institute of Technology Fort Myers
3800 Michigan Ave, Fort Myers, FL
(239) 334-4544
NCLEX-PN Pass Rate: 100.00%
Fort Pierce, FL LPN Training Programs:
Indian River State College
3209 Virginia Ave, Fort Pierce, FL 34981
(772) 462-4772
NCLEX-PN Pass Rate: 88.76%
Fort Walton Beach, FL LPN Training Programs:
CHOICE High School and Technical Center
1976 Lewis Turner Blvd, Fort Walton Beach, FL
(850) 833-3500
NCLEX-PN Pass Rate: 68.42%
Gainesville, FL LPN Training Programs:
Santa Fe College
3000 Nw 83 St, Gainesville, FL
(352) 395-5000
NCLEX-PN Pass Rate: 100.00%
Hialeah, FL LPN Training Programs:
Florida National University – Hialeah
4425 W. Jose Regueiro (20th) Ave., Hialeah, FL 33012
(305) 821-3333
NCLEX-PN Pass Rate: 59.74%
Hollywood, FL LPN Training Programs:
Broward Sheridan Technical Center
5400 Sheridan St, Hollywood, FL 33021
(754) 321-5400
NCLEX-PN Pass Rate: 70.97%
Homestead, FL LPN Training Programs:
Dade County – Homestead Senior High
2351 Se 12th Avenue, Homestead, FL 33035
(305) 245-7000
NCLEX-PN Pass Rate: 86.95%
Immokalee, FL LPN Training Programs:
Immokalee Technology Center
508 N 9th St, Immokalee, FL 34142
(239) 377-9900
NCLEX-PN Pass Rate: 44.44%
Inverness, FL LPN Training Programs:
Withlacoochee Technical Institute
1201 W Main St, Inverness, FL
(352) 726-2430
NCLEX-PN Pass Rate: 100.00%
Jacksonville, FL LPN Training Programs:
Florida State College at Jacksonville
4501 Capper Rd, Jacksonville, FL 32218
(904) 766-6500
NCLEX-PN Pass Rate: 83.33%
Concorde Career Institute
7259 Salisbury Rd., Jacksonville, FL 32256
(904) 725-0525
NCLEX-PN Pass Rate: 91.67%
Kissimmee, FL LPN Training Programs:
Technical Education Center Osceola
501 Simpson Rd, Kissimmee, FL
(407) 344-5080
NCLEX-PN Pass Rate: 90.91%
Labelle, FL LPN Training Programs:
Fort Myers Institute of Technology Labelle
1092 East Cowboy Way, Labelle, FL
(239) 334-4544
NCLEX-PN Pass Rate: 100.00%
Lake City, FL LPN Training Programs:
Florida Gateway College
149 SE College Place, Lake City, FL
(386) 752-1822
NCLEX-PN Pass Rate: 100.00%
Lakeland, FL LPN Training Programs:
Traviss Career Center
225 Winter Lake Rd, Lakeland, FL 33803
(863) 499-2700
NCLEX-PN Pass Rate: 94.29%
Lake Worth, FL LPN Training Programs:
Palm Beach State College
4200 S Congress Ave, Lake Worth, FL
(561) 868-3350
NCLEX-PN Pass Rate: 100.00%
Lauderhill, FL LPN Training Programs:
Carleen Home Health School
4200 Nw 16th Street, Suite 600, Lauderhill, FL 33313
(954) 476-9090
NCLEX-PN Pass Rate: 49.38%
Live Oak, FL LPN Training Programs:
Suwannee-Hamilton Technical Center
415 Pinewood Dr Sw, Live Oak, FL 32064
(386) 647-4633
NCLEX-PN Pass Rate: 89.06%
Madison, FL LPN Training Programs:
North Florida Community College
325 Turner Davis Dr, Madison, FL 32340
(850) 973-2288
NCLEX-PN Pass Rate: 86.87%
Marianna, FL LPN Training Programs:
Chipola College
3094 Indian Circle, Marianna, FL
(850) 526-2761
NCLEX-PN Pass Rate: 93.56%
Miami, FL LPN Training Programs:
Dade County – Lindsey Hopkins Technical Center
750 Nw 20th Street, Miami, FL 33127
(305) 324-6070
NCLEX-PN Pass Rate: 75.00%
Dade County – Robert Morgan Technical Center
18180 Sw 122nd Ave, Miami, FL 33177
(305) 253-9920
NCLEX-PN Pass Rate: 91.30%
Fortis Institute – Miami
9035 Sunset Dr #200, Miami, FL 33173
(305) 596-5553
NCLEX-PN Pass Rate: 91.67%
Mercy Hospital School of Practical Nursing
3663 S Miami Ave, Miami, FL 33133
(305) 854-4400
NCLEX-PN Pass Rate: 90.48%
Miami Dade College
300 Ne 2nd Ave, Miami, FL 33132
(305) 237-8888
NCLEX-PN Pass Rate: 75.29%
Florida National University – Miami
11865 S.w. 26 St. Suite H3, Miami, FL 33175
(305) 226-9999
NCLEX-PN Pass Rate: 67.93%
Saber College
3990 W. Flagler Street, Miami, FL 33134
(305) 443-9170
NCLEX-PN Pass Rate: 100.00%
Green Cross School of Nursing
15383 Nw 7th Ave, Miami, FL 33169
(305) 687-7718
NCLEX-PN Pass Rate: 22.84%
Miami Lakes, FL LPN Training Programs:
Dade County – Miami Lakes Technical Center
5780 Nw 158th Street, Miami Lakes, FL 33014
(305) 557-1100
NCLEX-PN Pass Rate: 80.25%
Naples, FL LPN Training Programs:
Lorenzo Walker Institute of Technology
3702 Estey Ave, Naples, FL 34104
(239) 377-0900
NCLEX-PN Pass Rate: 75.00%
New Port Richey, FL LPN Training Programs:
Pasco-Hernando State College
10230 Ridge Road, New Port Richey, FL
(727) 847-2727
NCLEX-PN Pass Rate: 92.31%
Rasmussen College – New Port Richey
8661 Citizens Dr, New Port Richey, FL 34654
(727) 942-0069
NCLEX-PN Pass Rate: 100.00%
Oakland Park, FL LPN Training Programs:
Sigma College – Oakland Park
2800 W Oakland Park Blvd (204), Oakland Park, FL 33311
(954) 485-0215
NCLEX-PN Pass Rate: 31.41%
Ocala, FL LPN Training Programs:
College of Central Florida
3001 SW College Rd, Ocala, FL
(352) 237-2111
NCLEX-PN Pass Rate: 72.73%
Orlando, FL LPN Training Programs:
Centura Institute
6359 Edgewater Dr, Orlando, FL 32810
(407) 275-9696
NCLEX-PN Pass Rate: 64.48%
Orlando Tech
301 W Amelia St, Orlando, FL 32801
(407) 246-7060
NCLEX-PN Pass Rate: 100.00%
Palm Springs, FL LPN Training Programs:
Fortis Institute – Palm Springs
1630 South Congress Ave. Suite 300, Palm Springs, FL 33461
(561) 304-3466
NCLEX-PN Pass Rate: 62.82%
Panama City, FL LPN Training Programs:
Haney Technical Center
3016 Highway 77, Panama City, FL
(850) 767-5500
NCLEX-PN Pass Rate: 91.67%
Gulf Coast State College
5230 U.s. 98, Panama City, FL 32401
(850) 769-1551
NCLEX-PN Pass Rate: 100.00%
Pensacola, FL LPN Training Programs:
Pensacola State College
1000 College Blvd, Pensacola, FL 32504
(850) 484-1000
NCLEX-PN Pass Rate: 93.75%
Virginia College at Pensacola
19 W Garden St, Pensacola, FL 32502
(850) 436-8444
NCLEX-PN Pass Rate: 77.78%
Pompano Beach, FL LPN Training Programs:
Hope Health Career Institute
150 East Sample Road, Suite 220, Pompano Beach, FL 33064
(954) 532-9614
NCLEX-PN Pass Rate: 35.43%
Broward Blanche Ely High School
1201 Nw 6th Ave, Pompano Beach, FL 33060
(754) 322-0950
NCLEX-PN Pass Rate: 91.67%
Port Charlotte, FL LPN Training Programs:
Charlotte Technical Center
18150 Murdock Cir, Port Charlotte, FL 33948
(941) 255-7500
NCLEX-PN Pass Rate: 76.47%
Ruskin, FL LPN Training Programs:
Dr. Earl Lennard High School – Ruskin
2342 East Shell Point Road, Ruskin, FL 33570
(813) 641-5611
NCLEX-PN Pass Rate: 94.26%
Sanford, FL LPN Training Programs:
Seminole State College of Florida
100 Weldon Blvd, Sanford, FL
(407) 708-4722
NCLEX-PN Pass Rate: 100.00%
Sarasota, FL LPN Training Programs:
Sarasota County Technical Institute
4748 Beneva Road, Sarasota, FL
(941) 924-1365
NCLEX-PN Pass Rate: 86.36%
Starke, FL LPN Training Programs:
Bradford-Union Technical Center
609 N Orange St, Starke, FL
(904) 966-6764
NCLEX-PN Pass Rate: 96.30%
St Augustine, FL LPN Training Programs:
First Coast Technical College
2980 Collins Ave, St Augustine, FL 32084
(904) 824-4401
NCLEX-PN Pass Rate: 76.19%
St Petersburg, FL LPN Training Programs:
Galen School of Nursing
11101 Roosevelt Blvd N, St Petersburg, FL
(727) 577-1497
NCLEX-PN Pass Rate: 96.15%
Pinellas Technical Education Center – St. Petersburg
901 34th Street S, St. Petersburg, FL 33711
(727) 893-2500
NCLEX-PN Pass Rate: 80.00%
Stuart, FL LPN Training Programs:
Fortis Institute – Stuart
851 Se Johnson Ave, Stuart, FL 34994
(772) 320-0070
NCLEX-PN Pass Rate: 74.27%
Tallahassee, FL LPN Training Programs:
Lively Technical Center
500 Appleyard Dr, Tallahassee, FL 32304
(850) 487-7555
NCLEX-PN Pass Rate: 100.00%
Tampa, FL LPN Training Programs:
Erwin Vocational Technical Center
2010 E Hillsborough Ave, Tampa, FL 33610
(813) 769-5180
NCLEX-PN Pass Rate: 66.67%
Jersey College
10126 Windhorst Road, Tampa, FL
(813) 246-5111
NCLEX-PN Pass Rate: 80.00%
Brewster Technical Center
2222 N Tampa St, Tampa, FL 33602
(813) 276-5448
NCLEX-PN Pass Rate: 71.43%
Tampa Bay Technical High School
6410 Orient Rd, Tampa, FL 33610
(813) 749-8943
NCLEX-PN Pass Rate: 100.00%
Fortis College – Tampa
3910 Us Hwy 301 N Suite 200, Tampa, FL 33619
(813) 620-1446
NCLEX-PN Pass Rate: 76.89%
Vero Beach, FL LPN Training Programs:
Adult and Community Education School – Indian River County
1426 19th Street, Vero Beach, FL
(772) 564-4970
NCLEX-PN Pass Rate: 100.00%
West Palm Beach, FL LPN Training Programs:
Academy for Nursing & Health Occupations
5154 Okeechobee Blvd, West Palm Beach, FL 33417
(561) 683-1400
NCLEX-PN Pass Rate: 100.00%
Lincoln Technical Institute
2410 Metrocentre Boulevard, West Palm Beach, FL 33407
(561) 842-8324
NCLEX-PN Pass Rate: 67.65%
Palm Beach County Schools
3300 Forest Hill Boulevard, West Palm Beach, FL 33406
(561) 434-8000
NCLEX-PN Pass Rate: 100.00%
Inlet Grove Community High School
600 W 28th St,, West Palm Beach, FL 33404
(561) 881-4600
NCLEX-PN Pass Rate: 50.00%
Winter Haven, FL LPN Training Programs:
Ridge Career Center
7700 State Road 544, Winter Haven, FL
(863) 419-3060
NCLEX-PN Pass Rate: 79.65%