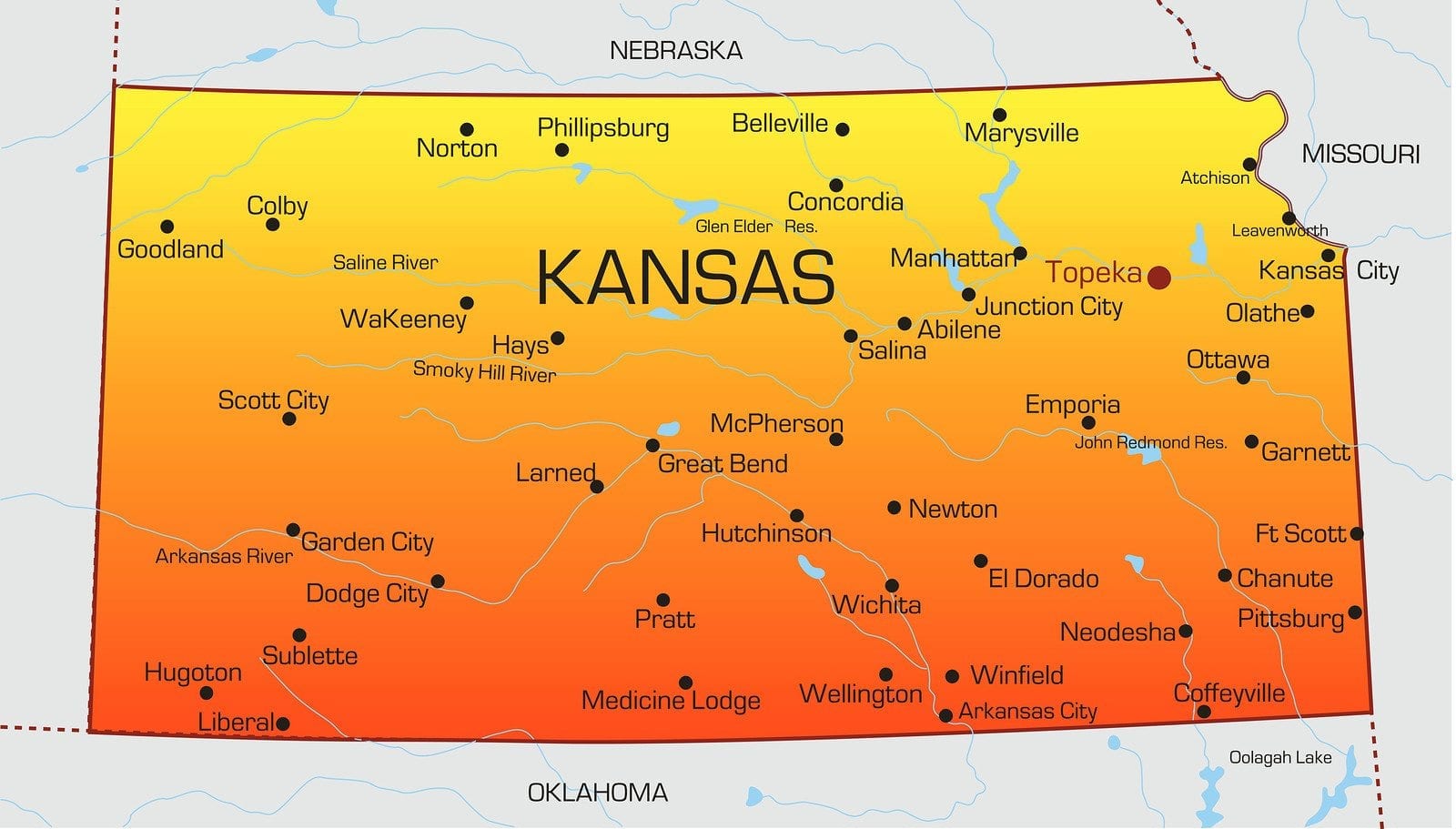 According to the numbers, your future looks bright if you're planning to become a licensed practical nurse (LPN) in Kansas. LPNs work under the guidance of a registered nurse or physician to provide care for patients in hospitals, nursing homes, clinics, physicians' offices and patients' homes. Their responsibilities include, but are not limited to, measuring and recording vital signs, supervising Certified Nursing Assistants, reporting status updates and concerns, communicating with members of the patient care team, contributing to the patient care plan, and administering medication – with state approval. Opportunities for LPNs are skyrocketing across the state, mainly in the long-term care and home health care sectors. Technological advances, aging baby boomers, and calls for preventive care are all factors that contribute to the rising need for nurses in Kansas and across America. The Kansas State Board of Nursing requires all prospective LPNs to complete an approved education program, pass the NCLEX and apply for state licensure before they begin practicing.
LPN Training Kansas: Prerequisites and Program Content
Kansas State Board of Nursing approved practical nursing program share one common goal. That is to provide a common body of knowledge and skills that prepare students for employment as Licensed Practical Nurses. In order to secure state licensure, nurse graduates must pass the NCLEX-PN exam. Formal training prepares graduates for success on the exam through a combination of didactic and experiential training. The Board requires graduate nurses to complete clinical training in preparation for licensure, so it is important to refer to the list of approved programs and ensure your program of choice includes a clinical component.
Another important factor to consider with your program of choice is the NCLEX-PN pass rate. Schools with higher pass rates have a proven history of producing graduates with the knowledge, skills, and confidence to pass the exam. Keep in mind that there are other factors that influence an individual's ability to pass the exam, including a lengthy lapse between graduation and the scheduled test date, motivation, and advanced preparation.
Training programs are available at colleges, universities, vocational schools, high schools, and private institutions; most of them offer credit for entry into degree programs if the graduate chooses to pursue further training. Some institutes may not offer credit for the experiential learning.
The course curriculum covers the foundations of nursing, pharmacology, medical-surgical nursing, maternal-child nursing, gerontology, role development, developmental psychology, general psychology, principles of nutrition, anatomy and physiology, and much more. Requirements for entry varies but may include a high school diploma, criminal background check, immunization, letters of recommendation, drug screen, and attendance to a pre-enrollment orientation session.
Program graduates are eligible to sit the NCLEX-PN exam for Kansas State licensure.
Duration and Cost of Training: The time for completion of a practical nursing program depends on the credential earned and the number of credit hours a student completes in each semester. The student's time, personal commitments, and motivation all affect the time to completion. Overall, most programs advertise an average completion time of 12-14 months based on a full-time schedule. The average cost to complete a practical nursing diploma in Kansas is $23,000, including textbooks, uniform, administrative fees, and supplies. There are several opportunities for funding via scholarships or grants in the state. The Kansas Nursing Service Scholarship is available through employers such as hospitals, nursing homes, or the local health department. The practical nursing student may receive full or partial funding for the program in exchange for nursing services after graduating from the program.
The KSBN also oversees a one-time scholarship for students enrolled in a pre-license nursing program. The Arthur Davis Agency funds the program, and the Board selects the winners through a blind review of an essay submitted by scholarship applicants. Four candidates receive the $1000 award to assist with school expenses.
NCLEX Kansas
Applicants must file a completed application with the Kansas State Board of Nursing and successfully complete the NCLEX examination to be considered for licensure. The NCLEX candidate bulletin contains details on how to register for the exam, schedule the exam, what to bring to the test site, an overview of the exam content, and other pertinent information on the process. Reviewing the candidate bulletin before you register will prevent a lot of common and costly mistakes.
There are three ways to register for the NCLEX:
Visit the NCLEX candidate website to submit your application and pay using your credit card.
Visit the NCLEX candidate website online to register and print a payment voucher. Mail the voucher and $200 fee using a money order or cashier's check
Call NCLEX candidate services at 1-866-496-2539 to register and pay with a credit card.
After Pearson Vue sends the Authorization to Test letter, you must schedule a test date within 90 days of receiving the letter. The exam is available by appointment only.
If you fail the exam, you must register again and pay the accompanying $200 registration fee. There are a few ways to increase your chances of success on the exam: schedule a test day soon after graduating from the nursing education program, attend a nursing school with a high NCLEX pass rate, review the course content, and read the candidate handbook thoroughly.
Kansas LPN Licensure Requirements
Licensure in Kansas is mandatory to practice as a practical nurse. After submitting your application to the Kansas State Board of Nursing, you may not practice until the administration issues a license. Practicing nursing in the state violates the statute governing nursing, and violators will be prosecuted.
Submit your NCLEX application and the Kansas State Board application with accompanying fees approximately 30 days before graduating from your nursing program. List the anticipated graduation date on the application forms.
The Application for initial licensure by examination will remain active for six (6) months based on the date the Board receives the application.
All applicants for license by exam or endorsement must provide a completed fingerprint card for the purpose of a criminal background check with the Kansas Bureau of Investigation and FBI. Use fingerprint cards distributed by the KSBN only as they contain specific identifying information. The results of the background check will be available within one month of submission. Therefore, it is critical to apply one month before your graduation date if you wish to expedite the process. The Board will not authorize state licensure until the results of the CBC are available. Applicants should enclose $48 (for the criminal background check) using a check or money order payable to the Kansas State Board of Nursing.
Licensure By Examination
Use the following steps to submit your application to the Board of Nursing:
Submit your application to Pearson Vue and the application for licensure by examination to the KSBN simultaneously. Applications should go in one month before your graduation date. Complete ALL required blanks unless otherwise noted.
Attach the non-refundable $50 application fee using a check or money order payable to the Kansas State Board of Nursing.
Request a copy of your official transcript(s) from the nursing program. The school should mail the transcripts directly to the KSBN as soon as you complete the program.
Make arrangement to take your fingerprints on a Board-provided card and submit with the fingerprint fee to the KSBN. Complete the Fingerprint Waiver Agreement and Statement.
Enclose an explanatory letter regarding each conviction or disciplinary action if you answer "yes" to questions 8,9,10 or 11 on the application form. The explanatory letter must cover the date of the offense, circumstances surrounding the offense, actual conviction and sentence, current status, and rehabilitation.
Include court documents for each conviction. Your application will be considered incomplete without the accompanying documents.
Provide a certified/date copy of the Board order if you were the subject of disciplinary action.
Sign your legal name, notarize the application, and mail to the Board's address provided below.
If your application expires (after the 6-month period), you must submit a new application along with the accompanying fee and documents – including a new fingerprint card and fee for another criminal background check.
The Board will review the application, documents and authorize your eligibility to take the test with Pearson Vue. KSBN will issue your license and wall certificate if you pass the exam and meet all the requirements for licensure.
Licensure By Endorsement
Practical nurses licensed in another state may apply to the KSBN for licensure by endorsement. It is a violation of the statute to practice without Kansas licensure. Your license from another state does not grant the privilege to practice nursing in Kansas.
All documents verifying your status and education must be sent directly from the agency to the KSBN.
Complete the application for endorsement in print or in black or blue ink, making sure to answer all questions unless otherwise noted.
Attach the non-refundable application fee of $50 paid by personal check, cashier's check, or money order payable to the Kansas State Board of Nursing.
Request official transcripts from your nursing education program to be sent directly to the KSBN. The approved nursing program must provide a clinical experience where students participate in the practice of nursing under the guidance of a faculty member.
The jurisdiction must be one that uses the State Board Test Pool Examination or NCLEX as a licensing tool.
LPNs with licenses from California and Texas issued between the years 1952 and 1968, and 1974 and 1986 respectively must complete the NCLEX for licensure by endorsement.
Use the License Verification Request Form to confirm your license in another state. The licensing agency in your current state must send the verification directly to the KSBN. If the state participates in Nursys, the verification request may be completed online.
Submit an explanatory letter, a copy of official court documents, and a Board order if you have been convicted of a misdemeanor or felony or the subject of disciplinary action from a state licensing agency.
Complete a KSBN-provided fingerprint card, sign the Fingerprint Waiver Agreement and Statement, and enclose the $48 fee for a criminal background check. The fingerprinting agency must mail the card and waiver directly to the KSBN after you submit your fingerprints.
Sign and notarize the application before mailing to the Board's address provided below.
The KSBN may grant a temporary permit based on its discretion. Approval for a temporary 120-day permit is no guarantee of a permanent license. The Board will grant the permit upon receipt of a copy of an active license in another state. Candidates with disciplinary actions or a criminal history may not qualify for a temporary permit.
Renewing Your LPN License
The KSBN facilitates online renewal. Licensees initiating or renewing an inactive license or exempt license may not use the online renewal. If you did not complete the required 30 hours of continuing nursing education (CNE), you should not renew online.
To renew by mail, submit the following with your completed paper renewal application:
Your license number and the license you wish to renew.
The license renewal fee of $55 payable to the Kansas State Board of Nursing.
A military order if you're renewing after active military service and want to defer the CNE requirements.
A notarized Change of Name Certificate or the certified legal document if your name changes.
An explanatory letter and official documents if you've been convicted of a crime or been the subject of disciplinary actions.
Note: You should not send copies of your Continuing Nursing Education. Keep the documents for two years to present to the Board by mail if you're selected for an audit.
Allow two weeks for the Board to process your renewal application. Late renewal requests (forms not postmarked by the last day of the renewal month) will lead to an inactive license. If your license expires, you must apply for reinstatement. The Board requires 10 business days to process reinstatement requests, and license holders may not practice until the reinstatement is complete.
The reinstatement fee is $95.
Salary and Job Outlook LPNs Kansas
Employment of Kansas' LPNS is expected to grow faster than the average for all occupations through the year 2019. The growing long-term care needs of a rising elderly population and the general growth for health care services increase the need for nursing professionals. While the figures are essentially positive, the growth is specific to the industry, particularly in long-term care facilities and home health agencies in response to the increasing number seniors with functional disabilities. It is cost effective for these individual to receive the medical assistance they need in nursing homes and their personal residences. Technological advances also makes it more feasible to administer advanced treatments right in the comfort of the patient's home. These and other factors contribute to numerous opportunities for LPNs outside the traditional hospital setting.
The location also plays a critical role in the availability of jobs. In 2014, there were approximately 4,510 jobs for LPNs in the Greater Kansas City Area. That number is expected to increase to 5,154 by the year 2019. Statewide, there were approximately 6,790 jobs in 2014, which will increase to 7,665 by 2019. LPNs in Kansas earn an average hourly wage of $19.52 in the metropolitan areas and those in the rural areas earned an estimated $17.85 hourly. More than 97% of practical nurse graduates obtain employment within a year of graduation.
Contact the Board of Nursing
Kansas State Board of Nursing
Landon State Office Building
900 SW Jackson Street
Suite 1051
Topeka, Kansas 66612-1230
Main: 785-296-4929
Fax: 785-296-3929
Kansas Board of Nursing Approved Training Programs and NCLEX Pass Rates
Beloit, KS LPN Training Programs:
North Central Kansas Technical College – Beloit
3033 Us Hwy 24,
Beloit, KS 67420
(800) 658-4655
NCLEX-PN Pass Rate: 100.00%
Chanute, KS LPN Training Programs:
Neosho County Community College
800 West 14th Street,
Chanute, KS
(620) 431-6222
NCLEX-PN Pass Rate: 91.58%
Coffeyville, KS LPN Training Programs:
Coffeyville Community College
400 W 11th St,
Coffeyville, KS
(620) 251-7700
NCLEX-PN Pass Rate: 100.00%
Colby, KS LPN Training Programs:
Colby Community College
1255 S Range Av,
Colby, KS 67701
(785) 462-3984
NCLEX-PN Pass Rate: 85.11%
Dodge City, KS LPN Training Programs:
Dodge City Community College
2501 N. 14th Ave.,
Dodge City, KS
(620) 225-1321
NCLEX-PN Pass Rate: 100.00%
El Dorado, KS LPN Training Programs:
Butler County Community College
901 S. Haverhill Rd,
El Dorado, KS 67042
(316) 321-2222
NCLEX-PN Pass Rate: 100.00%
Emporia, KS LPN Training Programs:
Flint Hills Area Technical College
3301 W 18th Ave,
Emporia, KS 66801
(620) 343-4600
NCLEX-PN Pass Rate: 79.59%
Garden City, KS LPN Training Programs:
Garden City Community College
801 Campus Drive,
Garden City, KS
(620) 276-7611
NCLEX-PN Pass Rate: 100.00%
Great Bend, KS LPN Training Programs:
Barton County Community College
245 Ne 30th Rd,
Great Bend, KS 67530
(620) 792-2701
NCLEX-PN Pass Rate: 96.43%
Hays, KS LPN Training Programs:
North Central Kansas Technical College – Hays
2205 Wheatland Ave,
Hays, KS 67601
(785) 625-2437
NCLEX-PN Pass Rate: 97.06%
Highland, KS LPN Training Programs:
Highland Community College Technical Center
606 W Main St,
Highland, KS 66035
(785) 442-6000
NCLEX-PN Pass Rate: 97.44%
Hutchinson, KS LPN Training Programs:
Hutchinson Community College
1300 N Plum St,
Hutchinson, KS 67501
(620) 665-3500
NCLEX-PN Pass Rate: 91.55%
Kansas City, KS LPN Training Programs:
Kansas City Kansas Community College
7250 State Ave,
Kansas City, KS 66112
(913) 334-1100
NCLEX-PN Pass Rate: 96.36%
Donnelly College
608 N 18th St,
Kansas City, KS 66102
(913) 621-8700
NCLEX-PN Pass Rate: 37.78%
Lenexa, KS LPN Training Programs:
Brown Mackie College – Kansas City
9705 Lenexa Dr,
Lenexa, KS 66215
(913) 768-1900
NCLEX-PN Pass Rate: 74.50%
Liberal, KS LPN Training Programs:
Seward County Community College / Area Technical School
1801 N Kansas Ave,
Liberal, KS
(620) 624-1951
NCLEX-PN Pass Rate: 90.10%
Manhattan, KS LPN Training Programs:
Manhattan Area Technical College
3136 Dickens Avenue,
Manhattan, KS
(785) 587-2800
NCLEX-PN Pass Rate: 100.00%
Overland, KS LPN Training Programs:
Johnson County Community College
12345 College Blvd,
Overland, KS
(913) 469-8500
NCLEX-PN Pass Rate: 94.74%
Parsons, KS LPN Training Programs:
Labette Community College
200 S. 14th Street,
Parsons, KS
(620) 421-6700
NCLEX-PN Pass Rate: 100.00%
Pratt, KS LPN Training Programs:
Pratt Community College
348 NE SR 61,
Pratt, KS (620) 672-6937
NCLEX-PN Pass Rate: 86.21%
Salina, KS LPN Training Programs:
Brown Mackie College – Salina
2106 S 9th St,
Salina, KS 67401
(785) 825-5422
NCLEX-PN Pass Rate: 85.11%
Topeka, KS LPN Training Programs:
Washburn Institute of Technology
5724 Sw Huntoon St,
Topeka, KS 66604
(785) 273-7140
NCLEX-PN Pass Rate: 92.31%
Wichita, KS LPN Training Programs:
Wichita Area Technical School
4004 N. Webb Road,
Wichita, KS 67226
(316) 677-9400
NCLEX-PN Pass Rate: 86.76%
Get Your Degree!
Find schools and get information on the program that's right for you.
Powered by Campus Explorer