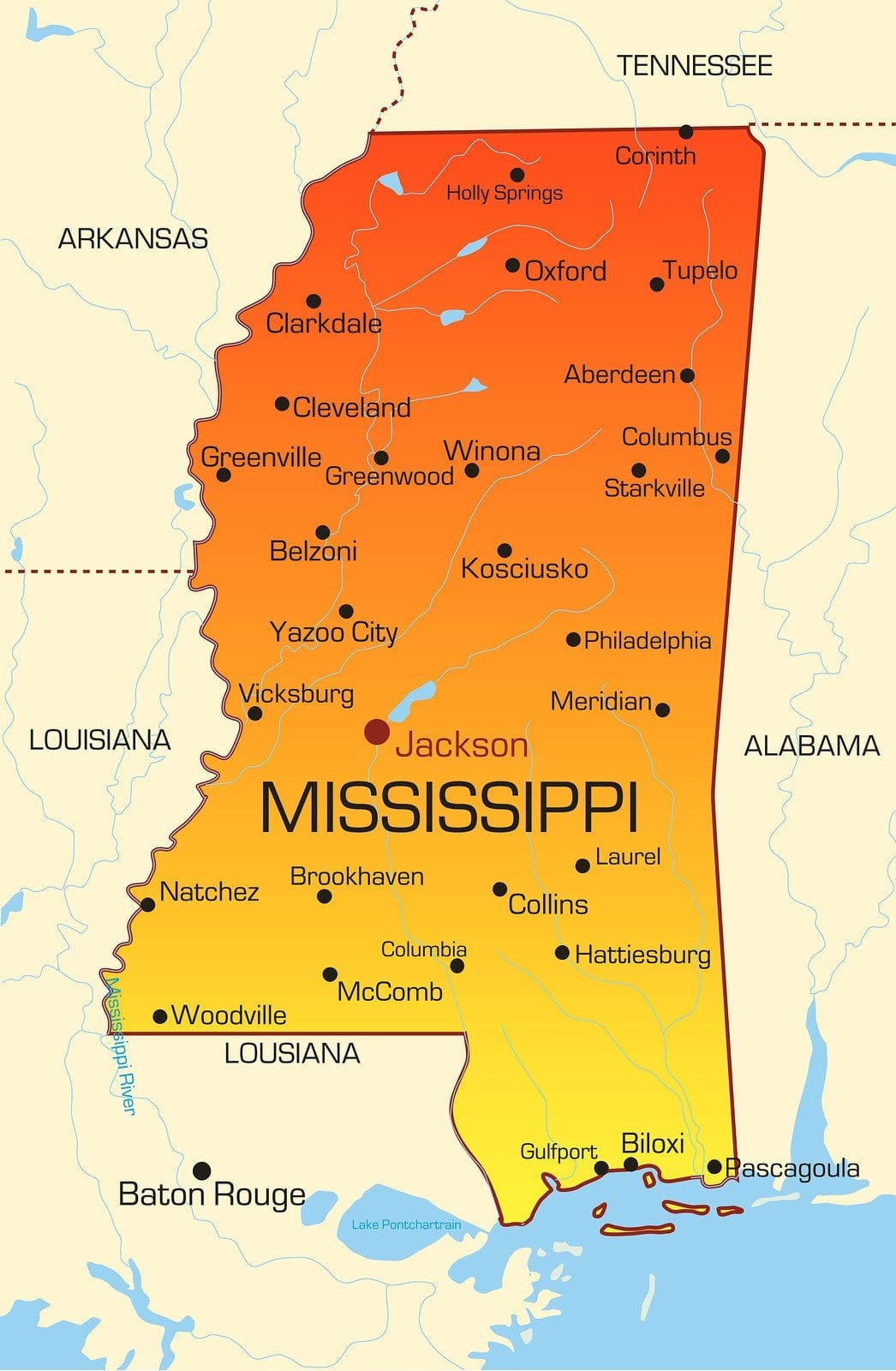 LPNs function as contributing members of the health care team by providing compassionate care and respect for patients' rights. They assist with the promotion of health and prevention of illness throughout the life span. As the profession evolves, nurses do more than just attend to patients' needs. Their multiple professional responsibilities include patient advocacy, communication, community education, and management of CNAs, orderlies, and other LPNs. LPNs work in various healthcare settings, including emergency care, medical-surgical units, neurology, orthopedics, oncology, psychiatry, and geriatrics. The Mississippi Board of Nursing regulates the profession and ensure licensed practical nurses operate with the guidelines of the state's nursing laws, rules, and regulations.
LPN Programs in MS:
LPN Training Mississippi: Prerequisites and Program Content
Graduates of Mississippi's Board approved practical nursing education programs are prepared to participate in the planning, evaluation, and implementation of patient care plans in hospitals, long-term care facilities and other health care settings. Prospective students should be careful to enroll in a program that is accredited by the Board of nursing only to be eligible to take the NCLEX. There are currently 15 board-approved programs in various cities across Mississippi. The curriculum, in accordance with the Board's requirements, include classroom instruction, service learning opportunities, and supervised clinical activities in state-approved hospitals and other medical facilities.
Some of the courses you'll complete while enrolled in a practical nursing class include practical nursing concepts, pharmacology, law and ethics, industry trends, leadership, professionalism, medical-surgical nursing, nutrition, pediatric nursing, mental health, nursing transition, body structure and functions, and maternal-child nursing.
The supervised clinical experience affords students a unique opportunity to see the medical team in action and play an active role in patient care. Instructors supervise the entire process as students integrate their knowledge into the real-world setting of hospitals and nursing care facilities. The classroom and clinical sessions foster the development of communication, problem-solving, and critical thinking skills in all students.
To qualify for entry during the fiercely competitive enrollment process, students must be 18 years or older with a high school diploma or GED scores. Applicants must also submit a composite ACT score of 16 or more and pass the school's entrance exam. Students accepted on a provisional basis must them obtain criminal background clearance, TB clearance, and pass a drug screen and physical exam. All students must obtain immunizations, Healthcare Providers CPR, and earn a grade C or more in the prerequisite courses, such as anatomy and physiology, chemistry English composition, college math, medical terminology and any other course the college deems fit.
Graduates must apply to the Mississippi Board of Nursing to take the NCLEX-PN. Successful completion of the program does not guarantee your eligibility to take the exam. The Board reserves the right to deny the application of any person convicted of a criminal offense.
Duration and Cost of Training: Practical nursing programs in Mississippi usually take 12 to 14 months to complete based on a full-time schedule. Part-time students not only require more time to complete the program but also spend up to 25 percent more that full-time students. Training costs $11,200 on average for tuition only. Students must cover the costs for textbooks, lab supply, workbooks, software, uniform, liability insurance, preadmission exams, graduation fees, and preadmission requirements, such as criminal background screening, immunization, TB test, physical exam, drug screening, and prerequisite courses. Contact the program coordinator for more information on the tuition policies and additional charges. Financial aid may be available through Federal loans, grants, scholarships, and private loans for qualifying students.
NCLEX Mississippi
Applicants for LPN licensure by examination must submit applications to both the Board of Nursing and register with Pearson Vue for the NCLEX. Pearson Vue facilitates easy registration online or by phone. The registration fee is $200 payable via credit card or debit card.
The Board will grant authorization for you to take the exam after reviewing your completed application and official transcript – you must also register for a criminal background check. Pearson Vue will deliver the Authorization to Test (ATT) to the email address you provided during registration. Keep a copy of the ATT as it must be presented at the test center to be admitted to the exam. Administrators will not admit a candidate for examination without the ATT.
The ATT contains your candidate identification number, authorization number, and expiration date. You must schedule and take the test within the validity dates – the dates cannot be extended for any reason. If you do not take the test within the dates, you must submit another registration and fee.
Although the Computer Adaptive Test scores in real time, you will not receive results at the testing site. Pearson Vue will transmit the results electronically to the Board of Nursing. The Board will mail a diagnostic profile if you fail the exam or display a license number on the Board's website (within 10 business days) if you pass. The diagnostic profile reports your level of performance for each area of the test plan. You may use the information provided to determine your strengths and weaknesses in preparation for retaking the exam.
Mississippi now offers NCLEX quick results for candidates. The unofficial results do not guarantee licensure. Candidates must await official confirmation of licensure from the Board before they begin practicing as licensed nurses. The time for official notification is 7 to 10 days based on the criminal background check process.
Mississippi's Board of Nursing Rules and Regulations permit a candidate to take the NCLEX a maximum of 6 times within 2 years of graduating from an approved nursing education program. There must be at least 46 days between each attempt to take the exam.
Mississippi LPN Licensure Requirements
Nursing student graduates must not assume nursing duties until the Board issues an official license. They may perform the duties routinely performed by a nursing assistant. The Board defines the practice of nursing as the performance, for compensation, of services requiring basic knowledge of nursing procedures which do not require the substantial skill and knowledge of a registered nurse.
Mississippi's participation in the Nurse Licensure Compact means applicants who declare the state as their primary state of residence, with suitable evidence, will receive a multi-state license to practice in other Compact states. LPNs may only hold a license in one Compact state as determined by their primary state of residence. LPNs from other compact state have the privilege of practicing in Mississippi (abiding by the Nursing Practice Law of this state) for a period of 90 days as long as their licenses are in good standing. Thereafter, the licensee must apply for a license if declaring Mississippi as his or her primary state of residence.
Applicants for licensure, who cannot submit a driver's license with a home address or voter registration or federal income tax return to declare Mississippi as the primary state of residence, will receive a single-state license.
Mississippi Board of Nursing (MSBN) is authorized, by law, to commission fingerprint-based criminal background history checks on all applicants for licensure. The CBC will involve a records check of the Mississippi central criminal database and the Federal Bureau of Investigations criminal history database. Applicants must complete the Student CBC Registration after submitting an application for licensure. The CBC fee is $75 payable using a credit or debit card bearing a Discover, Visa, or MasterCard logo.
Onsite fingerprinting, performed by the MSBN staff, at the school of nursing is available for Mississippi residents. If you completed an out-of-state nursing program but reside in Mississippi, you should contact the Board to schedule an appointment for fingerprinting.
If you reside in a state other than Mississippi, you should contact the Board for fingerprinting instructions.
All applicants must provide two forms of ID during fingerprinting. If you've been convicted of or pled guilty to any charge, you should furnish the Board with certified copies of all court records, expungements, documents demonstrating release of probation, evidence of fines paid, and a written detailed explanation of the circumstances surrounding each criminal offence.
Licensure By Examination
Nursing graduates must apply for the licensure exam using the following guidelines:
Complete the application form. Incomplete applications will be returned.
Indicate your primary state of residence. The MSBN will issue a single-state license if Mississippi is not your primary state of residence.
Enclose the $60 application fee using a check or money order payable to the Mississippi Board of Nursing. Add an extra $20 for IV therapy expanded role if applicable. Indicate your social security and number and phone number on the payment.
Provide evidence of completing a nursing program in the form of an official transcript sent directly from the registrar to MSBN. If you completed all the requirements for graduation but have not formally graduated, you can request official documentation of your eligibility to graduate – from the registrar directly to the MSBN. The document must bear an official school seal, and the transcript must follow within 30 days.
Complete the Authorization to Release Information form (included with the application) and have it notarized.
Complete the Special Accommodation Request for the NCLEX and submit with your application if applicable.
Check the status of your application online and register for a criminal background check after 7 to 10 business days.
Register for the NCLEX-PN on Pearson Vue's website.
Foreign educated graduates:
Provide a valid social security number on the application.
Submit evidence of nursing education and credential evaluation from CGFNS. The agency must send an original copy of the report directly to the Board of Nursing.
Submit a CES Professional report if you graduated from an English-speaking
Submit a CP report if you graduated from a non-English speaking program.
Applications are valid for one year after submission. You must submit another application, fee, and supporting documents if you do not complete the application within that time.
Licensure By Endorsement
If you were licensed in another state or U.S, jurisdiction, you must apply for licensure by endorsement to practice in Mississippi.
Complete the application. Incomplete applications will be returned.
Enclose the $60 application fee using a check or money order payable to the Mississippi Board of Nursing.
Attach a signed and dated 2" x 2" passport type photo to the application form using transparent tape.
Indicate your primary state of residence. The MSBN will issue a single-state license if your primary residence is another non-compact state.
Sign and notarize the application.
Verify your license using Nursys if your original state is licensure participates. If your state is not listed, you should mail a notarized Verification of Original Licensure form to the licensing agency for verification. The agency should mail the completed form to the MSBN. Include your name, license number, etc. on the form and any applicable fees for faster processing.
Submit an official transcript of your nursing education directly to the MSBN. The transcript must indicate the degree conferred and graduation date.
Complete and notarize the Authorization to Release Information.
The Board may issue a temporary permit upon request. The non-renewable temporary permit lets the LPNs work while the license is in progress. The permit expires in 90 days. The fee for the permit is $25. If requesting a temporary permit, attach a copy of your current/ active LPN license showing the expiration date.
Renewing Your LPN License
LPN licenses expire on December 31 during odd-numbered years. The renewal period begins October 1 where LPNs can begin submitting their renewal requests online. There are currently no continuing education requirements to renew or maintain an LPN license. However, a nurse can maintain the competency relevant to his or her field of practice. The Board does not impose minimum practice requirements to maintain a license. However, those who have not practiced within 5 years must take a refresher course.
Salary and Job Outlook LPNs Mississippi
Employment of LPNs is projected to grow about as fast as the average for all occupations through 2018 in response to long-term care needs of an increasingly elderly population. The prevalence of chronic illnesses and the general growth of health care services also impact the need to professional nurses. As close to 20% of the workforce advance to other positions or leave the occupation permanently, new opportunities will open up for recent graduates. But while the projections are positive for the occupation, nurses need to know where to find these opportunities. Many will be sadly disappointed if they limit their search to the nation's hospitals as employment in this sector is on a decline. Modern technology now makes it possible for patients to undergo complex tests and procedures in physicians' offices, outpatient care centers, and community clinics. As a consequence, employment for LPNs will largely grow in these centers even as they decline in the hospitals.
While there is still room for LPNs in various hospital units, applicants will face fierce competition to secure the limited positions. Moreover, hospital administrators are more likely to hire LPNs with years of experience and training. Newly licensed nurses seeking employment in long-term care, home health care, physicians' offices, outpatient centers, and other non-traditional places can begin practicing within 4 to 8 months of graduation. The median annual salary of LPNs was $36,600 in May 2014. The middle 50 percent earned between $34,560 and $41,957. The lowest paid LPNs in rural and low-income areas earned less than $32,260, and the highest paid in Mississippi's bustling metropolitan areas earned more than $44,330.
Ashland, MS LPN Training Programs:
School Of Practical Nursing
NW MS Community College – Benton Co Voc Center
Rt 2 Box 42A, Ashland, MS 38603
(662) 224-3108
Booneville, MS LPN Training Programs:
School Of Practical Nursing
Ne MS Community College
101 Cunningham Blvd, Booneville, MS 38829
(662) 728-7751
Clarksdale, MS LPN Training Programs:
School Of Practical Nursing
Coahoma Community College
3240 Friars Point Road, Clarksdale, MS 38614
(662) 627-2574
Decatur, MS LPN Training Programs:
School Of Practical Nursing
E Central Com College
P O Box 129, Decatur, MS 39327-0129
(601) 635-3237
Ellisville, MS LPN Training Programs:
School Of Practical Nursing
Jones Co Junior College
900 S Court St, Ellisville, MS 39437
(601) 477-4000
Gautier, MS LPN Training Programs:
School Of Practical Nursing
MS Gulf Coast Com College – Jackson Co Campus
P O Box 100, Gautier, MS 39553
(228) 497-9602
Grenada, MS LPN Training Programs:
School Of Practical Nursing
Holmes Com College
1060 Avent St, Grenada, MS 38901
(662) 226-0830
Gulfport, MS LPN Training Programs:
School Of Practical Nursing
MS Gulf Coast Com College- Jefferson Davis Campus
2226 Switzer Rd, Gulfport, MS 39507
(228) 896-3355
Hattiesburg, MS LPN Training Programs:
School Of Practical Nursing
Pearl River Com College – Forrest Co Vo Tech Center
5448 Us Hwy 49 S, Hattiesburg, MS 39401
(601) 544-7722
Jackson, MS LPN Training Programs:
School Of Practical Nursing – Virginia College in Jackson
4795 I-55 North, Jackson, MS 39126
(601) 977-0960
School Of Practical Nursing
Hinds Community College-Allied Health Center
1750 Chadwick Dr., Jackson, MS 39204
(601) 372-6507
Lucedale, MS LPN Training Programs:
School Of Practical Nursing
MS Gulf Coast Com College- George Co Occup Tng Center
P O Box 77, Lucedale, MS 39452
(601) 947-4201
Mayhew, MS LPN Training Programs:
School Of Practical Nursing
E MS Community College
P O Box 100, Mayhew, MS 39753
(662) 243-1900
Mendenhall, MS LPN Training Programs:
School Of Practical Nursing
Copiah-Lincoln Com College
151 Co-Lin Drive, Mendenhall, MS 39114
(601)849-5149
Meridian, MS LPN Training Programs:
School Of Practical Nursing
Meridian Community College
910 Hwy 19 North, Meridian, MS 39307
(601) 483-8241
Moorhead, MS LPN Training Programs:
School Of Practical Nursing
MS Delta Community College
P O Box 668, Moorhead, MS 39761
(662) 246-6322
Natchez, MS LPN Training Programs:
School Of Practical Nursing
Copiah-Lincoln Com College
30 Campus Dr., Natchez, MS 39120
(601) 442-9111
Oxford, MS LPN Training Programs:
School Of Practical Nursing
NW MS Community College
1310 Belk St, Oxford, MS 38655
(662) 236-2023
Poplarville, MS LPN Training Programs:
School Of Practical Nursing
Pearl River Com College
101 Hwy 11 North, Poplarville, MS 39470
(601) 795-6801
Ridgeland, MS LPN Training Programs:
School Of Practical Nursing
Holmes Com College
412 W Ridgeland Ave, Ridgeland, MS 39157
(601) 856-5400
Scooba, MS LPN Training Programs:
School Of Practical Nursing
E MS Community College
P O Box 158, Scooba, MS 39358-0158
(662) 476-8442
Senatobia, MS LPN Training Programs:
School Of Practical Nursing
NW MS Community College
4975 Hwy 51 N., Box 7045, Senatobia, MS 38668-1491
(662) 562-3200
Southhaven, MS LPN Training Programs:
School Of Practical Nursing
NW MS Community College – Desoto Campus
5197 W. E. Ross Pkwy, Southaven, MS 38671
(662) 342-1570
Summit, MS LPN Training Programs:
School Of Practical Nursing
SW MS Community College – College Dr – Voc Tech Bldg
Summit, MS 39666
(601) 276-2000
Tupelo, MS LPN Training Programs:
School Of Practical Nursing
Itawamba Com College
2176 S Eason Blvd, Tupelo, MS 38801
(662) 620-5000
Vicksburg, MS LPN Training Programs:
School Of Practical Nursing
Hinds Community College
755 Hwy 27 South, Vicksburg, MS 39180
(601) 638-0600
Wesson, MS LPN Training Programs:
School Of Practical Nursing
Copiah-Lincoln Com College
P O Box 649, Wesson, MS 39191
(601) 643-5101