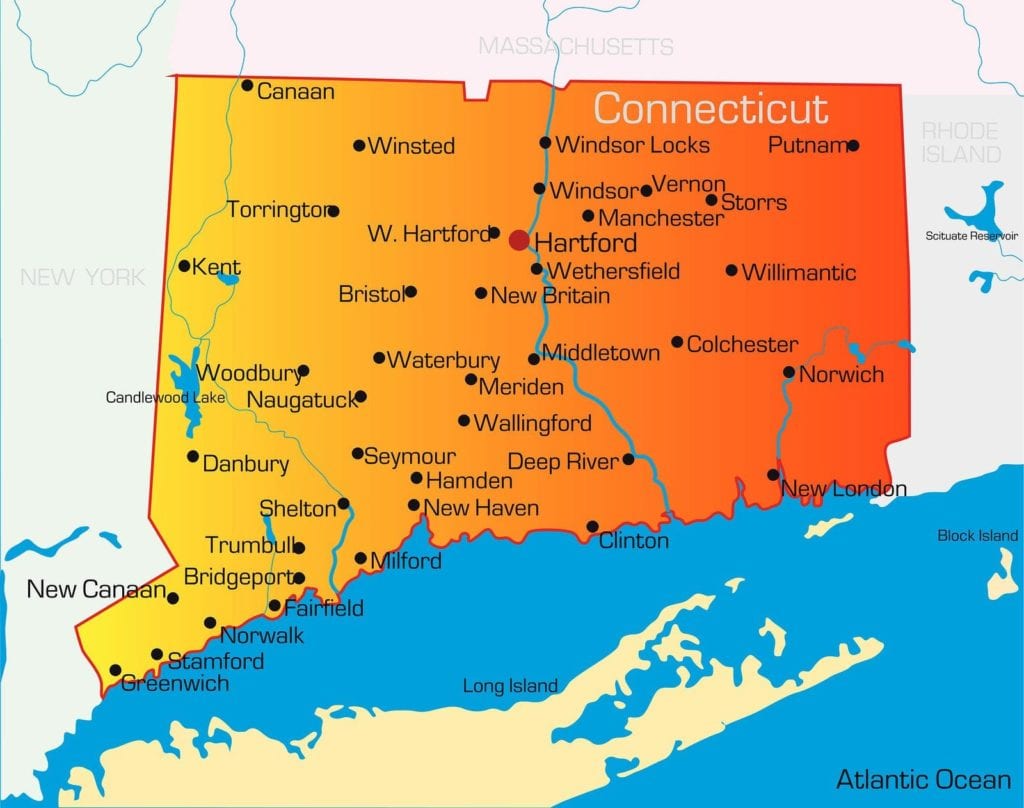 Nurses use their knowledge and professional training to provide caring and compassionate service to promote, maintain, and restore health and provide support during the dying process. The profession requires critical thinking, specialized knowledge, effective communication techniques, and therapeutic interventions in a medical setting. Licensed practical nurses are an integral part of the health care team, executing their duties under the direction and guidance of a registered nurse or licensed physician. As part of the collaborative team, they must always acknowledge the rights of persons within their care. By so doing, they become active participants in the patient care plan. The Connecticut Department of Public Health establishes the standards of care, monitors nurse education programs, evaluates the practice as a whole, and ensures practical nurses function within the ethical, legal, and multicultural framework.
LPN Programs in Connecticut:
LPN Training Connecticut: Prerequisites and Program Content
Connecticut's approved training programs facilitate a minimum 1500 hours in the classroom. The teaching is an interactive process, covering classroom, hands-on lab, and clinical practice to promote learning. The program prepares students to assume the role of licensed practical nurses in various healthcare settings.
In order to satisfy the DOH requirements for licensure, it is critical that you enroll in an approved training program that follows the course of study recommended. Core areas of study include nursing principles, fundamentals of nursing, health and wellness, nursing concepts, medical-surgical nursing, maternal and newborn nursing, developmental psychology, pharmacology, pediatrics, and geriatric nursing.
During the clinical experience, students should be able to demonstrate their skills by assisting patients with personal hygiene, dressing, eating and bathing, measuring and recording patients' vital signs, administering medications, dressing wounds, and evaluation patients' needs in assisted living facilities. They will also have the opportunity to collect samples for lab testing and prepare and administer injections under the guidance of a registered nurse or physician.
Requirements for admissions vary by school, but may include a criminal history check, high school diploma, letters of references, prerequisite courses, TB test, drug screen, and immunization. Mandatory information sessions are a notable requirement for numerous practical nursing programs in Connecticut. The sessions provide information on the application and acceptance process and details on the course information and schedules.
Upon graduation, students are eligible to take the Connecticut NCLEX-PN licensing examination.
Duration and Cost of Training: Organizations such as the Connecticut Nurses' Foundation provide much-needed scholarships for students who cannot complete their nursing education without financial aid. Many students rely on federal dollars to complete their education, which can cost approximately $13,000 for tuition alone. Textbooks, supplies, uniform, admission screening, administrative fees, and lab fees place added burdens on students. Students who fall short of the criteria for scholarship, grants, or federal loans, may use payment plans available at a few training institutes. The average duration of a certificate LPN program in approximately 12 months.
NCLEX Connecticut
Connecticut consistently ranks in the top 12 nationally for the NCLEX-PN pass rates for first-time testers. The state maintains an average rate of 85.5 percent, so it's no surprise to learn that schools with low passing rates come under intense scrutiny. As a prospective nursing student, it is important that you review the NCLEX pass rates for the 20 schools approved by the board to provide nursing education. Apart from research and asking lots of questions during the school's information session, you should review the candidate bulletin, which will provide details on the application process, fees, and your duties on exam day.
One factor that affects students' ability to pass the exam is the time between graduation and the scheduled exam date. After bearing the burden of tuition, some students need time to save the $200 to take the test and $150 for the state license. Students who wait to take the exam decrease their chances of success.
To combat low passing rates, schools such as Stone Academy administer an exit exam to determine students' readiness for the NCLEX. Payment vouchers and computerized instruction and school evaluations also help to prepare students for success.
To register for the NCLEX, visit Pearson Vue online and register, or submit your application over the phone or via postal mail. Your next step should be to submit your application for licensure to the Practitioner Licensing Office. The Office will authorize testing if you meet all the requirements and advise Pearson Vue to send the Authorization to Test letter. Schedule the test within 90 days and take the letter and a valid picture ID to the testing center on exam day.
Connecticut LPN Licensure Requirements
All practical nurses must obtain licensure in the state of Connecticut. However, the Connecticut General Statutes allow graduate nurses to practice temporarily while awaiting results of the licensing exam. The period of practice, without confirmation of licensure, should not exceed 90 days after the graduation date; the practical nurse must practice with adequate supervision from a registered nurse or physician. The employee must cease practice immediately upon notification of failure of the licensure exam. Hospitals and other health care employees must verify the graduate's completion of a nursing program before the nurse begins practicing.
Eligibility for state licensure hinges on the applicant's completion of a practical nursing program that provides 1,500 hours of theory over a minimum period of 10 months. Graduates of programs below the minimum requirements must substitute clinical work experience to compensate for the deficiency.
Graduates of foreign nursing programs must arrange for a 'Professional Report' from CGFNS International to go directly to the Practitioner Licensing Office at the address provided below.
Licensure By Examination
Use the following steps to submit your application to the Board of Nursing:
Register with Pearson Vue to take the NCLEX. Do not submit the application for licensure until you satisfy the registration requirements with Pearson Vue. There are three ways to register for the NCLEX: over the internet, by telephone, or through the postal mail.
Download and complete the application for state licensure by examination. Use the same name and address used on the application to Pearson Vue.
Attach a recent photo to the application form.
Enclose the application fee of $150 payable to the "Treasurer, State of Connecticut."
Contact the nursing education program coordinator where you completed the training and request your official transcript. The school should send the transcript in a sealed envelope directly to the Licensing Office.
Answer ALL questions related to your professional history and provide a separate notarized statement explaining the circumstances surrounding the charge for all questions where you answer "yes." Supporting documents, such as settlement or disposition, certified court copy, and other documents should also accompany the application.
An incomplete application and supporting documents will expire after one year. You will need to submit a new application and fee after such time.
The Department of Public Health may conduct a criminal background investigation to determine a candidate's eligibility for licensure. The Department reserves the right to deny licensure to an applicant who has committed or found guilty of acts that are in violation of public health and safety laws. Each case is subject to independent review as the investigating officer considers several factors, including the nature of the act, the time frame in which it was committed, and the extent of rehabilitation the individual demonstrates.
All documentation (transcripts, verification forms, etc.) must be submitted from the source – not the applicant. You can monitor the status of your file by emailing the Department. Upon approval of your application, you will receive written verification of the license number and the effective date.
Licensure By Endorsement
To process your application for a Connecticut practical nurse license based on your current license from another state, you must arrange for submission of the following documents to the Department of Practitioner Licensing (all documents must be submitted directly from the source and not the applicant):
A completed application form that is signed and notarized.
The application fee of $150 payable to, "Treasurer, State of Connecticut." Cash and personal checks are not valid forms of payment. The Department accepts bank checks or money orders only.
A recent photo attached to the application form.
An official transcript of your nursing education sent directly from the nursing school. The transcript should indicate the credential earned and date of completion.
Nurses trained and licensed in Canada can apply for licensure by endorsement with proof of successful completion of the Canadian Practical Nurse Registration Examination (CPNRE) with a score that is equivalent to Connecticut's standards. French-speaking applicants must successfully pass the Test of English as a Foreign Language (TOEFL) with a score of 550 or over on the paper-based test or 213 or more on the computer-based test.
A "Professional Report" sent directly from the CGFNS International if you completed nursing school outside of the United States.
A completed Work Experience Verification form sent directly to the Department from your most recent employer.
Verification of all licenses (current or expired) sent directly from each licensing authority. If your previous state(s) of licensure uses Nursys System, you may register to complete your license verification through Nursys.
Applicants for licensure by endorsement may be eligible for a temporary 120-day, non-renewal permit after providing evidence of a current practical nurse license from another state and official transcript of nursing education.
Renewing Your LPN License
The Department of Professional Licensing will mail a renewal notice approximately 60 days before your license expires. They will send a final notice 30 days following the expiration date to the address on record. It is important to keep your address current.
Effective October 2013, all LPNs must renew their licenses online. Licenses expire annually, and there is no inactive status for licenses. Failure to renew on time will cause your license to lapse, requiring a need for reinstatement. There is a grace period of 90 days whereby you can renew your license after expiration. The renewal fee is $60.
To reinstate your license after the grace period, you should submit the following documents along with the completed reinstatement application:
The reinstatement fee of $150 payable to "Treasurer, State of Connecticut."
A summary of your professional activities following your completion of the nursing education program – include work history, positions, duties, and dates.
A letter from your most recent employer submitted directly to the Department. You can also use this form instead of the letter.
Proof of completing a refresher course if you've been out of active nursing practice for more than three years. If you've been inactive for more than 5 years, you must complete an approved refresher course and complete the NCLEX-PN.
Salary and Job Outlook LPNs Connecticut
Connecticut's LPNs are among the nation's highest paid. At a median wage of $25.15/hour, full-time LPNs in metropolitan areas take home $52,710 annually. Even those in the outlying areas take home salaries of $42,560 to $48,000 annually, which is well above the national average.
The Bureau of Labor statistics continues to forecast a positive outlook for practical nurses – in spite of the economic downturn in the nursing industry. While the figures appear positive on the surface, the fastest growth in the industry is available for LPNs, who specialize in geriatric and home health care services. The aging population coupled with the growing need for healthcare in the home drives the demand for professional nurses. Therefore, a bright future for LPNs lies not within the walls of a hospital, but in long-term care facilities, nursing homes, and patient homes.
Many LPNs are already experiencing the shift as hospitals in Connecticut focus more on hiring registered nurses rather than licensed practical or vocational nurses. Drastic changes in the health care system will continue to drive LPNs towards home health care and long-term care. Hospital administrators, in many instances, believe that hiring RNs improves efficiency due to their scope of practice that is broader than that of LPNs.
Contact the Board of Nursing
Connecticut Department of Public Health
Practitioner Licensing and Investigations Section
410 Capitol Ave., MS# 12 MQA
P.O. Box 340308
Hartford, CT 06134-0308
Phone: (860) 509-7603
Fax: (860) 707-1984
Email: [email protected] (Preferred)
Connecticut Board of Nursing Approved Training Programs and NCLEX Pass Rates
Bradford, CT LPN Training Programs:
Porter and Chester Institute
221 West Main Street
Branford, CT 06405
203-315-1060
NCLEX-PN Pass Rate: 89.33%
Bridgeport, CT LPN Training Programs:
Bullard-Havens Technical School
500 Palisade Avenue
Bridgeport, CT 066l0
203-579-6333 x6435
NCLEX-PN Pass Rate: 86.50%
East Hartford, CT LPN Training Programs:
Stone Academy
745 Burnside Avenue
East Hartford, CT 06108
860-569-0618
NCLEX-PN Pass Rate: 85.25%
Enfield, CT LPN Training Programs:
Porter and Chester Institute
138 Weymouth Road
Enfield, CT 06082
860-741-2561
NCLEX-PN Pass Rate: 92.50%
Hartford, CT LPN Training Programs:
A. I. Prince Technical School
410 Flatbush Avenue,
Hartford, CT 06106
860-951-7112 Ext. 5036 or 5934
NCLEX-PN Pass Rate: 75.30%
Hamden, CT LPN Training Programs:
Eli Whitney Technical School
71 Jones Road
Hamden, CT 06514
203-397-4031 x336
NCLEX-PN Pass Rate: 83.13%
Middletown, CT LPN Training Programs:
Vinal Technical School
60 Daniels Street
Middletown, CT 06457
860-344-7100 x322
NCLEX-PN Pass Rate: 70.5%
New Britain, CT LPN Training Programs:
Lincoln Technical Institute
200 John Downey Drive,
New Britain CT 06051
860-225-8641
NCLEX-PN Pass Rate: 94.63%
Norwich, CT LPN Training Programs:
Norwich Technical School
7 Mahan Drive
Norwich, CT 06360
860-889-8453 x2181
NCLEX-PN Pass Rate: 91.00%
Rocky Hill, CT LPN Training Programs:
Porter and Chester Institute
30 Waterchase Drive
Rocky Hill, CT 06067
860-529-2519
NCLEX-PN Pass Rate: 98.00%
Shelton, CT LPN Training Programs:
Lincoln Technical Institute
8 Progress Drive
Shelton CT 06484
203-929-0592
NCLEX-PN Pass Rate: 91.75%
Stratford, CT LPN Training Programs:
Porter and Chester Institute
670 Lordship Boulevard
Stratford, CT 06615-7158
203-375-4463
Waterbury, CT LPN Training Programs:
W. F. Kaynor Technical School
43 Tompkins Street
Waterbury, CT 06708
203-596-4302 Ext. 462
NCLEX-PN Pass Rate: 83.50%
Watertown, CT LPN Training Programs:
Porter and Chester Institute
320 Sylvan Lake Road
Watertown, CT 06779
860-274-9294
NCLEX-PN Pass Rate: 93.25%
West Haven, CT LPN Training Programs:
Stone Academy
560 Saw Mill Road
West Haven, CT 06516
203-288-7474
NCLEX-PN Pass Rate: 83.50%
Get Your Degree!
Find schools and get information on the program that's right for you.
Powered by Campus Explorer