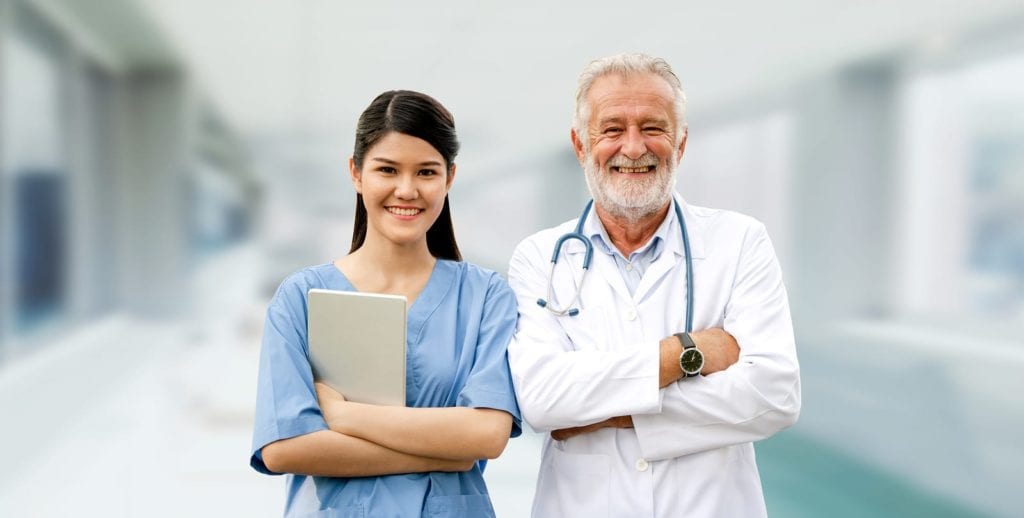 Practical nurses, as an integral part of the health care system, support the promotion of health, prevention of diseases, and care for those who are physically and mentally ill and disabled people of all ages and cultural backgrounds. They work in various health care settings under the supervision of a registered nurse.
In their unique function on the nursing team, LPNs provide basic bedside care such as taking vitals and assist with personal care activities, administer injections, apply dressings, treat pressure ulcers, and contribute to the planning, implementation, assessment, and modification of patient care plans. Like other states, Iowa requires practical nurses to pass the National Council Licensure Exam after completing an LPN program that is approved by the Iowa Board of Nursing.
Even with a decline in employment for licensed practical nurses in hospitals, there has been a steady growth in employment. The demand for direct care professionals to care for seniors and disabled persons has increased opportunities for LPNs in adult day care centers, nursing homes, home health, and similar settings. Hospitals are raising the standard of education for their nursing staff due to increasing complexities in the delivery of care. The LPN program is designed to equip students with the knowledge and skills to qualify for employment after a one-year course of study. Graduates have the option to secure the Associate Degree Nursing through a bridge LPN to RN program.
Southwestern Community College
Southwest Community College's practical nursing program is available as part of a career ladder program. Students can either stop after the practical nursing requirements or continue through the registered nursing component. The latter option requires students to take and pass the NCLEX for practical nurses. The curriculum includes theory and hands-on activities that emphasize the nursing process, ethics, critical thinking, professional nursing, sciences, and health-illness continuum. The required 39 credit hour requirement covers general education and nursing courses. Units of study include Composition I, Introduction to Professional Practical Nursing, Fundamentals of Nursing, Pharmacology, Introduction to Psychology, Mental Health Nursing I, Maternal Child Health I, Medical Surgical Nursing I, and Development Psychology. Prerequisite courses (Nutrition, Essentials for Anatomy and Physiology or Human Anatomy and Physiology I and I with lab) must be completed before the first semester. The program admits new students in August of each year.
Admission criteria:
Apply to the nursing program. Must select the program of choice – Pre-nursing, Practical Nursing, Registered Nursing
Submit scores for the three sections of the ACT or Accuplacer assessment. A waiver is available for applicants who submit a transcript of the 3-credit hour math course indicating a minimum grade B
Submit official high school transcript or GED scores
Provide a transcript of any applicable college courses
Complete the Physician's Physical Examination Report – TB skin test and current immunization. Must be completed in late June, July or August prior to admission
Provide a copy of a valid CPR card
Submit to a background check and obtain satisfactory results
In-state students can expect to pay $7,775 for tuition and fees. Books and supplies cost approximately $1,226. Financial aid is available for eligible students.
Website: https://www.swcciowa.edu/
Address: 1501 W. Townline St., Creston, IA 50801
Phone: 641-782-7081
Toll-Free: 800-247-4023
NCLEX-PN Pass Rate: 91.49%
Des Moines Area Community College
Students enrolled in the Practical Nursing program at Des Moines Area will receive thorough preparation in the nursing and liberal arts courses to become Licensed Practical Nurses. The training will include theory and practical learning experiences that will benefit students in the healthcare sector. Units of study include Introduction to Professional Practical Nursing, Anatomy and Physiology II, Practical Nursing Concepts I, Practical Nursing Concepts II, Developmental Psychology, Composition I, and Practical Nursing Concepts III. By the conclusion of the program, students will be understand what constitutes safe nursing practice, communicate effectively with patients and members of the health care team, care for patients across lifespan, use professionalism in practice, show respect for all patients regardless of cultural background, use critical thinking and sound judgment to solve problems, and develop, analyze, and modify patient care plans. The practical nursing diploma is a 27-credit program. Graduates will need to sit for and pass the NCLEX-PN to practice nursing. The duration of the program is three terms – 12 months.
Admission criteria:
Download and submit the Practical Nursing program application form
Must have completed high school or equivalency
Attend a Practical Nursing information session and nursing orientation
Schedule, take and pass the DMACC assessment
Obtain acceptable scores on the ATI TEAS in the four assessment areas – Reading, Mathematics, English and Language Usage, and Science. The minimum required score is 41.3%. Candidates must pass the exam within the first three attempts
Provide evidence of completing a state-approved Certified Nurse Aide Program (at least 120 hours) or HSC 172
Pass the state Nurse Aide written and skills exam and be in active status on the Direct Care Worker Registry
Provide official transcripts indicating a minimum grade C and a cumulative GPA of 2.25 on the support courses – General Psychology and Anatomy and Physiology. The courses must be completed within a timeframe no later than 5 years before the program start date
Pass a criminal background check. Students may be restricted from participating in the clinical rotations if there are any criminal convictions or history of abuse
Submit immunization documents indicating up-to-date records, including a negative TB test. Must also complete the Student Health and Immunization Record form
Submit a written report from a physical exam completed within one year of the program start date
Have a current CPR card from the American Heart Association – CPR for the Healthcare Provider or American Red Cross – CPR for the Professional Rescuer and Healthcare Provider
Must secure seasonal flu vaccination
The cost of tuition and fees will be $4,239 for resident students. The estimated cost of books and supplies is $2,880. Additional costs include CPR certification, background check, immunization, licensure exam fee, uniforms, equipment, simulation supplies, and CastleBranch Immunization Tracker and Background Check fee.
Address: 1100 7th Street, Des Moines, IA 50314
Phone: 515-244-4226
Toll-Free: 1-800-362-2127
FAX: 515-248-7216
NCLEX-PN Pass Rate: 100%
Indian Hills Community College
Practical Nursing students at Indian Hills Community College will acquire life-saving skills that will enable them to maintain and promote health. The practical nursing program leads to a diploma and includes hands-on training in the classroom and real-world settings, such as hospitals and clinics. Course topics include Human Anatomy, Human Anatomy Lab, Nutrition, Introduction to Psychology, Beginning Principles of Nursing, Human Physiology, Human Physiology Lab, Nursing Essentials II, Pharmacology, Nursing of Adults I, Clinical Experience I, Computer Essentials, Mental Health Nursing I, Maternal Child Nursing I, Nursing Clinical II, Developmental Psychology, Composition I, PN Issues and Trends, Nursing Seminar I, Nursing Adults II, and Nursing Clinical III. Graduates will be prepared to sit for the NCLEX-PN and have the option to apply for entry to the Associate Degree in Nursing Program. The duration of the program is 12 months. The program requires completion of 45 credits and is offered on a full-time basis only. New students are admitted in the Summer term. Students meet two days each week on campus and two days weekly at area hospitals and long term care facilities for the clinical experiences.
Admission criteria:
Complete an approved CNA training program and pass the written and skills components of the Nurse Aide Exam
Must be listed in active status on the Iowa Direct Care Registry – CNA card must be submitted as part of the admission process
Submit a completed application to the program
Submit high school transcript of HSE scores and college transcripts
Submit scores for one of the following – ACT, SAT or ACCUPLACER
Submit satisfactory ATI TEAS scores
Completed background screening and drug testing before the start of the clinical courses
Tuition costs $7,650 for resident students. Books and supplies will cost approximately $1,792.
Address: 721 N. First Street, Centerville, IA 52544
Phone: (641) 856-2143
Toll-Free: (800) 670-3641
NCLEX-PN Pass Rate: 95.24%
Iowa Western Community College
Iowa Western Community College prepares students for an exciting career as a practical nurse. The Practical Nursing Diploma program combines theory and hands-on learning opportunities that will enable graduates to succeed on the NCLEX for Practical Nurses. Students will be instructed by an experienced registered nurse or physician and will receive a solid foundation in nursing that gives students the confidence to enroll in the Associate Degree Nursing program. The curriculum mandates a minimum of 12 hours of lab activities per week in addition to the real-world experiences in hospitals, long-term care facilities, and daycare facilities. General education and core courses include Composition I, Development Psychology, Human Anatomy and Physiology I, Human Anatomy and Physiology II, Foundations of Nursing I, Health Assessment Across the Lifespan, Foundations of Nursing Clinical I, Public Speaking, Introduction to Math and Medications, Foundations of Nursing II, Foundations of Nursing Clinical II, Pharmacology II, Nursing Care of the Growing Family, and Nutrition. The LPN diploma is 43 credits. Graduates will also have the opportunity to enroll in the Associate Degree in Nursing program to become a Registered Nurse. They will know how to communicate effectively with clients and members of the health care team to promote, maintain, and restore optimal health, use the nursing process to provide nursing care for clients across life span, teach clients with common health needs, delivery nursing care, and assume the responsibilities of a licensed practical nurse. The full-time program can be completed in two semesters. The general education courses must be completed before the first semester.
Admission criteria:
Meet the requirements for admission to Iowa Western. The application is available online. There is no fee for application
Submit official high school transcript or HiSET/GED transcript
Submit a transcript of college courses
Submit most recent test scores from a college aptitude test
Register and take the general education courses
Complete the 75-hour CNA course and submit a copy of a valid CNA card, course transcript, or certificate of completion
Obtain a grade C or better on the prerequisite courses – Development Psychology, Composition I
Complete Human Anatomy and Physiology I and Human Anatomy and Physiology II with a grade B or higher
Submit a composite TEAS score of 58.7% or higher. Lower scores will not be considered. The TEAS fee is $58.
Tuition and fees cost $7,009. Books and supplies will cost $1,188.
Address: 2700 College Rd., Council Bluffs, IA 51503
Phone: 712-325-3200
Toll-Free: 800-432-5852
Email: admissions@iwcc.edu
NCLEX-PN Pass Rate: 89.04%