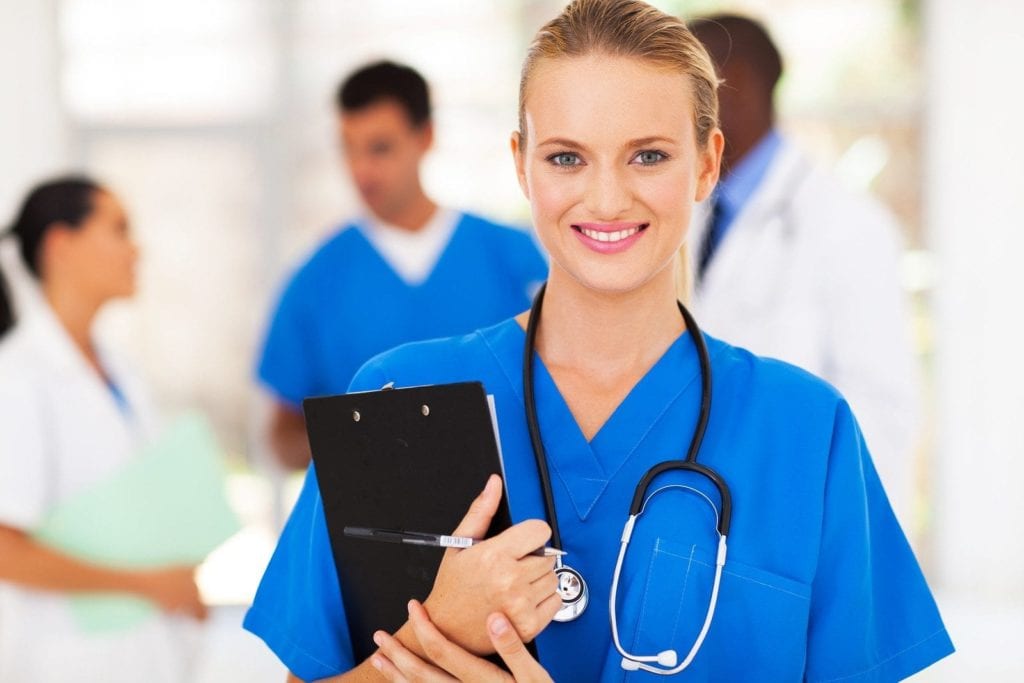 A career in practical nursing promises a competitive salary, job satisfaction, and personal enrichment. The Bureau of Labor Statistics predicts that employment for LPNs (LVNs) is expected to grow faster than the average for all occupations through the year 2018 due to the long-term care needs of the growing senior population. There will continue to be an immense demand for skilled LPNs for the foreseeable future, so it's a great time to start a career in health. Nurses benefit from job security, great pay, flexible hours, diverse work settings, and daily opportunities to make a difference in their patients' lives. Practical Nurses in Indiana must apply for registration with the Board of Nursing and take the NCLEX-PN for state licensure. Following is a list of Board-approved practical nursing programs and NCLEX pass rates in Indianapolis.
Ivy Tech Community College – Indianapolis
Graduates earn a Technical Certificate after completing the Practical Nursing program at Ivy Tech. Accredited by the Accreditation Commission for Education in Nursing, Inc. (ACEN) and approved by Indiana's Board of Nursing, the program equips students with the skills to care for patients in hospitals, clinics, physician offices and other healthcare settings. Program graduates must successfully take the state licensure exam to become Licensed Practical Nurses before practicing in Indiana. Since the selective program accepts only a limited number of students each year, it is critical to apply for enrollment before the registration deadlines. Applicants must demonstrate competency in basic reading, writing, quantitative and mathematical skills. The course requires full-time attendance for four semesters. Course topics include Anatomy and Physiology, Introduction to Psychology, Fundamentals of Nursing, Pharmacology for Nurses, Geriatric Nursing, Surgical Nursing, Maternal Child Nursing, and other essential topics. Graduates earn 45 credits, which are transferable to a degree program. The course tuition is $7,800 plus $3,025 for books and other supplies.
Website: http://www.ivytech.edu/practical-nursing/
Address: 50 W. Fall Creek Pkwy North Dr., Indianapolis, IN 46208-5752
Phone: 317-921-4407
NCLEX Pass Rate: 100%
Medtech College – Indianapolis
Medtech College prepares practical nursing students for success on the NCLEX-PN Licensing exam. Students learn how to provide basic bedside care, take patients' vital signs, administer medications, and collect samples for lab tests. The program employs a combination of classroom lectures, hands-on practice and in the lab and supervised clinical rotation at an approved facility. The curriculum covers clinical pharmacology, medical terminology, fundamentals of nursing, mental health nursing, surgical nursing, maternal child nursing, and geriatric nursing, consistent with the requirements defined by the Board of Nursing. Apart from taking the state licensing exam, graduates will qualify for entry into nursing degree programs. Tuition is $30,100 plus $2,900 for books and supplies.
Website: http://www.medtech.edu/training/practical-nursing-indianapolis-indiana
Address: 6612 E. 75th Street, Suite 500, Indianapolis, IN 46250
Phone: 317-845-0100
NCLEX Pass Rate: 74.8%
Brown Mackie College – Indianapolis
Brown Mackie College's practical nursing program combines classroom and clinical instruction to help students prepare for a career in nursing. Instructors emphasize pediatric, geriatric, surgical, and obstetric nursing. Coursework in the program includes caring for patients, nursing principles, anatomy and physiology, nutrition, nursing concepts, IV therapy, general psychology, medical terminology and pharmacology. Students can complete the program in 16 to 21 months, depending on the schedule. BMC offers a "one course a month" option to students who need to fit college into a busy schedule. Graduates earn a certificate and are eligible to take the NCLEX-PN for licensure in Indiana. The course fee is $31,813 including the cost of textbooks and supplies.
Website: https://www.brownmackie.edu/areas-of-study/nursing/indianapolis-practical-nursing-diploma
Address: 1200 N. Meridian Street, Suite 100, Indianapolis, IN 46204-1017
Phone: 260-484-4400
NCLEX Pass Rate: 75.6%
Kaplan College
Kaplan College helps practical nursing students acquire the essential knowledge and skills to begin a career in this rewarding field. Instructors use lectures, group discussions, hands-on lab training and supervised clinical rotation to ensure students develop skills that will impact patients' lives. The program is 1150 contact hours covered over a period of 55 weeks. Program graduates earn at least 78 quarter credit hours. Before beginning the mandatory clinical rotation, students must submit to a criminal background check and medical examination. Some clinical sites may also require proof of immunization and drug screening prior to admittance. Students must earn a minimum grade of C in the general education and nursing courses to qualify for graduation. Graduates are eligible to take the NCLEX-PN to receive a state license and work as LPNs. The total cost of attendance is $23,340 – Kaplan College pays for the NCLEX and the registration fee to the State Board of Nursing. Job placement assistance is available but not guaranteed.
Website: https://www.kaplancollege.com/programs/practical-nursing-diploma/
Address: 7230 Woodland Drive, Indianapolis, IN 46278
Phone: 800-987-6038
NCLEX Pass Rate: 60%
Get Your Degree!
Find schools and get information on the program that's right for you.
Powered by Campus Explorer