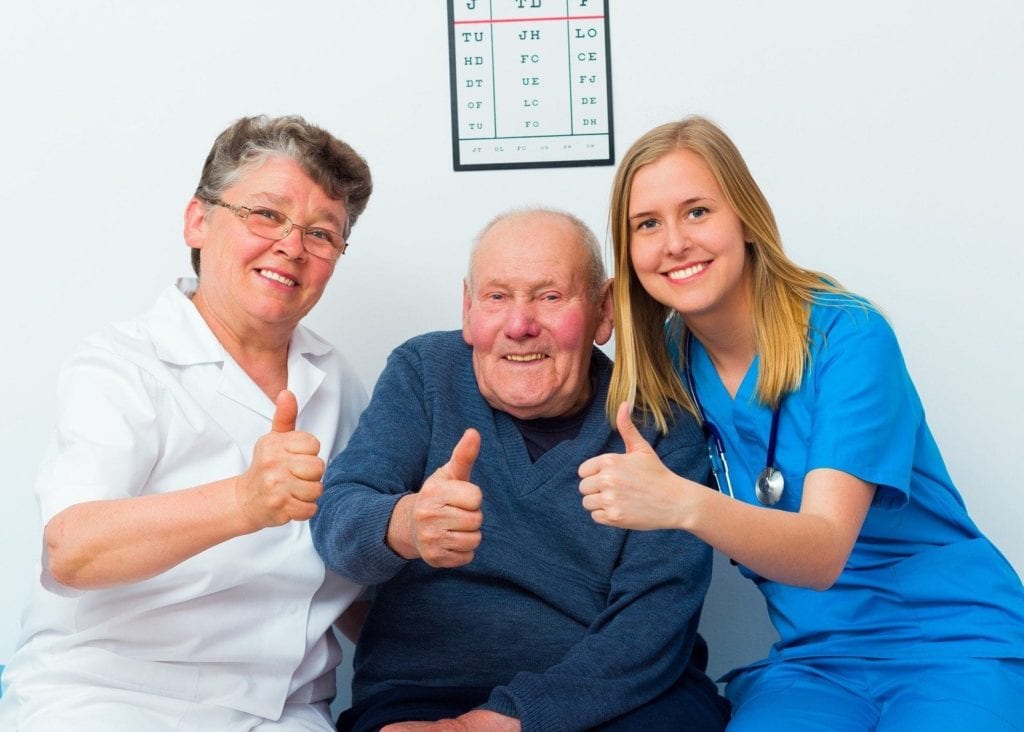 Licensed Practical Nurses (LPN) are a vital and valued member of the healthcare team – in long-term care, community care, and acute hospital care. They provide compassionate, professional care to patients, serving as active participants in the promotion of health and wellness. Although practical nurses do a lot of independent work, they must work directly under the supervision of a registered nurse or licensed physician and cannot make independent judgments related to patients' care. Traditionally, LPNs perform tasks such as checking vital signs, attending to patients' hygiene, applying dressings, and reporting information to physicians and registered nurses. Due to increasing educational requirements and changes in the medical industry, practical nurses can now administer medication and treatment, and perform specialized duties in pediatric, maternity, and surgical settings. 
American Medical Academy
The LPN training at the American Medical Academy introduces students to the rules and regulations that govern practical nursing in Florida. Throughout the combination classroom and clinical program, students acquire the skills that will help them execute their duties as Practical Nurses. Applicants must pass a pre-entrance exam (HESI or NLN) before requesting the application packet from the school's administration. Other requirements for enrollment include three letters of reference, official high school transcript or GED test scores, and success on an admissions interview. The course curriculum covers the fundamentals of nursing, pharmacology and medication administration, introduction to anatomy and physiology, medical terminology, medical-surgical nursing, maternity/newborn nursing, and pediatric nursing. The clinical rotation affords students the opportunity to hone their skills in the state-of-the-art medical facilities in preparation for work as Practical Nurses. Experienced instructors also conduct intensive preparatory classes to ensure students' success on the NCLEX-PN for state licensure. Tuition for the 48-week program is $20,025 plus $650 for textbooks. AMA offers flexible day and evening classes to keep the program accessible to everyone.
Website: http://ama.edu/lpn-practical-nursing-program-miami-fl/
Address: 12215 SW 112 ST, Miami, FL 33186
Phone: 305.271.6555
Email: [email protected]
NCLEX Pass Rate: 60.00%
Genesis Vocational Institute
The Practical Nurse Program at GVI is approved by the Florida Department of Education and Florida Board of Nursing. Applicants must take the NLN pre-admission exam or TEAS, possess a high school diploma or GED, and present a copy of their driver's license or other picture ID social security card. The school's admissions department uses a point-value system to determine applicants' eligibility for enrollment. The evaluating factors include the PAX or TEAS exam scores, appearance, attitude, promptness, communication skills, and prior education. Once enrolled, the student will prepare for their roles as practical nurses through a combination of classroom and clinical instruction. Key topics include pharmacology for nurses, medical-surgical nursing, nutrition, HIV/AIDS education, anatomy and physiology, CPR, obstetrics, and pediatrics. Graduates of the program are prepared to take the NCLEX-PN.
Website: http://www.genesisvocationalinstitute.com/practical_nurse
Address: 12861 SW 42nd Street, Miami-FL-33175
Phone: 305-223-0506
Fax: 305-223-0509
NCLEX-PN Pass Rate: 23.81% 
Lindsey Hopkins Technical College
This practical nursing program at Lindsey Hopkins Technical College prepares students for employment as LPNs. The 1350-hour (14.5 months) training comprises of theoretical instruction and laboratory practice reinforced with clinical learning experiences at local health care facilities. Instructors cover medical, surgical, obstetric, and geriatric nursing, body structure and function, legal responsibilities, mental health concepts, and community health concepts. Nutrition, interpersonal relationships, pharmacology, and the principles of acute and long-term care are some other essential topics that the course covers. Students wishing to enroll in the program must submit official high school transcript or GED scores, a passport size picture, a report from a physical exam, scores from a TEAS and TABE. Applicants must also attend a mandatory orientation and complete a criminal background check. All students must wear approved school uniforms to the classroom and clinical setting. Tuition is an affordable $3,500 plus $600 for textbooks and administration costs.
Website: http://lindsey.dadeschools.net/practical_nurse.htm
Address: 760 Northwest 20 Street, Miami FL 33127
Phone: 305-324-6070
NCLEX-PN Pass Rate: 75.00%
Mercy Hospital School of Practical Nursing
Mercy Hospital offers the only Board-approved hospital-based practical nursing program in Miami. Students complete the preparatory work to become licensed practical nurses in just one year. Applicants must pass the pre-entry exam (picture ID required), submit three letters of reference, provide official high school transcript or GED test scores, and pass an admissions interview. The program includes a combination of 733 class hours and 706 clinical hours. Day and evening classes are available; both options are three trimesters in length. The total cost of attendance is approximately $8,557.08, including tuition, administrative fees, lab fee, books, student uniform and shoes, ATI fee, and graduation fee. Financial aid may be available to qualifying students.
Website: http://mercymiami.com/professionals/school-of-practical-nursing/licensed-practical-nurse.dot
Address: 3663 South Miami Avenue, Miami, FL 33133
Phone: (305) 854-4400
NCLEX-PN Pass Rate: 90.48%
Robert Morgan Educational Center and Technical College
The practical nursing program at Robert Morgan Education Center prepares students to meet Florida's license requirements in preparation for entry-level employment. The nursing faculty places a strong emphasis on the safe practices, sensitivity to cultural diversity, and habits that promote patient wellness. The program length is 1350 hours, but students can earn certificates (basic healthcare worker, articulated nursing assistant, and practical nursing) at the end of each module. The curriculum covers theoretical and clinical instruction in medical, pediatric, geriatric, maternal, and surgical nursing, acute and long-term care situations, nutrition, pharmacology, mental health concepts, legal responsibilities, body structure and function, and community health concepts. The clinical experience accounts for 50% of the program, and one hundred percent attendance is required for graduation. Applicants should demonstrate occupational interest, possess a high school diploma or GED, provide a report from a recent physical exam, pass the TEAS, and receive criminal background clearance. Graduates of the Florida Board of Nursing approved program are eligible to take the NCLEX to practice as licensed nurses. The cost of attendance is $3,456 for tuition and fees plus $1,500 for books and supplies.
Website: http://ac.robertmorganeducenter.org
Address: 18180 SW 122 Avenue, Miami, FL 33177
Phone: (305) 253-9920
Fax: (305) 253-3023
NCLEX-PN Pass Rate: 91.30%
William H Turner Technical Arts High School
The practical nursing program at William H Turner Technical High School is a one-year program for high school students who want to make a difference in the demanding field of health care. The program's faculty use classroom and hands-on training to prepare graduates for employment or advanced training in healthcare. Students cover various topics in the classroom and the well-equipped training labs at Turner Tech. An intensive internship at local hospitals, medical offices, and clinics provides real-world opportunities to solidify students' decisions to enter the healthcare industry. Apart from acquiring the skills to start a new career, students also earn college credit and an industry-recognized certification. 
Website: http://turnertech.dadeschools.net/Academy5_AMS.html
Address: 10151 NW 19 Ave, Miami, FL 33147
Phone: (305) 691-8324
Fax: (305) 693-9463
NCLEX-PN Pass Rate: 68.45%
Highfield Career Institute
Study to become an LPN is less than one year at Highfield Career Institute. The program uses a blend of didactic and experiential learning opportunities to prepare students for the NCLEX to become licensed practical nurses. Applicants must possess a high school diploma or GED, pass the TEAS, submit the report from a current physical exam, and obtain criminal background clearance. Highfield instructors combine classroom instruction with hands-on training in the lab and clinical experiences. Course content includes communication, health sciences, professional development, pharmacology and administration of medications, CPR, human growth and development, computing and technology.
Website: http://www.highfieldedu.com/
Address: 5555 W .Flagler Street, Coral Gables, FL 33134
Phone: 305-842-2882
Email: [email protected]
NCLEX Pass Rate: 63.28%