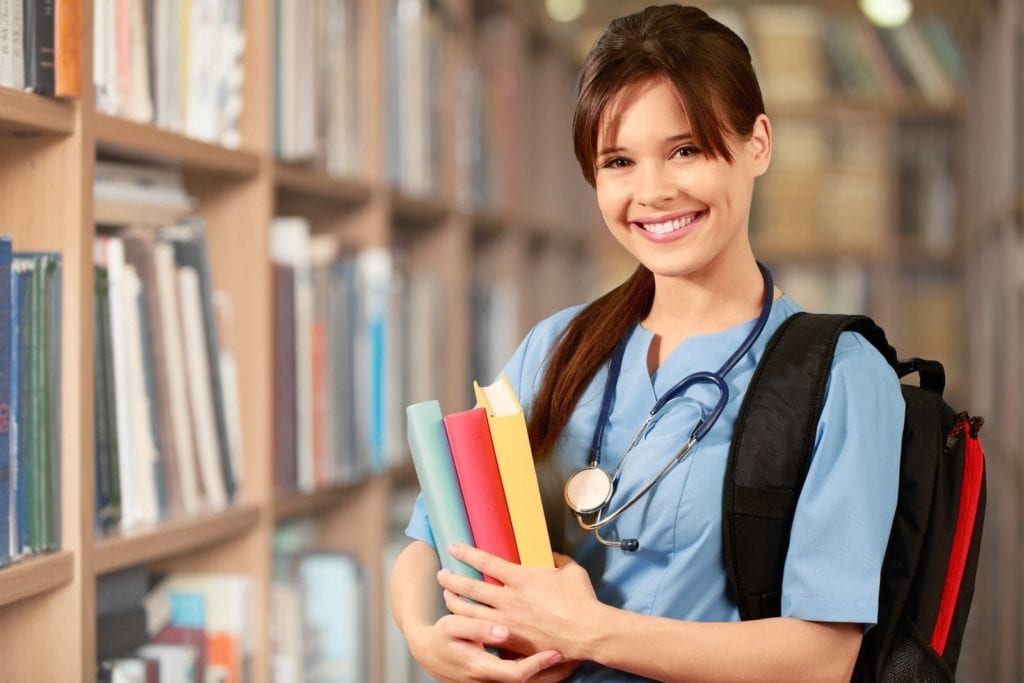 Job prospects for practical nursing are positive. Budget cuts in the health care sector impacted job opportunities for LPNs in the 1990s, but an increase in health care needs, a shortage of registered nurses, and rising health care costs brought a sharp increase in employment for LPNs from 2002 and beyond. Job opportunities are available in the areas vacated by retiring LPNs or those promoted to registered nurse positions after meeting the training requirements. The placement rate for new graduates is, therefore, very high as working LPNs go back to school to become registered nurses and create a higher than average turnover rate for LPNs in Utah. According to data from the Bureau of Labor Statistics, 63% of LPNs work in nursing home and long-term care facilities, 22% work in hospitals, and the other 15% work in community health centers, schools, correctional facilities, and home healthcare. Practical nurses observe and assess patients' healthcare status, administer medications, and assist patients with mobility and personal hygiene.
Bridgerland Technical College (BTECH)
The practical nursing program at BATC is available in full-time format only. Students meet Monday through Friday during the day and occasionally in the evenings for the clinical sessions. Applicants must complete all seven prerequisite courses and submit an official transcript from the college where the courses were completed. The score from the BATC assessment exam is good for one year. Therefore, applicants should schedule the test after completing the prerequisite course. The test paper clearance must be submitted with the application before the deadline. Prerequisite courses, microbiology, human anatomy, nutrition, human psychology, psychology, medical terminology, and drug dosage calculations, must be completed with a cumulative GPA of 3.0 or higher. Admins use a point selection system to select 24 candidates with the highest points. Points are awarded for residency in Cache, Rich, or Box Elder Counties, GPA, health care work/volunteer experience, current CNA or CMA certification, baccalaureate or associate degree, professional goal statement, and reference evaluation form. Graduates are eligible to take the NCLEX-PN for state licensure and can also transfer seamlessly into the RN program at Weber State University. The total approximate cost of attendance is $3998 including tuition, books, nursing supplies, uniform, shoes, random drug screen, background check, and immunizations. The program is eligible for federal Pell Grant.
Address: 1301 N 600 W, Logan, UT
Phone: (435) 753-6780
NCLEX-PN Pass Rate: 100%
Weber State University
Students enrolled in the Associate of Science degree program at Utah State University at Logan are eligible to take the NCLEX-PN after the first year. Students can also progress to the program's conclusion and take the NCLEX-RN to be licensed as a Registered Nurse. Applicants must apply for admission to USU before submitting an application to the nursing department. Eligibility requirements include completion of 9 or more credit hours from the prerequisite and additional nursing support courses with a cumulative GPA of 3.0, a current CNA certificate, completion of at least 1 of 4 science courses, and completion of a criminal background check. Topics covered in the first year include pharmacology for nurses, nursing foundations, nursing foundations clinical, patient-centered nursing care, and patient-centered nursing care clinical. The last cohort of students for the program will graduate in 2017. However, practical nursing graduates can progress to the AS degree through USU partnership with BATC. Tuition for the first year is $1,600 plus expenses for books and supplies.
Website: https://www.weber.edu/
Address: Old Main Hill, Logan, Utah, UT 84322
Phone: (435) 797-1000
NCLEX-PN Pass Rate: 90.9%
Ogden-Weber Applied Technology College (OWATC)
The practical nursing program at OWATC runs for nine months and includes 930 clock hours of classroom and clinical instruction. Students also earn an additional 29 semester credit hours of the prerequisite courses. The curriculum is divided into six main courses with objectives and learning activities for each. Learning activities are lecture, skills, simulation labs, discussion groups, clinical practicum, and written assignments. Classes meet for approximately 30 hours each week. Admission is open in the fall of each year. Admission requirements include a high school diploma or GED, a completed application, CNA certificate, completion of prerequisite courses with a cumulative GPA of 2.70 or above, a complete physical/emotional exam, and immunization. Prerequisite courses are Zoology, Chemistry, Introduction to Writing, Math, Introduction to Microbiology, Nutrition, and Introduction to Psychology. Through an articulation agreement with Weber State University, program graduates can continue their nursing education at OWATC through the WSU PN to RN program. Graduates must meet WSU requirements for entry. Credits from the PN program will be transferred towards the first year of the AS degree. The estimated total cost of attendance is $3,253 and includes tuition, fees, books, and supplies.
Address: 200 N. Washington Blvd., Ogden, UT
Phone: (801) 627-8300
NCLEX-PN Pass Rate: 100.0%