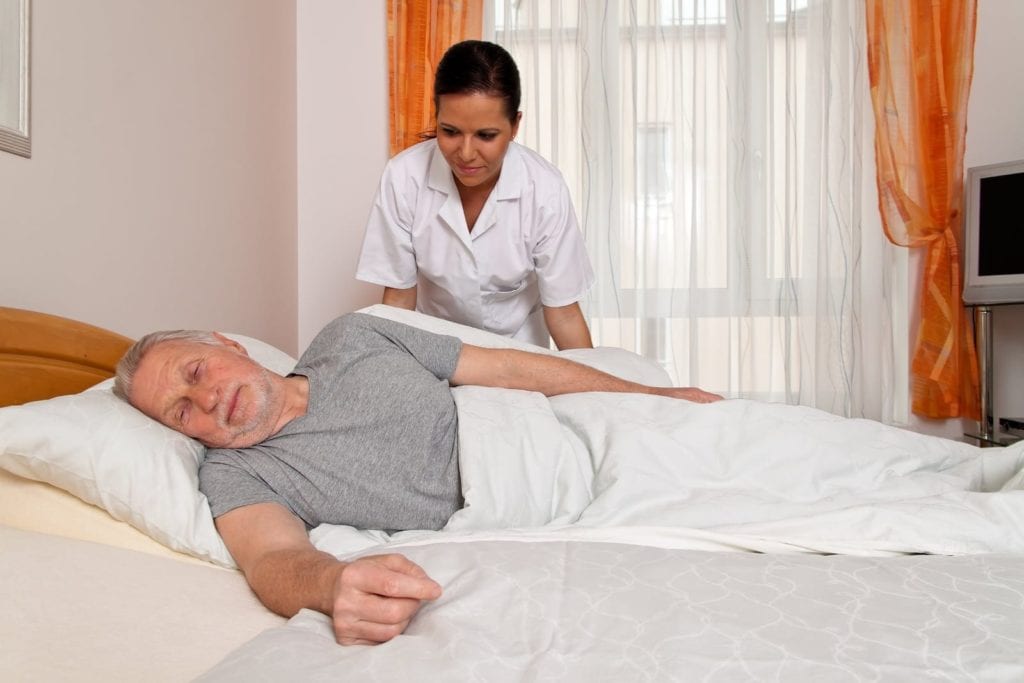 Licensed practical nurses use their clinical judgment, knowledge, skills, and critical thinking developed in practical nursing programs to provide direct care services in health care facilities. They are active participants in the planning, implementation, and evaluation of care. Under the supervision of registered nurses and physicians, LPNs ensure the physical and emotional health of patients as they perform general and specialized tasks, such as recording vital signs, dressing wounds, observation and reporting, starting and monitoring IVs, and administering medications.
Licensed practical nurses can be found in all segments of the health care system, including hospitals, schools, physicians' offices, and clinics. Due to stricter requirements for nurses regarding educational preparation, most LPNs work in extended care facilities. In these settings, LPNs might function as charge nurses where they direct the activities of nursing assistants and other unlicensed assistive personnel.
If you're interested in a career as a practical nurse, you must complete a formal training program, which must include practical instruction at a skilled nursing facility. LPN programs are available at private and community colleges in Rhode Island. They can typically be completed in 12 to 18 months and include preparation for the National Council Licensure Exam for Practical Nurses for licensure in the state.
Much faster than average growth is projected for licensed practical nurses. According to the United States Bureau of Labor Statistics, employment is expected to grow 12 percent from 2016 to 2026. The projection is due to a rise in the long-term care needs of the elderly population as well as the general needs of a growing population. More than 75 percent of the new jobs for LPNs will be in nursing homes and home health care.
Lincoln Tech
The Practical Nursing program at Lincoln Tech prepares adults for an exciting career in the medical field. Graduates are eligible to sit the National Council Licensure Examination for Practical Nurses (NCLEX-PN) for licensure in the state. The program includes 1425 instructional hours in the classroom, skills lab, and clinical sites. At the conclusion of the course, students will have earned 67 semester credit hours. The school's lab is equipped with essential instruments to support the development of clinical skills. Major equipment includes stethoscopes, wheelchairs, manikins, IV pumps, electronic thermometers, and much more. Course topics include but are not limited to anatomy and physiology, fundamentals of nursing, psychology, mental health nursing, introduction to nursing across lifespan, maternal-child nursing, pharmacology with medication lab, human growth and development, and professional development. Day and evening schedules are available. The day program must be completed in 52 weeks. The duration of the evening program is 90 weeks.
Admission criteria:
Be 18 years or older
Be a high school graduate or have state-approved equivalency
Complete and sign the Enrollment Agreement
Pay the registered fee
Take and pass the entrance assessment
Meet the physical, mental and emotional abilities
Complete a criminal background investigation
Attend an interview with a Nursing Selection Committee
Provide immunization records
Complete a physical exam indicating ability to perform job duties
Provide documentation of flu vaccine
Be free from contagious or communicable disease
Complete the Test of Essential Academic Skills with a minimum adjusted composite score of 44%
Tuition for the program is $27,149.
Address: 622 George Washington Highway, Lincoln, RI 02865
Phone: (401) 334-2430
NCLEX-PN Pass Rate: 81.51%
Community College of Rhode Island
The Community College of Rhode Island offers the only public practical nursing program in the state. The curriculum includes theory and practical instruction to support the development of knowledge and competencies to deliver safe and effective care to patients, families, communities, and populations. Key skills include leadership, communication, critical thinking, teamwork, collaboration, and clinical reasoning. Students must complete 37 credits, not including the prerequisite courses, to graduate from the program. Course topics include practical nursing, gerontological nursing, pharmacology, anatomy and physiology, general psychology, and practical nursing capstone. Students will participate in a clinical practicum comprising of 540 hours in various health care settings. Graduates will receive a diploma and are eligible to take the exam for licensure as a Practical Nurse. At the conclusion of the first semester, students have the option to take the examination for certification as a nursing assistant (CNA).
Admission criteria:
Submit a completed application for enrollment
Submit official high school transcript or GED credential
Complete placement testing
Complete ENGL 1010
Obtain a minimum score of 70 percent on each category of the HESI A2 admission test
Submit a performance-based Health Sciences application after completing the steps above
Submit a background check (BCI) through CastleBranch.com
Submit health care requirements to CastleBranch.com
Tuition for full-time resident students is $2,074 per semester. The practical nursing program can be completed in three semesters. Additional fees and expenses will apply.
Address: 400 East Avenue, Warwick, Rhode Island 02886
Phone: 401-825-1000
NCLEX-PN Pass Rate: 90%