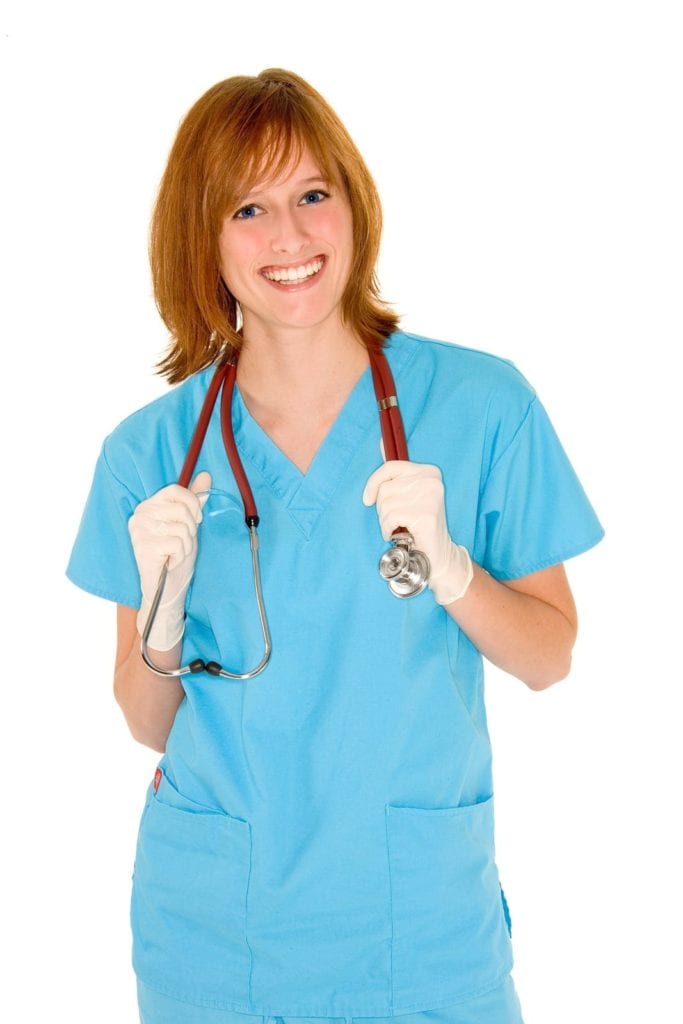 Licensed Vocational Nurses (LVNs) have an integral role on the patient care team. They perform much of the routine tasks related to direct patient care in hospitals, physicians' offices, specialty hospitals, and rehabilitation centers. LVN programs prepare adults to meet the challenges of health care through theory and practical work in a simulation lab and skilled nursing facilities. The year-long program also includes intensive preparation for the Nursing Council Licensing Exam, which is essential for licensure as a Vocational Nurse in Texas and other states.
The Department of Labor's Statistical Bureau reports that employment for LVNs will grow 12% from 2016 to 2026 – faster than the average for all occupations. However, the majority of LVNs will work in long-term care where there's a great need for healthcare professionals to meet the needs of aging baby boomers. Through registered nursing bridge programs, vocational nurses can complete the requirements for a registered nursing degree while working as an LVN. Their training and experience help them to move up the ladder to become a registered nurse. LVVs in Texas earned a mean annual wage of $45,980 in 2017.
Fortis College
The vocational nursing program at Fortis College features 1412 clock hours of theory and practical coursework. After completing 81 credit hours in 48 instructional weeks, students will receive a Vocational Nursing Diploma. The goal of the program is to produce entry-level nursing personnel capable of working in various healthcare facilities. Graduates will be eligible to apply for the NLCEX for Vocational Nurses to provide personal patient care, safely administer medications. Provide emergency care, implement nursing principles, and deliver preoperative and postoperative care nursing care. Course topics include fundamentals of practical nursing, medical-surgical nursing, anatomy and physiology, vocational adjustments, dosage calculations and administration, nutrition and nursing care, and basic pharmacology. Other topics include obstetrical nursing, mental health concepts, pediatric nursing, and vocational nursing leadership. In order to complete the program, students must complete all core courses and prerequisite science courses with a minimum grade C.
Be a high school graduate or have a GED equivalent
Be 17 years or older
Interview with an admissions representative
Take and pass the Wonderlic Scholastic Exam with a score of 16 or better
Sign the college enrollment agreement
Take and pass the HESI Admission Assessment Exam (A2-PN). Applicants who score 20 or above on the Wonderlic SLE will be exempt from the HESI Assessment
Provide a valid form of identification with picture name and address
Submit a copy of valid CPR card
Complete all required immunization
Submit to and pass a drug test
Submit to and pass a criminal background check- a history of criminal convictions may prevent participation in the clinical experience
Tuition for the program is $22,741. Books and supplies cost an additional $1,282.
Dallas Nursing Institute
The Vocational Nursing program at Dallas Nursing Institute delivers 1760 hours of instruction: 1408 contact hours and 352 outside homework hours. During 51 weeks of full-time study (68 weeks part-time) students will earn a total of 51 credit hours. Graduates will have the skills and knowledge to pass the NCLEX-PN and provide safe and competent care as a vocational nurse. Course topics include medication administration, medical terminology, proper patient care, body systems, nursing procedures, growth and development, fundamentals of nursing, anatomy and physiology, medical-surgical nursing, pediatric nursing, pharmacology, and professional development. Graduates will be able to use nursing skills to care for common patient needs, maintain accountability and professionalism in practice, plan and implement patient care plans, use verbal and non-verbal communication with patients and members of the multidisciplinary team, and practice with the scope of practice for vocational nurses.
Admission criteria:
Have a valid high school diploma or GED transcript
Pass the ACT, SAT, or HESI A2 test
Submit a written essay
Pass a drug screen
Obtain criminal background clearance
Be a US citizen or permanent resident
Be at least 17 years of age
Tuition for the program is $27,400. It includes the cost of books, nursing kit, 2 sets of nursing scrubs, health screening, immunizations, admissions entrance assessment, and comprehensive final exam. There is a one-time application fee of $100.
Address: 2101 Waterview Pkwy., Suite 100, Richardson TX 75080
Phone: (469) 941-8300
NCLEX-PN Pass Rate: 94.64%
Tarrant County College – Trinity River Campus
The Vocational Nursing program at Trinity River Campus is a full-time program that runs for 12 months – 3 consecutive semesters. Areas of study include foundations of nursing, basic nursing skills, vocational nursing training, nutrition, medical-surgical nursing, pharmacology, mental health and mental illness, pediatrics, maternal-neonatal nursing, and leadership and professional development. Classes meet Monday through Thursday between 3:00 pm and 8:00 pm. The clinical hours vary but generally commence at 6:00 am – evening and afternoon shifts may also be required. Students must obtain a grade C or better on all courses to graduate from the program. Graduates are eligible to sit the NCLEX-PN for licensure as a Vocational Nurse.
Admission criteria:
Complete BIOL 2401 within five years prior to the application
Complete TOEFL if first language is not English
Complete HESI A2 with a score of 70% or better
Apply for admission to Tarrant County College
Obtain a negative drug screen
Complete background check
Provide proof of medical insurance
Have current healthcare provider CPR certification
A valid social security card
Participate in the LVN program orientation
Maintain current immunization for the program's duration
Tuition costs $4,500 and includes books, immunizations, and prerequisites.
Address: 300 Trinity Campus Circle, Fort Worth, TX 76102
Phone: 817-515-8223
NCLEX-PN Pass Rate: N/A
Concorde Career College
The vocational nursing program at Concorde Career College equips students with the skills and competencies to care for patients in hospitals and residents in long-term care facilities. The curriculum delivers 1600 hours of instruction: 645 hours of theory, 168 hours in the lab, and 787 hours of clinical practice. Course topics include fundamentals of anatomy and physiology, human growth and development, leadership, college mathematics, medical-surgical nursing, nutrition, pharmacology, personal and vocational nursing concepts, and foundations of nursing. Other topics include mental health nursing, integumentary nursing care, cardiovascular nursing care, respiratory care, community health nursing, maternal child nursing, clinical practice, and NCLEX review. Graduates will receive a Diploma in Vocational Nursing and will be eligible to sit the NCLEX for licensure as a Vocational Nurse. Full-time and part-time schedules are available. The full-time schedule may be completed in 50 weeks. The part-time schedule is designed to be completed in 80 weeks.
Admission criteria:
A high school diploma or equivalency
Consent to have a criminal background check completed
A valid social security number
Attend a personal interview
Complete an entrance assessment
Complete the Enrollment Agreement and the disclosure forms
Tuition for the program is $27,972. Books and supplies cost an additional $2,498.
Address: 3015 West Interstate 20, Grand Prairie, TX 75052
Phone: 469-348-2500
Fax: 469-348-2580
Toll-free: 1-800-693-7010
NCLEX-PN Pass Rate: 87.72%