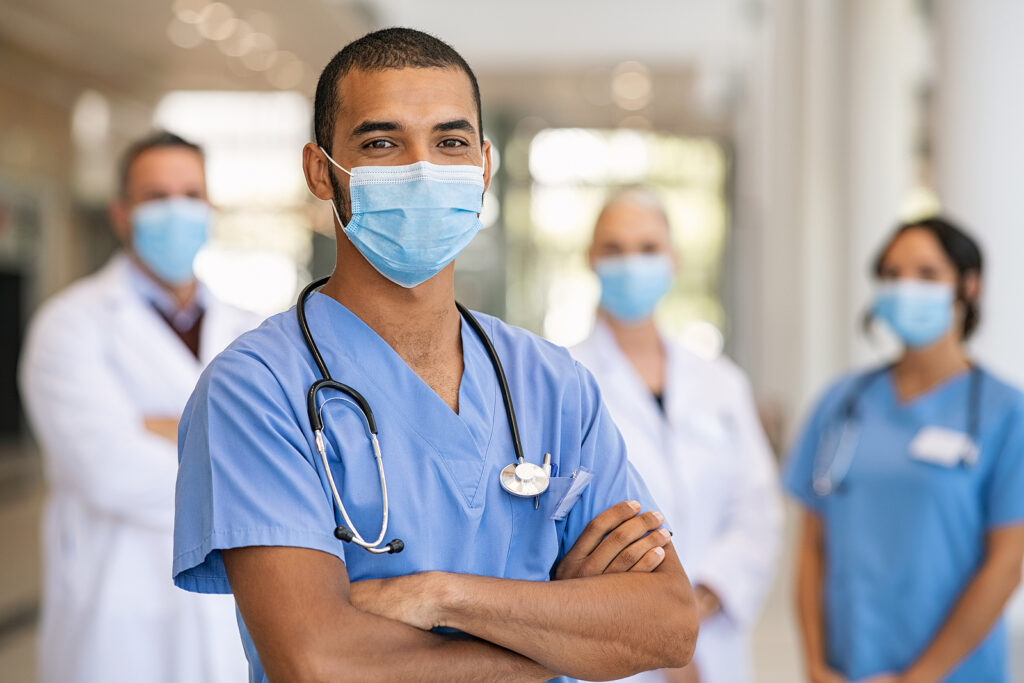 While licensed vocational nursing provides fast entry into the profession, it does not have to be your endpoint. A distinct benefit of nursing as a profession is that there is always room for growth. Advancing from the position of a licensed vocational nurse means higher pay, broader scope of practice to take a more active role in patient care, better job opportunities, and ease of pursuing other nursing degrees such as a bachelor of science and master of science in nursing. California LVN to RN programs permit the transfer of credits from the vocational nursing program giving LVNs the chance to complete the requirements for a registered nursing degree in 8 to 12 months. If you're considering this route, you must maintain your LVN licensure throughout the program and submit transcripts for evaluation. At the program's conclusion, you must take the NCLEX for Registered Nurses.
Gurnick Academy
The advanced placement (LVN to RN) program at Gurnick Academy is available for licensed vocational nurses who have completed the general education courses and hold a current license to practice as a vocational nurse. LVNs will complete the core nursing courses plus a three-week LVN to RN transition course to obtain an associate degree in nursing. The program includes didactic and hands-on training to provide students with a high-quality education experience to deliver competent care as registered nurse, Students will also develop a range of nursing skills based on nursing principles, use the nursing process in the provision of safe and effective care, practice collaboratively with other professionals, and commit to lifelong learning. Graduates will be eligible to take the NCLEX to become a registered nurse.
Program Outline
Semester credits: 25 – excluding 55 semester credit hours of GE and nursing courses required before enrollment
Duration: 8 months (2 semesters)
Method of instruction: Traditional
Course titles:
General Education Courses – Human Body in Health & Disease I w/Lab, General Microbiology with Lab, English Reading and Composition, Algebra I, General Psychology, Human Body in Health and Disease II with Lab, Nutrition in Health and Disease, Critical Thinking, Introduction to Sociology, Public Speaking, Basics of Effective Communication
Credit granted for these courses – Fundamentals of Nursing Theory, Fundamentals of Nursing Clinical and Lab, Health Assessment Theory, Health Assessment Skills Lab, Fundaments of Pharmacology
Core Courses – Nursing Transition Advanced Placement Theory & Lab Course, Pathophysiology, Maternal Newborn Theory, Maternal Newborn Clinical, Care of Children Theory, Care of Children Clinical, Medical/Surgical III Theory – Advanced Med/Surgical, Medical/Surgical III Clinical – Advanced Med/Surgical, Mental Health Theory, Mental Health Clinical, Medical/Surgical IV Theory – Complex/Critical Care, Medical/Surgical IV Clinical – Complex/Critical Care Med/Surgical & Leadership
Admission criteria:
Must attend an information session
Must submit a completed application with the aid of an admissions advisor
Must take and pass the Admission Assessment test – TEAS VI with a minimum composite score of 64%
Must pass an interview with the Nursing Program Director or Associate Program Director in person or via Skype
Must submit a two-to-three-page writing essay on why the applicant has chosen professional nursing as a career
Must submit proof of one year of full-time LVN work experience within the last three years or a recent graduate of an LVN/LPN school within one year at the time of application
Must provide transcripts showing proof of completing the 33 units of General Education courses that make up semesters I and II of the ADN Generic Pathway
Must submit a resume
Must have a cumulative GPA of 2.5 or higher in non-biology, math, and science coursework – official transcripts are required
Complete the requirements for immunizations, health screening, background check, and CPR/First Aid
Must meet the program's general performance requirements
Program Cost:
Tuition and fees cost $45,122 per academic year.  Books cost an additional $255 per year.  Expenses for the entrance exam, background check, clinical supplies, screening, immunization, and CPR are not included.
Website: https://www.gurnick.edu/
Address: 2121 South El Camino Real, Building B-200, San Mateo, CA 94403
Phone: 1-877-GURNICK
NCLEX-RN Pass Rate: 70.33%
San Joaquin Valley College
The LVN to RN bridge program offered by SJVC is open to licensed vocational nurses who have completed the prerequisite courses and hold current licensure to practice as an LVN. Coursework completed at other institutions is subject to evaluation. Applicants may also be permitted to obtain credit by examination in subject matter fields in which they are qualified through previous training or experience for which advanced placement has not been given. Once admitted to the program, the student will complete the theory and practical requirements of the core nursing courses as well as a transition course. Graduates will be prepared to take the NCLEX for Registered Nurses.
Program Outline
Units: 72
Duration: 10 months (2 terms)
Method of instruction: Traditional
Course titles:
General Education Courses – Human Anatomy with Lab, Microbiology with lab, Human Physiology with Lab, General Chemistry with Lab, Composition and REading, Intermediate Algebra or higher, General Psychology, Introduction to Sociology or Cultural Anthropology, Introduction to Public Speaking /Oral Communication
Core Courses – Health Promotion, Mental Health Psychiatric Nursing – Theory, Mental Health Psychiatric Nursing – Clinical, Maternal Child Nursing – Theory, Maternal Child Nursing – Clinical, Pediatrics – Theory, Pediatrics – Clinical, Gerontology/Community Health Nursing Theory, Gerontology/Community Health Nursing – Clinical, Health Appraisal, Advanced Medical/Surgical – Theory, Advanced Medical/Surgical Nursing – Clinical, Leadership, Work Study
Admission criteria:
Must have current, active California-licensed LVN – license must be current throughout the program
Provide proof of graduation from high school or achievement of GED
Must have a 2.5 GPA on all prerequisite coursework as verified through official transcripts
Must have current BLS certification from the American Heart Association
Meet with the RN Admissions Advisor
Complete the application file for admission and tour the campus
Submit transcripts of all previous college coursework
Provide two letters of recommendation
Provide a copy of social security card and driver's license
Applicants who are unable to provide transcripts from an LVN program must achieve a score of 75% on the Final Exam for Terms 1  & 2 of the current RN program
Must pass the RN Fundamentals 2016 exam
Complete the requirements for immunizations and physical assessment
Program Cost:
Tuition costs $39,303.50 for students who complete the program in one year. Financial aid is available for eligible students.
Website: https://www.sjvc.edu/
Address: 8344 West Mineral King Avenue, Visalia, CA 93291
Phone: (559) 651-2500
NCLEX-RN Pass Rate: 88.37%