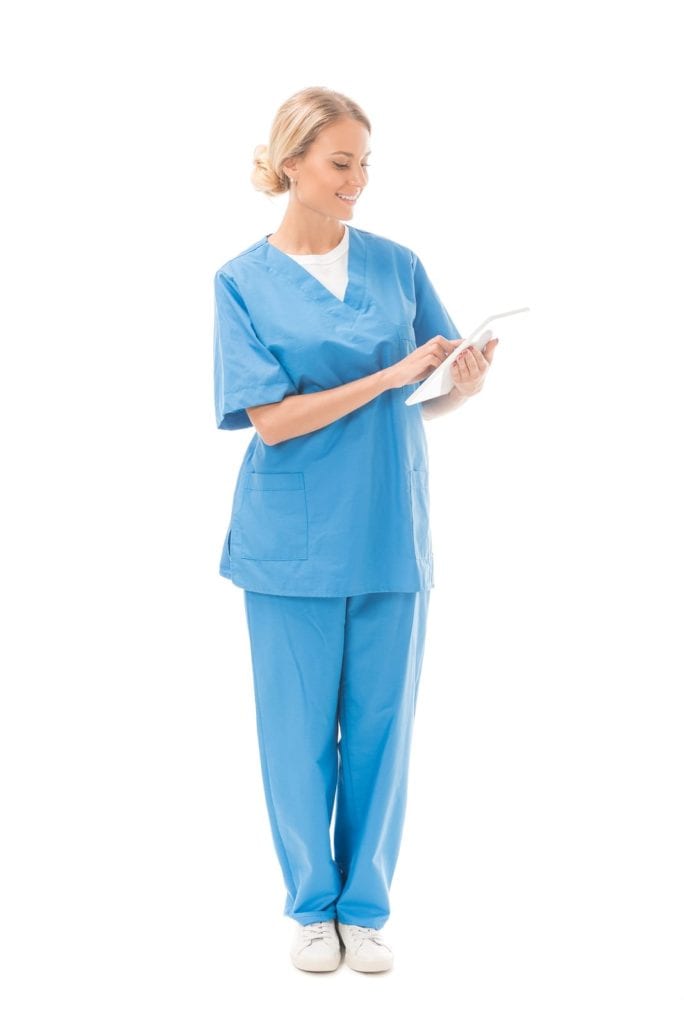 Licensed practical nursing programs use academics, laboratory training, and clinical experiences to prepare students for employment as an LPN. Programs in Hattiesburg Mississippi lead to a Practical Nursing Technical Certificate or Practical Nursing Diploma that gives graduates the eligibility to apply for licensure as a Practical Nurse. Licensure in Mississippi requires completion of a Board-approved program and successful passage of the NCLEX-PN exam.
As professional members of the health care team, Licensed Practical Nurses administer competent, quality, and safe care under the direction of a registered nurse, podiatrist, physician, or dentist. LPNs perform many duties that are similar to that of a registered nurse, but since their education and training fall below that of an RN, their scope of practice is limited. Many LPNs choose to further their education to the associate or bachelor's of science degree in nursing to get the benefits of practice as a registered nurse. RNs earn close to $25,000 more annually than LPNs. They also have greater employment options and opportunities to specialize, can easily advance their careers through education, take up management positions, and have greater input in patient care. In light of the drive for greater education for nurses, RNs also enjoy job security in the long-term. Hospital jobs for LPNs are diminishing, leaving a large sector of the workforce displaced. The greater percentage of displaced LPNs find themselves in long-term care. Those who wish to continue in the fast-paced hospital environment must advance their education to prepare for RN positions.
The median annual wage for practical nurses was $45,030 in 2017, according to the Bureau of Labor Statistics.
Jones County Junior College
The practical nursing program at Jones County Junior College leads to a Vocational Certificate. After completing 980 clock hours of theory and practical instruction, students will have the skills to assist registered nurses in the provision of basic nursing care. Students who complete the program's 44 semester credit hours in the designated 3 semesters will be eligible to apply to take the LPN licensure exam. Courses covered in the curriculum include smart start pathway, body structure and function, nursing fundamentals and clinical, IV therapy concepts and pharmacology, adult health concepts and clinical, specialty in nursing, and nursing transition.
The program admits new students in the Fall and Spring semesters. The fall class runs from August through July. The Spring class runs from January through December.
Admission criteria:
Have a minimum ACT composite score of 16- 14 in Reading, Math, and English
A minimum TEAS composite score of 50
A minimum GPA of 2.0 on applicable college coursework
Be at least 18 years old prior to completing the program
Completing the following courses will add points in the selection process – human growth and development, nutrition, and human anatomy and physiology
Recommended courses include English Comp, psychology, intermediate algebra, sociology, speech, marriage and family, and music or art appreciation
Submit a completed application before the deadline – first Monday in April for the Fall semester and first Friday in October for the Spring semester
Tuition costs $1,700 per semester and does not include the cost of fees, textbooks, and supplies.
Address: 900 South Court Street Ellisville, MS 39437
Phone: (601) 477-4025
Hinds Community College
The Practical Nursing Program at Hinds Community College is designed to be completed in 12 months. Through classroom lectures and hands-on experience, students will learn how to perform those nursing functions that do not require the skills and judgment of a registered nurse. The program requires completion of 43 semester hours. Course topics include fundamentals of nursing, body structure and function, fundamentals of nursing lab and clinical, IV therapy and pharmacology, medical surgical nursing and clinical, maternal child nursing, mental health nursing, alterations in adult health, and nursing transition. Graduates will receive a Career Certificate in Practical Nursing and will be eligible to apply for the state licensure exam. Two training options are available. A generic program is offered in August and January in Jackson, Rankin, and Vicksburg campuses. A part-time and weekend option is available in Jackson. The duration of the program is 12 months.
Persons interested in enrolling in the program must attend an information session. Sessions are scheduled on the first Friday of each month at 1:00 pm. The session provides an opportunity to chat with faculty, counselors, and financial aid representatives.
Admission criteria:
Submit a completed application to Hind Community College
Submit a completed application to the Practical Nursing Program
Submit official high school transcript, GED equivalency, or college transcript
Have an ACT score of 16
Take and pass the TEAS-V exam and submit test score indicating a minimum proficiency of 58.7% or higher
Tuition for the program is $3,451. Books and supplies cost an additional $560.
Address: P.O. Box 1100, Raymond, MS 39154
Phone: 1.800.HINDSCC
Pearl River Community College
The Practical Nursing program is a twelve-month certificate program designed to prepare adults to become a member of a health care team. Students who successfully complete the program will be eligible to take the NCLEX-PN exam to become a licensed practical nurse. Part-time and full-time schedules are available. The part-time program can be completed in 18 months. The duration of the full-time schedule is 12 months. The program covers 980 hours or 44 semester hours in three semesters. Course topics include body structure and function, nursing fundamentals and clinical, adult health nursing concepts and clinical, IV therapy and pharmacology, specialty areas in nursing, and nursing transitions.
Admission criteria:
Submit a completed PRCC application
Submit an application to the Practical Nursing Program
Have a minimum composite ACT score of 16 – a score of 14 in reading and math
Submit an official high school transcript from an accredited high school or GED report indicating "passed." The transcript must indicate graduation date.
Official college transcript for any applicable college courses
Attend a practical nursing orientation
Applicants selected for admission, using the point system, will need to attend a mandatory orientation session, complete a physical exam to confirm good health, complete TB screening, complete drug screening at an approved vendor, submit Form #121 as an indication of immunization compliance, and submit fingerprints for a criminal history record check. CPR-BLS (Health Care Provider certification) is required.
In-state tuition and fees cost $1,745. Books and supplies will cost $500.
Address: 5448 Highway 49 South, Hattiesburg, MS 39401
Phone: 601-403-1000