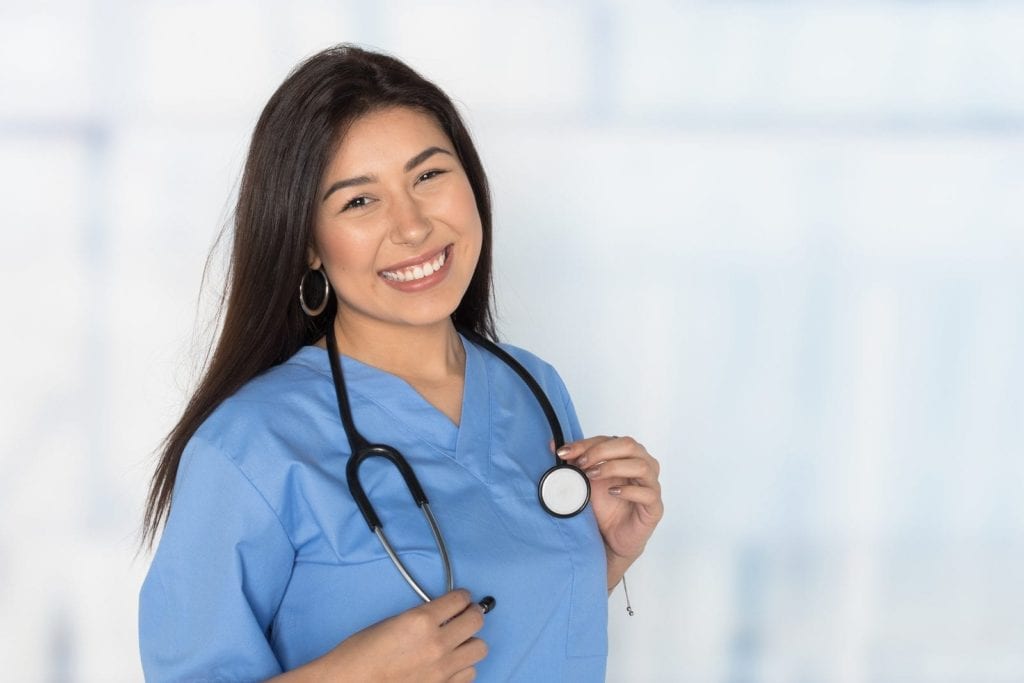 Licensed practical nurses are an integral part of the patient care team. These essential care providers administer medications, provide wound care, measure vital signs, communicate with patients and their families, support other medical staff, monitor patient conditions, and advocate for patients. LPNs also assist patients with eating, bathing, dressing, and mobility. They make beds, answer call lights, and supervise CNAs. For adults who have a strong desire to care for others, a job as a licensed practical nurse will be rewarding. But while compassion is a vital qualification, training and education will provide the skills needed to provide safe and quality care within the guidelines of state laws.
Practical nurses must take the state licensure exam before practicing as an LPN. Before applying to take the exam, you must complete a state-approved practical nursing program, which will cover both theory and practical instruction. Graduating from the program will give you access to a number of career opportunities in the thriving sector of nursing. Opportunities are available in both acute and long-term care settings. Job opportunities in Connecticut are expected to increase 8.1 percent by the year 2026. The state's LPNs are among the highest paid in the nation, taking home an annual mean wage of $55,687. Through LPN training, you will combine your passion for care with strong clinical skills to promote, maintain, and restore health.
Lincoln Technical Institute
Lincoln Technical Institute's practical nursing program prepares students for a rewarding career in health. Students are prepared to sit the NCLEX for practical nurses. The curriculum features 1591 hours of simulation labs, classroom instruction, and supervised clinical experiences that help students perform specific skills. The theory and practical aspects of the program ensure students have a complete understanding of nursing procedures like reading vital signs, infection control, bathing patients, making the beds, administering medications, dressing wounds, data collection, nursing diagnosis, and IV therapy. Course topics include fundamentals of nursing, anatomy and physiology, advanced fundamentals of nursing, principles of pharmacology, well child, human growth and development, mental health nursing, concepts of maternal-child nursing, nursing across lifespan, bub-acute nursing, and professional development. At the conclusion of the program, students will have gained a total of 61 credits. Day and evening programs are available.
Admission criteria:
Be 18 years or older before graduating from the program
Have a high school diploma or GED
Complete and sign the Enrollment Agreement
Pay the required registration fee
Take and pass an entrance assessment
Complete a nursing entrance assessment exam – TEAS
Provide current immunization records
Complete a physical exam
Provide documentation of current flu vaccine
Be free from contagious diseases
Attend an orientation program
Tuition for the program is $28,661. Books and supplies cost an additional $1,207.
Address: 8 Progress Drive, Shelton CT 06484
Phone: 203-929-0592
Fax: 203-929-0763
Porter and Chester Institute
The practical nursing program at Porter and Chester Institute trains students in the areas of human anatomy, medical terminology, first aid, and nursing so they'll have a solid foundation on which to build a successful career in nursing. Other topics for studies in the classroom and practical instruction in a simulated lab include medication administration, first aid, medical terminology, medical administrative procedures, monitoring patient, personal grooming and monitoring patients, changing dressings, patient advocacy, and offering safe and compassionate care. Qualified instructors prepare students to learn by doing to reinforce the theoretical principles learned in the classroom. PCI offers small class sizes to give students personalized instruction to reach their full potential in the program and the world of work. In addition to clinical nursing skills, students will also learn how to interact with patients, nurses, physicians and other medical staff. Graduates will be eligible to take the NCLEX-PN to become a Licensed Practical Nurse. PCI will assist graduates with job placement.
Admission criteria:
Have a high school diploma
Pass an admissions assessment
Attend a mandatory orientation
Submit a completed application and fee
Complete the background check requirements
Complete health screening including immunization requirements
Tuition for the program is $29,900. Books and supplies cost an additional $2,700.
Address: 138 Weymouth Road, Enfield, CT 06082
Phone: 860-741-2561
Fax: 860-741-0234
Stone Academy
Stone Academy prepares practical nursing students to utilize the nursing process and critical reasoning in diverse health care settings. The program combines classroom work with clinical experiences in multiple healthcare facilities. Course topics include anatomy and physiology, medical terminology, nutrition, microbiology, pharmacology, psychology, medical surgical nursing, pediatric nursing, maternal-child nursing, mental health, fundamentals of nursing, and professional development. In addition to classroom theory, students must participate in a specified number of clinical hours to graduate from the program. The clinical experience will give opportunities for development of nursing skills in a real-life setting. Stone Academy offers flexible part-time evening and full-time program to meet the needs of working adults. Full-time classes meet Monday through Friday from 8:00 am to 3:00 pm. Part-time classes meet Monday and Wednesday from 5:00 pm to 10:00 pm and Saturday from 8:00 am to 3:30 pm or Tuesday and Thursday from 5:00 pm to 10:00 pm and Saturday from 8:00 am to 3:30 pm. Graduates are eligible to sit the NCLEX-PN licensing exam in Connecticut. Persons interested in enrolling in the program must first attend an information session to learn about the application and acceptance procedures. Applications are accepted year-round.
Admission criteria:
Hold a high school diploma or GED
Attend a dedicated information session
Attend a personal interview with a member of the admissions team
Tuition costs $27,625. Books and supplies cost $2,700.
Address: 745 Burnside Avenue, East Hartford, CT 06108
Phone: 860-569-0618
Fax: 860-569-0783