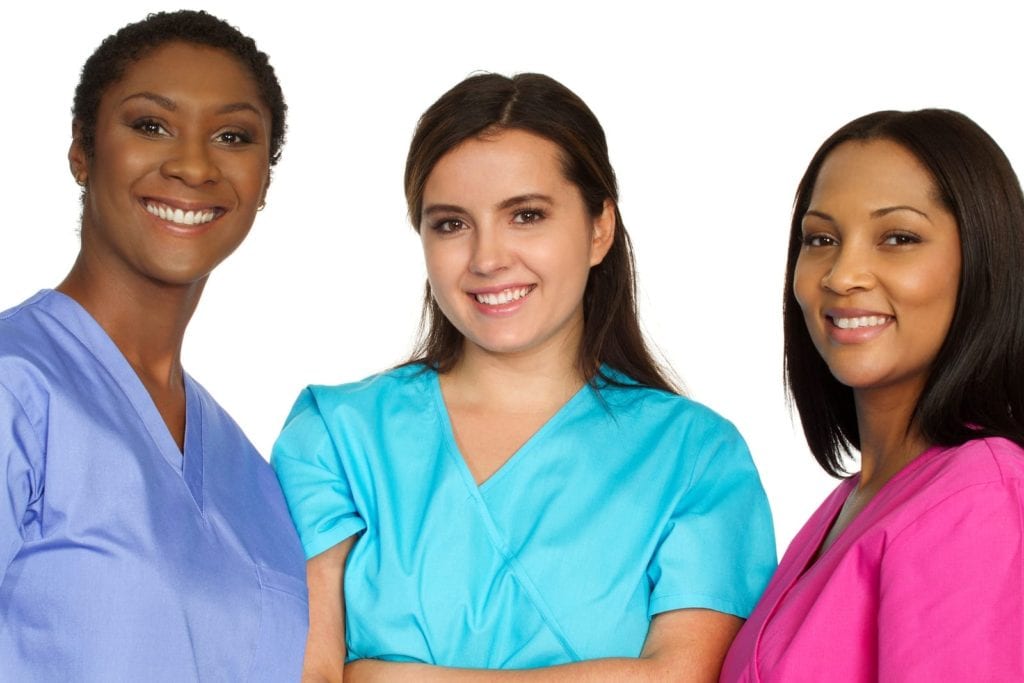 Nurses form the largest segment of the healthcare workforce and perform the bulk of activities related to patient care and recovery. Their care and support have gained the profession recognition as the most trusted according to Gallup polls. Though they have earned public respect and trust, nurses often feel disrespected, overlooked, and undervalued in their role. A part of the struggle is the overlapping of their role and place in the organizational structure. Licensed practical nurses might perform many of the duties of a registered nurse, but they must practice under the supervision of an RN or physician. As the health care system seeks to raise the bar on the educational requirements for nurses, LPNs may find it increasingly harder to secure positions in hospitals. However, the growing health care needs of the senior population create abundant opportunities for practical nurses in long-term care.
Practical nursing programs prepare students with the competencies to provide safe and quality care to patients of diverse ages and cultural backgrounds. Graduates must take and pass the National Council Licensure Exam for Practical Nurses and meet the state eligibility requirements for a license to practice as an LPN. A criminal history background check is a necessary part of the requirements, and some types of criminal convictions may preclude your eligibility for licensure.
Clover Park Technical College
The Practical Nursing certificate program at Clover Park Technical College combines theory with practical instruction to prepare students for entry-level practice. Students must complete 60 credits of nursing courses and 45 credits of general education course to complete the certificate. Course topics include Fundamentals of Nursing, Medical Surgical Nursing, Nursing Clinical Skills and Data Collection I, Mental Health Nursing, Medical Surgical Nursing II, Medical Surgical Nursing III, Pharmacology in Nursing, Nursing Clinical and Data Collection II, Maternity and Pediatric Nursing, Medical Surgical Nursing IV, Clinical Practicum I, Clinical Practicum II, Issues and Trends in Nursing, Clinical Practicum III, and Clinical Practicum IV. Prerequisite courses include Human Anatomy and Physiology with Lab I and II, Microbiology with Lab, English Composition, Intermediate Algebra, Nutrition, General Psychology, Lifespan Psychology, and College Success for All. Learning will take place in the classroom, skills laboratory, and patient care experiences in various health care settings. Clinical experiences may be scheduled between 6:30 am and 11:30, but times may vary. Graduates will be prepared to take the NCLEX for licensure as a Practical Nurse. Students are admitted in the Fall, Winter, and Spring Quarters. The program may be completed in 4 quarters.
Admission criteria:
Download, complete and submit the LPN Admission Packet – applications are accepted year round
Must complete a state-approved nursing assistant program and maintain an active, unencumbered nursing assistant license throughout the program
Have a current American Health Association CPR for Health Care Provider card
Provide documentation of completing high school or high school equivalency
Submit official transcripts of any college courses completed
Complete the prerequisite courses with a grade B or higher
Maintain health insurance for the duration of the program
Obtain criminal background clearance
Pass a drug screen and complete the health requirements
The cost of the program for resident students is $9,761.34. The cost includes tuition, materials and supplies, uniform, stethoscope, BP cuff, and other nursing tools, immunization, CPR and First Aid, medical insurance, NCLEX-PN exam, and State Board licensing fees.
Bates Technical College
The Bates Technical College Practical Nursing program prepares students for entry-level practice as a Licensed Practical Nurse. Students will complete 105 to 122 credits and will receive an Associate of Applied Science in Nursing. The program requires completion of the general education and nursing courses to achieve the degree. General education courses include English Composition I, Interpersonal Communication, Lifespan Psychology, Human Anatomy and Physiology I, Human Anatomy and Physiology II, Microbiology, General Chemistry, Intro to Nutrition, and Statistics. Required coursework include Professional Vocational Relationships, Nursing Fundamentals I/Simulation I, Intro to Medical Surgical Nursing, Nursing Fundamentals II/Simulation II, Clinical I/ Simulation III/ Clinical Math, MED/Surg I, Nursing Math/ Pharmacology, Med-Surg II, Clinical II/ Simulation IV, Advanced Clinical II/ Simulation V, Clinical Math, Newborn / Maternal/ Repro/ Pediatrics. Med-Surg III, Clinical III/ Simulation VI/ Clinical Math, and Preceptor Experience. The duration of the program is 4 quarters.
Admission criteria:
Attend an information session – optional
Submit an online application for Washington State Community College and pay the nursing and college application fees. Fees are $50 for each.
Submit official transcripts of any college courses completed
Take the Accuplacer test if no college transcripts are available
Complete the prerequisite courses with a minimum GPA of 3.0
Complete NAC training and maintain certification
Submit to a background check
Attend a mandatory nursing program orientation
Pass a drug screen
Provide evidence of current immunization, CPR for Health Care Provider, and medical insurance
Maintain liability insurance throughout the program
Complete CASAS test
Complete 7 hours of AIDS/HIV training
Resident tuition is $125.53 per credit not including lab and special fees.
Address: 1101 S. Yakima, Tacoma WA 98405
Phone: 253-680-7000
NCLEX-PN Pass Rate: 85.71%
Olympic College
The Olympic College Practical Nursing Program includes classroom study and supervised clinical rotations to give adults the knowledge, skills, competency, and confidence to care for patients and residents in long-term care, acute facilities, home health, and ambulatory care settings. Diverse learning experiences and clinical activities in varied health care settings will give students the opportunity to care for clients of diverse cultural backgrounds, meet client needs, promote and maintain health, and develop the skills consistent with practical nursing outcomes. The areas of study include Physical Assessment Lecture and Lab, Fundamental Nursing Skills, Practical Nursing Medical Terminology, Personal and Vocational Roles, Nursing I: Concepts, Theories, and Reasoning, Long-Term Care Clinical, Practical Nursing Lab II, Nutrition, Medical and Surgical Clinical, Mental Health, Pediatrics, Obstetrics, Client Care Management, and Clinical Mentorship. The curriculum requires completion of 83 credits of prerequisite and required courses. Students must maintain a minimum grade of 75% to progress and complete the program. Certified nursing assistants and medics may apply for credit by taking and passing an exam for PNUR 104, 105 and 110. Graduates will receive a Certification of Specialization upon completion of the program and will be eligible to take the NCLEX for licensure as a Practical Nurse. Admission to the program is limited, so admission to the College does not guarantee acceptance to the program. Acceptance is based on an admission score based on completion of support courses and CNA certification. New classes begin in the Winter Quarter. The duration of the program is 12 months.
Admission criteria:
Apply for admission to Olympic College
Submit a separate application for the Practical Nursing Program. The application deadline is August 31
Submit official transcripts from all educational institutions including colleges and universities – must be sent directly to the Office of Admissions by the issuing institutions
Submit a copy of Transfer Credit Evaluation— transcript evaluation results – if applicable
Complete prerequisite courses with a minimum grade of 2.0. Prerequisite courses include BIOL 241, BIOL 242, ENGL 101, MATH 099, PSYC 100, PNURS 126, PNUR 108
Achieve a score of 78 or above on the Accuplacer Reading Comprehension Test
Current certification as a Nursing Assistant – if applicable
Attend an information session after acceptance to the program before the start of the Winter session
Provide proof of current immunizations, liability insurance, and health insurance
Have current Basic Life Support for Health Care Providers Certification
Complete a satisfactory Criminal History Background Inquiry Check
In-state tuition costs $6,189. Books and supplies cost an additional $1,284.
Website: https://www.olympic.edu/
Address: 1600 Chester Avenue, Bremerton, WA 98337-1699
Phone: (360) 792-6050
NCLEX-PN Pass Rate: 100%