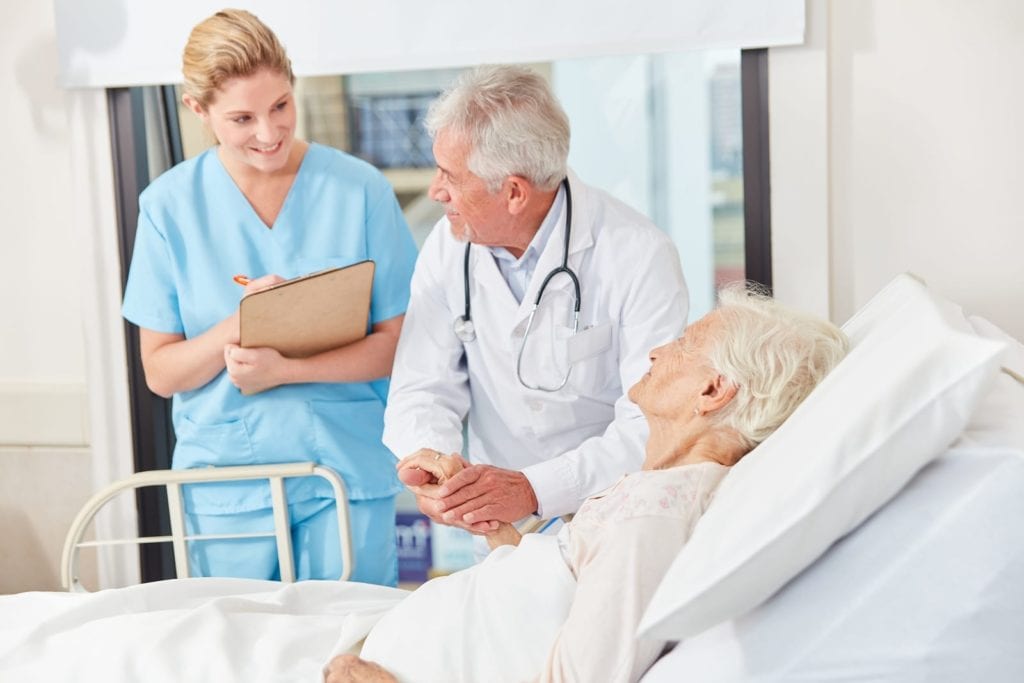 Practical nursing programs provide a path to entry-level nursing that does not require the time and energy of an associate or bachelor's degree in nursing. Graduates can have a rewarding career as a practical nurse or use the training and experience as a stepping stone to registered nursing. Though there are concerns on the availability of jobs for practical nursing graduates, the Bureau of Labor Statistics project a positive outlook – a job growth of 12 percent – through they year 2026.
Practical nurses may not readily find employment opportunities in hospitals but there are many other opportunities in healthcare. In nursing homes, physicians' offices, clinics, and hospice centers, employers seek to reduce their workforce costs and maximize efficiency by hiring more LPN nurses. In nursing homes, LPNs are a critical component in the care of the aging baby boomer generation. As more nurses retire from the work, there will be greater demand for incoming nurses to fill their place. The one-year practical nursing program will produce a steady stream of professional nurses to meet workforce demands.
Northwest Louisiana Technical College
The Practical Nursing program helps adults fulfill the licensure requirements to become a Licensed Practical Nurse in Louisiana. Training will include classroom lectures, lab practice sessions, and supervised clinical activities in approved hospitals, nursing homes, and other medical facilities. Prerequisite courses include Introduction to Computers and Freshman Seminar. Required courses include Nursing Fundamentals I, Geriatric Clinical I, PN Applications, Anatomy and Physiology for PNs, Nutritional Aspects, Basic Pharmacology, Nursing Fundamentals II, Advanced Pharmacology, Medical Surgical I to III, Mental Illness/Psychiatric Nursing, IV Therapy, Obstetrics, Pediatrics, and Practical Students must obtain a passing score of 80% or higher on each course to successfully complete the requirements. Graduates will receive a Practical Nursing Diploma and will be eligible to take the NCLEX for Practical Nurses.
Admission criteria:
Submit a completed application for admission online
Provide documentation of immunization or signed waiver
Provide proof of selective service – if required
Provide a copy of driver's license or photo ID
Submit copy of ACCUPLACER or ACT scores
Provide official transcripts of college courses completed – if application
Provide official high school transcripts or GED scores
Pass a criminal background check
The practical nursing program is designed to be completed in two years. The approximate cost is $8,786.45.
Address: 9500 Industrial Drive, Minden, LA 71055
Phone: 318-371-3035
NCLEX-PN Pass Rate: 90%
Southern University at Shreveport
The practical nursing program at Southern University at Shreveport provides students with the knowledge and skills to provide basic care to patients in acute and long-term settings. Students will learn in the classroom and skills lab. These on-campus sessions will prepare them for the supervised clinical rotations where they will use their skills as part of the health care team. The curriculum includes 1,545 contact hours of theory and practical work. Students will complete the required 44.5 credits in four semesters. Course modules include Fundamental of Nursing I, Fundamentals of Nursing I Clinical, Microbiology, Nutrition, Geriatric Nursing I, Geriatric Nursing I Clinical, Anatomy and Physiology I, Vocational Adjustments, Fundamentals of Nursing II, Fundamentals of Nursing II Clinical, Personal, Family and Community Health, Pharmacology I, Geriatric Nursing II, Geriatric Nursing II Clinical, and Anatomy and Physiology I. Courses covered in the final two semesters include Medical Surgical Nursing I, Medical Surgical Nursing I Clinical, Pharmacology II, Mental Health Nursing, Mental Health Nursing Clinical, Medical Surgical Nursing II, Medical Surgical II Clinical, Pediatric Nursing, Pediatric Nursing Clinical, Obstetrical Nursing, Obstetrical Nursing Clinical, and Career Readiness. Graduates will be eligible to apply fro the NCLEX-PN for licensure in Louisiana. The program admits a total of 70 students in the spring semester.
Admission criteria:
Complete an online application for admission
Submit official high school bearing the school seal, an official's signature, and date of graduation
Submit official ACT scores. The SAT may be submitted as an alternative
Applicants who are 25 years or older will not be required to submit ACT scores but must be placed in developmental English and Math courses
Provide satisfactory evidence of immunity to MMR, Tdap, and meningitis
Pay the non-refundable application fee of $20
Obtain TB clearance
Pass a criminal background check
Contact the school directly to get a current schedule of classes and fees.
Address: 3050 Martin Luther King Dr., Shreveport, LA 71107
Phone: (318) 670-6000
NCLEX-PN Pass Rate: N/A
Louisiana State University in Shreveport
The Division of Continuing Education & Public Service Department at Louisiana State University prepares adults to meet the requirements for practical nursing licensure. The Board of Practical Nursing approved program qualifies graduates to take the national licensing exam for practical nurses. Course topics include anatomy and physiology, fundamentals of nursing, pediatric nursing, medical surgical nursing, geriatric nursing, mental health nursing, obstetrical nursing, pharmacology, nutrition, psychology, microbiology, growth and development, and transition to nursing. The school offers two practical nursing schedules – a day program that meets from Monday through Friday from 8:00 am to 4:00 pm for 12 months. The evening program meets Monday through Thursday from 5:00 pm to 10:30 pm for 20 months. Both programs cover 1,540 clock hours of instruction – 730 hours of theory and 810 clinical hours.
Admission criteria:
Submit a completed application and non-refundable application fee of $20
Write and submit an essay
Submit official high school transcript or GED/HISET
An original birth certificate must be submitted for admissions to copy
Must have official test scores from an approved standardized test – must not be older than 3 years
Official transcripts of any college courses completed
Must take and pass the ACCUPLACER test if no standardized test scores are available
The cost of the day program (3 semesters) is $14,161.99. The evening program (5 semesters) costs $14,320.30.
Address: One University Place, Shreveport, LA 71115-2399
Phone: (318) 798-4177
Toll Free: (800) 290-2378
Fax: (318) 798-4175
NCLEX-PN Pass Rate: 98.40%
Louisiana Delta Community College
The Technical Diploma in Practical Nursing offered by Louisiana Delta Community College prepares students to fill the workforce needs in the community. The training will include classroom instruction and supervised clinical experiences to prepare graduates for success on the licensing exam. Courses progress from the simple to the complex. Some courses have prerequisites that must be completed before progressing to the upper level courses. Advancement into the acute care clinical component of the program requires students to demonstrate basic computer skills through a competency exam. Students must achieve a minimum score of 80% on each course in the program. Upon completion of the requirements, they will receive a Practical Nursing Diploma and will be eligible to apply for the NCLEX for Practical Nurses. Enrollment is limited.
Admissions criteria:
Must fulfill the prerequisites for admission to Louisiana Delta Community College
Pass a criminal background
Submit a health exam report including records of up-to-date immunizations
The cost of completing the two-year program is $13,727.68. Additional costs for books and supplies may apply.
Address: 7500 Millhaven Road Monroe, LA 71203
Toll-Free: 866-500-5322
Phone: 318-345-9000
NCLEX-PN Pass Rate: 85.71%