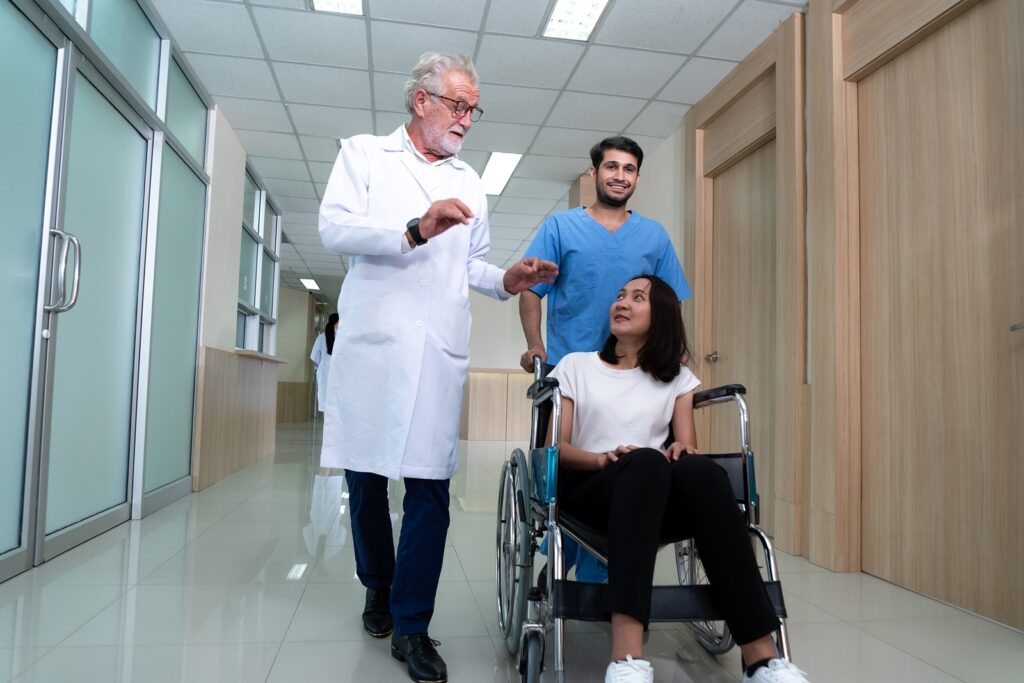 Apart from the grueling academic preparation, it takes a great deal of compassion and selflessness to become a nurse. Professional nursing programs supply the knowledge and support the development of technical skills to function competently in the role of a registered nurse. However, a key ingredient for success in the field cannot be covered in nursing textbooks or modules. That ingredient is empathy. As a licensed practical nurse, you will have discovered the highs and lows of caring for patients who may or may not appreciate your efforts. If you're willing to take the next step and take a more active role in care, the LPN to RN bridge program will help you achieve your goal in the shortest possible time. The program will award credit for your prior education and licensure as a practical nurse and equip you will the additional skills to go the extra mile in care.
College of Southern Nevada
The College of Southern Nevada offers a bridge pathway for licensed practical nurses to become a registered nurse through the LPN to RN pathway. LPNs in good standing will receive credit for their prior education and Nevada LPN license. Students interested in this program must have graduated from an approved practical nursing program, and be currently licensed as practical nurse in Nevada. The program will include both classroom instruction and clinical practice in adult health nursing, family health nursing, and mental health nursing. LPNs will acquire additional skills to provide care, support, and education to patients, monitor the physical and mental status of patients, administer medication, record patient progress, and direct licensed practical nurses and nursing assistants. Successful graduates are eligible to sit for the National Council Licensure Examination for Registered Nurses (NCLEX-RN) for state licensure.
Program Outline
Semester credits: 34
Duration: 3 semesters
Method of instruction: Traditional
Course titles:
Prerequisite courses – Composition I, Fundamentals of College Mathematics, General Psychology, Fundamentals of Life Science, Human Anatomy and Physiology I, Human Anatomy & Physiology II, General Microbiology, Principles of Sociology, Oral Communication, Introduction to American Politics
Core courses – Introduction to Associate Degree Nursing, Pharmacology for Nursing Practice, Professional Topics: Management Concepts and Transition into Professional Practice, Mental Health Nursing, Maternal Newborn Nursing, Pediatric Nursing, Medical Surgical Nursing III,
Admission criteria:
Attend a personal interview and campus tour
Submit an application for admission to CSN
Submit official high school transcript showing date of graduation, GED transcript, HiSet transcript, or transcript for Associate's degree or higher
Complete a Health Programs Orientation
Meet with a Health Programs Advisor within two years of the application deadline
Complete a Limited Entry Workshop within two years of the application deadline
Satisfy the English Language proficiency requirement
Must have a minimum cumulative GPA of 2.50 for all program prerequisite courses
Complete a transfer credit evaluation showing 8 credits accepted into CSN for a Nevada Practical Nursing license
Take and pass the ATI TEAS with a minimum cut-off score of 80% in Reading, 80% in Math, 75% in English, and 80% in Science – test scores are valid for 5 years
Must have a minimum grade C on science prerequisites
Pay the Limited Entry Application fee of $20
Provide proof of current immunization as required by the clinical agency – MMR, Varicella, Hepatitis B, Tdap, TB skin test, and Flu Shot
Must have and maintain current American Heart Association CPR/Basic Life Support throughout the program
Pass a criminal background check and drug screen
Program Cost:
Tuition costs $172.75 per credit hour including the $60 per credit hour differential fee for NURS courses. Other costs that must be covered by the student include uniforms, supplies, physical exam, urine drug screen, books, immunizations, official background and health record check, medical insurance, HESI testing and resources, new student fee, and limited entry application fee.
Website: https://www.csn.edu/
Address: 6375 W. Charleston Blvd., Las Vegas, NV 89146
Phone: 702-651-5000
NCLEX-RN Pass Rate: 86.21%
Las Vegas College
Licensed practical nurses may apply for advanced standing credit in the Applied Science Degree, Nursing program at Las Vegas College. They will receive credit for prior learning and complete the requirements for the AS Degree in less than the normal time. The AS curriculum includes theory and principles of nursing to prepare graduates for practice as professional nurses in acute and long-term care facilities. Students will develop nursing skills in the lab followed by clinical rotations at local health care facilities.  Students entering into the experiential training is make arrangements to be on-site at the appointed times designated by the school's coordinator or instructor. Hours at the site can vary from day to do and from week to week depending on the needs, rules, and regulations of the locations. Students who fail to attend experiential sessions risk failure of the program and inability to graduate. Some of the required theoretical coursework may be delivered online. Graduates of the program will be eligible to apply to sit for the NCEX for Registered Nurses.
Program Outline
Credit units: 92 units
Clock hours: 1390
Duration: 21 months
Method of instruction: Hybrid
Course titles:
Prerequisite courses – Anatomy & Physiology I, Anatomy & Physiology I Lab, Anatomy and Physiology II, Anatomy and Physiology II Lab, College Algebra
Core courses – Strategies for Nursing Success, Microbiology Laboratory, Pharmacology of Nursing I, Fundamentals of Nursing II, Fundamentals of Nursing II Clinical, General Psychology, Principles of Sociology, Pharmacology of Nursing II, Nursing Care of Adult Client I, Nursing Care of Adult I Clinical, Composition II, Nursing Care of Adult II, Nursing Care of Adult II Clinical, Developmental Psychology, Maternal Child Nursing, Maternal Child Clinical, Contemporary Nursing in Community Settings, Contemporary Nursing in Community Settings Clinical, Mental Health Nursing, Mental Health Nursing Clinical, Nursing Care of Adult III, Nursing Care of Adult III Clinical, Nursing Leadership and Management, Nursing Leadership Management Clinical, NCLEX Review, US and NV Constitution
Admission criteria:
Complete an admission interview and demonstrate English proficiency
Must submit official high school transcripts or GED scores
Must meet the state of Nevada immunization requirements for admissions – MMR, Varicella, Hepatitis B, Tdap, TB skin test, and Flu Shot
Take and pass an admissions assessment to demonstrate academic readiness – LPN candidates may apply for waiver
Must have a current LPN license and demonstrate completion of an accredited LPN program
Take and pass the TEAS exam with a minimum score of 62.7
Complete an enrollment agreement
Complete the entrance essay to the Nursing Department for review – contact the School of Nursing for guidelines
Must have and maintain current American Heart Association CPR/Basic Life Support throughout the program
Provide a copy of health insurance or a signed waiver
Obtain physical exam clearance by a licensed provider
Pass a criminal background check and fingerprinting/drug screening
Program Cost:
Tuition costs $500 per unit. Books and supplies will cost an additional $3,800. Financial aid is available for eligible students.
Website: https://lvcollege.edu/
Address: 170 N Stephanie St, Henderson, NV 89074
Phone: 702-745-8750
NCLEX-RN Pass Rate: 70.19%