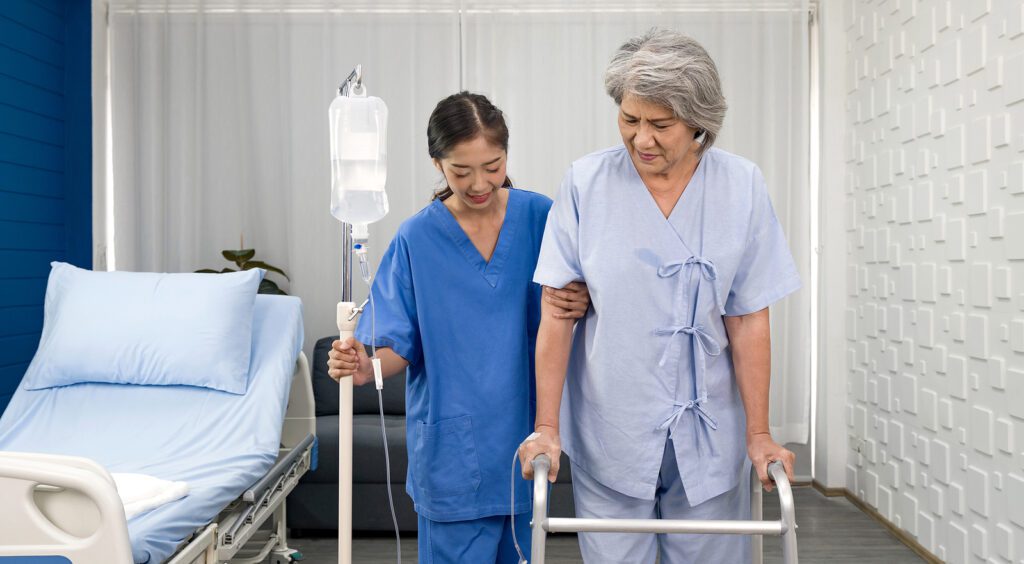 Licensed vocational nurses in Texas enroll in one of the many LVN to RN bridge programs to meet the demand for registered nurses within the state. The bridge program provides them with additional education and training to become registered nurses. While vocational nursing is a fast and affordable entry to the nursing care team, there are some limits placed on vocational nurses as it relates to patient care. Registered nurses have a broader scope of practice, have greater independence in practice, earn higher salaries, and have greater opportunities to specialize. Registered nurses earn up to 33 percent more than vocational nurses in Texas, according to data from the Bureau of Labor Statistics. They also have the opportunity to bridge to the BSN degree with just an additional year of study.
The availability of LVN to RN bridge programs in Texas removes any resistance to advancing your education. From flexible part-time options to full-time and online classes, you can find a program to meet your needs. Enrolling is fast and simple if you possess a current vocational nursing license and experience in field.
LVN to RN Education Requirements
The LVN to RN program is designed for licensed vocational nurses to "bridge" the gap between their vocational nursing education and the second year of the Associate Degree Nursing Program. The coursework work covers the remaining credit hours (typically 32 to 40) required to obtain the Associate Degree in Nursing.
The bridge program is an accelerated program that requires applicants to have a current vocational nursing license. All prerequisite courses must be completed before admission to the program. Theory and practical coursework prepare students to take the licensure exam for registered nurses and advance their career from a vocational nurse to a registered nurse. VN students will learn how to assess patients' conditions, record medical histories, observe patients and record their reactions to medications or treatments, administer medication, operate and monitor medical equipment, perform diagnostic tests, and educate patients and their families. The accelerated pace reduces the number of clinical hours and the time required to complete the requirements for the AS degree. Course topics include adult health, registered nursing skills, pharmacology, mental health nursing, nutrition and diet therapy, advanced concepts of adult health, transition to professional nursing, and health care concepts. Upon completion of the degree, students enrolled in a school with articulation agreements with Texas Universities may go on to earn a BSN degree.
Approximately 52 colleges in Texas offer the LVN to RN program. Students enter the ADN program as transfer students, so enrollment may be competitive or on a space available basis only. Some of the coursework may be delivered online – check to determine that the program is accredited.
Eligibility Criteria
LVNs are admitted to the program as transfer students. Applicants must apply for admission to the college and completed any prerequisite courses before applying for acceptance to the nursing program.
Transfer students are admitted on a space-available-only basis so it is important to meet the requirements for admission.
Following are some of the requirements for entry into the nursing program:
Complete the admission test for nursing: TEAS – a proficient level score is required
Complete all prerequisites and obtain a passing grade – transcripts required
Submit a report of current immunizations/vaccines including COVID-19
Submit a copy of your vocational nursing license
Must have current CPR for Health Care Providers.
Medical and malpractice insurance may be required
Malpractice insurance.
A satisfactory drug screen and criminal background check
Work experience as a vocational nurse may be required – at least one year
In cases where selection is competitive, applicants may be accepted according to a scoring system. Candidates may be scored based on GPA, TEAS score, work experience, and completion of prerequisite coursework.
Duration and Cost
Since vocational nurses enter the program in the second semester, after completing transitional courses, the overall cost of tuition is significantly less than a full ADN program. The need to completed prerequisite courses and other general education requirements may add to the final cost. The average cost of tuition is $230 for in-district students and $285 for those who are out-of-district but in-state. Other costs include lab fee, uniforms, textbook, admission testing, immunization, background check, drug screen, and insurance.
LVN to RN programs cover a period of 12 months for full-time students after they complete any prerequisite coursework and transition courses.
Texas LVN to RN Licensure Requirements
The NCLEX-RN licensure exam is open to any candidate who has completed the requirements for an associate of science degree in nursing or a bachelor of science degree in nursing. The application for licensure must be submitted online using the online portal. Applicants must also complete a satisfactory background check, drug screen, and pass the Nursing Jurisprudence Exam.
Licensure By Examination
Applicants to the Board of Nursing must be submitted online after completing a personal account.
To apply for licensure, you must:
Register and create an account with the Board through the Texas Nurse Portal
Follow the instructions to apply by paper if you need to answer "Yes" to any of the eligibility questions or graduated outside the United States and do not have a social security number
Complete the Online Examination Application – print a copy the receipt for your records
Complete a criminal background check through the Department of Public Safety (DPS) based on a set of fingerprints provided to MorphoTrust
Pay the $75 application fee online via credit card or debit card
Provide the Board with the appropriate information and documents (indicated next to the question) if you answer yes to the eligibility questions. Examples of documents to provide include, certified copies of charges, disposition of charges, and verification of compliance with aftercare recommendations.
Pass the Texas nursing jurisprudence exam – this must be completed to receive an authorization to test (ATT) for the NCLEX exam
Print the affidavit of graduation and request that the school of nursing complete the affidavit and mail directly to the BON if you graduated outside of Texas. If you completed a nursing program in Texas, verify that your nursing program submitted the affidavit of graduation
Register for the NCLEX-RN with Pearson Vue 30 days before your graduation date. The registration fee is $200.
International Candidates:
Submit the following additional requirements if you graduated from a program outside the United States:
Proof of passing scores of English proficiency exam if your program was not conducted in English. Acceptable test/scores are TOEFL/560 paper based or 220 computer based, TSE/50 and TWE/4.0, IELTS/6.5.
An original Credential Evaluation Service (CES) Full Education course-by-course report from one of the following approved agencies – sent directly to the BON.
Educational Records Evaluation Service Inc.
International Education Research
Commission on Graduates of Foreign Nursing Schools
Verification of Licensure form from all countries, states, provinces, and territories where you hold a license
Proof of nursing practice within 4 years preceding the filing of the examination application and be within 4 yeas of the date of eligibility in order to sit for the NCLEX. for two years after graduating from a nursing program. You must take a Foreign Educated Nurse (FENS) refresher course comprising of classroom and clinical instruction (120 hours each) if you did not practice within four years of the filing of the application.
Incomplete applications will delay approval of the ATT, Graduate Nurse Permit, or permanent license. The application will remain open for one year from the date submission to the Board's office. You must submit all the documents within the one-year timeframe or the application will be terminated. You will need to submit another application and fee if your application expires. The processing time once the application is complete is 10 business days.
If you requested a Graduate Nurse permit and met the eligibility requirements, the BON will post it online within five business days of granting your eligibility to take the exam.
Renewal Requirements
After your first renewal, your registered nursing license will expire on the last day of your birth month – every two years. If you were born on an odd-numbered year, your license will renew on an odd-numbered year. You must use the online portal to renew your license. Online renewal provides for prompt renewal. The renewal fee of $68 must be paid using a credit card or debit card during the online renewal process.
You cannot renew online if you:
Defaulted on a Texas Guaranteed Student Loan
Did not meet the continuing education requirements.
Have been selected for a Criminal Background Check and did not complete it.
Changed your primary state of residence from Texas to another state.
Attempted late renewal and your license is on delinquent or inactive status.
Request a printable application from the BON if you're not eligible to renew online.
There is a fee for late renewal of your license. The late fee for reactivating a license from delinquent status is $60 plus the licensure renewal fee.
Continuing Education Requirements for Texas RNs
As a registered nurse in Texas, you will be required to complete 20 contact hours of continuing nursing education (CNE) in your area of practice OR demonstrate the achievement, maintenance, or renewal of a Board-approved national nursing certification in the nurse's area of practice within the licensing period and meet the applicable targeted continuing education requirements to renew your license. The 20 CNEs must be completed every 2 years. Mandatory continuing education requirements include two hours of Nursing Jurisprudence and Nursing Ethics (completed prior to the end of each third two-year renewal cycle), two hours of Older Adult or Geriatric Care (for every renewal cycle), and Forensic Evidence Collection for nurses who perform forensic exam on a sexual assault survivor.
You must maintain continuing competency records that document attendance as evidenced by original certificates of completion, contact hour certificates, or official academic transcripts.  Keep the records for a minimum of three consecutive licensing periods or six years (with the exception of the Forensic Evidence Collection targeted CNE requirement, which must be kept indefinitely).
Contact the Board of Nursing
Texas State Board of Nursing
333 Guadalupe, Suite 3-460
Austin, TX 78701-3944
Phone: (512) 305-7400
Fax: (512) 305-7401
Texas LVN to RN Programs and NCLEX-RN Pass Rates:
Alvin, TX LVN to RN Programs
Alvin Community College
3110 Mustang Road, Alvin, TX 77511
281-756-3500
NCLEX-RN Pass Rate: 92.31%
Amarillo, TX LVN to RN Programs
Amarillo College
P.O. Box 447, Amarillo, TX 79178
806-371-5000
NCLEX-RN Pass Rate: 77.60%
Austin, TX LVN to RN Programs
Austin Community College
5930 Middle Fiskville Road, Austin, TX 78752-4390
512-223-4ACC(4222)
Bayton, TX LVN to RN Programs
Lee College
200 Lee Drive, Baytown, TX 77520
281-427-5611
NCLEX-RN Pass Rate: 85.48%
Beeville, TX LVN to RN Programs
Coastal Bend College
3800 Charco Road, Beeville, TX 78102
1-866-722-2838
NCLEX-RN Pass Rate: 80.95%
Brenham, TX LVN to RN Programs
Blinn College
902 College Avenue, Brenham, TX77833
979-830-4000
NCLEX-RN Pass Rate: 87.25%
Brownsville, TX LVN to RN Programs
Texas Southmost College
80 Fort Brown, Brownsville, TX 78520
956-295-3600
NCLEX-RN Pass Rate: 46.36%
The University of Texas at Brownsville
One West University Boulevard, Brownsville, TX 78520
956-882-8200
NCLEX-RN Pass Rate: N/A
Carthage, TX LVN to RN Programs
Panola College
1109 West Panola, Carthage, TX 75633
903-693-2000
NCLEX-RN Pass Rate: 95.83%
Cisco, TX LVN to RN Programs
Cisco College
101 College Heights, Cisco, TX 76437
254-442-5000
NCLEX-RN Pass Rate: 88.89%
Clarendon, TX LVN to RN Programs
Clarendon College
P.O. Box 968, 1122 College Drive, Clarendon, TX 79226
806-874-3571
NCLEX-RN Pass Rate: N/A
Corpus Christi, TX LVN to RN Programs
Del Mar College
4101 Old Brownsville Road, Corpus Christi, TX 78405
361-698-2894
NCLEX-RN Pass Rate: 92.68%
Corsicana, TX LVN to RN Programs
Navarro College
3200 West 7th Avenue, Corsicana, TX 75110
1-800-NAVARRO
NCLEX-RN Pass Rate: 83.75%
Cypress, TX LVN to RN Programs
Lone Star College- CyFair
9191 Barker Cypress Road, Cypress, TX 77433-1383
281-290-3200
NCLEX-RN Pass Rate: 70.13%
Dallas, TX LVN to RN Programs
Mountain View College
4849 W. Illinois Ave, Dallas, TX 75211
214-860-3629
NLCEX-RN Pass Rate: 51.43%
Dallas Nursing Institute
12170 North Abrams Rd, Dallas, TX 75243
214-351-0223
NCLEX-RN Pass Rate: 86.96%
El Centro College
801 Main Street, Dallas, TX 75202
214-860-2000
NCLEX-RN Pass Rate: 82.47%
Brookhaven College
3939 Valley View Lane, Farmers Branch, Dallas, TX 75244-4997
972-860-4700
NCLEX-RN Pass Rate: 77.33%
Denison, TX LVN to RN Programs
Grayson College
6101 Grayson Drive (Highway- 691), Denison, TX 75020
903-465-6030
NCLEX-RN Pass Rate: 78.79%
Early, TX LVN to RN Programs
Ranger Colleges
300 Early Blvd, Early, TX 76802
325-647-2479
NCLEX-RN Pass Rate: 68.42%
El Paso, TX LVN to RN Programs
El Paso County Community College
10700 Gateway East, El Paso, TX 79927
915-831-EPCC
NCLEX-RN Pass Rate: 80.14%
Fort Worth, TX LVN to RN Programs
Tarrant County College
1500 Houston Street, Fort Worth, TX 76102
817-515-8223
NCLEX-RN Pass Rate: 81.97%
Gainesville, TX LVN to RN Programs
North Central Texas College
1525 West California Street, Gainesville, TX, 76240
940-668-7731
NCLEX-RN Pass Rate: 84.42%
Galveston, TX LVN to RN Programs
Galveston College
4015 Avenue Q, Galveston, TX 77550
409-944-4242
NCLEX-RN Pass Rate: 86.27%
Hillsboro, TX LVN to RN Programs
Hill College
112 Lamar, Hillsboro, TX 76645
254-659-7500
NCLEX-RN Pass Rate: 66.67%
Houston, TX LVN to RN Programs
Houston Community College
1900 Pressler Drive, Houston, TX 77030
713-718-7486
NCLEX-RN Pass Rate: 70.86%
The College of Health Care Professions
240 Northwest Mall Blvd., Houston, TX 77092
713-425-3100
NCLEX-RN Pass Rate: N/A
Kaufman, TX LVN to RN Programs
The Trinity Valley Community College
800 Ed Hall Drive, Kaufman, TX75142
972-932-4309
NCLEX-RN Pass Rate: 81.38%
Killeen, TX LVN to RN Programs
Central Texas College
P.O. Box 1800, Killeen, TX 76540-1800
254-526-7161
NCLEX-RN Pass Rate: 81.61%
Kilgore, TX LVN to RN Programs
Kilgore College
1100 Broadway, Kilgore, TX 75662
903-983-8209
NCLEX-RN Pass Rate: 67.52%
Lake Jackson, TX LVN to RN Programs
Brazosport College
500 College Drive, Lake Jackson, TX 77566
979-230-3000
NCLEX-RN Pass Rate: 85.71%
Laredo, TX LVN to RN Programs
Laredo Community College
West End Washington Street, Laredo, TX 78043
956-722-0521
NCLEX-RN Pass Rate: 75.76%
Levelland, TX LVN to RN Programs
South Plains College
1401 College Avenue, Box 5, Levelland, TX 79336
806-894-9611
NCLEX-RN Pass Rate: 96.36%
Lufkin, TX LVN to RN Programs
Angelina College
3500 South First Street, Lufkin, TX 75904
936-639-1301
NCLEX-RN Pass Rate: 86.96%
McAllen, TX LVN to RN Programs
South Texas College
3201 West Pecan, McAllen, TX 78501
956-872-8311
NCLEX-RN Pass Rate: 80.21%
McKinney, TX LVN to RN Programs
Collin College
2200 West, University Drive, McKinney, TX 75071
972-548-6790
NCLEX-RN Pass Rate: 89.91%
Mesquite, TX LVN to RN Programs
Carrington College
3733 W. Emporium Cricle, Mesquite, TX 75150
972-682-2815
NCLEX-RN Pass Rate: N/A
Midland, TX LVN to RN Programs
Midland College
3600 North, Garfield, Midland, TX 79705
432-685-4500
NCLEX-RN Pass Rate: 82.61%
Mt. Pleasant, TX LVN to RN Programs
Northeast Texas Community College
P.O. Box 1307, Mt. Pleasant, TX 75456-1307
903-434-8100
NCLEX-RN Pass Rate: 68.75%
Odessa, TX LVN to RN Programs
Odessa College
201 West University, Odessa, TX79764
432-335-6400
NCLEX-RN Pass Rate: 53.95%
Orange, TX LVN to RN Programs
Lamar State College
410 West Front Street, Orange, TX 77630
409-882-3307
NCLEX-RN Pass Rate: 94.23%
Paris, TX LVN to RN Programs
Paris Junior College
2400 Clarksville Street, Paris, TX 75460
903-785-7661
NCLEX-RN Pass Rate: 84.00%
Pasadena, TX LVN to RN Programs
San Jacinto College
8060 Spencer Highway, Pasadena, TX 77505
281-998-6150
NCLEX-RN Pass Rate: 81.12%
San Angelo, TX LVN to RN Programs
Howard College
3501 North, US Highway 67, San Angelo, TX 76905
325-481-8300
NCLEX-RN Pass Rate: 95.65%
San Antonio, TX LVN to RN Programs
Baptist Health System
111 Dallas Street, San Antonio, TX 78205
210-297-7000
NCLEX-RN Pass Rate: 85.11%
Career Point College
4522 Fredericksburg Rd, San Antonio, TX 78202
210-298-6258
NCLEX-RN Pass Rate: 100.00%
Galen College of Nursing
7411 John Smith, Suite 300, San Antonio, TX 78229
210-733-3056
NCLEX-RN Pass Rate: 72.91%
San Antonio College
1819 N. Main Avenue, San Antonio, TX, 78212
210-486-1852
NCLEX-RN Pass Rate: 69.97%
Temple, TX LVN to RN Programs
Temple College
2600 South First Street, Temple, TX 76504
254-298-8648
NCLEX-RN Pass Rate: 81.48%
Texarkana, TX LVN to RN Programs
Texarkana College
2500 North, Robison Road, Texarkana, TX 75599
903-823-3456
NCLEX-RN Pass Rate: 63.27%
Texas City, TX LVN to RN Programs
College of the Mainland
1200 Amburn Road, Texas City, TX 77591
409-938-1211
NCLEX-RN Pass Rate: 85.71%
Tyler, TX LVN to RN Programs
Tyler Junior College
1327 South Baxter Avenue, Tyler, TX 75701
800-687-5680
NCLEX-RN Pass Rate: 81.88%
Uvalde, TX LVN to RN Programs
Southwest Texas Junior College
2401 Garner Field Road, Uvalde, TX 78801
830-278-4401
NCLEX-RN Pass Rate: 92.86%
Vernon, TX LVN to RN Programs
Vernon College
4400 College Drive, Vernon, TX 76384
940-552-6291
NCLEX-RN Pass Rate: 70.79%
Victoria, TX LVN to RN Programs
Victoria College
2200 East Red River, Victoria, TX 77901
361-573-3291
NCLEX-RN Pass Rate: 84.38%
Waco, TX LVN to RN Programs
Texas State Technical College
3801 Campus Drive, Waco, TX 76705
254-799-3611
NCLEX-RN Pass Rate: 89.47%
ITT Technical Institute
3700 South, Jack Kultgen Expy, Suite 100, Waco, TX 76706
254-523-3940
NCLEX-RN Pass Rate: 45.83%
McLennan Community College
1400 College Drive, Waco, TX 76708
254-299-8622
NCLEX-RN Pass Rate: 87.78%
Weatherford, TX LVN to RN Programs
Weatherford College
225 College Park Drive, Weatherford, TX 76086
817-594-5471
NCLEX-RN Pass Rate: 90.80%
Wharton, TX LVN to RN Programs
Wharton County Junior College
911 Boling Highway, Wharton, TX 77488
979-532-4560
NCLEX-RN Pass Rate: 86.96%