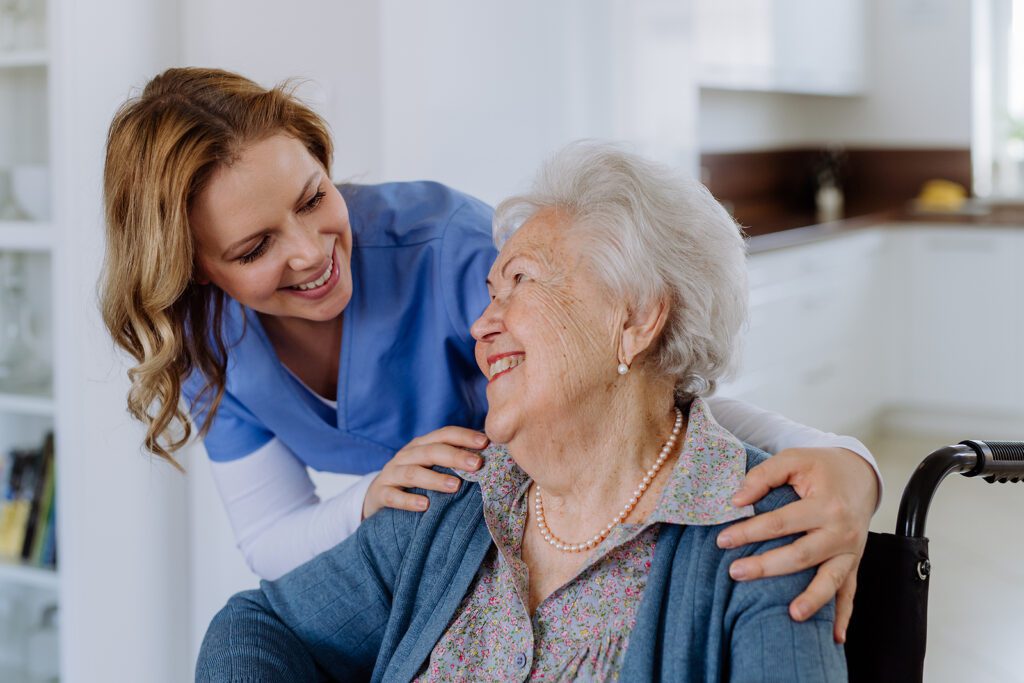 Becoming a licensed practical nurse is one path to the health care industry that affords the opportunity to learn and gain experience in nursing quickly without the extensive time and financial burden of a degree program. Now that you've accomplished your goal and determined that nursing is a right fit for you, enrolling in a registered nursing program might be the next step on your career pathway. The extra training required for a registered nursing degree may be as short 12 months for an associate degree in nursing, but will lead to greater responsibilities and a higher salary. As a registered nurse, you'll also have more opportunities for advancement and continuing your education. Throughout the program, you'll acquire advanced nursing skills to perform duties such as developing patient treatment plans, assessing patients and performing diagnostic tests, administering medication, teaching families and patients how to manage nursing care, and operating and monitoring medical equipment. If you're prepared to take on these advanced duties and more, you're ready to enroll in an LPN to RN program and make the transition to registered nursing.
LPN to RN Education Requirements
Licensed practical nurses who want to become registered nurses can enter the registered nursing program with advanced standing and skip the first semester (or year) or required classes. The LPN to RN program streamlines the process to earn an associate degree in nursing. Some schools provide for testing out of specific courses and require completion of a transition program. Through advanced placement and transfer of credit, you can expect to earn an associate degree in nursing in 12 to 15 months.
The LPN to RN curriculum covers role transition courses, advanced nursing courses, and the role of the registered nurse on the health care team. Some areas of study include maternal/newborn nursing, medical surgical nursing, pediatric nursing, microbiology, general psychology, pharmacology, nursing leadership, and trends in nursing. The core curriculum emphasizes nursing courses. General education courses are usually completed before entry to the program.
The requirements for entry to a bridge program varies from one school to the next. Admission is generally competitive – as space availability is affected by the number of students enrolled in the traditional RN program. The program may reserve a few spots for LPN entry. A current license to practice in the state of application is a requirement for most programs. Some programs may accept students who are working on obtaining their license but set a specific timeframe – before the end of the first week/semester for example. Official transcripts from the practical nursing program, a high school diploma or transcript, passage of an admission exam, completion of prerequisite and transition courses, and a clear background check are some general admission requirements.
At the conclusion of the program, you should be eligible to sit for the NCLEX for Registered Nurses.
Eligibility Criteria
The minimum admission requirements for an LPN to RN program are:
A current and unencumbered practical nursing license
A high school diploma or GED
Completion of an accredited practical nursing program
Official transcripts from the practical nursing program
A clear background check and drug screen
Completion of prerequisite courses with a minimum GPA requirement
Meet the health requirements
Duration and Cost
Your knowledge and experience as a practical nurse vastly reduce the time required to become a registered nurse – especially when compared with someone with no prior healthcare experience. Through transfer credit and advanced placement in the second year of the program (if you qualify), you can complete the credits required for an associate degree in nursing in just one year. The shorter time also impacts the cost of training significantly. Depending on the type of college (private or public) and your state residency, your cost may be $125 to $395 per credit hour in Florida. Some LPN to RN bridge programs also facilitate online delivery of some courses further reducing your final costs and offering greater flexibility and convenience while you work and study.
LPN to RN Licensure Requirements Florida

Licensed practical nurses must follow the guidelines outlined by the Florida Board of Nursing to apply for a registered nursing license. You must never practice as a registered nurse under the practical nursing license. Upon completion of the LPN to RN transition program, you will become eligible to submit an application to the Board who will determine your fitness for practice. The Board will issue a license to practice as a registered nurse only after you pass the registered nursing exam and complete a satisfactory background clearance.
Licensure by Examination
To apply for licensure as a Registered Nursing in Florida, you must submit:
An application for licensure online. Use your legal name; it must match the name submitted on your application to register for the NCLEX.
The $110 application and licensing fee, payable to the Board of Nursing online using a credit or debit card.
Electronic fingerprints to the Florida Department of Law Enforcement (FDLE). You must use a Livescan service provider and ensure that the results are reported to the Board's office.
Details of any no-contest/nolo contendre or guilty pleas to charges others than a minor traffic offense. List each offense on the application, including reckless driving, driving under the influence (DUI), and driving while license is suspended or revoked. Include court records, a written explanation of each offense, a letter of recommendation, and evidence of completing the probation/parole if you have a criminal history.
Evidence of completing an approved nursing degree program. Programs that meet the Board of Nursing's requirements include:
An approved or accredited nursing education program in Florida.
A nursing education program recognized by the ACEN or CCNE and issued an NCLEX code by NCSBN.
A nursing education program in another jurisdiction that has been issued an NCLEX code by the NCSBN.
A military nursing education program that has an NCLEX code issued by the NCSBN.
An international nursing education program from a non-NCSBN jurisdiction. The Board must determine the program to be equivalent to an approved program.
If you do not successfully pass your examination, you will have to submit a re-examination application.
After three failures of the RN exam, regardless of jurisdiction, you must successfully complete a Florida Board of Nursing approved remedial training program. The program includes classroom and clinical components and proof of completion must be submitted at the time of application for the fourth attempt.
Renewal Requirements
Registered Nurses (RN) are renewed by the department in three groups:
Group 1 – current license will expire at midnight, Eastern Standard Time, April 30, 2024
Group 2 – current license will expire at midnight, Eastern Standard Time, July 31, 2024
Group 3 – current license will expire at midnight, Eastern Standard Time, April 30, 2025
You may renew your license with the department after submitting:
Completed CE requirements – reported into CEBroker.com
Completed renewal application
If you fail to meet these requirements, you must reapply for licensure and comply with current laws and rules. Licensees who have become Null and Void or elected to Voluntarily Relinquish their RN license must reapply for licensure and meet current requirements.
If you are a member of the Armed Forces of the United States on active duty who was in good standing with the board at the time of becoming active and was entitled to practice or engage in the practice of medicine in Florida, you may be eligible to be exempted from renewal requirements for the duration of active duty, and for a period of six months after discharge, but not practicing the profession in the private sector for profit.
If you are the spouse of a member of the Armed Forces of the United States, you may be eligible to be exempted from licensure renewal requirements, but only in cases of absence from the state because your spouses' duties with the Armed Forces.
You may renew your license online if:
You're not changing your license status
You're completing the transaction using a debit or credit card
Your license status is not "Military, Active."
You're past the expiration date, but the status shows Clear/Active or Clear/Inactive. A delinquent fee applies.
Contact the Board's office if your license was "Delinquent, Active" or "Delinquent, Inactive" before the renewal date.
Renew your registration by mail if:
You need to change your license status
You plan to pay with a cashier's check or money order
Your license is in "Military, Active" status
You need to request a name change
The renewal process may take up to 7 to 10 business days. If you maintain an inactive status for more than two consecutive biennial cycles, you may have to demonstrate your competency to resume practice when submitting a request to reactivate your license.
Maintain documentation of your in-service hours for four years for auditing purposes.
Continuing Education Requirements for Florida RNs
If you're certified by an accredited health care specialty program, you may be exempt from the continuing education requirements listed below. This must be reported to the Department's tracking system powered by CE Broker. The CE exemption based on certification does not apply to the 2-hour Human Trafficking course requirement.
For your first biennium renewal, you'll receive an exemption from the general CEU requirements. However, you must complete medical error (2 hours), Florida laws and rules (2 hours), and HIV/AIDS (1 hour) continuing education units to qualify for renewal. RNs licensed by endorsement are also exempt from the general education requirements during the current biennium.
All other RNs must complete 1 hour of continuing education per month or partial month remaining in the biennium – from the license issue date. The CEU must include medical error (2 hours), Florida laws and rules (2 hours), recognizing impairment in the workplace (2 hours), human trafficking (2 hours), domestic violence (2 hours), and HIV/AIDS (1 hour).
The CEU requirements may be completed online or by home study from Board approved providers. Human trafficking does not have to be board approved.
Contact the Board of Nursing
Florida Board of Nursing
4052 Bald Cypress Way
Bin C-02
Tallahassee, FL 32399-3252
Phone: (850) 245-4125
FAX: 850-617-6460
Florida LPN to RN Bridge Programs:
Altamonte Springs, FL LPN to RN Programs:
Florida Hospital College of Health Sciences
601 East Altamonte Drive, Altamonte Springs, FL 32701
407-303-2200
Avon Park, FL LPN to RN Programs:
South Florida State College
600 W College Dr, Avon Park, FL 33825
863-453-6661
Boca Raton, FL LPN to RN Programs:
Azure College
2900 N Military Trl #227, Boca Raton, FL 33431
561-544-7212
Boynton Beach, FL LPN to RN Programs:
Bethesda College of Health Sciences
3800 S Congress Ave #9, Boynton Beach, FL 33426
561-364-3064
Institute Of Healthcare Professions
2300 S Congress Ave #105, Boynton Beach, FL 33426
561-202-6333
Florida Career College
1743 Congress Ave, Boynton Beach, FL 33426
561-853-9940
Bradenton, FL LPN to RN Programs:
State College Of Florida
5840 26th St W, Bradenton, FL 34207
941-752-5000
NCLEX-RN Pass Rate: 96.97%
Clearwater, FL LPN to RN Programs:
Florida Career College
410 Park Place Blvd, Clearwater, FL 33759
727-724-1037
Cutler Bay, FL LPN to RN Programs:
Fortis College
19600 S Dixie Hwy, Cutler Bay, FL 33157
786-345-5300
Daytona Beach, FL LPN to RN Programs:
Daytona State College
1200 West International Speedway Boulevard, Daytona Beach, FL 32114
386-506-3000
Deerfield Beach, FL LPN to RN Programs:
North Broward Technical Center
1871 W Hillsboro Blvd, Deerfield Beach, FL 33442
954-427-8830
Delray Beach, FL LPN to RN Programs:
Cambridge Institute Of Allied Health And Technology
5150 Linton Blvd, Delray Beach, FL 33484
561-381-4990
Fort Lauderdale, FL LPN to RN Programs:
Broward College
111 East Las Olas Boulevard, Fort Lauderdale, FL 33301
954-201-7350
Fort Myers, FL LPN to RN Programs:
Florida Southwestern State College
8099 College Pkwy, Fort Myers, FL 33919
239-489-9300
Rasmussen College
9160 Forum Corporate Pkwy #100, Fort Myers, FL 33905
866-344-0229
Fort Pierce, FL LPN to RN Programs:
Indian River State College
3209 Virginia Avenue, Fort Pierce, FL 34981
772-462-4772
Gainesville, FL LPN to RN Programs:
Santa Fe College
3000 NW 83 St, Gainesville, FL 32606
352-395-5000
Hialeah, FL LPN to RN Programs:
Florida National University
4425 W 20th Ave, Hialeah, FL 33012
305-821-3333
Breckinridge School Of Nursing And Health Sciences At ITT Tech
5901 NW 183rd Street, Suite 100, Hialeah, FL 33015
786-629-3800
Dade Medical College
5875 NW 57th St, Hialeah, FL 33014
305-698-2334
Hollywood, FL LPN to RN Programs:
Dade Medical College
6837 Taft Street, Hollywood, FL 33024
954-843-7930
Homestead, FL LPN to RN Programs:
Dade Medical College
81 N Krome Avenue, Homestead, FL 33030
786-454-9070
Jacksonville, FL LPN to RN Programs:
Concorde Career Institute- Jacksonville
7259 Salisbury Rd, Jacksonville, FL 32256
904-515-5518
Florida Career College
6600 Youngerman Cir, Jacksonville, FL 32244
904-418-5200
Florida State College
Downtown Campus, 101 West State Street, Jacksonville, FL 32202
904-633-8100
Key West, FL LPN to RN Programs:
Florida Keys Community College
5901 College Rd, Key West, FL 33040
305-296-9081
Kissimmee, FL LPN to RN Programs:
Med-Life Institute
3357 W Vine St, Kissimmee, FL 34741
954-367-3555
Lake City, FL LPN to RN Programs:
Florida Gateway College
149 SE College Pl, Lake City, FL 32025
386-752-1822
Florida Gateway College
149 Southeast College Place, Lake City, FL 32025
1-386-752-1822
Lake Worth, FL LPN to RN Programs:
Palm Beach State College
4200 Congress Avenue, Lake Worth, FL 33461
561-868-3350
Largo, FL LPN to RN Programs:
Christian International College
300 E Bay Dr, Largo, FL 33770, United States
727-498-8200
Fortis College
6565 Ulmerton Rd, Largo, FL 33771
727-531-5900
Leesburg, FL LPN to RN Programs:
Lake-Sumter State College
9501 US-441, Leesburg, FL 34788
352-787-3747
Madison, FL LPN to RN Programs:
North Florida Community College
325 Turner Davis Dr, Madison, FL 32340
850-973-2288
Marianna, FL LPN to RN Programs:
Chipola College
3094 Indian Cir, Marianna, FL 32446
850-526-2761
Melbourne, FL LPN to RN Programs:
Eastern Florida State College
3865 N Wickham Rd, Melbourne, FL 32935
321-254-6651
Keiser University
900 South Babcock Street, Melbourne, FL 32901
877-636-3618
Miami, FL LPN to RN Programs:
Antigua College International, Inc
7500 NW 25th St, Miami, FL 33122
786-391-1167
Florida Career College
11731 Mills Dr, Miami, FL 33183
786-534-0900
Dade Medical College
3721-1 NW 7th Street, Miami, FL 33126
305-644-1171
Miami Dade College
950 Northwest 20 Street, Miami, FL 33127
305-237-4101
Hebron Technical International, Inc.
160 NW 176th St, Miami, FL 33169
305-493-1761
Miramar, FL LPN to RN Programs:
Concorde Career Institute- Miramar
10933 Marks Way, Miramar, FL 33025
754-206-7959
New Port Richey, FL LPN to RN Programs:
Rasmussen College
8661 Citizens Dr, New Port Richey, FL 34654
727-942-0069
Pasco-Hernando State College
10230 Ridge Road, New Port Richey, FL 34654-5199
727-847-2727
Niceville, FL LPN to RN Programs:
Northwest Florida State College
100 E College Blvd, Niceville, FL 32578
850-729-5397
North Miami Beach, FL LPN to RN Programs:
FMI Career School
2040 NE 163rd St, North Miami Beach, FL 33162
305-947-2242
Oakland Park, FL LPN to RN Programs:
Sigma College
2800 W Oakland Park Blvd, Oakland Park, FL 33311
954-485-0215
Ocala, FL LPN to RN Programs:
College of Central Florida
3001 Southwest College Road, Ocala, FL 34474
352-873-5800
Orange Park, FL LPN to RN Programs:
Fortis College
700 Blanding Blvd #16, Orange Park, FL 32065
904-269-7086
Orlando, FL LPN to RN Programs:
Adventist University of Health Sciences
671 Winyah Dr, Orlando, FL 32803
407-303-9798
Censa International College
5449 S Semoran Blvd #20A, Orlando, FL 32822
407-704-5226
Medtech Institute Orlando
1900 N Alafaya Trail #100, Orlando, FL 32826
407-434-8700
Southern Technical College
1667 Sunlife Path, Orlando, FL 32809
407-855-1444
Valencia College
P.O. Box 3028, Orlando, FL 32802
407-299-5000
Palatka, FL LPN to RN Programs:
St. Johns River State College
5001 St Johns Ave, Palatka, FL 32177
386-312-4200
Panama City, FL LPN to RN Programs:
Gulf Coast State College
5230 West Highway 98, Panama City, FL 32401
850-769-1551
Pembroke Pines, FL LPN to RN Programs:
Florida Career College
7891 Pines Blvd, Pembroke Pines, FL 33024
954-399-4800
Pensacola, FL LPN to RN Programs:
Fortis Institute
4081 E Olive Rd, Pensacola, FL 32514
850-476-7607
Pensacola State College
1000 College Boulevard, Pensacola, FL 32504
850-484-1000
Plant City, FL LPN to RN Programs:
Hillsborough Community College
1206 N Park Rd, Plant City, FL 33563
813-253-7000
Pompano Beach, FL LPN to RN Programs:
Hope College Of Arts & Sciences
1200 SW 3rd St, Pompano Beach, FL 33069
954-532-9614
Port St Lucie, FL LPN to RN Programs:
Fortis Institute
East Port Plaza, 9022 U.S. 1, Port St Lucie, FL 34952
772-221-9799
Royal Palm Beach, FL LPN to RN Programs:
Seminole State College of Florida
100 Weldon Boulevard, Sanford, FL 32773
407-708-4722
St Petersburg, FL LPN to RN Programs:
St. Petersburg College
P.O. Box 13489, Street, St Petersburg, FL 33733
727-341-4772
Galen College Of Nursing
11101 Roosevelt Blvd N # 201, St Petersburg, FL 33716
727-577-1497
South Miami, FL LPN to RN Programs:
Larkin School Of Nursing
7031 SW 62nd Ave, South Miami, FL 33143
305-284-7500
Tallahassee, FL LPN to RN Programs:
Tallahassee Community College
444 Appleyard Drive, Tallahassee, FL 32304
850-201-6200
Tampa, FL LPN to RN Programs:
Florida Career College
9950 Princess Palm Ave, Tampa, FL 33619
813-577-3320
Southern Technical College
3910 Riga Blvd, Tampa, FL 33619
877-347-5492
West Palm Beach, FL LPN to RN Programs:
Florida Career College
6058 Okeechobee Blvd, West Palm Beach, FL 33417
561-282-5440
Health Career Institute
1764 N Congress Ave, West Palm Beach, FL 33409
561-586-0121