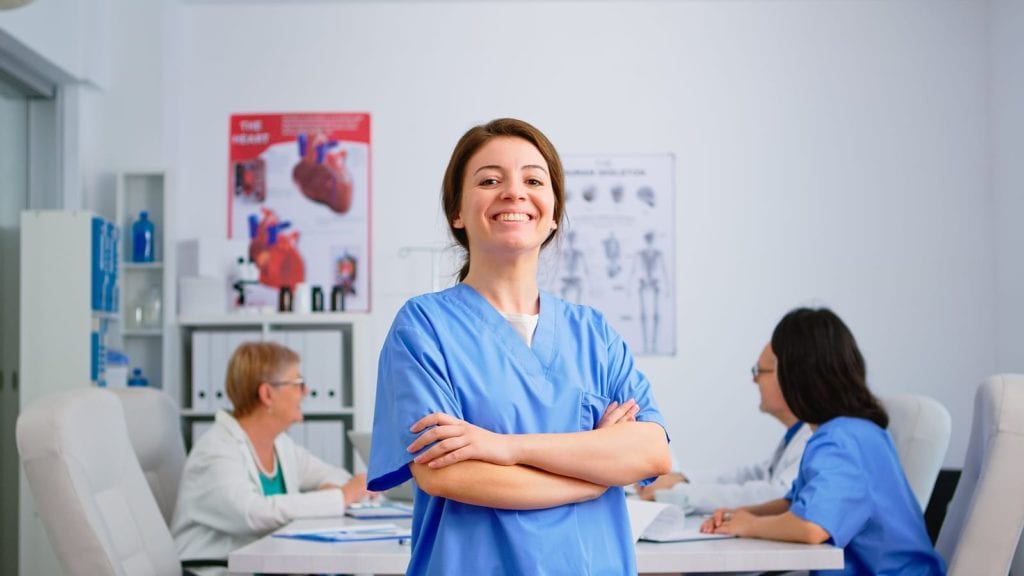 Although nursing today is often referred to a profession, requiring specialized training, it is still very much a calling. Nurses use their specialized training to promote health and improve patient outcomes. They make a positive impact on the lives of patients and families and collaborate with the health care team to improve patient outcomes. To the very best nurses, practice is more than a profession. It is a calling; an unexplainable desire to serve and care for others within and beyond the standards of nursing.
Licensed practical nurses are as essential to the care and comfort of patients as a registered nurse. Practical nursing is one of many paths to patient care. In as little as 12 months, you can acquire knowledge and technical skills to function as a competent member of the health care team. LPNs are the first point of contact for patients and their families. They are the eyes and ears of registered nurses as they, like Certified Nursing Assistants, spend the most time with patients, engaging in activities related to personal care and grooming. LPN programs prepare students with the skills to measure and record vital signs, assist with the development of patient care plans, administer medications, and start IVs. Graduates must apply to the State Board of Nursing to take the National Council Licensure Exam to become a Licensed Practical Nurse.
PIMA Community College
The Practical Nursing Program offered by PIMA Community College includes comprehensive training and practical experience to prepare students for entry-level employment as a Licensed Practical Nurse. Course modules include Anatomy, Physiology and Microbiology; Nursing Care Fundamentals; Nursing Assistant; Introduction to Practical Nursing; Practical Nursing Patient Care; Maternal Neonatal Nursing for the Practical Nurse; Pediatric Nursing for the Practical Nurse; Transition to PN Practice. Graduates of the Arizona State Board of Nursing approved program will be eligible to take the NCLEX for practical nurses. Graduating from the program does not guarantee the ability to obtain a state license. The duration of the program is 13 months. New students are admitted five times a year. Applicants must fulfill all the requirements for enrolling in the selective admissions program.
Admission criteria:
A high school diploma or high school equivalency diploma
Take and pass the Accuplacer – Writing (75), Arithmetic (45), Reading (91)
Obtain an Arizona Department of Public Safety Fingerprint Clearance Card
Provide proof of US citizenship or legal presence – according to the State Board of Nursing requirements
Must be proficient with computers
Pass a urine toxicology screening exam
Provide proof of immunizations or immunity for MMR, Varicella, Hepatitis B, Tdap
Provide a negative TB skin test or negative chest x-ray for TB
Maintain health insurance throughout the program
Must have current CPR card at the Health Care Provider Level
Must be able to meet the Nursing Technical Standards
Must have the flexibility to balance employment, personal and academic schedules
Must be able to get to and from the clinical sites
Tuition for the program is $14,214. Program fees, uniforms, supplies, HIPAA training, CPR training, textbooks, HESI-PN exit cost an additional $4,278.
GateWay Community College
The Fast Track Practical Nursing program at GateWay Community College is a terminal practical nursing program that leads to college credit. The program of study of covered in an economical and efficient way for students to prepare for licensure in the state. Instruction will include classroom theory and practical experiences in nursing homes, hospitals, and other health care agencies. Instructors will use various teaching methods include role play, simulation, demonstrations, and online case studies. The curriculum covers 780 clock hours include 150 clock hours for the prerequisite nursing assistant course. Graduates will be eligible to apply to sit for the NCLEX for Practical Nurses. They should be able to demonstrate several competencies including critical thinking skills and evidence-based practice, data collection and assisting with established care plans, evaluation of nursing care based on established outcome, demonstrate caring behaviors, use relevant technology in client care and documentation, therapeutic communication techniques, and practice within the ethical and legal standards of the profession.
Admission criteria:
Apply for admission to Maricopa Community College
Attend a GateWay Nursing Information Session
Must attest to meeting the high school graduation or GED requirement by singing the nursing application page containing the Declaration of High School Graduation or GED
Submit transcripts showing successful completion of NUR158 or NCE150/151 in the past year or have a current unrestricted license as a Certified Nurse Assistant/Licensed Nurse Assistant
Take and pass the HESI A2 admission exam with a score of 75% or higher in English Language and Math. The cost of the HESI A2 is $45. Applicants must retest after a 60-day period for a maximum of 3 times per 12-month period.
Submit a copy of a current Level One DPS Fingerprint Clearance Card
Complete the Health and Safety Documentation Form and take copies for the meeting with the nursing advisor
Meet with the nursing advisor to review and sign the application
Complete a urine drug screen
The cost of the program is $3,792 inclusive of registration, admission test, books, uniforms, shoes, certified background check, immunization, CPR, fingerprint clearance card, clinical placement platform, and health document tracker.
Address: 108 N. 40th Street Phoenix, AZ 85034
Phone: (602) 286-8000
NCLEX-PN Pass Rate: 92.55%
Cochise College
The Practical Nursing Certificate at Cochise College prepares students to become Licensed Practical Nurses. The curriculum combines theory and practical experiences in science and nursing courses that enable graduates to care for clients of all ages and cultures. Course topics include anatomy and physiology, medical terminology, CPR and first aid, introduction to pharmacology, practical nursing fundamentals, medical surgical nursing, maternal neonatal nursing, and transition to nursing. Students who successfully complete the requirements will be eligible to take the NCLEX for licensure as a practical nurse by the Arizona State Board of Nursing. They will demonstrate knowledge and skills required for practical nursing certification by the AZBN, demonstrate skills in patient safety, medication administration, and the nursing process, apply professional values and behaviors as members of the nursing team, provide culturally sensitive care, function as efficient managers of care, and be able to provide CPR ad basic first aid as needed.
Admission criteria:
Apply for general admission to Cochise College at the Admissions Office or online
Submit a completed application to the Nursing program by October 1 of each year
Include the student ID number received on the letter of admission to Cochise College
Submit official transcripts of any college courses completed. The unopened, sealed transcript must be submitted with the nursing application
Submit a copy of the Fingerprint Clearance Card
Submit qualifying HESI PN A-2 exam score of 75 or better on the compressive English score and math score
The approximate total cost of the program is $3,286. It includes tuition, lab fee, HESI testing fee, liability insurance, drug screen, SIM lab fee, drug screen, Pearson testing, HURST review, and AZBN NCKEX fee.