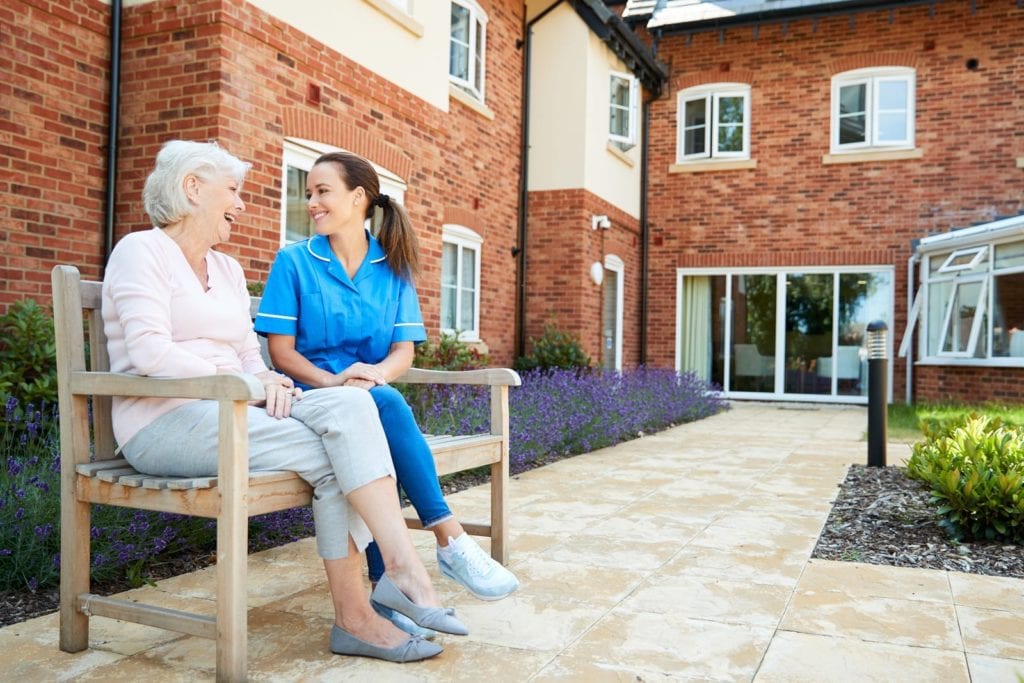 Capitalize on your strengths and start a rewarding career as a practical nurse. Before enrolling in a licensed practical nursing program, consider your character qualities. Are you caring, compassionate, patient, and attentive? These qualities, more than the technical skills gained in the nursing program, will determine your chances of success. As a practical nurse, you'll work closely with patients to promote health, educate individuals, families, and communities, and assist in the recovery from acute or chronic diseases.
Licensed practical nurses care for patients under the direction of a registered nurse or physician. Their primary duty involves basic bedside care. Other responsibilities include measuring and recording vital signs, wound care, inserting and monitoring catheters, administering medications, personal care such as bathing and dressing patients, mobility and support, and supervising certified nursing assistants. While LPNs are directed by registered nurses, they must maintain accountability for the care they provide. Through a commitment to lifelong learning, LPNs may improve their practice and advance their careers.
PITC Institute
The Practical Nursing Diploma program at PITC Institute is offered on a full-time and part-tine schedule. Theory and practical instruction prepares students for entry-level employment as a Licensed Practical Nurse. The program delivers 1,519 clock hours of traditional classroom sessions and practical training at clinical sites that are approved by the Pennsylvania Board of Nursing. The classroom sessions cover 659 hours and the clinical experiences will account for 860 hours of the total program. The curriculum has three levels. Level I covers basic nursing, sciences, and clinical experiences in convalescent nursing facilities. Level II focuses on caring for the pediatric and obstetric patient and Level III covers advanced nursing situations, care in complex environments, critical thinking, and problem solving. Course topics include Body Structure and Function, Basic Nursing Skills, Personal Health and Vocational Relations, Nutrition, Diet Therapy and Family, Clinical Lab Experience, Pediatrics, Maternal Child Health, Advanced Nursing skills, Applied Nursing – Clinical Practice I, Gerontology, Medical Surgical Nursing I and II, Pharmacology, and Applied Nursing – Clinical Practice II. The fill time class meets Monday through Friday in the classroom and Tuesday through Thursday for the clinical sessions. The part-time class meets Monday through Thursday in the classroom and on alternate weekends for the clinical rotations. The full-time program is 14 months and the part-time program is 18 months.
Admission criteria:
Be a high school graduate or have a GED. College credits (30 or more) may also be accepted
Be 18 years or older
Obtain a passing score on the Wonderlic SLE entrance assessment –minimum score of 14 required
Have a combined Verbal and Math score of 500 or more
Have no criminal convictions
Submit a completed Admission Application and registration fee
Provide proof of citizenship or legal residence
Complete a medical exam and obtain acceptable results
Sign the Enrollment Agreement
Tuition, fees, books, and uniforms cost $29,550.
Website: https://pitc.edu/index.html
Address: 827 Glenside Ave., Admin Bldg A, Wyncote, PA 19095
Phone: 215-392-2938
Main: 215-392-2892
Fax: 215-576-5652
Email: information@pitc.edu
NCLEX-PN Pass Rate: 86.96%
Eastern Center for Arts and Technology
Eastern Center for Arts and Technology host a Practical Nursing program that equip students with the skills, knowledge and attitudes to provide patient-centered, competent, safe, and ethical care to diverse patient populations. Students acquire basic nursing skills and learn how to make sound clinical decisions while collaborating with the interdisciplinary health care team. The curriculum builds on previous learning and follows a specific sequence across three levels. Areas of study include anatomy and physiology, introduction to nursing, the role of the practical nurse, safety in practice, decision making, pharmacology, drug classification and nursing care, ethical, legal, and moral responsibilities, medical surgical nursing, maternal child nursing, pediatric nursing, and professions and vocations. Students will participate in clinical experiences to reinforce the classroom instruction. Graduates will be eligible to apply to the Pennsylvania Board of Nursing to take the NCLEX-PN exam. Advanced placement is available to candidates who can provide proof of documented credential and experience. All courses eligible for transfer must be completed within 3 years of the program start date and with a grade C or better.
Admission criteria:
Pass the pre-entrance test – TEAS with a score of 44% or higher
Submit a completed application with the non-refundable application fee of $75
Submit official high school transcript or GED scores – must be mailed directly to Eastern
Attend an interview with an Admissions Coordinator
Complete a Criminal Record Check, FBI Criminal History Report, and Child Abuse Clearance
Submit a report of the physical exam
Submit vaccination records including current flu shot
Submit to a drug screen
Must have current CPR certification for Health Care Providers or Professional Rescuers
Pay the non-refundable tuition payment of $1,875
Tuition for the program is $14,000. Other costs include textbooks ($750), uniforms (($125), nursing and personal supplies ($225), physical exam, CPR certification, clearances, graduation fee, and NCLEX-PN licensing fee.
Website: https://www.eastech.org/practical-nursing/
Address: 3075 Terwood Road, Willow Grove, PA 19090
Phone: 215-784-4800
Fax: 215-784-4801
NCLEX-PN Pass Rate: 79.75%
Prism Career Institute
PCI's Practical Nursing program provides students with the knowledge and skills to succeed on the NCLEX-PN exam for licensure and entry-level employment as a Licensed Practical Nurse. Students will learn how to care for clients under the supervision of a registered nurse or physician, use basic critical thinking skills, apply the nursing process to make decisions, practice within the legal, ethical, and professional standards of the profession, promote, maintain and restore patients' health, communicate and collaborate with the health care team, and demonstrate accountability and responsibility in practice. The curriculum comprises of 1,560 clock hours of theory and practical instruction – 720 lecture hours, 120 lab hours, and 720 clinical hours. Course modules include Body Structure and Function, Test Taking Strategies, Medical Terminology, Growth and Development Through the Lfe Span, Foundations of Medical Math, Personal and Professional Relationships, Pharmacology I, Foundations of Practical Nursing, Pharmacology II, Nursing I, Pharmacology III, Nursing II, Intravenous Therapy, Nursing III, and Career Readiness. Day and evening schedules are available. The day program will be completed in 63 weeks and the evening program is 70 weeks.
Admission criteria:
Must be 18 years or older
Have a high school diploma or GED
Submit a completed application for admission
Attend an admissions interview
Achieve a passing score on the entrance exam – a minimum score of 45 on the ATI TEAS exam
Complete a 2-step PPD
Provide proof of immunizations
Have current CPR certification
Submit to a drug screen test
Submit to a criminal background review
Pass a child abuse clearance
The total cost of the program is $28,449 and includes tuition, registration fee, textbooks, and lab supplies. Financial aid is available for eligible students.
Website: https://www.prismcareerinstitute.edu/programs/practical-nursing/
Address: 8040 Roosevelt Blvd., Philadelphia, PA 19152
Phone: 215-331-4600
NCLEX-PN Pass Rate: 61.31%
Falcon Institute of Health and Science
The Practical Nursing program at Falcon Institute of Health and Science teaches students how to use the nursing process to provide care and promote the health of clients and families, use critical thinking and problem solving in care, use effective verbal and written communication in practice, and perform all nursing duties with safe and ethical standards. The curriculum will cover 1550 hours of theory and hands-on work over a period of 12 months. Course topics include Foundations of Nursing, Anatomy and Physiology, Math and Medication Administration, Adult Health Nursing I, Pharmacology, Adult Health Nursing II, Pediatric Nursing, Maternal Health Nursing, and Mental Health Nursing. Graduates will be eligible to take the NCLEX-PN for licensure as an LPN.
Admission criteria:
Take and pass the TEAS – only one retake allowed
Attend an interview with the Program Director
Complete the registration form and submit the non-refundable registration fee of $100
Submit proof of graduating high school or equivalency
Pass a criminal background screen
Complete satisfactory drug screening
Complete the required health screen and immunizations
Submit a copy of a current Basic Life Support for the Healthcare Professional card
Provide proof of US citizenship or residency
Tuition for the program is $21,000 plus the registration fee of $100. Other expenses include child abuse check, drug test, uniform, malpractice insurance, textbooks, and physical exam and immunization. 
Website: https://www.falconihs.com/lpn/
Address: 3045 Avenue B, Bethlehem, PA 18017
Phone: 610-253-2527
NCLEX-PN Pass Rate: 51.52%
Northampton Community College
The Practical Nursing (PN) certificate program at Northampton Community College prepares adults for a career as a practical nurse. The program delivers 43 credits of course – 27 credits of nursing courses and 16 general education credits. Program graduates will be eligible to take the NCLEX-PN for licensure by the Pennsylvania Board of Nursing. The curriculum will include theory, skills lab and clinical rotations in various health care facilities. Course topics will include Human Biology, English I, Introduction to Nursing, Introduction to Psychology, Medical Surgical Nursing, Developmental Psychology, Principles of Sociology, Geriatric Nursing, Mental Health Nursing, and Maternal Nursing. The general education requirements may be completed on campus or online. The program admits new students in the fall semester only. Admission to the program is selective.
Admission criteria:
Have a high school diploma or equivalency
Must have completed a minimum of 16 units at the high school level – including English, Social Sciences, Science with lab, and Algebra
Must have completed high school biology with a grade C or higher
Complete and submit acceptable TEAS results
Have a cumulative GPA of 2.5 or higher
Tuition for the program is $6,063. Books and supplies will cost an additional $7,674.
Website: https://northampton.smartcatalogiq.com/en/2018-2019/College-Catalog/Academic-Programs/Health-Sciences-and-Social-Services/Nursing-LPN-Certificate
Address: 3835 Green Pond Road Bethlehem, PA 18020
Phone: 610-861-5500
NCLEX-PN Pass Rate: 92.50%