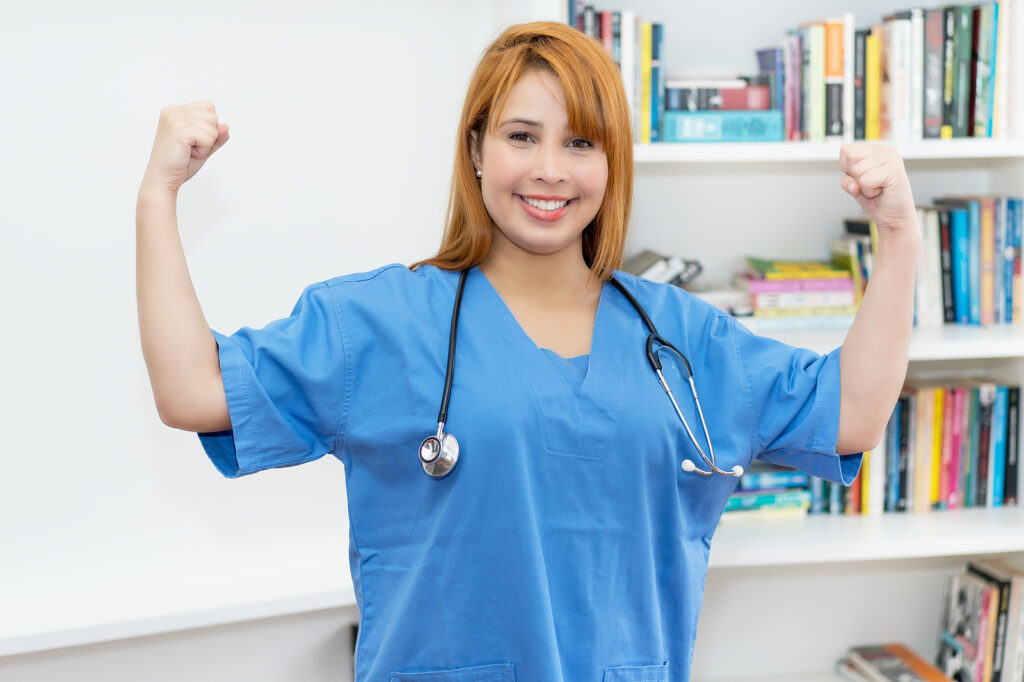 Nursing is the art of caring for others. There is a steady demand for qualified nurses to care for an ailing population. The rise in chronic illnesses among the senior population and retirement for existing nurses are just two of many factors that almost guarantee a continued needed to new nurses. The Bureau of Labor Statistics predicts that the nursing industry will see a 6% increase in jobs by 2031, making a career in nursing a great choice. 
If you've been considering your future in nursing from your standpoint as a licensed practical nurse, you must understand the key differences between a practical nurse and a registered nurse. Your nursing experience, and working under the directive of a registered nurse, would already provide some insight. The scope of practice for registered nurses is understandably more expansive than that for registered nurses. Registered nurses complete a broader scope of training that prepares them for a mosre comrpehensive role in patient care. As a practical nurse, you're much closer to becoming a registered nurse than someone enrolling as a new student. Your education and experience will give you a head start in an associate degree in nursing program, placing you at the final year. The LPN to RN program will cover the techniques and procedures needed to practice as a registered nurse in various health care settings. At its conclusion, you will have have a registered nursing degree, which qualifies you for enviable positions in hospitals, clinics, and other health care facilities.  
LPN to RN Requirements Pennsylvania
The LPN to RN program is designed for nurses who want to take the next step in their nursing career but need to maintain a suitable work-life balance. Taking that step may be intimidating or exciting, depending on your life goals, but choosing the right program will help smooth the transition. Instead of enrolling in a full associate's degree program that requires a possible two-year commitment, you should consider a bridge program that will permit the transfer of credits to cut the training time by 40 to 50 percent. The LPN to RN program factors in your education and experience as a practical nurse and will award 20 or more credit hours, giving you the opportunity to commence the program in the second or third semester.  
The actual credit awarded will depend on the school's evaluation of your previous education and experience. Your license as a practical nurse would have depended on your completion of approximately 12 months of education from an accredited nursing program – possibly a community college or vocational school. If you're considering the ADN pathway to become a registered nurse, your LPN training and experience will place you at the halfway mark in the LPN to RN program at most colleges. Therefore, you can launch a new career as a registered nurse with higher pay and greater opportunities with just one year's study. An alternative pathway to registered nursing is the BSN degree – which also qualifies candidates to sit for the RN licensure exam. BSN nurses are said to have better opportunities, especially in hospitals, public health, and education. If you're prepared to follow the BSN pathway, you might be eligible for a transfer of credits and complete the BSN degree in three years or less.  
Whatever your decision, continued education is a smart career move. Working your way up the nursing career ladder and expanding your knowledge of profession will provide extensive rewards. Becoming a registered nurse is one small step to a greater role in patient care.  
Admission Criteria 
As the name suggests, admission to the LPN to RN program requires an active LPN license in the state. You must have completed an accredited practical nursing program and obtain a license to practice as a practical nurse after completing the NCLEX for Practical Nurses. Seats are typically limited in these types of programs, so admission may be selective. Some general requirements for admission to a PN to RN program in Pennsylvania include:  
Meet the requirements for admission to the college

 

Must have graduated from a practical nursing program

 

Must have a practical nursing license from the PA Board of Nursing

 

Must have completed the prerequisite courses with a grade C or better

 

Must take and pass an admissions test

 

Must complete the LPN transition course

 

Submit official transcripts including high school transcripts 



Duration and Cost  
The LPN to RN program cuts the cost of obtaining an associate degree in half! Instead of completing 64 to 68 credit hours for the degree, you may earn credits for previous study and require only an additional 35 credit hours to earn the degree. Thus, your total cost of tuition may be significantly lower than completing the full degree program. The final cost will be determined by an evaluation of your transcripts. You may or may not need to complete prerequisite courses and a transition course. LPN to RN programs can be completed in 12 months of full-time study. . 
Pennsylvania RN Licensure Requirements
It is illegal to practice as a registered nurse in Pennsylvania without a license or temporary permit issued by the Pennsylvania Board of Nursing.  
Guidelines for Applicants Who Have Completed an LPN to RN Program  
Navigate to

https://www.pals.pa.gov

and login with your UserID and Password. Follow the options on the menu to the right to set up your credentials if you do not have them.

 

Select the option to "Apply for a New License" and answer the series of questions

 

Answer all the questions on the survey. Your application will remain valid for one year after submission

 

 Submit the application fee of $95. There will be an additional cost of $70 if applying for a graduate permit. The application will not be processed until the fee is submitted.

 

Register for the NCLEX through Pearson Vue and pay the required fee of $200 at the same time you submit an application to the Board. The Board will send a letter with instructions for registering with Pearson Vue if you're not already registered by the time they receive your application.

 

Confirm that the nursing program submitted the Nursing Education Verification Form directly to the Board of Nursing.

 

Submit copies of criminal court documents or certified copies of all disciplinary actions from the Boards that imposed actions if you answered yes to any questions in Section B on the application. You will also need to complete a Criminal History Records Check (CHRC) from a State Law Enforcement Authority for all states where you lived in the last five years.

 

Apply for a Graduate Temporary Practice Permit by answering a question within the application – if applicable. Do not submit a separate application.  A fee of $70.00 will be added to your account prior to payment. 



If you completed an LPN to RN program from a school outside of Pennsylvania, you must request that your transcripts be sent directly to the Pennsylvania Board of Nursing. The initial licensure exam fee for graduates of out-of-state programs is $115. 
After you've submitted a completed application to the Board and registered with Pearson Vue for the exam, allow 14 business days to receive the Authorization to Test from the testing service. A request for special testing accommodations may delay the processing of your application. The ATT test dates cannot be extended. If you do not take the test within the validity dates, you will be required to reregister to take the test. 
Test results will be available approximately 30 days later. If you pass the exam, the Board will mail your license (not the test results), which can be verified online. If you fail the exam, you will receive a Candidate Performance Report (CPR) with an application and instructions to retest. 
Graduate Temporary Practice Permit  
You may submit an application for a Graduate TPP during the one-year period from completion of an approved LPN to RN nursing education program. You may begin practice after a TPP is issued by the Board. You may verify a TTP at www.pals.pa.gov/verify  
A license will be issued after you pass the licensure exam and meet all the licensure requirements. The TPP that was issued will then become Null and Void. If you fail the exam, any TPP issued will automatically expire and all nursing practice under that license must immediately cease.  
A graduate who holds a TPP may only practice under the supervision of an experienced Pennsylvania registered nurse who is physically present in the unit or area where the graduate nurse is practicing. 
 A TPP may be extended for up to one year under certain circumstances by submitting the application found at www.dos.pa.gov/nurse. 
Child Abuse Continuing Education Requirement 
All candidates for RN licensure must complete 3 hours of DHS-approved training in child abuse recognition and reporting. 
RN Renewal Requirements PA
The Board will send a notice for renewal biennially prior to the expiration date of the current license or certification.  Failure to receive the notice for renewal will not relieve you of the responsibility of renewing your license by the expiration date.  It is required that you update your address with the Board within 14 days of any change.  The license will be mailed to the address on record.  It will not be forwarded by the post office. The renewal fee for RN licenses is $75. 
Continuing Education Requirements for Pennsylvania RNs 
Registered nurses must complete 30 hours of CE during each biennial period. Complete all 30 hours of CE in the time frame for your renewal period. Any CE hours completed outside of your biennial renewal period may not be used towards the required 30 hours. If you obtained more than the 30 hours in your renewal period, you cannot "carry over" the extra hours to your next renewal period. 
Keep all certificates for the CE you have completed for at least 5 years. Make sure that each of the certificates has the required information – your name, the course title, the number of CE hours awarded, the date(s) of the activity, the provider(s) of the activity and the name of the organization which approved the activity. In lieu of CE certificates it is acceptable for your employer to use an electronic database (log) to track your CE hours. The information that would normally be found on a certificate needs to be on the database and must be a log of only your CE hours. The log of your CE hours needs to be in a format that can be sent to the Board if you are audited. 
Upon renewal of your license, answer the renewal question "YES or "NO" about completion of the required 30 CE hours. Do not submit your CE certificates at the time of license renewal. If you are randomly selected for audit, instructions will be provided to you at that time. 
Contact the Board of Nursing
Pennsylvania State Board of Nursing 
P.O. Box 2649, Harrisburg, PA 17105-2649 
Phone: (717) 783-7142 
Fax: (717) 783-0822 
Pennsylvania LPN to RN Programs:
Bethlehem, PA LPN to RN Programs: 
Northampton Community College 
3835 Green Pond Road, Bethlehem, PA 18020 
610-861-5300 
Bell, PA LPN to RN Programs: 
Montgomery County Community College 
340 Dekalb Pike, Blue Bell, PA 19422 
215-641-6300 
Bradford, PA LPN to RN Programs: 
University of Pittsburgh Blackboard 
300 Campus Drive, Bradford, PA 16701 
814-362-7500 
Butler, PA LPN to RN Programs: 
Butler County Community College 
107 College Drive, Butler, PA 16002 
724-287-8711 
Clarion, PA LPN to RN Programs: 
Clarion University of Pennsylvania 
840 Wood Street, Clarion, PA 16214-1232 
800-672-7171 
Cresson, PA LPN to RN Programs: 
Mount Aloysius College 
7373 Admiral Peary Highway, Cresson, PA 16630-1999 
888-823-2220 
Everett, PA LPN to RN Programs: 
Allegany College- Bedford County Campus 
18 North River Lane, Everett, PA 15537 
814-652-9528 
Gettysburg, PA LPN to RN Programs: 
HACC Gettysburg Campus 
731 Old Harrisburg Road, Gettysburg, PA 17325 
717-337-3855 
Lancaster, PA LPN to RN Programs: 
Pennsylvania College of Health Sciences 
410 North Lime Street, Lancaster, PA 17602 
800-622-5443 
Lock Haven, PA LPN to RN Programs: 
Lock Haven University 
401 North Fairview Street, Lock Haven, PA 17745 
570-484-2011 
Media, PA LPN to RN Programs: 
Delaware County Community College 
901 South Media Line Road, Media, PA 19063 
610-359-5050 
Monaca, PA LPN to RN Programs: 
Community College of Beaver County 
1 Campus Drive, Monaca, PA 15061 
724-480-2222 
Nanticoke, PA LPN to RN Programs: 
Luzerne County Community College 
1333 South Prospect Street, Nanticoke, PA 18634-3899 
1-800-377-5222 
NCLEX-RN Pass Rate: 86.11% 
Newton, PA LPN to RN Programs: 
Bucks County Community College 
275 Swamp Road, Newtown, PA 18940 
215-968-8000 
North East, PA LPN Programs: 
Mercyhurst University 
16 West Division Street, North East, PA 16428 
814-725-6100 
Pittsburgh, PA LPN Programs: 
Community College of Allegheny County 
808 Ridge Avenue, Pittsburgh, PA 15212-6097 
412-237-2525 
La Roche College 
9000 Babcock Boulevard, Pittsburgh, PA 15237-5808 
412-367-9300 
Reading, PA LPN Programs: 
Reading Area Community College 
10 South Second Street, Reading, PA 19602 
610-372-4721 
Schnecksville, PA LPN Programs: 
Lehigh Carbon Community College 
4525 Education Park Drive, Schnecksville, PA 18078 
610-799-2121 
Titusville, PA LPN Programs: 
University of Pittsburgh at Titusville 
504 East Main Street, Titusville, PA 16354 
888-878-0462 
University Park, PA LPN Programs: 
Pennsylvania State University 
201 Health and Human Development East, University Park, PA 16802 
814-863-0245 
Williamsport, PA LPN Programs: 
Pennsylvania College of Technology 
One College Avenue, Williamsport, PA 17701 
570-326-3761 
Youngwood, PA LPN Programs: 
Westmoreland County Community College 
145 Pavilion Lane, Youngwood, PA 15697 
724-925-4000