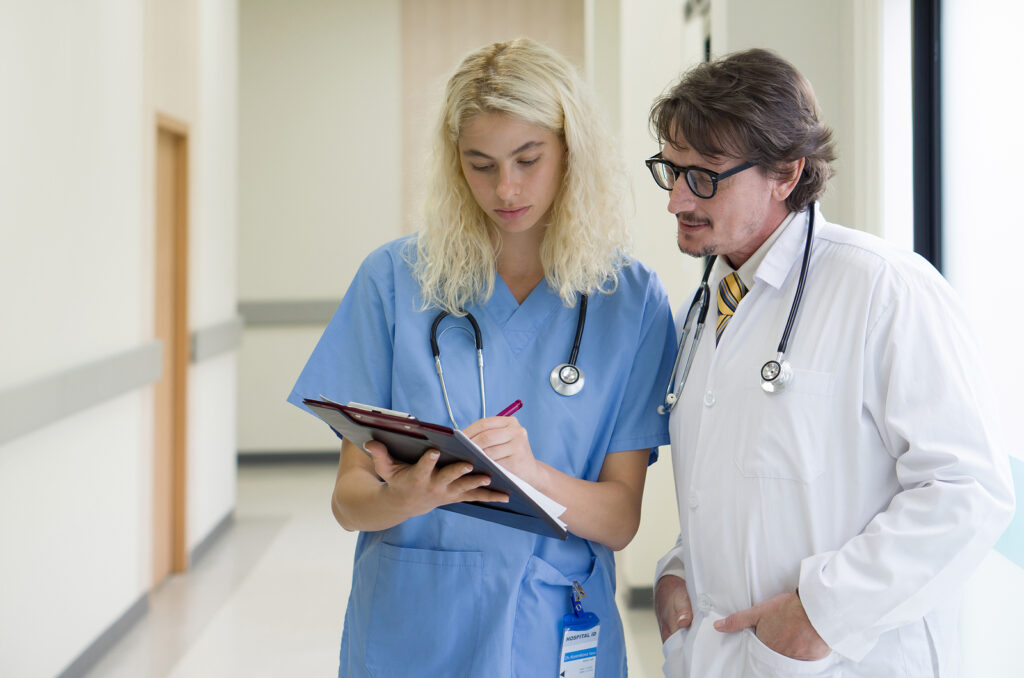 Nurses at all levels have an important role in the care and management of patients. They compose the largest part of the health care workforce. According to the ANA, there are more than 5 million active registered nurses nationwide. Many of them work on the front lines in hospitals and long-term facilities, providing direct patient care. Nursing is both challenging and rewarding. From patient deaths to staffing shortages, nurses cope daily with challenges that can lead to stress, depression, and burnout. However, the act of caring for patients and restoring health provide nurses with a deep sense of accomplishment. Transitioning from a licensed practical nurse to a registered nurse will double your rewards even as you take a more active role in patient care.
The LPN to RN program provides a wealth of knowledge and experience to expand your skillset, enabling you to provide a greater level of care to patients. Your earning potential will increase along with your increased knowledge and experience. The Bureau of Labor Statistics (BLS) reports the median annual salary for LPNs was $48,070, in May 2021 while RNs earned a median salary of $77,600 that same year. The substantial bump in pay rate is one of the primary reasons nurses transition from LPN to RN. Apart from the higher pay rate, you'll also have more opportunities as a registered nurse. Whereas LPNs work mostly in long-term care, registered nurses qualify for positions in hospitals, clinics, government agencies, physicians' offices, and other health care settings.
LPN to RN Requirements Illinois
Making the transition from LPN to RN will open the door to new opportunities in nursing. Employers are always in need of registered nurses to fill staffing demands and patients' need for continuous care. Projections for the next decade show that there's no slowing down in the demand, especially with senior nurses on the verge of retirement. Along with registered nursing programs, the LPN to RN program produces competent graduates capable of filling positions in almost every area of healthcare. The LPN to RN program is specially designed for practical nurses looking to further their education. Your PN education and experience serve as a starting point for you to continue your nursing education at an accelerated pace.
Transitioning to registered nursing has numerous benefits. As a registered nurse, you'll perform a wider scope or responsibility without continuous supervision as you experience as a practical nurse. It is an opportunity to get more involved in patient care and devise treatment plans based on your knowledge and judgment. Since your role will expand beyond that or a practical nurse, you will have the opportunity to earn more. Registered nurses earn an average of $29,500 more than practical nurses according to the Bureau of Labor Statistics. Registered nursing is an opportunity to take on leadership and management roles that are not available to practical nurses. This option is especially available for registered nurses who have completed a bachelor of science degree in nursing.
There are over 23 direct-admit LPN to RN programs in Illinois. Other programs that lead to an associate degree or bachelor of science degree in nursing may award credit to licensed practical nurses after an evaluation of submitted transcripts. The LPN to RN program cuts the time required to earn to a registered nursing degree. Upon graduation from the program, you will be awarded a degree that will grant eligibility to take the licensure exam for registered nurses.
Admission Criteria
The LPN to RN program is a direct pathway designed for practical nurses to complete the requirements for an associate degree in nursing based on their prior education and experience. As such, it is only open to persons who have graduated from an accredited practical nursing program. Some LPN to RN schools in Illinois will grant conditional acceptance to students enrolled in a practical nursing program – who have not yet graduated but will complete the requirements for graduation by a specific start date. Most programs require candidates to obtain a practical nursing license before admission or before the close of the first semester of the program. Following are some other general admission requirements for an LPN to RN program in Illinois.
Apply for admission to the college of choice
Complete any prerequisite courses with a passing grade
Apply for admission to the LPN to RN bridge program
Register to take the LPN to RN bridge transition course
Must submit official transcripts from the LPN program
Must have a valid Illinois practical nurse license
Pass the Admission Assessment – TEAS
Complete verification of residency
Duration and Cost
Working or not, cost will always be a factor in the choice of an educational program. If you're employed as a practical nurse, you may be eligible for tuition employment from your employer. Ask your human resources department to determine what options are available. The good news is that the accelerated PN to RN program will cost significantly less in terms of time and money when compared to a traditional registered nursing program where you will enter as a new student. With the transfer of 25 to 35 credit hours, you tuition cost will be limited to 30 to 35 credit hours provided you don't have to complete prerequisite courses. Tuition at state colleges ranges from $115 per credit hour to $245 per credit hour. Financial aid and scholarships targeted to increase the nursing population will also help to reduce the cost where available. With the transfer of credit, you may be eligible to enter the registered nursing program at the second or third semester and complete the requirements in 12 to 18 months.
Illinois RN Licensure Requirements
When applying for a license as a registered nursing in Illinois after you complete an LPN to RN program, you will need to complete a satisfactory criminal background check and submit your fingerprints for processing. You must receive confirmation of registration with the IDFPR/CTS before you begin practice as a registered nurse.
You may practice as a license-pending registered nurse under the direct supervision of licensed personnel for up to three months after you pass the licensure exam. You will need confirmation of passing the exam and may only practice under the supervision of a registered nurse or advanced practice nurse.
Licensure By Examination
When applying through the Acceptance of Examination for initial licensure as a registered nurse, you will need to do so through Continental Testing Services – the approved testing vendor.
Applying for the Registered Professional Nurse is a Dual process. You must apply to both Continental Testing Services and Pearson Vue Professional Testing.
Apply online with CTS at continentaltesting.net and pay the application fee of $98. The application is valid for three years. If you do not pass the examination within those three years will need to reapply as a new applicant and resubmit all new documentation including proof of completion of a NCLEX Review Course
Register with Pearson Vue Professional Testing online
Provide a valid email address as part of the application process – all communication is accomplished via email
Provide certification of education – Illinois schools may submit an Official Student Roster, Official Transcript or ED-NUR. The official student roster is valid for 90 days. You must register with CTS within this period
Out-of-state applicants must submit form ED-NUR or an official transcript
Provide proof of fingerprinting by a licensed Illinois Live Scan Fingerprint Vendor – submit fingerprint receipt with TCN as proof fingerprinting. Out-of-state candidates must submit completed form OOS-FP showing submission of fingerprints to an Illinois-licensed Live Scan vendor. Fingerprint receipt and form OOS-FP are only valid for 60 days. You will be required to submit a new fingerprint receipt if your receipt is over 60 days old
Official exam results from Pearson Vue will be available within 7 to 10 days following the exam. An official results letter with instructions on how to apply for licensure will be sent by CTS after the grades have been reviewed. You will have to apply to IDFPR upon passing your exam in order to obtain a license. Do not apply for licensure before receiving your official results letter from CTS. If the application for licensure is not made within one year after notification of passing the exam, you will be required to retake the exam.
Foreign Educated Graduates:
If you received your nursing education outside the U.S. or one of its territories, you must submit:
The application for the licensure exam.
The Supporting Document CCA.
A credentials evaluation report of your nursing education. The must be generated by the Commission on Graduates of Foreign Nursing Schools (CGFNS) Credentials Evaluation Service (CES) or the Educational Records Evaluation Service (ERES).
Certification of passage of the TOEFL or IELTS if English is not your first language.
A VisaScreen Program Certificate and CT Form or a CGFNS Certificate will be accepted in lieu of the above educational requirements.
Renewal Requirements
Your registered nurse license will expire on May 31 of every even-numbered year. You will receive notification of renewal before the expiration date, and may proceed to initiate renewal online. You must submit a completed application and pay the renewal fee of $80 for the renewal cycle. Check the status of your renewal after submission by navigating to the Look-up tab on the Department's website.
Continuing Education Requirements for Illinois RNs
You must complete 20 hours of approved Continuing Education units to renew your licensure after the 2-year cycle. The continuing education units must be completed through an approved vendor, and you must supply verification of attendance if requested by the Department. Do not submit documentation of your CE with your application for renewal. Maintain the certificates for your records and to present if requested for an audit.
Contact the Board of Nursing
Illinois Department of Financial and Professional Regulation
Division of Professional Regulation
P.O. Box 7007
Springfield, IL 62791
Illinois LPN to RN Bridge Programs:
Belleville, IL LPN to RN Programs:
Southwestern Illinois College
2500 Carlyle Avenue, Belleville, IL 62221
618-235-2700
Canton, IL LPN to RN Programs:
Spoon River College
23235 North County Highway 22, Canton, IL 61520
309-647-4645
Carterville, IL LPN to RN Programs:
John A. Logan College
700 Logan College Road, Carterville, IL 62918
618-985-3741
Centralia, IL LPN to RN Programs:
Kaskaskia College
27210 College Road, Centralia, IL 62801
618-545-3000
Champaign, IL LPN to RN Programs:
Parkland College
2400 West Bradley Avenue, Champaign, IL 61821
217-351-2200
Chicago, IL LPN to RN Programs:
City Colleges of Chicago
226 West Jackson, Chicago, IL 60606
312-553-2500
Northwestern College
4829 Lipps Avenue Chicago, IL 60630
1-888-205-2283
Cicero, IL LPN to RN Programs:
Morton College
3801 South Central Avenue, Cicero, IL 60804
708-656-8000
Decatur, IL LPN to RN Programs:
Richland Community College
One College Park, Decatur, IL 62521
217-875-7200
Des Plaines, IL LPN to RN Programs:
Oakton Community College
1600 East Golf Road, Des Plaines, IL 60016
847-635-1600
Dixon, IL LPN to RN Programs:
Sauk Valley Community College
173 Rt. 2 Dixon, IL 61021
815-288-5511
East Peoria, IL LPN to RN Programs:
Illinois Central College
1 College Drive, East Peoria, IL 61635-0001
309-694-5422
Elgin, IL LPN to RN Programs:
Elgin Community College
1700 Spartan Drive, Elgin, IL 60123-7193
847-697-1000
Freeport, IL LPN to RN Programs:
Highland Community College
2998 West Pearl City Road, Freeport, IL 61032
815-235-6121
Galesburg, IL LPN to RN Programs:
Carl Sandburg College
2400 Tom L. Wilson Boulevard, Galesburg, IL 61401
309-344-2518
Glen Ellyn, IL LPN to RN Programs:
College of DuPage
425 Fawell Boulevard, Glen Ellyn, IL 60137
630-942-2800
Grayslake, IL LPN to RN Programs:
College of Lake County
19351 West Washington Street, Grayslake, IL 60030-1198
847-543-2000
Hoffman Estates, IL LPN to RN Programs:
Ambria College of Nursing
5210 Trillium Boulevard, Hoffman Estates, IL 60192
847-397-0300
Ina, IL LPN to RN Programs:
Rend Lake College
468 North, Ken Gray Parkway, Ina, IL 62846
618-437-5321
Joilet, IL LPN to RN Programs:
Joliet Junior College
1215 Houbolt Road, Joliet, IL 60431-8938
815-729-9020
Kankakee, IL LPN to RN Programs:
Kankakee Community College
100 College Drive- Kankakee, IL 60901
815-802-8100
Malta, IL LPN to RN Programs:
Kishwaukee College
21193 Malta Road, Malta, IL 60150
815-825-2086
Moline, IL LPN to RN Programs:
Black Hawk College
6600 34th Avenue, Moline, IL 61265
309-796-5000
Normal, IL LPN to RN Programs:
Heartland Community College
1500 West, Raab Road, Normal, IL 61761
309-268-8000
Oglesby, IL LPN to RN Programs:
Illinois Valley Community College
815 North Orlando Smith Road, Oglesby, IL 61348
815-224-2720
Olney, IL LPN to RN Programs:
Illinois Eastern Community Colleges
218 East Main Street, Olney, IL 62450
618-395-3011
Palos Hills, IL LPN to RN Programs:
Moraine Valley Community College
9000 West College Parkway, Palos Hills, IL 60465-2478
708-974-4300
Quincy, IL LPN to RN Programs:
John Wood Community College
1301 South 48th Street, Quincy, IL 62305
217-224-6500
River Grove, IL LPN to RN Programs:
Triton College
2000 Fifth Avenue, River Grove, IL 60171
708-456-0300
Springfield, IL LPN to RN Programs:
Lincoln Land Community College
5250 Shepherd Road, Springfield, IL 62794-9256
217-786-2200
South Holland, IL LPN to RN Programs:
South Suburban College
15800 South State Street, South Holland, IL 60473-1200
708-596-2000
Ullin, IL LPN to RN Programs:
Shawnee Community College,
8364 Shawnee College Road, Ullin, IL 62992
1-618-634-3300