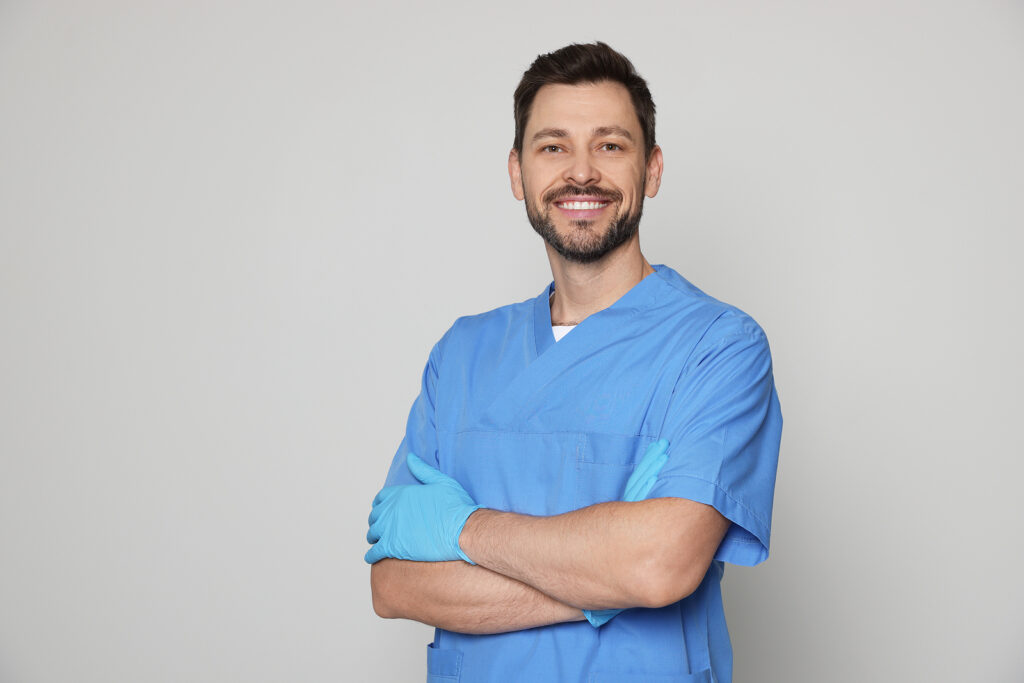 Licensed practical nurses provide basic care in long-term care facilities. Their main objective is to oversee the care and comfort of patients. While the job may be rewarding, there are numerous reasons why you might be considering enrolling in an LPN to RN bridge program to become a registered nurse. Registered nurses often supervise practical nurses. They have a greater role in patient care, access to better positions including opportunities to lead, and they earn more than practical nurses. The transition degree will give you the opportunity to complete the education required to sit for the NCLEX-RN exam and become a registered nurse. It builds on your education and experience and can be completed in approximately 12 months.
LPN to RN Training Requirements Ohio
The LPN to RN bridge program provides an avenue for licensed practical nurses to transition into the role of a registered nurse. LPNs either obtain advanced placement through credit awarded or enter a program specifically designed for practical nurses to complete the associate degree in nursing. The curriculum builds on the skills they received in the practical nursing program and their experience as a practical nurse in the medical setting. LPNs will receive the training required to apply for licensure as a registered nurse and to continue their education for additional opportunities in nursing. Graduates of the LPN to RN program will be eligible to sit for the NCLEX to become a registered nurse. They will also be prepared to function in the entry-level registered nurse positions in hospitals and other health care facilities.
There are many reasons to make the transition from a licensed practical nurse to a registered. The ease of transition through an accredited LPN to RN program stands at the top of the list. Your education and experience can easily place you in the second year of a registered nursing program, so with a minimal investment of time and money, you can be on your way to better opportunities and a higher salary.
Registered nurses earn substantially more than practical nurses. According to figures published by the U.S. Bureau of Labor Statistics, the median pay for registered nurses was almost $28,300 more than that of practical nurses in 2021. The difference in your LPN Vs RN salary may be affected by your location, skills, geographic location, employer, experience, education, and other factors.
Registered nurses also have better opportunities and a wider range of places to work. Most LPNs work in long term care, home health, and skilled nursing facilities. Due to the complexities of acute care, most employers prefer registered nurses. A registered nurse degree will help you to qualify positions in hospitals and other acute care facilities.
It might be that you just want to do more for your patients. That is a good reason as any to enroll in a bridge program to acquire the skills to take on greater responsibilities at work. Registered nurses have a wider scope of practice than practical nurses, so the RN degree will empower you to do more from a personal, personal, and legal standpoint.
Admission Criteria
The LPN to RN program is designed for licensed practical nurses to complete the educational requirements to earn an associate degree in nursing. It is open only to practical nurses who hold a valid license to practice in Ohio. Some programs admit recent graduates of a practical nursing program who are completing the requirements for license. These candidates are admitted on a conditional basis and are fully admitted after passing the licensure exam. Experience as a licensed practical nurse may be required for admission to some programs in Ohio. Keep in mind that most programs are space limited, so applicants must meet all the admission requirements to obtain a favorable response.
Must have a current license to practice as a practical nurse
Must have experience as a practical nurse
Must have current healthcare provider CPR/BLS certification
Must meet the health requirements
Must provide proof of health insurance
Must meet criminal background check and drug screen requirements
A clear criminal background check is a must as the Ohio Board of Nursing does not issue a license to candidates with a history of certain crimes such as murder and rape.
Duration and Cost
If you've decided to continue your nursing education, funding your tuition will be a cause for concern. Tuition rates have gone up across the board for public and private institutions. The average cost of completing the LPN to RN program at public institutions is Ohio is $9,700 for tuition and fees. The rate is even more for private institutions. Here the average cost is $32,600. The rates might cause some hesitation in your pursuit of advanced education. However, there are options to help you cover the cost of your study. First, the LPN to RN program costs significantly less than completing a standalone registered nursing program. The more credits awarded in the program, the less time required for completion. Seek out programs that offer the maximum credits for advanced placement. Some programs can be completed in a maximum time of one year. You can apply for a loan to fund the costs or explore tuition reimbursement from your current employer. Grants, scholarships, and federal loans are options you can explore. If your goal is to avoid debt, then you might consider using your income and savings to cover the cost. Remember, you need to factor in other types of expenses such as textbooks, certification exam, uniforms, and supplies.
Ohio RN Licensure Requirements
Licensure is mandatory for practice as a registered nurse. Graduating from the LPN to RN program is your first step for license. You must complete a criminal background check and disclose information related to any prior felony or misdemeanor, crime involving gross immorality or moral turpitude, violation of a drug law, and/or recent diagnosis or treatment of a psychotic disorder. The Ohio Board of Nursing does not issue a license to persons with specific crimes, and will determine whether you may take the licensing exam.
Licensure By Examination
Complete the application for licensure by exam if you recently graduated from a state-approved LPN to RN program that prepared you for the state board (NCLEX-RN). Submit the following to the Board to determine your eligibility to take the NCLEX-RN.
The completed application to take the licensure exam
A valid mailing address to receive communication from the Board
A valid email address to maintain your online account and payment confirmation
The non-refundable fee of $75 – paid online when you submit your application. Fees must be paid using a credit card or debit card. The application will remain in "pending" status if the fee is not paid. An eLicense System Transaction fee will be charged.
Evidence of completing an approved nursing education program.

If you graduated from an approved Ohio LPN to RN program, the director should electronically submit a completion letter certifying that you graduated from the program. Your name on the application must match the name on the completion letter.
If you graduated from a program outside of Ohio, the registrar must mail a signed and sealed transcript directly to the Board of Nursing. Electronic delivery or submission from the candidate will not be accepted. The transcript should indicate the type of degree awarded and the date of completion.

Your fingerprints for an FBI and BCI criminal records check. The background check must be completed by the Bureau of Criminal Identification, who will send both reports directly to the Board's office. BCI accepts electronic fingerprints only. You can complete the fingerprinting at a Webcheck location in Ohio.
Your registration to take the NCLEX-RN
A diagnostic report from a qualified professional practitioner, type of accommodation needed, and a letter from the director of the nursing program specifying the accommodations granted by the nursing program. Submit these documents, at least, two months before graduating from the program if you need special accommodations for the exam. Board and the National Council of State Boards of Nursing will review and authorize the request if applicable.
Ensure that the program completion letter, criminal record check report, and transcript are submitted directly to the Board from the respective agencies. Processing of your application will be delayed without the appropriate documents. The application will be considered void after one year, and your application fee will be forfeited if you do not submit all the required documents within the period. You can check the status of your application online by visiting the Board's website and click on "Verification" and enter your name.
Renewal Requirements for Ohio RNs
The renewal cycle for registered nurses in Ohio is July 1 to October 31 on odd-numbered years. Your license will lapse if you do not renew by the deadline. You can verify your license online at any time. Renew your license between July 1 and September 15 of the renewal year and the fee will be $65. The cost for licenses renewed between September 16 and October 31 is $115 including a $50 late fee.
To renew your license, you must set up an account online with your username and password before you submit a renewal request.
Continuing Education Requirements for Ohio RNs
There are no continuing education requirements for your initial renewal. You must complete a total of 24 continuing education units for subsequent renewals. Continuing education units must include 1 hour of Category A: Law and Rules. All continuing education requirements must be completed within the renewal cycle from July 1 to October 31. You must maintain a record of your CEU to present to the Board if requested.
Contact the Board of Nursing
Ohio Board of Nursing
17 South High Street
Suite 400, Columbus Ohio 43215-7410
Phone: (614) 466-3947
Fax: (614) 466-0388
Email: licensure@nursing.ohio.gov
Ohio LPN to RN Bridge Programs:
Akron, OH LPN to RN Programs:
Breckinridge School of Nursing and Health Sciences
3428 West Market Street, Akron, OH 44333
330-865-8600
Archbold, OH LPN to RN Programs:
Northwest State Community College
22600 State Route 34, Archbold, OH 43502
855-267-5511
Athens, OH LPN to RN Programs:
Ohio University
Grover Center E365, Athens, OH 45701
740-593-1000
Canton, OH LPN to RN Programs:
Aultman College of Nursing and Health Sciences
2600 Sixth Street Southwest, Canton, OH 44710
330-363-6347
Centerville, OH LPN to RN Programs:
Fortis College in Centerville
555 East Alex Bell Road, Centerville, OH 45459
937-433-3410
Cincinnati, OH LPN to RN Programs:
Beckfield College
225 Pictoria Drive, Suite 200 (2nd Floor), Cincinnati, OH 45246
513-671-1920
The Cincinnati State Bethesda School of Nursing
3520 Central Parkway, Cincinnati, OH 45223-2690
(513) 569-1670
Good Samaritan College of Nursing and Health Science
375 Dixmyth Avenue, Cincinnati, OH 45220
513-862-2631
Galen College of Nursing
100 East Business Way, Suite 200, Cincinnati, Ohio 45241
513-475-3600
University of Cincinnati Blue Ash College
9555 Plainfield Road, Cincinnati, OH 45236-1096
(513) 745-5665
Clairsville, OH LPN to RN Programs:
Belmont College
68094 Hammond Road, St. Clairsville, OH 43950
(740) 695-9500
Cleveland, OH LPN to RN Programs:
Bryant & Stratton College
3121 Euclid Avenue, Cleveland, OH 44115
216-771-1700
Cuyahoga Community College
700 Carnegie Avenue, Cleveland, OH 44115
800-954-8742
Columbus, OH LPN to RN Programs:
Felbry School of Nursing
6055 Cleveland Avenue, Columbus, OH 43231
(614) 781-1085
Columbus State Community College
550 East Spring Street, Columbus, OH 43215
614-287-5353
Dayton, OH LPN to RN Programs:
Sinclair Community College
444 West Third Street, Dayton, OH 45402
1-800-315-3000
Ohio Medical Career College
1133 South Edwin C. Moss Blvd, Suite 110, Dayton, OH 45417
(937) 567-8880
Elyria, OH LPN to RN Programs:
Lorain County Community College
1005 North Abbe Road, Elyria, OH 44035-1691
(440) 336-4015
Findlay, OH LPN to RN Programs:
Owens Community College Learning Center- Millstream
1150 Broad Avenue, Findlay, OH 45840
419-425-8277
Fremont, OH LPN to RN Programs:
Terra State Community College
2830 Napoleon Road, Fremont, OH 43420
419-334-8400
Hillsboro, OH LPN to RN Programs:
Southern State Community College
100 Hobart Drive, Hillsboro, OH 45133
937-393-3431
Kent, OH LPN to RN Programs:
Kent State University
800 East Summit Street, Kent, OH 44240
330-672-3000
Kirtland, OH LPN to RN Programs:
Lakeland Community College
7700 Clocktower Drive, Kirtland, OH 44094-5198
440-525-7000
Mansfield, OH LPN to RN Programs:
North Central State College
2441 Kenwood Circle, Mansfield, OH 44906
419-755-4800
Marietta, OH LPN to RN Programs:
Washington State Community College
710 Colegate Drive, Marietta, OH 45750
(740) 374-8716
Marion, OH LPN to RN Programs:
Marion Technical College
1467 Mount Vernon Avenue, Marion, OH 43302
740-389-4636
Nelsonville, OH LPN to RN Programs:
Hocking College
3301 Hocking Parkway, Nelsonville, OH45764
740-753-3591
Newark, OH LPN to RN Programs:
Central Ohio Technical College
1179 University Drive, Newark, OH 43055
740-366-9494
North Canton, OH LPN to RN Programs:
Stark State College
6200 Frank Avenue, NW, North Canton, OH 44720
(330) 966-5458
Piqua, OH LPN to RN Programs:
Edison State Community College
1973 Edison Drive, Piqua, Ohio 45356
937-778-8600
Portsmouth, OH LPN to RN Programs:
Shawnee State University
940 Second Street, Portsmouth, OH 45662
800-959-2778
Rio Grande, OH LPN to RN Programs:
University of Rio Grande
218 North College, P.O. Box 500, Rio Grande, OH 45674
(740) 245-7302
Springfield, OH LPN to RN Programs:
Clark State Community College
570 East Leffels Lane, Springfield, OH 45501-0570
937-325-0691
Toledo, OH LPN to RN Programs:
Mercy College of Ohio
2221 Madison Avenue, Toledo, OH 43604
419-251-1313
Westerville, OH LPN to RN Programs:
Hondros College
4140 Executive Parkway, Westerville, OH 43081
614-508-7200
Youngstown, OH LPN to RN Programs:
Eastern Gateway Community College
101 East Federal Street, Youngstown, OH 44503
330-480-0726