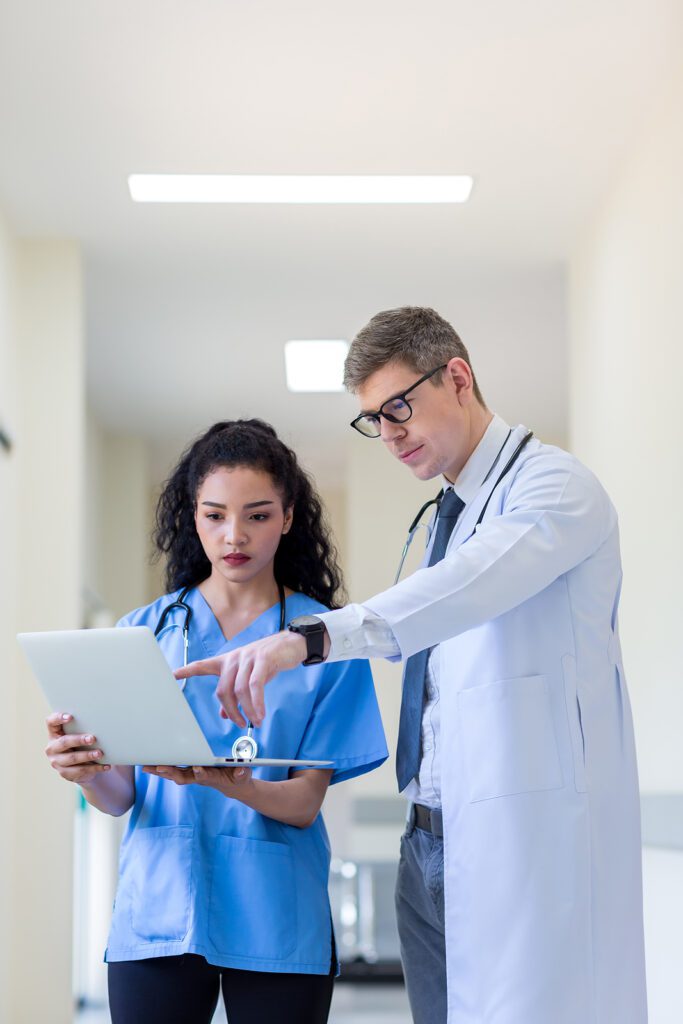 Taking your career to the next level is fast and simple if you're a current practical nurse. The LPN to RN bridge program is designed for practical nurses to complete the educational requirements for licensure as a registered nurse. In it, you'll broaden your nursing skills to function in the role of a registered nurse and acquire the knowledge for success in the RN licensure exam. The LPN to RN bridge program builds on your practical nursing education and experience so you can begin your career as a registered nurse in just 12 months. It will cover all the essential skills required for you to become a valuable member of the patient care team. Some of the key areas include evidence-based practice, the nursing process, nursing roles, leadership, and critical thinking.
Nursing jobs are projected to increase 9 percent in the next decade. Greater access to health and the demands of the aging populations are just some of the factors that contribute to the rise in the demand for health care professionals. By continuing your education to the associate degree in nursing, you will expand your career options and solidify your position in healthcare. The RN degree, more so than the LPN, will help you to qualify for positions on hospitals, clinics, schools, physicians' offices, and long-term care facilities. With an RN degree, you can also recognize a 30 percent increase in your annual salary.
LPN to RN Educational Requirements 
Licensed practical nursing programs provide a fast path to entry into nursing. LPN programs require a minimum of 10 to 12 months of study, and upon completion, you will gain experience as a nurse. The LPN credential is a good starting point in healthcare, but now you may be considering continuing your education to become a registered nurse. The LPN to RN bridge program builds on your nursing education and experience and prepares you for licensure as a registered nurse with an additional 12 months of training. The bridge program culminates with an associate degree in nursing. It will include a combination of classroom theory, hands-on practice in a skills lab, and a clinical externship in various healthcare facilities. The program's focus is to help you develop the skills needed to take on additional responsibilities in your role as a registered nurse. It will also include preparation for success on the NCLEX for Registered Nurses.
There are several programs in Michigan that offer the LPN to RN pathway specifically designed for licensed practical nurses to enter. Henry Ford College, Delta College, and Monroe College are just a few that offer this option. They are open to persons who hold a current LPN license and those who are completing a practical nursing program but will acquire the license before the program start date. Some programs require experience as a practical nurse. Other nursing programs that lead to an associate degree in nursing do not have a specific pathway for LPNs but permit transfer for credits from the practical nursing program so you may be eligible to enter the program at the second year and complete the requirements in 12 months. These programs admit students based on space availability and only after evaluation of your PN transcripts from an accredited program.
Online LPN to RN programs are very limited. To begin with, RN programs include an abundance of in-person practice to support the development of nursing skills. Practice begins in the classroom and skills lab. It continues during the clinical externship at health care facilities where you will apply the skills learned in a real-world setting. Therefore, you will need to allocate time for training. There are several part-time programs in Michigan that you can compare to find one that will fit your educational needs with your work schedule. The approximate time to complete the degree will be extended if you choose to complete the degree part-time.
Eligibility Criteria
With the vast numbers of practical nurses seeking to advance their careers to registered nursing, you can expect that entry to an LPN to RN bridge program will be competitive. Nursing school resources, faculty, and clinical space availability are some factors that impact the number of students admitted for each cycle. Your best chance of success during the enrollment process is if you study the admission requirements and complete them as closely as possible. For LPN to RN bridge programs, you should have your LPN license that is current and without encumbrances. You should also have completed an accredited program with a satisfactory GPA. Any progress made in the completion of the general education requirements may also improve your chances of selection. Additionally, you should have all the prerequisite courses completed with an above-average passing grade.
Below are some of the basic requirements for admission to LPN to RN bridge program. For more detailed requirements, check the school's website.
Must have an active, unencumbered practical nurse license in Michigan
Practical nurse experience may be required
Current CPR certification may be required
Must submit a satisfactory health record
Must have current insurance – health insurance and liability insurance
Official transcripts from an accredited practical nursing program
Must meet criminal background check and drug screen requirements
A criminal background check and drug screen may be conducted, at your expense, after confirmation of conditional acceptance to the program. Criminal records and disciplinary action taken against your practical nursing license may affect your ability to obtain licensure as a registered nurse.
Duration and Cost 
The LPN to RN program is designed to be completed in just 12 months of full-time attendance. If you opt for part-time attendance to balance study with your work schedule, you can expect to complete the RN degree in 18 to 24 months. The completion time has some impact on your final cost of training. Compared to the full RN program, the LPN to RN bridge program is much more affordable. The one-year completion time and reduction in required credits – due to transfer from the LPN program, can cut costs by almost half. Like other accredited college programs, you can apply for financial aid to help with the cost of your education.
Michigan LPN to RN Licensure Requirements 
The Department of Licensing and Regulatory Affairs (LARA) regulates the profession of nursing on behalf of the Michigan Board of Nursing. A license issued by the Board is required for practice as a registered nurse in Michigan. You must have completed an accredited registered nursing program and pass the NCLEX issued by the National Council of State Boards of Nursing to obtain your RN license. The LPN to RN program will prepare you for eligibility for practice as a registered nurse.
A background check and mandatory training in human trafficking and implicit bias are some other requirements for RN licensure. The other training and certification requirements were implemented as part of the application process in January of 2022.
LPN to RN Licensure By Examination
As a licensed practical nurse, you will become eligible to sit for the NCLEX for Registered Nurses after completing the LPN to RN bridge program and earning your associate nursing degree.
Apply for the NCLEX and licensure from the BON by completing the following steps:
Submit the online application for a registered nurse by answering all questions and submitting all required documents
Submit the application fee plus the 2-year license fee ($212.90) using a credit or debit card
Follow the instructions in the Application Confirmation Letter to complete a criminal background check
Respond to the questions under Good Moral Character and provide appropriate documentation for any "yes" responses
Submit documentation of having completed Human Trafficking Training
Submit documentation of having completed Implicit Bias Training – within 5 years of submission of the application or registered nurse licensure
Provide a valid social security number
Provide documentation of professional education – name of school and name of educational program completed
Must demonstrate working knowledge of the English Language
Submit official transcripts from the LPN to RN nursing program or a completed Michigan Nursing School Certification Form – must be submitted directly to the BON from the school
Must obtain passing NCLEX-RN scores – scores will be submitted by the NCSBN directly to the Board
RN Renewal Requirements Michigan
Your registered nursing license will expire every two years. The license must be renewed to continue practicing as a registered nurse. Use the following guidelines to renew your RN license:
Navigate to  http://www.michigan.gov/miplus to renew your license online
Use a debit or credit card to pay the renewal fee of $131 – Visa, MasterCard, American Express or Discover
Answer the Good Moral Questions and submit documentation if you answer "yes" to any of the questions
Answer the Disciplinary Question and submit documentation if you answer "yes" to any sanctions imposed against you by a similar licensure, registration, or certification
Must submit documentation of completing Implicit Bias Training – at least one hour for each year of the current license cycle
Accept the Renewal Attestation certifying that you have met the continuing education requirements during the renewal period and that the information provided is true and correct
Licenses not renewed within the renewal period will go into expired status. An application for relicensure must be submitted if plan to continue practice as a registered nurse and did not renew your license within the grace period.
Continuing Education Requirements for Michigan RNs
If you held your RN license for a full two-year cycle, you must complete the continuing education requirements to renew.
The State of Michigan requires the completion of 25 contact hours of continuing education from approved vendors. The CEUs completed must include two contact hours of education in pain and pain and symptom management. Some topics that fall within this module include behavior management, pharmacology, stress management, behavior modification, drug interventions, and clinical applications.
Do not submit documentation of your CEUs unless requested by the BON. Keep a record for at least 4 years after the renewal cycle to present to the Board if you're enlisted for an audit.
Contact the Board of Nursing
Michigan Board of Nursing
Physical Address:
Department of Licensing and Regulatory Affairs
Professional Licensing
P.O. Box 30670
Lansing, MI 48909
Phone: 517-373-8068
Email: bplhelp@michigan.gov
Michigan LPN to RN Programs:
Alpena, MI LPN to RN programs:
Alpena Community College
665 Johnson Street, Alpena, MI 49707-1495
989-356-9021
Ann Arbor, MI ALPN to RN programs:
Washtenaw Community College
4800 East Huron River Drive, Ann Arbor, MI 48105-4800
734-973-3300
Battle Creek, MI LPN to RN programs:
Kellogg Community College
450 North Avenue, Battle Creek, MI 49017
269-965-3931
Benton Harbor, MI LPN to RN programs:
Lake Michigan College
2755 East Napier Avenue, Benton Harbor, MI 49022
1-800-252-1562
Centreville, MI LPN to RN programs:
Glen Oaks Community College
62249Shimmel Road, Centreville, MI 49032
269-467-9945
Dearborn, MI LPN to RN programs:
Henry Ford College
5101 Evergreen Road, Dearborn, MI 48128
313-845-9600
Dowagiac, MI LPN to RN programs:
Southwestern Michigan College
58900 Cherry Grove Road, Dowagiac, MI 49047
800-456-8675
Escanaba, MI LPN to RN programs:
Bay College
2001 North Lincoln Road, Escanaba, MI 49829
906-786-5802
Grand Rapids, MI LPN to RN programs:
Grand Rapids Community College
143 Bostwick Avenue, Northeast, Grand Rapids, MI 49503-3295
616-234-4000
Ironwood, MI LPN to RN programs:
Gogebic Community College
East 4946 Jackson Road, Ironwood, MI 49938
800-682-5910
Jackson, MI LPN to RN programs:
Jackson College
2111 Emmons Road, Jackson, MI 49201
517-787-0800
Kalamazoo, MI LPN to RN programs:
Kalamazoo Valley Community College
P.O. Box 4070, 6767 West 'O' Avenue, Kalamazoo, MI 49003-4070
269-488-4400
Lansing, MI LPN to RN programs:
Lansing Community College
P.O. Box 40010, Lansing, MI 48901-7210
1-800-644-4522
Livonia, MI LPN to RN programs:
Schoolcraft College
18600 Haggerty Road, Livonia, MI 48152
734-462-4400
Monroe, MI LPN to RN programs:
Monroe County Community College
1555 South Raisinville Road, Monroe, MI 48161
734-242-7300
Muskegon, MI LPN to RN programs:
Muskegon Community College
221 South, Quarterline Road, Muskegon, MI 49442
231-773-9131
Petoskey, MI LPN to RN programs:
North Central Michigan College
1515 Howard Street, Petoskey, MI 49770
231-348-6617
Port Huron, MI LPN to RN programs:
St. Clair County Community College
323 Erie Street, Port Huron, MI 48061-5015
Roscommon, MI LPN to RN programs:
Kirtland Community College
10775 North Street, Helen Road, Roscommon, MI 48653
989-275-5000
Scottville, MI LPN to RN programs:
West Shore Community College
3000 North Stiles Road, Scottville, MI 49454
231-845-6211