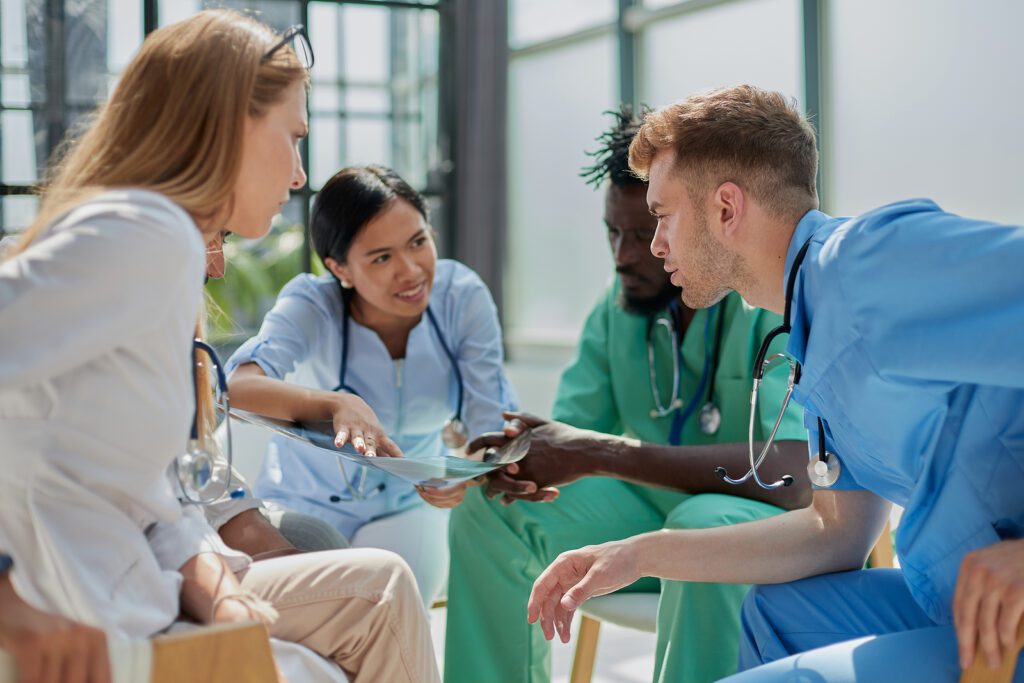 If you're a current licensed practical nurse and want to take on more responsibility in patient care, enrolling in an LPN to RN program will prepare you for a role as a registered nurse in just one year. Registered nurses and licensed practical nurses may have many duties in common is some health care settings. However, there are major differences between the two, including educational preparation, rate of pay, and overall job responsibilities. As an LPN, you will provide basic care under the supervision of a registered nurse or physician. Registered nurses provide more complex care and have a broader scope of responsibilities than practical nurses. They have a greater role in patient treatment, the administration of medication, coordination care, and collaborating with members of the health care team.
Taking the leap from practical nursing to registered nursing may be daunting but it comes with a wealth of rewards. You will have better job opportunities, a higher earning potential, greater skills, a broader scope of practice, job security, and an excellent foundation to continue your education to the bachelor's or master's degree.
LPN to RN Education Requirements Georgia
An LPN-to-RN degree program is designed for licensed practical nurses to transition to the role of registered nurses. The program builds on your practical nursing education and experience. It shortens the time and reduces the cost of acquiring a registered nurse (associate's) degree when compared to enrolling in a traditional nursing program. The curriculum is specially designed for those who have already completed foundational nursing courses, science prerequisites, and general education coursework. It will cover advanced nursing coursework, electives, and liberal arts to provide students with a well-rounded education. The clinical component of the program is designed to develop advanced nursing skills, critical thinking, and decision-making. Some programs allow students to test out of classes to further reduce the completion time. For all programs, credit for prior education and experience is awarded upon completion of specific coursework. An administrator will evaluate transcripts to determine your eligibility for transfer credit.
Licensed practical nursing is rewarding in itself, but if you are at a point where you are ready to take on more responsibility in patient care,  a bridge program will prepare you for such as role. Continuing your education is the best, and perhaps only, way to advance in the nursing profession and broaden your scope of practice. The LPN to RN program is not only cost-effective, but also convenient in that some of the coursework may be available online. Furthermore, the completion time may be as little as 12 months – much shorter than enrolling in a full degree program that requires a two-year commitment. There are LPN to BSN programs that lead to a bachelor's of science degree instead of an associate's degree. These are also beneficial but the completion time is three years. Both routes will include preparation for success on the nursing licensure exam to become a registered nurse.
When selecting a bridge program make sure that the program is accredited. You might also get reviews from past students, and compare the cost of attendance and transferability of your existing credits.
Eligibility Requirements
As the name suggests, the LPN to RN program is specifically designed for licensed practical nurses to continue their education to the registered nursing degree. There are several programs in Georgia that admit practical nurse graduates who have not yet completed the requirements for licensure in the state. These students are admitted on a conditional basis and require completion of the license requirements before the start of the program or the close of the first semester of classes. Other programs that are more intensive require experience as a practical nurse as part of the requirements for admission. Programs are generally space-limited, so you should meet the basic prerequisites before submitting an application for admission.
Some of the basic requirements include:
Must have a current license to practice as a practical nurse
Must have experience as a practical nurse
Must have current healthcare provider CPR/BLS certification
Must meet the health requirements
Must provide proof of health insurance
Must meet criminal background check and drug screen requirements
A questionable criminal history report may affect your ability to qualify for a registered nurse license.
Duration and Cost
The rising cost of education may deter many for furthering their education especially if they are already established in a rewarding position. With some research and planning, you can earn a registered nursing degree without breaking the bank. State colleges are always the more affordable option. The average cost of tuition for one year of college is $4,500. Private institutions cost more but they may provide benefits not readily available at state schools. Consider that you already have a head start on your savings by enrolling in a bridge program that requires less time than a traditional registered nursing program. You can further reduce costs by choosing a program that will award maximum credits toward the degree. Scholarships, grants, and employer funding could help you to further reduce the cost of your education.
Georgia LPN to RN Licensure Requirements
You must have graduated from a registered nursing program before applying for registered nurse licensure. Licensure requires that you file with the Georgia Board of Nursing and renew your license every 2 years. Filing an application involves the submission of all the required documentation and fees. You must also take and pass the NCLEX for Registered Nurses.
Licensure by Examination
If you have graduated from a U.S. approved nursing education program and have never been licensed before, apply for licensure by Exam. Use the following steps to apply:
Register with Pearson Vue on the same day you submit your application for licensure
Register with GAPS/Fieldprint on the same day as submitting your application for license
Follow the instructions provided by GAPS via email for completing fingerprinting
Submit a completed, signed, and notarized application with fee
Submit official college transcripts submitted in a sealed envelope.* The transcript should indicate the graduation date and the degree conferred
Submit court documents, letter of explanation, and alternative to discipline for any arrests, disciplinary action, and/or sanctions
The non-refundable application fee is $40
*Graduates of nursing schools approved by the Georgia Board of Nursing do not need to submit transcripts as part of the application program. The school will submit the information to the Board electronically.
Graduates of Non-Traditional Nursing Education Programs
Graduates of non-traditional nursing education programs will be required to complete a preceptorship approved by the Board. The preceptorship depends on the previous education and experience of an LPN, Paramedic, Military Medical Corpsman, or other medical professional.
Graduates of Foreign Nursing Education Programs
If you graduated from a foreign nursing education program, you must submit the following additional documents:
Documentation of CGFNS certification sent directly to the Board of Nursing.
A CGFNS Credentials Evaluation Service (CES) Nursing and Science Course-by-Course report sent directly to the Board's office.
A minimum score of 540 (paper), 270 (computer) or 76 (Internet) on the Test of English as a Foreign Language (TOEFL).
Renewal Requirements
Renewal is completed online and is required by January 31 of the year it expires. Check your license for your renewal date. Late renewal period is Feb 1 – Feb 28 of the year it expires. Renewal must be completed online.
Following are the guidelines for renewal:
Log in to your account on the Georgia Online Licensing site
Click on the License Renewal button and enter your login information
Following the instructions for online renewal specific to your license
Check within 3 days to make sure your renewal is complete by verification of licensure
The license renewal fee is $65
Licenses not renewed by January 31 will be administratively revoked and the licensee will need to submit an application for reinstatement to continue practicing.
Continuing Education Requirements for Georgia RNs
Completion of continuing competency is essential for renewal of your registered nurse license. You may obtain your continuing competency requirements in one of five ways:
Completion of 30 continuing education or recertification by a national certifying body
Maintenance of certification or recertification by a national certifying body
Completion of an accredited program of study in nursing
Verification of competency by a health care facility or physician's office and at least 500 hours of practice as a registered nurse
Completion of a re-entry program approved by the Board of Nursing.
The Board randomly selects renewal candidates for audit. You must meet the audit requirements, if selected, or your license will not be renewed. Submit your continuing competency certifications to the Board only if requested. Hold on to your documents to present to the Board if you receive notice.
Contact the Board of Nursing
Georgia Board of Nursing
Location: 237 Coliseum Drive
Macon, GA 31217
Mailing Address: 237 Coliseum Drive
Macon, GA 31217
Phone: (478) 207-2440
Fax: (877) 371-5712
Georgia LPN to RN Programs:
Albany, GA LPN to RN Programs:
Darton State College
2400 Gillionville Road, Albany, GA 31707
229-317-6000
Alpharetta, GA LPN to RN Programs:
Georgia Perimeter College
3705 Brookside Parkway, Alpharetta, GA 30022
678-240-6000
Athens, GA LPN to RN Programs:
Athens Technical College
800 US Highway 29 North, Athens, GA 30601
706-355-5000
Atlanta, GA LPN to RN Programs:
Atlanta Technical College
1560 Metropolitan Parkway Southwest, Atlanta, GA 30310
404-225-4400
Bauder College
384 Northyards Boulevard, Northwest Suites 190 & 400, Atlanta, GA 30313
800-935-1857
Augusta, GA LPN to RN Programs:
Augusta Technical College
3200 Augusta Tech Drive, Augusta, GA 30906
706-771-4000
Bainbridge, GA LPN to RN Programs:
Bainbridge College
P.O. Box 990 2500 East Shotwell Street, Bainbridge, GA 39818
866-825-1715
Barnesville, GA LPN to RN Programs:
Gordon State College
419 College Drive, Barnesville, GA 30204
678-359-5555
Brunswick, GA LPN to RN Programs:
College of Coastal Georgia
One College Drive, Brunswick, GA 31520
912-279-5700
Columbus, GA LPN to RN Programs:
Columbus Technical College
928 Manchester Expressway, Columbus, GA 31904
706-649-1800
Dahlonega, GA LPN to RN Programs:
University of North Georgia
110 South Chestatee Street, Dahlonega, GA 30597
706-864-1800
Dalton, GA LPN to RN Programs:
Dalton State College
650 College Drive, Dalton, GA 30720
706-272-4436
Griffin, GA LPN to RN Programs:
Southern Crescent Technical College
501 Varsity Road. Griffin, GA 30223
770-228-7348
Lawrenceville, GA LPN to RN Programs:
Gwinnett Technical College
5150 Sugarloaf Parkway, Lawrenceville, GA 30043
770-962-7580
Macon, GA LPN to RN Programs:
Central Georgia Technical College
3300 Macon Tech Dr, Macon, GA 31206
478-757-3400
Middle Georgia State College
100 College Station Drive, Macon, GA 31206
478-471-2700
Marietta, GA LPN to RN Programs:
Chattahoochee Technical College
980 South Cobb Drive, Marietta, GA 30060
770-528-4545
Rome, GA LPN to RN Programs:
Georgia Highlands College
3175 Cedartown Highway, Rome, GA 30161
706-802-5000
Georgia Northwestern Technical College
1 Maurice Culberson Dr SW, Rome, GA 30161
706-295-6963
Thomasville, GA LPN to RN Programs:
Southwest Georgia Technical College
15689 U.S. Highway 19 North, Thomasville, GA, 31792
229-225-4096
Tifton, GA LPN to RN Programs:
Abraham Baldwin Agricultural College
2802 Moore Highway, Tifton, GA 31793
800-733-3653
Valdosta, GA LPN to RN Programs:
Wiregrass Georgia Technical College
4089 Val Tech Road, Valdosta, GA, 31602
229-333-2100
Vidalia, GA LPN to RN Programs:
Southeastern Technical College
3001 East First Street, Vidalia, GA 30474
912-538-3100
Waco, GA LPN to RN Programs:
West Georgia Technical College
176 Murphy Campus Drive, Waco, GA, 30182
770-537-6000
Waycross, GA LPN to RN Programs:
South Georgia State College
2001 South GA Parkway, Waycross, GA 31503
912-449-7600