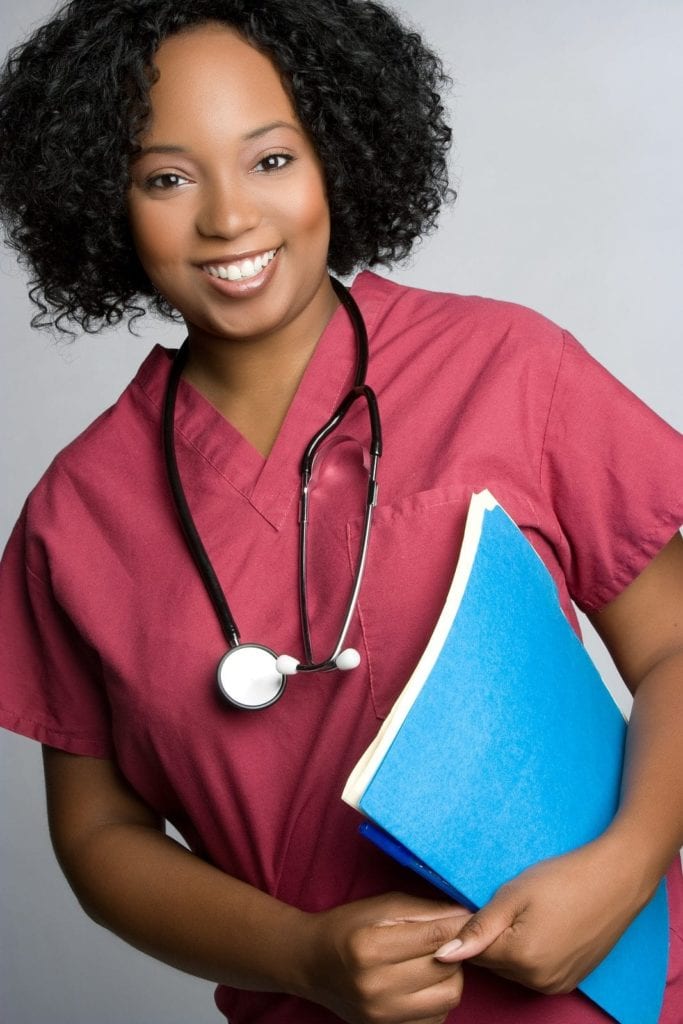 Licensed vocational nurses (LVNs) practice nursing under the guidance of a registered nurse or licensed physician. Their duties depend on the their work setting, and may include monitoring patients' health, maintaining patients' records, administering medication, wound care, reporting relevant information to registered nurses and doctors, collecting samples for routine lab tests, and teaching basic nursing skills to a patient's family. California LVNs can administer medication and start intravenous (IV) drips with special /continuing education and approval from the Board of Vocational Nursing and Psychiatric Technicians. LVNs work in hospitals, nursing homes, schools, insurance companies, correctional facilities, and home health care facilities. In addition to the traditional daytime shift, many LVNs work nights, weekends, and holidays because patient care never ends. California LVNs earned a median annual wage of $51,700 in May 2014.
Curam College of Nursing
The Vocational Nursing Program at Curam College is designed to prepare nursing students to write and pass the State Board Exam. The curriculum includes theorectical classroom instruction, skills lab demonstration, and clinical experiences to prepare students to practice as skilled nurses. It covers a total of 1546 hours of instruction including 10 prerequisites, 588 theory hours, and 948 clinical hours. The curriculum is taught in sequence to enable a progressive mastery of knowledge, skills and abilities. Course topics include nursing fundamentals, nursing process, communication, patient education, pharmacology, psychology, growth and development, nutrition, communicable disease, gerontological nursing, rehabilitation nursing, ethics, critical thinking, culturally congruent care, end of life care, medical surgical nursing, maternal child nursing, pediatric nursing, and professionalism. Graduates are eligible to take the state licensing exam to become a competent Licensed Vocational Nurse. The program is offered four times a year, and the class size is limited to 20 students. The duration of the program is one year.
Admission criteria:
Must be at least 18 years of age
Submit a valid government-issued ID and social security card
Submit official grade 12 transcripts showing completion or official GED transcript
Provide verifiable proof of certification as a Certified Nurse Assistant from the CA Department of Public Health
Complete a Live Scan background screening
Submit health screening documents including the Curam College Student Health Questionnaire form, medical physical with no restrictions, malpractice insurance, and current immunizations for influenza, hepatitis B, TB exam, MMR
Submit satisfactory scores on an approved entrance exam – TEAS: Proficient, HESI: Satisfactory, Kaplan: 75% in each section, P-NAT: 65% overall
Submit official transcripts for any college courses complete – for transfer credit
Submit two letters of reference – from a nursing professional on company letterhead, dated and signed
Complete an admission essay describing in detail why they are a good candidate for to care for people within the nursing community
The program cost of $25,672 includes tuition, application fee, entrance exam, registration, textbooks, equipment, and software.
Carrington College California
The state-approved vocational nursing program at Carrington College equips students with the skills they need to make a difference in the lives of patients. Students have the option to complete the Associate of Science degree program after completing the Certificate of Achievement. The general education requirements for obtaining the AS degree may be completed online.  The vocational nursing program combines didactic and clinical instruction to help students develop the knowledge and skills to function as a key member of a health care team, caring for patients with common and well-defined health problems. Course instructors emphasize real-world experiences as much as classroom instruction, giving students the opportunity to build the technical skills to record vital signs, assist patients with the activities of daily living, administer medication, collect samples for testing, and evaluate patients' needs. The curriculum includes topics such as basic pharmacology, pediatrics, nutrition, obstetrics, medical-surgical nursing, data collection, and nursing trends in approximately 1560 contact hours. Preparation for the NCLEX-PN is a key feature in the program. The approximate time to complete the Certificate of Achievement is 48 weeks.
Admission criteria:
Must submit a completed application for admission
Obtain a minimum score of 15 on the Wonderlic SLE
Attend an interview with an enrollment services representative
Provide evidence of good physical and mental health as determined by a medical exam
Submit to a background check and pass a drug screen
Pass the ATI TEAS admission assessment with a combined score 53%
Submit two letters of recommendation from former employers or professors
Prior CNA education will be evaluated for transferability
Submit transcripts of all college coursework – transfer coursework must have been completed within the previous five years
Provide proof of immunization – hepatitis B, MMR, varicella, Tdap, TB test, and influenza
The program cost of $38,096 includes tuition, books and supplies.
Website: https://carrington.edu/
Address: 8909 Folsom Blvd., Sacramento, CA 95826
Phone: 916-361-1660
NCLEX-PN Pass Rate: 81%
Charles A. Jones Skills and Business Education Center
The LVN program at the Charles A. Jones Career and Education Center is approved by the BVNPT. The program includes 1408 hours of classroom and clinical instruction. Course topics include nursing practice and process, standards of care, ethical, and legal issues, health promotion and preventative care, genetics, respiratory health, immunology, musculoskeletal health, metabolic and endocrine health, psychiatric nursing, pediatric nursing, emergency nursing, and maternity and neonatal nursing. Graduates will receive a CAJ certificate of completion and will be prepared to take the state licensure exam. The duration of the program is 35 weeks. Classes meet Monday through Friday – 40 hours per week.
Admission criteria:
Must have a high school diploma or equivalent
Attend CAJ virtual orientation – by appointment only
Take and pass the assessment test – Reading: 243 Math: 236
Provide proof of completing at least 200 hours of nursing care under licensed professional
Must have current CPR/First Aid certification
Take and pass the nursing entrance exam – Kaplan, C-NET, HESI, or TEAS
Must pass drug test and criminal background clearance
Obtain a negative TB test or chest x-ray
Must have current CNA licensure
Take and pass the prerequisite courses with a minimum grade C – anatomy and physiology, human growth and development, math for meds, nutrition, medical terminology, intro to pharmacology, intro to psychology
The cost of the program is $23,004 and includes registration fee, tuition, books, and materials.
Website: http://caj.scusd.edu/
Address: 5451 Lemon Hill Avenue, Sacramento, CA 95824
Phone: 916-433-2600
NCLEX-PN Pass Rate: 70%
Sacramento City College
The Vocational Nursing Program at Sacramento City College is a 53-unit program that is approved by the California Board of Vocational Nursing and Psychiatric Technicians. Students complete the program in three semesters and are eligible to apply for the NCLEX-PN for licensure as a Licensed Vocational Nurse. Graduates receive a certificate at the conclusion of the training and have the option to receive an associate's degree after completing additional requirements. The full-time curriculum is rigorous, including the clinical experience. Therefore, full-time employment is not recommended.
Admission criteria:
Apply to Sacramento City College
Attend an information session
Provide official college transcripts for any coursework completed outside the Los Rios Community College District
Complete a Course Substitution Petition for any classes taken outside the Los Rios Community College District
Read and complete the online application for the Vocational Nursing program
Provide proof of high school graduation or equivalent or proof of AA/AS
Complete anatomy and physiology with a cumulative GPA of 3.0 – transcript required
Complete medical language, psychology, nutrition, and human development life span with a cumulative GPA of 2.5
Provide a copy of TEAS test scores
The financial requirements for the program are $4,000 and include tuition, uniforms, books, nurse kit, immunization, background check, drug screen, CPR certification, badges, licensing fees, physical exam, and malpractice insurance.
Website: https://scc.losrios.edu/
Address: 3835 Freeport Blvd., Sacramento, CA 95822
Phone: 916-558-2275
NCLEX-PN Pass Rate: 83%
Unitek College
Unitek College's Vocational Nursing program includes classroom instruction, practical training in a simulated lab, and clinical experiences at community nursing facilities. Students can enroll in one of two options, resulting in a certificate or associate's degree at the conclusion of the program. The curriculum includes classroom and clinical experiences in medical-surgical nursing, practical nursing concepts, obstetric nursing, pharmacology, mental health nursing, pediatric nursing, clinical nutrition, laws and ethics, communication and interpersonal relationship, leadership skills, and trends and issues in nursing. It covers a total of 1620 instruction clock hours: 660 hours of theory and 960 hours of supervised lab and clinical instruction. Graduates will be eligible to sit for the NCLEX-PN licensure exam.
Admission criteria:
Attend a career planning session and admissions interview
Submit proof of high school education or equivalent
Take and pass an entrance assessment exam
Submit an application for admission
Sign the Enrollment Agreement
Obtain a clear background check
Complete the VN PRQ courses within 12 months prior to the scheduled start date of the VN program
Complete the physical exam requirements including immunizations and TB testing
Must be at least 18 years of age on or before the start of clinical rotations
The program cost of $35,401 includes textbooks, registration fee, supplies, lab fee, program fees, STRF, and technology fees.
MiraCosta College

The vocational nursing program at MiraCosta College is specifically designed for individuals who prefer a weeknight/weekend schedule. The combined classroom (576 hours) and clinical instruction (960 hours) total 1536 hours in compliance with the Board of Vocational Nursing and Psychiatric Technicians' requirements. After completion of the program, students will receive a certificate with the option to receive an associate's degree after completing additional course requirements. Course content includes gerontology, nutrition, communicable disease, mental health nursing, medical-surgical nursing, oncological nursing, neurosensory systems, perioperative nursing, orthopedic nursing, and rehabilitation. Prerequisite course requires include biology or body systems survey for health professionals, math, and basic pharmacology.
Admission criteria:
Must be 17 years of age or older
Must apply to MiraCosta College
Submit proof of high school graduate or an official transcript of a Bachelor's or Associate degree from an accredited college or official score report for GED or high school proficiency exam
Official transcripts of prerequisite courses
Must complete a physical exam, laboratory tests, and immunizations – must be free from communicable diseases, infections, and be able to perform the essential requirements of the program
Complete a background check and urine drug screen
The approximate cost of attendance is $2,800 for tuition, textbooks, uniform, immunization, and physical exam. Financial aid is available for qualifying students.
Website: https://www.miracosta.edu/
Address: 2535 Capitol Oaks Dr. Suite 205; Sacramento, CA 95833
Phone: 760-757-2121
NCLEX-PN Pass Rate: 50%
Gurnick Academy
The Vocational Nurse Program at Gurnick Academy leads to a Vocational Nursing Diploma. The curriculum covers a total of 1,570 instructional hours including 954 hours at a clinical facility. Nursing courses progress from simple to complex, following a specific sequence the requires a passing score before progressing to the next course in the sequence. Instruction will include lectures, laboratory training, and a clinical component to augment the classroom theory. Course topics include fundamentals of nursing, anatomy and physiology, clinical nutrition, medical surgical nursing, pharmacology, obstetric nursing, pediatric nursing, psychiatric nursing, and preparation for NCLEX. Students can complete prerequisite courses in online or residential format. New students are admitted two times per year at the San Mateo campus. Morning and evening schedules are available.
Admission criteria:
Must have a high school diploma from an accredited high school or GED
Must be at least 18 years of age
Take and pass the entrance exam with the minimum score required – 16
Comply with the school's requirements for immunizations, health screening, background check, and CPR/First Aid
Must have the ability to read and write English
Attend an interview with the VN program coordinator
Complete the Essential Medical Bioscience prerequisite course with a grade C or better
Complete the Distance Education Questionnaire
The total program cost of $35,493.50 includes STRF, registration fee, books, personal tablet, and tuition. The prerequisite courses are not included in the tuition cost.
Website: https://www.gurnick.edu/
Address: 2121 South El Camino Real, Building B-200, San Mateo, CA 94403
Phone: 1-877-GURNICK
NCLEX-PN Pass Rate: 63%