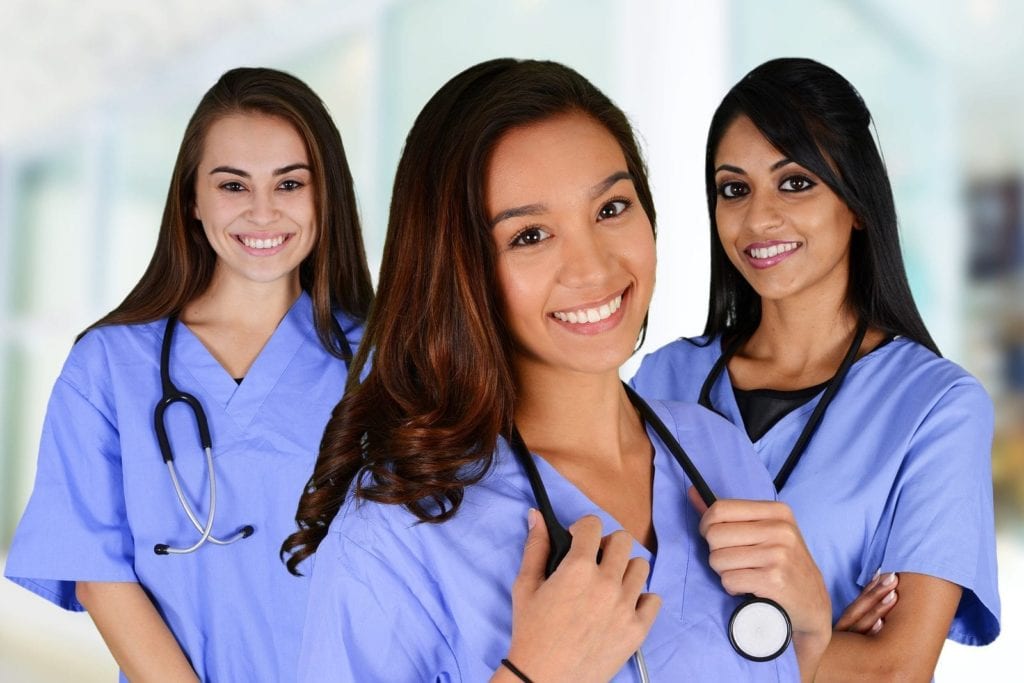 Licensed practical nurses serve as a vital link between registered nurses, physicians, and patients. They participate in the planning, implementation, and evaluation of nursing care. Their duties include, but are not limited to, observing, recording, and reporting critical information to senior medical staff, administering medication and treatment, wound care, assisting patients with the activities of daily living, and prepping patients for operative procedures. According to the Bureau of Labor Statistics, employment for LPNs is expected to grow faster than the national average for all professions. While there is a decrease in opportunities in hospitals, there are numerous opportunities in long-term care and home health care to address the needs of the aging baby boomer population. The average income for LPNs in Ohio is $43,000. However, income varies based on geographic location, experience, education, and the capacity in which LPNs are employed.
Columbus School of Practical Nursing
The Practical Nursing Program at Columbus School of Practical Nursing prepares graduates for the NCLEX and work in a variety of settings. The school maintains an outstanding NCLEX pass rate on the state board exam, experienced faculty who provide individual support, employer satisfaction with graduates, and I.V. therapy included. Applicants must pass the HESI A2 exam (or TEAS V scores), present a high school diploma or GED, CPR card for healthcare providers, and STNA license. Students accepted on a provisional basis must receive criminal background clearance and TB clearance, and submit immunization records and demonstrate evidence of good physical health. The program offers 1440 hours covered over a period of 12 months – daytime only. Course content includes anatomy and physiology, general psychology, nutrition, pharmacology, communications through technology, foundations of nursing, nursing care of the adult, community health, maternal-child nursing, pediatric nursing, nursing leadership, and mental health nursing. Tuition is $15,000, not including textbooks, uniforms, duty shoes, parking, and Board exam fees.
Cincinnati State Great Oaks
The Cincinnati State Practical Nursing Certificate program offers day and evening options for all students. Students complete the program in three semesters. Experienced instructors use interactive classroom sessions, hands-training, and clinical experiences to prepare students for the responsibilities of patient care. Course content includes maternal and infant care, basic nursing skills, adult and child health, mental health concepts, gerontology, and community health. Applicants must submit evidence of Ohio state registration as an STNA, complete a criminal background check, CPR certification, physical exam, and maintain a minimum GPA of 2.0 for placement at clinical sites. Graduates are eligible to take the NCLEX-PN for state licensure.
Columbus State Community College
Columbus State Practical Nursing Program offers full-time evening and weekend schedules. The program prepares graduates for the provision of direct care services as Licensed Practical Nurses. The sequential program helps students develop essential skills, such as critical thinking, communication, and problem-solving skills. Classroom, lab, and clinical instruction promote learning through didactic and real world experiences. The clinical experience, which takes place in local hospitals and nursing homes, affords students the opportunity to apply the concepts learned in the classroom to promote, maintain, and restore patients' health. Applicants must complete the prerequisite courses, possess a high school diploma or GED, pass the TEAS V and HESI A2 tests, attend a mandatory information session, present evidence of current Ohio State STNA certification, immunization records, criminal background and TB clearance. Tuition for the 37-credit hour program is $5,165 plus expenses for fees, equipment, uniform, books, and clinical supplies. Graduates are qualified to take the NCLEX-PN.
Felbry College
Graduates of the Practical Nursing Program at Felbry College will have the knowledge and skills to function within the scope of practice defined for Ohio's practical nurses. The program combines theoretical and practical instruction to emphasize the social, physical, behavioral sciences, principles of pharmacology, nutrition, and microbiology, nursing across lifespan, and collaboration with the healthcare team to promote patient health. Students also learn the importance of demonstrating the values of nursing, using critical thinking skills, and effective communication for interacting with patients and their families. Applicants must submit a high school diploma or GED, college transcripts (if applicable), and proof of US residency. Applicants are also expected to obtain criminal background clearance, pass an entrance test and interview, and complete the health requirements for the clinical practicum. Graduates will receive a Diploma in Practical Nursing, which will qualify them to take the NCLEX-PN. Tuition for the program is $16,087.50 plus expenses for textbooks ($2,194.50), lab and technology fees ($981.00), application fee ($125), NCLEX review and graduation ($475), and other miscellaneous fees and expenses.
American Institute of Alternative Medicine
AIAM's holistic approach to teaching the science of nursing prepares students to use a compassionate approach while caring for others. Through a consecutive series of courses, students learn ethics governing the practice of nursing as well as the importance of patients' emotional comfort. The 960 total program hours includes hands-on care in hospitals and nursing facilities in Columbus. Students complete the curriculum in 15 months (five 12-week quarters) and earn 59 credit hours. Applicants must submit proof of HS diploma or GED, the $100 application fee, and a completed application. After an interview with an admissions representative and submitting passing scores on an entrance test and TEAS, the nursing selection committee will make a final decision. The cost of attendance is $19,875 including fees, uniform patches, and a nursing supply bag. Students must budget for textbooks, uniform, clinical supplies, parking, and state exam fees.
Fortis College
Fortis College prepares practical nursing students for entry-level employment in acute care, home health care, and long-term care. The program comprises of classroom, hands-on lab sessions, and clinical experiences in the Columbus and Westerville areas. Students complete the full-time program in just 60 weeks and have all the knowledge and skills to succeed on the NCLEX-PN for state licensure. Course content includes practical nursing concepts, medical-surgical nursing, maternal-child nursing, pediatric nursing, geriatric nursing, growth and development, family and community care, ethics and laws governing nursing, and trends and issues in nursing. Tuition for the program is $22,243 plus $944 for books and supplies.
Hondros College
Hondros College offers four quarters (44 weeks) of practical nursing education to prepare students for the NCLEX-PN. Students learn how to contribute to data collection and participate in the nursing process, function with the three primary roles of a nurse (provider, manager, and member), use critical thinking, learning, and teaching principles, perform basic therapeutic interventions, and delegate work the unlicensed professionals. The clinical experience, at MRDD facilities, hospitals, day care facilities, and long-term care facilities, begins in the first term, giving students a chance to put classroom instruction into immediate practice. The program facilitates 12 hours of clinical rotation every week – shifts are approximately 6 to 12 hours. Prospective students must attend the information session to determine if the program is a right choice. Tuition for the program is $17,810 plus $3,238 for books and supplies.