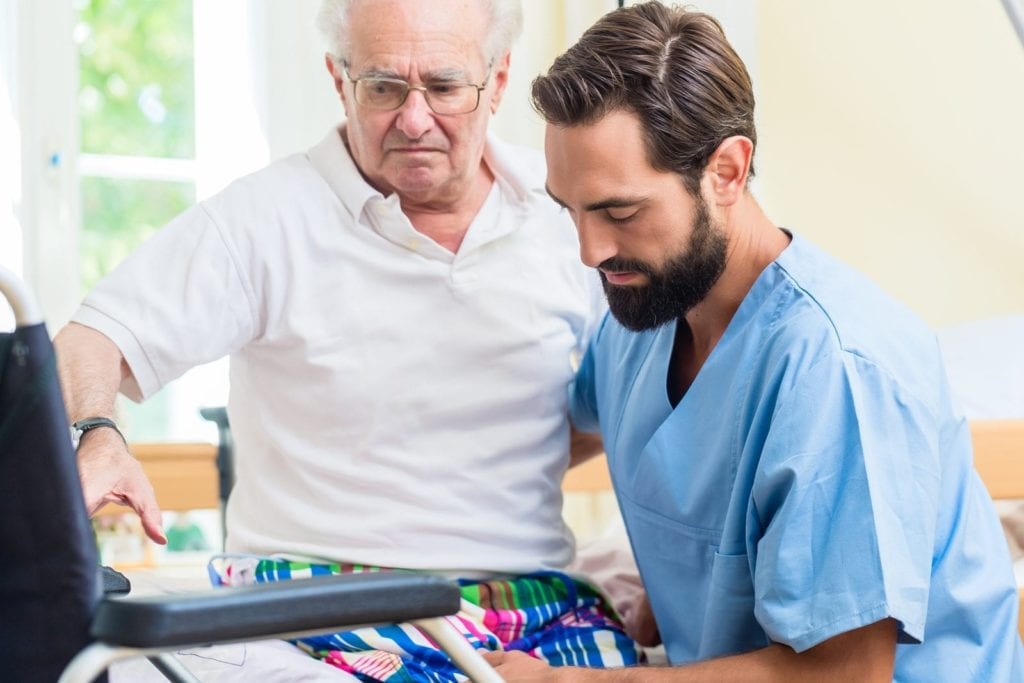 Establish a stable career by training for an occupation where there is high demand. According to data from the United States Bureau of Labor Statistics, nursing is one of the fastest-growing occupations. Demand is not expected to slow down especially in light of the expanding needs of the baby boomer population and the expectation that close to half of the nursing workforce will retire in the next decade.
Although there's a market for qualified nurses, licensed practical nurses can face challenges in securing employment in some practice settings. Opportunities in emergency rooms and critical care are almost always limited to registered nurses. Hospitals across the nation have begun phasing out LPNs in preference for registered nurses with a bachelor's degree or higher. Legal restrictions can also limit the LPN's scope of practice. That being said, LPNs enjoy greater autonomy in long-term care facilities like rehabilitation centers, nursing homes, and patients' homes. In the complex healthcare environment, advanced degrees earn more respect than years of experience. It is for this reason many LPNs eventually go back to school to obtain an associate degree or baccalaureate degree in nursing. If you're passionate about helping others, enrolling in a practical nursing program would give you an opportunity to do meaningful work in a profession that offers stability and growth.
Fortis College
The Practical Nursing Program at Fortis College covers 1289 clock hours in 60 instructional weeks. Students who successfully complete the requirements will receive a Practical Nursing Diploma that will grant them eligibility to sit the NCLEX for licensure as a Practical Nurse. The course is delivered in hybrid format where a few courses are delivered online and the rest in a traditional campus format. At the conclusion of the theory and practical components of the program, students will be able to provide safe patient care, understand the scope of practice of a licensed practical nurse, contribute to the plan of nursing care, demonstrate understanding of the nursing process and apply critical thinking to solve problems, use verbal and non-verbal methods of communication, promote health and wellness, and collaborate with other health care professionals in the best interest of the patient.
The curriculum requires completion of 82-quarter credits. Course topics include anatomy and physiology, introduction to informatics, quality and safety in nursing practice, pharmacology, foundations of nursing, gerontological nursing, mental health nursing, medical surgical nursing, intravenous therapy, maternal-newborn nursing, concepts of leadership, transition to PN practice, community-based nursing, and human growth and development.
Admission criteria:
Be a high school graduate or possess the recognized equivalent of the diploma
Be 17 years or older
Complete the applicant information form
Interview with an admissions representative
Take the Wonderlic Scholastic Level Exam (SLE) and obtain a minimum score of 16
Provide proof of immunizations
Submit to and pass a criminal background check
Submit to and pass a drug screen
Have current BLS certification by the American Heart Association
Tuition for the program is $21,726 plus $2,258 for books and supplies.
Hondros College
Hondros College Practical Nursing Program is a launching pad to a career in nursing. There are no wait lists, prerequisites, and nursing courses begin on day one. The curriculum includes lectures in the classroom and practical learning experiences in the simulated lab and affiliate sites. It requires completion of 48 credits in the 12 months that it takes to complete the program. Experienced faculty focus on the hard and soft skills students need to succeed in the field. These skills include IV therapy training, nursing simulation practice, licensure exam prep, communication expertise, professionalism, and critical thinking and problem solving. Course topics include introduction to anatomy and physiology, dosage calculation, critical thinking for the practical nurse, fundamental concepts of practical nursing, intravenous therapy for the practical nurse, family centered nursing, adult health nursing, mental health nursing, clinical judgment in practical nursing practice, and transition to practical nursing. Day, evening, and weekend schedules are available. Students who complete the program will be eligible to take the NCLEX for Practical Nurses.
Admission criteria:
Be a U.S. Citizen or permanent resident
Be 18 years or older
Complete and sign the application for admission and pay the application fee
Complete the Student Online Readiness Survey
Be a high school graduate or the recognized equivalent
Complete and sign the enrollment agreement
Attend an interview with an admissions representative
Complete a criminal background check via an electronic fingerprint check
Take the HESI Admission Assessment Exam and achieve a cumulative score of 70% or higher
Tuition for the program is $18,010 plus $2,962 for books and supplies.
Address: 4140 Executive Parkway, Westerville, OH 43081
Phone: (614) 508-7277
NCLEX-PN Pass Rate: 93.49%