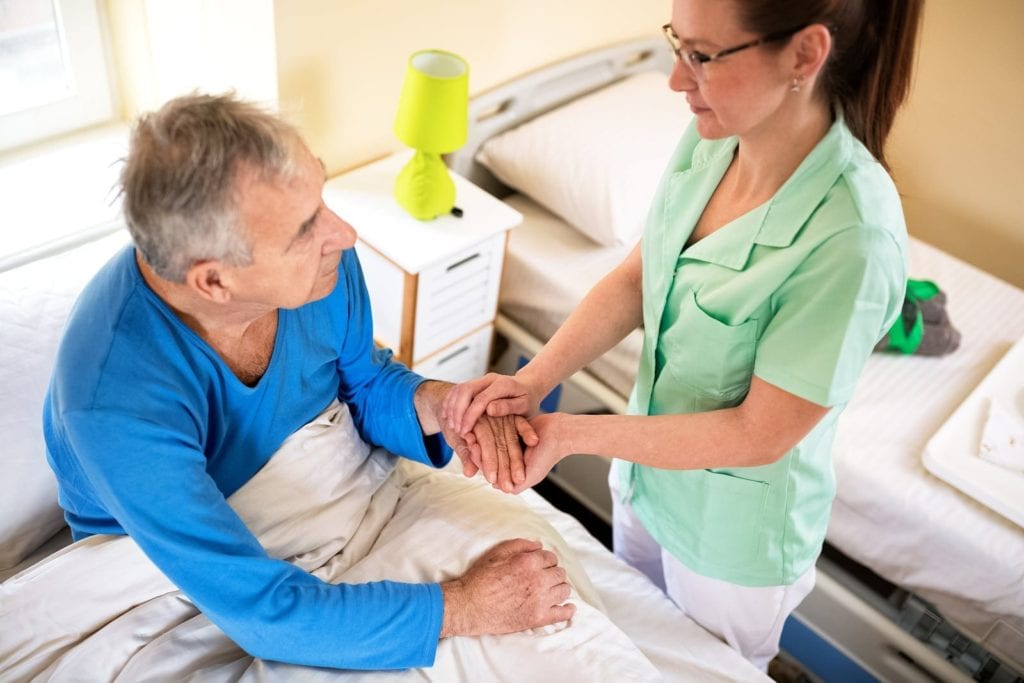 Licensed Practical Nurses are integral to the delivery of patient care in extended care facilities, hospitals, clinics, physicians' offices, and other healthcare facilities. LPNs, like registered nurses, must be compassionate, observant, good communicators, and organized to manage the role and responsibilities. The practical nursing program offered at community colleges and vocational schools support the development of critical thinking, decision-making, and leadership abilities that will help LPNs collaborate efficiently with registered nurses, physicians, and allied health professionals in the best interest of the patient. They will also learn how to ease the burdens of patients who are suffering from physical as well as emotional distress.
Due to higher educational standards, employment for practical nurses in hospitals is not as prevalent as decades ago. However, the Bureau of Labor Statistics projects a 12 percent growth in employment for these professionals – where the most significant job growth will be in long-term care settings. In long-term care, their duties include the development of patient care plans, collecting data and updating patient profiles, communicating with patient families, administering medications, setting up IVs, wound care, and supervising nursing assistants. Practical nurses perform their duties under the direction of a registered nurse. In long-term care, they may function as charge nurses. The projected increase in employment is partly due to the expanding aging population in need of long-term care and the general growth in demand for health care services.
First Coast Technical College
The Practical Nursing program at First Coast Technical College follows a sequence of courses that equip students with adequate knowledge and skills to assume entry-level employment, pass the practical nurse licensure exam, and pursue further education in health. The course content includes theory and clinical experiences in acute, long-term, and community healthcare settings. Course topics include the role and function of the practical nurse, community health concepts, nutrition, human growth and development over the lifespan, interpersonal relationship skills, body structure and function, nutrition, interpersonal relationship skills, pharmacology, mental health concepts, legal aspects of practice, administration of medications, and current issues in nursing. After completing the required 1,350 hours, students will receive a Practical Nursing Diploma. A day and evening schedule are available. The day program must be completed in 13 months. The duration of the evening program is 17 months.
Admission criteria:
Be 18 years or older
Attend a program information session
Apply for Federal Aid
Submit official sealed transcript
Take and pass the TABE assessment
Complete the Florida Residency Affidavit
Schedule and take the TEAS with a score of 55% or higher
Submit a completed application and fee of $10
Complete a background check – $50
Have current BLS for Health Care Provider
Complete physical exam and immunizations – MMR, PPD or CXR negative test results, Hepatitis B vaccination, influenza vaccination (seasonal), varicella, and Tdap
Tuition costs $4,752 not including the cost of books and fees.
Address: 2980 Collins Ave., St. Augustine, FL 32084
Phone: (904) 547-FCTC (3282)
Fax: (904) 679-3551
NCLEX-PN Pass Rate: 93%
Florida State College at Jacksonville
Florida State College's Practical Nursing program provides adults with the knowledge and skills to become competent, confident, and ethical practitioners of care. Graduates will be eligible to sit the National Council Licensure Examination for Practical Nurses to assume entry-level employment in various healthcare settings. Throughout the program, students must earn a minimum grade C or better on professional courses. The clinical rotations will help to strengthen the knowledge and skills acquired in the classroom. The curriculum covers a total of 1,350 theory and practical instruction hours. Admission to the competitive program is based on academic criteria and other factors as determined by the Department of Nursing.
Admission criteria:
Meet with the program advisor before applying for the program
Complete an application for admission to FSCJ
Complete an application to the Practical Nursing program
Complete a background check and drug screen
Complete a physical exam – upon acceptance to the program
Submit health history and proof of immunizations
Provide proof of active CPR certification from the American Heart Association
Official high school transcript – sent directly to admissions or official copy of GED test scores
Official college transcripts – must be at least 12 credits if using college GPA
HESI Admission Assessment scores of 75% or better
TABE scores or waiver
Deadline dates: May 15 (Fall), September 15 (Spring), February 15 (Summer).
Tuition for the program is $3,902. Books and supplies cost an additional $1,800.
Address: 101 West State Street, Jacksonville, FL 32202
Phone: (904) 633-8100
NCLEX-PN Pass Rate: 80%
Concorde Career College
The Practical Nursing Diploma program at Concorde Career College covers 1,722 contact hours of theory and practical instruction. The program is designed to be completed in 50 instructional weeks (full time) and 80 instructional weeks (part time). Students will learn the skills and gain the theoretical knowledge to qualify for entry-level positions in acute care hospitals, physicians' offices, extended care facilities, and other healthcare facilities. Course topics include personal and practical concepts, foundations of nursing, anatomy and physiology, nutrition, mental health nursing, integumentary nursing, medical-surgical nursing, maternal and child nursing care, reproductive nursing care, pharmacology, leadership, professional development, human growth and development, and community health nursing. After completing 50-semester credits, students will receive a diploma and will be eligible to sit the NCLEX for Practical Nurses.
Admission criteria:
Attend a personal interview and campus tour
Complete the Enrollment Agreement, disclosures, and other admission documents
Complete the entrance assessments
Provide acceptable documentation of high school graduation
Be able to read, speak, and write English
Obtain a minimum score of 17 on the Wonderlic SLE and 70 on the HESI
Complete a criminal background check and interview with the Program Director
Tuition for the program is $31,557. Books and supplies cost an additional $2,403.
Address: 7259 Salisbury Rd, Jacksonville, FL 32256, USA
Phone: 904-725-0525
Fax: 904-807-0108
Toll-free: 1-800-693-7010
NCLEX-PN Pass Rate: 25%
Jersey College Nursing School Jacksonville Campus
Jersey College prepares adults for a career as a Licensed Practical Nurse. The curriculum combines clinical experiences with classroom coursework to produce graduates who will be capable and confident practitioners in acute and extended care settings. Instructors emphasize the development of technical, interpersonal, and critical thinking skills. The curriculum covers 1,501 hours of instruction and follows a humanistic approach to nursing. The required clinical rotation covers almost half the total curriculum. Course topics include fundamentals of nursing, adult nursing, mental health nursing, geriatric nursing, maternal newborn nursing, pediatric nursing, and leadership. Graduates will receive a Practical Nursing Diploma and will be eligible to sit for the NCLEX-PN. Day and evening classes are available. The day schedule meets Monday through Friday from 7:00 am to 3:30 pm for 48 weeks. The evening program meets Monday through Thursday and one weekend class day for 72 weeks. Class times are from 5:30 pm to 10:00 pm.
Admission criteria:
A high school diploma or GED
Attend an admissions interview
Successfully pass an entrance exam – minimum score of 75%
Pass a criminal background check
Complete a health exam and immunizations
Have valid CPR certification
The cost of attendance is $23,125 and includes tuition, books, enrollment fee, criminal background check, application fee, supplies, technology fee, uniforms, and toolkit.
Address: 8131 Baymeadows Cir W, Jacksonville, FL 32256
Phone: (904) 733-3588
NCLEX-PN Pass Rate: 88.89%