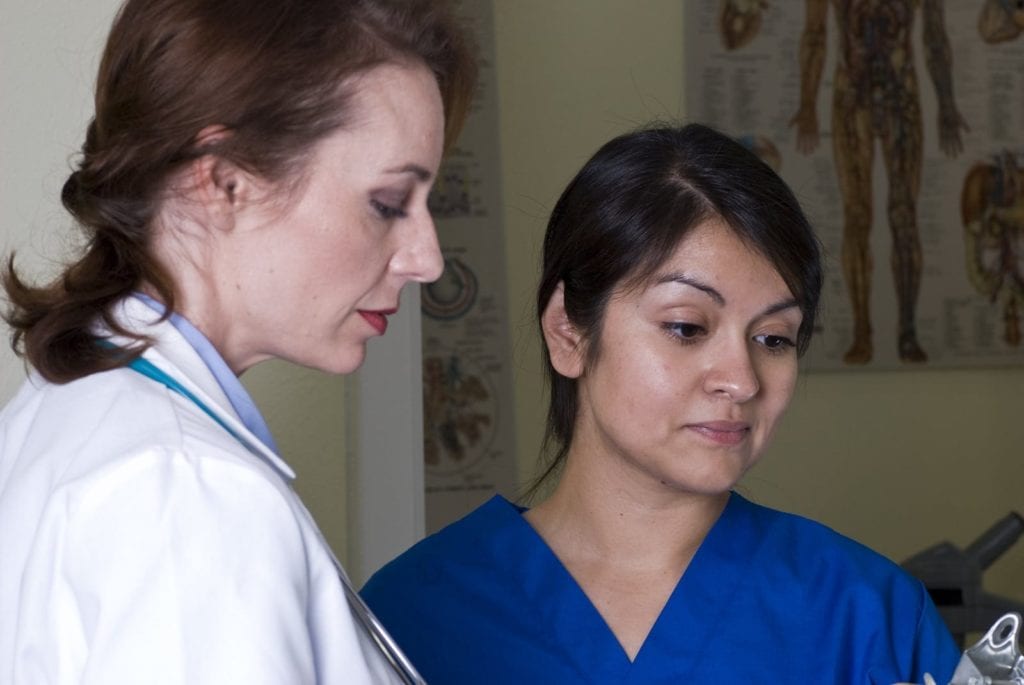 Working alongside registered nurses (RNs) and other health care providers, more than 754,500 licensed practical nurses (LPNs) work daily to improve patient outcomes. They work on the front lines of care advocating for patients and their families and managing complex illnesses. In an age where nurses' success is measured not just by the quality care they deliver, but also patient recovery and satisfaction, nurses must think critically and exhibit sound judgment. Practical nursing programs combine nursing courses with leadership and decision-making workshops to produce professionals who will have a positive impact on recovery.
The practical nursing program lays the foundation for further study for graduates who plan to pursue other careers in the health cluster. The training typically serves as a gateway to registered nursing programs that let nurses take on a wider role in care. Due to the weight of responsibility placed on nurses, the preparation is not short-term. However, practical nursing requires less preparation than registered nurses. Most programs can be completed in 12 to 18 months. In addition to the essential skills and knowledge, nurses must be attentive, ethical, compassionate, accurate, and committed. They must also be good communicators to work efficiently with members of the health care team and share information with patients of different backgrounds, perspectives, and values.
Santa Fe College
The Practical Nursing Program at Santa Fe College prepares adults for a career as a Licensed Practical Nurse. Students who successfully complete the program requirements will be eligible to sit the state exam to become Licensed Practical Nurses. The full-time program is designed to be completed in 12 months. It covers a total of 1350 contact hours of classroom and clinical assignments. Course topics include concepts of health, fundamentals of nursing, data collection techniques, critical thinking and nursing care skills, medication administration, medical-surgical nursing, pediatric nursing, disease prevention, health promotion, pharmacological concepts, growth and development, mental health, communication, and nursing leadership.
Admission criteria:
Complete an application for admission – available online. The application for the Practical Nursing program is separate from the admission to the college
Request high school transcripts to be sent to the Office of Records
Complete the college placement testing or submit documents for a waiver – applicants who have completed college-level math and English with a grade C or above may apply for exemption from placement testing
Attend a Group Advisement session for details and expectations for the program
Meet with a Health Sciences advisors to receive coursework recommendations
Submit an application to the Health Sciences department
Applicants with CNA or Military Corpsman experience will receive additional points in the selective program
Complete background screen and drug testing
Have a current CPR card and health insurance
Tuition and lab fee for in-state students cost $4,142.
Address: 3000 NW 83rd Street, Gainesville, FL 32606
Phone: 352-395-5000
NCLEX-PN Pass Rate: 100%
Jersey College Nursing School Jacksonville Campus
Adults who enroll in the Practical Nursing program at Jersey College will attend classroom sessions and participate in clinical experiences in a medical setting to develop the skills and competencies to become a Licensed Practical Nurse. The development of critical thinking, communication, and technical skills is a major emphasis of the program. After completion of 1501 hours of theory and practical work, students will be prepared for success on the NCLEX-PN, which is essential for approval to practice as an LPN in Florida and most states. In the classroom, students will learn adult nursing, fundamentals of nursing, mental health nursing, geriatric nursing, pediatric nursing, maternal newborn nursing, and nurse leadership. Jersey College offers both day and evening schedules to accommodate working adults. Students enrolled in the day class meet Monday through Friday from 7:00 am to 3:30 pm for a total of 48 weeks. The 72-week evening program meets Monday through Thursday from 5:30 pm to 10:00 pm and one day on the weekend. The day schedule meets Monday through Friday from 7:00 am to 3:30 pm for 48 weeks. The evening program meets Monday through Thursday and one weekend class day for 72 weeks. Class times are from 5:30 am to 10:00 pm.
Admission criteria:
A high school diploma or GED
Interview with an admissions representative
Obtain criminal background check
Pass an entrance assessment with a minimum score of 75%
Present proof of current CPR certification
Provide a completed health exam report and proof of up-to-date immunizations
Have valid CPR certification
The cost of tuition, supplies, fees, uniforms, textbooks, and admissions fees is approximately $23,125.
Address: 8131 Baymeadows Cir W, Jacksonville, FL 32256
Phone: (904) 733-3588
NCLEX-PN Pass Rate: 88.89%
Taylor College
The Practical Nursing program at Taylor College prepares students for entry-level employment as a Licensed Practical Nurse. The curriculum delivers 1065 contact hours of instruction: 585 hours in the classroom, 120 hours of lab practice, and 360 hours of clinical externship. To earn the Practical Nursing Diploma, students must complete 51 credit hours. The duration of the program is 16 months – 4 semesters. Course topics include human anatomy and physiology, human nutrition, lifespan development, vocational adjustment, fundamentals of nursing skills, pharmacology principles in nursing, medical-surgical nursing, maternal child nursing, introduction to mental health, and transition to practice. Upon completion of the Florida Board of Nursing approved program, graduates will be eligible to apply for the National Council Licensure Examination for Practical Nurses (NCLEX-PN) to practice as a
Admission criteria:
Attend an information session
Pass a level II background check
Submit documentation of up-to-date immunizations – TB, hepatitis B, MMR< Tdap, varicella, and flu vaccination
High school transcript or GED
Complete admission testing (TEAS) with a minimum score of 62%
Completed enrollment application
Copy of driver's license and social security card
Current Health Care Provider CPR certification
The total estimated cost of attendance is $14,690. It includes registration, technology fee, liability and professional fee, tuition, supplies, online access fee, ATI fee, and graduation fee.
Address: 5190 SE 125th St, Belleview, FL 34420
Phone: (352) 245-4119
Fax: (352) 245-0276
NCLEX-PN Pass Rate: 100%