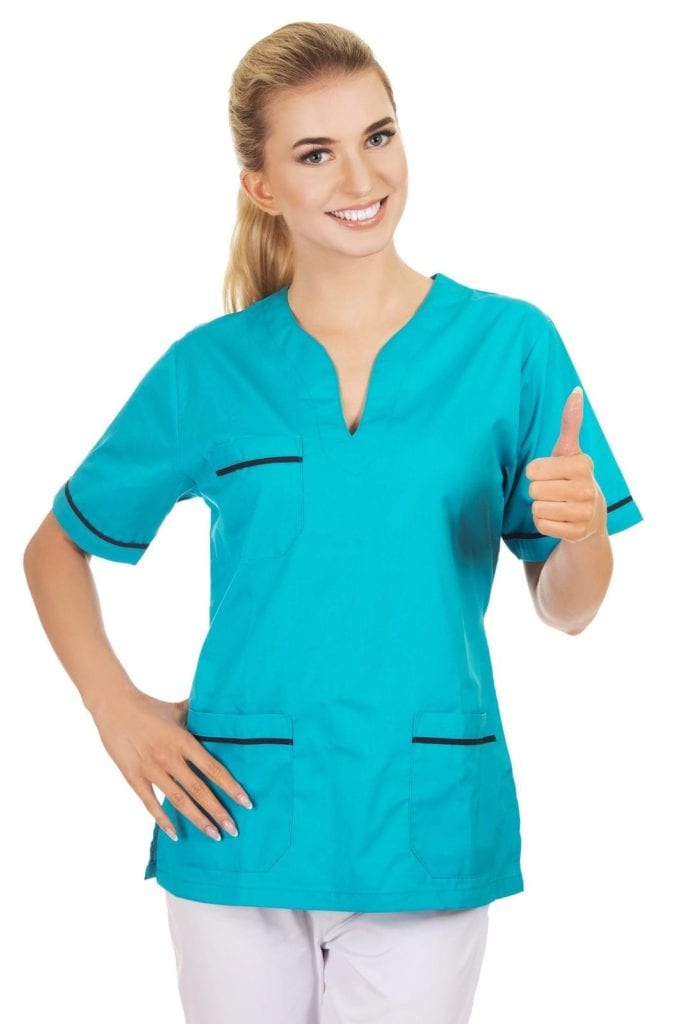 The aging baby-boomer population increases the overall need for healthcare services. Licensed practical nurses are needed in home health environments and residential care facilities to care for senior patients. Upon completion of a formal licensed practical nursing program, graduates become eligible to take the NCLEX-PN for licensure in Illinois. LPNs can them practice under the supervision of a registered nurse or physician to keep patient records, monitor patients' health, report the status of patients, administer basic nursing care, assist patients with personal hygiene and the activities of daily living, and educate families how to care for sick relatives. The extent of their duties depend on the work setting, but they are vital to the continuity of patient care in all medical settings. The annual salary for LPNs in Illinois is $44,000 t0 $46,000, which translates to an average hourly rate of $22 to $23.
Ambria College of Nursing
Ambria College of Nursing's top-notch LPN program helps students achieve their nursing career goals. The flexible program is available on a morning, afternoon, or evening schedule. Class times are 8:00 am to 12:00 pm, 1:00 pm to 4:00 pm or 4:00 pm to 8:00 pm. Clinical times are 7:00 am to 3:00 pm for the day shift or 3:00 pm to 11:00 pm for the evening shift. Students have the option to set their own pace and can complete the program in 8 months, 12 months, 16 months, or 20 months. Interested persons must attend an information session to receive up-to-date requirements for admittance. General requirements include a reading placement exam, math placement exam, LPN entrance exam, proof of CNA licensure, and application for federal financial aid. Interested persons must also complete the prerequisite courses: Intro to PC, Math for Nurses, General Psychology, and English Composition. Course modules include Fundamentals of Nursing, Nursing Pharmacology, Maternal Child, Nursing of Children, Adult Nursing, and PR Role Transition for a total of 929 contact hours. The total estimated cost of attendance is $22,000. Financial aid is available for qualifying students.
Address: 5210 Trillium Blvd. Hoffman Estates, IL 60192
Phone: 847-397-0300
Email: admissions@ambria.ed
NCLEX-PN Pass Rate: 93%
Americare Technical School
The Practical Nursing program at Americare Technical School combines classroom instruction with clinical experience to produce graduates who are prepared for success on the NCLEX-PN.  Students develop knowledge and skills in the areas of Medical-Surgical Nursing, Geriatrics, Pediatrics, Pharmacology, and Obstetrics. Students who successfully complete the program can assume an entry-level nursing position in a hospital, clinic, or long-term care facility. Americare's flexible schedule lets students balance the demands of school and family/work commitments with weekday, weeknight, and weekend hours. Interested persons must complete and pass the prerequisite courses: Introduction to Psychology, Fundamentals of Computers, Introduction to Health Science, Medical Terminology, Nutrition, Mathematics for Nurses, and Anatomy and Physiology I and II. ATS also accepts transfer credits from accredited colleges, universities, and vocational schools. The age of the credits, compatibility with course descriptions, and grade earned will determine eligibility to transfer. Other admission requirements include a completed application, a high school diploma or GED, completion of the nursing assistant program, a passing score on the TEAS exam, a fingerprint-based Health Care Worker Criminal History Records Check, current CPR certification, a physical exam, and medical insurance. Students must complete the 1402 contact hours (107 credit units) to graduate from the program. Tuition costs $18,000, including prerequisite courses and fees.
Address: 505 Busse Highway, Park Ridge, IL 60068
Phone: (847) 825-8773
Fax: (847) 825-8774
Email: info@americaretechnical.com
NCLEX-PN Pass Rate: 85%
International Career Institute
Students enrolled in the practical nursing program at the International Career Institute can complete the requirements for graduation in just one year. The combination lectures and practical experiences included in the curriculum will prepare students for a career in the field of nursing. Graduates will receive a Certificate of Completion that will confirm their eligibility to take the NCLEX-PN required for licensure in Illinois. Interested persons must complete the prerequisite courses: English Composition, College Algebra, General Psychology, Computer Fundamentals, Medical Terminology, Anatomy and Physiology, and BNA (CNA) Certification. Upon completion of the prerequisite courses with a grade C or above, applicants must pass the admissions exam, present academic transcripts, complete a Fingerprint-based Health Care Worker Criminal History Records Check, obtain CPR certification, complete a physical exam and immunization, and provide documentation of completing high school or GED equivalent. Course modules included in the curriculum are Nursing Fundamentals, Nutrition and Diet Therapy, Medical Surgical Nursing I and II, Nursing Pharmacology I and II, Mental Health Nursing, Child Health Nursing, Leadership Professional Development, and NCLEX-PN Review. The tuition for the program is $13,995 and does not include prerequisite courses and fees.