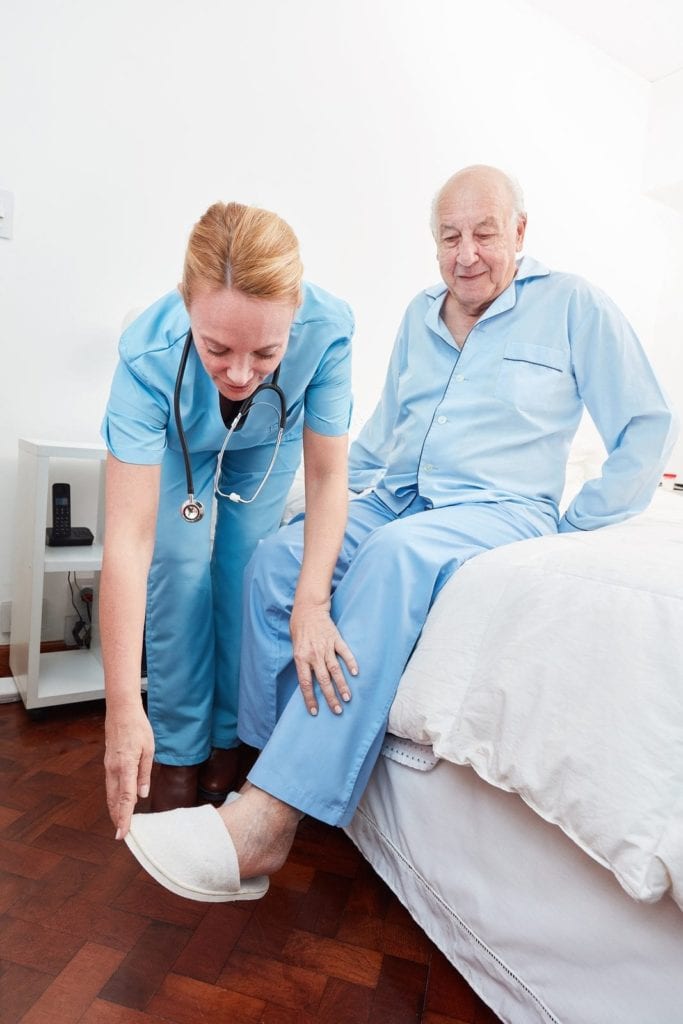 Licensed practical nurses (LPNs) work in nursing homes, hospitals, home health care, and other medical settings. According to a 2015 Workforce Report published by the Illinois Center for Nursing, 48 percent of LPNs work in extended care settings. The rise of the LPN workforce in long-term care is due to the demand for more education for nurses in acute settings. Although the State of Illinois had 30,350 LPNs in 2015, close to 35 percent are on the verge of retirement. The imminent retirement of experienced LPNs will create demand for practical nurses in long-term care. Practical nursing programs prepare adults to fill the demands for direct care providers in long-term care settings, where the need is greatest. The training may be completed in approximately 12 months full-time or 18 months part-time. Graduates must apply to the Illinois Board of Nursing and submit to a criminal background check for a license to practice.
LPNs work under the supervision of a registered nurse to care for the sick or injured. They develop and implement care plans for patients, monitor patient health, assist with tests or procedures, record patient histories, assist patients with personal care, perform wound care, insert catheters, and supervise Certified Nursing Assistants (CNAs) in long-term settings.
Triton College
Triton Colleges offers an associate degree in nursing program that gives students the option to exit for Certificate in Practical Nursing after completing the first two semesters and NUR 190. Those who exit the program must earn a satisfactory score on a standardized nursing exam before they can take the NCLEX-PN for licensure as a practical nurse. Students must earn 42 credit hours to graduate with a Practical Nursing Certificate. Course topics include Human Growth and Development, Promoting Adaptation, Functional Human Anatomy, Nursing Care of Individuals, and Pharmacology. Graduates of the Illinois Department of Financial and Professional Regulation-approved program must complete a criminal background check and report convictions of any criminal offenses to be eligible for licensure in the state. Admission to the program is determined by the student's score on a point-based system.
Admission criteria:
Have an acceptable GPA for the college-level prerequisite courses
Have a high school diploma or GED
Attend a Nursing Information Session
Complete and pass a Triton College placement test
Complete a criminal background check with no findings
Meet the health requirements
Demonstrate computer literacy
Have current CPR certification
Complete the drug screening requirements
Preference will be given to permanent residents of River Grove
Tuition for the 42-credit practical nursing certificate is $8,652 plus fees, textbooks, uniform, and supplies.
Address: 2000 Fifth Avenue, River Grove, IL 60171
Phone: (708) 456-0300
Email: admissions@triton.edu
NCLEX-PN Pass Rate: 92%
Northbrook College of Health Care
The Practical Nursing program at Northbrook College of Health Care covers a total of 1050 clock hours in 11 months. It operates with the approval of the Illinois Nursing Board. Morning and evening sessions are available. The morning session meets for 42 weeks from Monday through Friday from 9:00 am to 2:30 pm – clinical times are from 7:00 am to 1:30 pm. The evening session meets for 50 weeks from Monday through Friday from 6:00 pm to 10:00 pm – clinical times are 3:00 pm to 9:30 pm. Course topics include Anatomy and Physiology, Nursing Foundation, Caring for the Chronically Ill Patient, Caring for the Acutely Ill Patient, Pediatric Care, Care of Developing Family, and Nursing Leadership, and Medication Administration. Graduates will receive a Certificate in Practical Nursing, IV Administration, and Pharmacology.
Admission criteria:
A completed application and non-refundable fee of $25
Complete the pre-practical nursing program with a grade C or above
Pass the PN Entrance Exam ATI-TEAS or HESI A2 ($75)
Be 18 years or older – students 16 years may be accepted with parental consent
Provide proof of identity – A driver's license, state ID, or passport
A high school diploma or GED
Official transcript of completed prerequisite courses
Pass a drug test
Pass a biometrics screen
Provide documentation of good physical health
Have an up-to-date immunization record
Attend an interview with the Nursing Program Director
Have current Incidental Insurance.
The cost of tuition is $16,489. An easy payment plan is available for all students. Indirect expenses include registration, physical exam, books, titers, uniforms, background check, pinning ceremony, graduation ceremony fee, and NCLEX-PN fee.
PCCTI Healthcare
PCCTI Healthcare facilitates a practical nursing that is approved by the Illinois Board of Nursing. The curriculum comprises of both didactic and clinical instruction to prepare students for their role as providers of care. Students learn through lectures and visual presentations in the classroom, hands-on practice in the simulation lab, and supervised externship in a hospital or nursing care facility. The course will also include online practice and exam preparation. Students must earn a minimum grade B and pass the ATI Exit Exam to receive a Certificate of Practical Nursing. The curriculum covers 1080 clock hours in 12 to 14 months. Day and evening schedules are available. The morning sessions meet Monday, Tuesday, Thursday, and Friday from 10:00 am to 2:00 pm in the classroom and Wednesday from 7:00 am to 3:00 pm for clinical sessions. The evening classes meet Monday, Tuesday, Thursday, and Friday from 5:00 pm to 9:00 pm and on Friday from 7:00 am to 3:30 pm for clinical sessions. Course topics include the scope of practical nursing and delegation, asepsis and infection, physical assessment, nursing process, medical calculation, critical thinking, safety and body mechanics, lifespan development, wound care, intravenous/perioperative, mental health, pediatrics, older adult, palliative care, and newborn.
Admission criteria:
Submit a completed application with the $75 non-refundable fee
Have current CNA certification
A high school diploma or GED or at least 8 credit hours from an accredited US college
College transcripts for Anatomy and Physiology
Pass the ATI-TEAS Entrance Exam with a score of 45 percent or higher
Valid State ID or driver's license
A physical exam report signed by a health care provider
Background and sanctions check
Current TB/PPD test
Personal medical insurance
CPR card
Drug clearance – 10-panel drug screen
Professional liability insurance
Two letters of recommendation
A 400-500 word typed essay based on Practical Nursing as a Career.
Tuition is $21,995 plus $225 for the non-refundable registration and application.
Address: 2625 Butterfield Rd., Suite 102E, Oak Brook, IL, 60523
Phone: (630) 705-9999
Fax: (630) 705-1422
NCLEX-PN Pass Rate: 100%