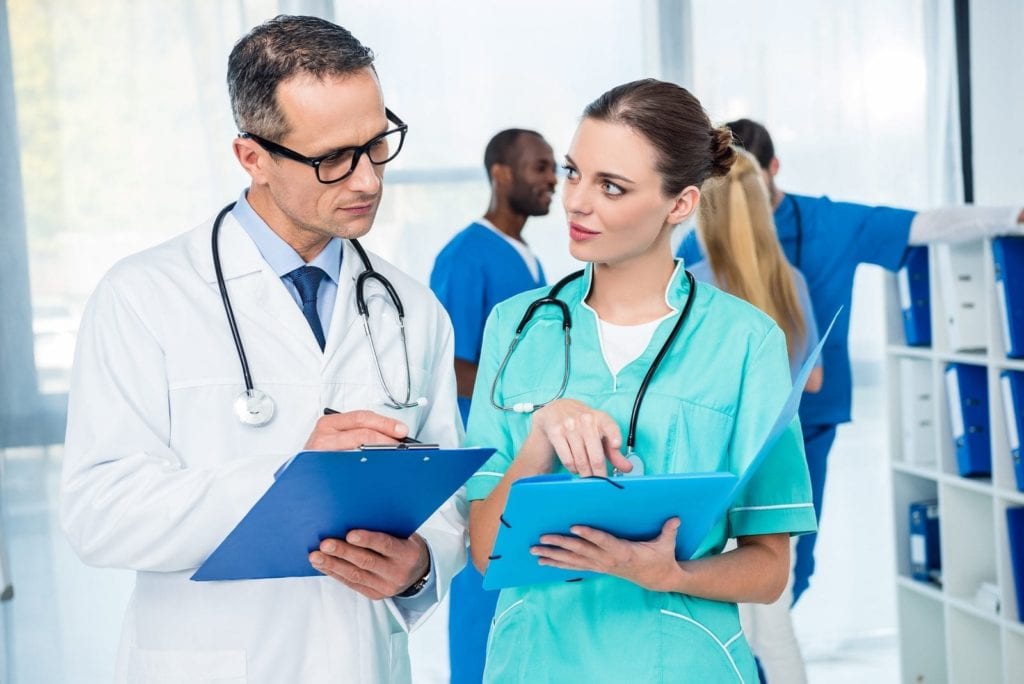 Licensed practical nurses work on the front lines of health care to offer physical and emotional support and care for patients who are undergoing treatment or recovery. They provide critical support to registered nurses and doctors to improve the lives of patients and their families. According to the Bureau of Labor Statistics, there are 724,500 practical nurses in the United States. With an expected growth of 12 percent from 2016 to 2026, the job outlook appears promising. As a point of entry, practical nursing provides an excellent opportunity to get your feet wet in nursing. Preparation requires 11 to 12 months of full-time study in a practical nursing program. Graduates will sit the National Council Licensure Exam for licensure as a Practical Nurse in the State of West Virginia. The program also sets the foundation for those who plan to enroll in a registered nursing program.
As an LPN, you will assist patients, administer medications, provide basic patient care, observe patients, and measure and record vital signs. You will also counsel patients, educate teams, and supervise Certified Nursing Assistants. LPNs are managers of care as they ensure that care plans are perfectly implemented and evaluate its effectiveness. They are advocates who support patients' decisions and protect their rights. Practical nurses must be observant, paying attention to patients' response to treatment and reporting concerns to a registered nurse or physician. As educators, they will update patients daily on their care plans, share the patient's progress with family members, and train and mentor other nurses and CNAs. Although an LPN has an integral role as part of the healthcare team, all duties including the diagnosing and treatment of patients must be performed under the supervision of a registered nurse or physician.
New River Community and Technical College
The Practical Nursing program at New River prepares adults for practice as a nurse in just 11 months. The certificate program covers the essential training that lets graduates pass the NCLEX-PN and provide safe and competent care in various healthcare settings. The curriculum includes classroom and clinical instruction in the areas of medical and surgical nursing, pharmacology, mental health, extended care, maternal-child nursing, nutrition, geriatrics, and issues and trends in practice. The structure of this career ladder program also facilitates the seamless transfer into advanced nursing programs. Students must complete 36 credit hours to earn the Certificate in Practical Nursing. Prerequisite courses include math, composition, and anatomy and physiology theory and lab.
Admission criteria:
Complete the prerequisite courses with a grade C or above
Score a minimum of 65 on the HESI A2 preadmission exam
Have a minimum 2.0 GPA on all prerequisite courses
After provisional acceptance, students must:
Complete a criminal background check
Complete a physical exam with laboratory testing
Complete BCLS for healthcare providers
Obtain drug and alcohol clearance
The first priority for acceptance will be given to students who exceed academic standards. Tuition for the program is $8,042. Books and supplies cost an additional $1,800. Students are also responsible for all screening tests, physical exam, background check, and medical forms.
Academy of Careers and Technology
Academy of Careers and Technology's Practical Nursing program is designed for adults who plan to provide direct care as a Licensed Practical Nurse. The curriculum covers 1350 clock hours of theory and practical instruction to prepare students for success on the NCLEX-PN, licensure by the West Virginia Board of Nursing, and a rewarding career as a provider of care. Graduates will have the competency to assume an entry-level position in a hospital, clinic, or long-term care facility. Areas of study include nursing skills, health science core, growth and development, nutrition, anatomy and physiology, gerontology, pharmacology, psychiatric nursing, entry to practice, medical-surgical nursing, maternal child nursing, and psychiatric nursing. Classes meet Monday through Friday from 8:00 am to 3:00 pm. On clinical days, students will meet from 7:00 am to 3:00 pm. The program admits new students in August. However pre-entrance testing begins in the spring.
Admission criteria:
A completed application
A high school diploma or GED
A passing score on the pre-entrance test (PSB Aptitude for Practical Nursing Exam)
After acceptance to the program:
Attend an interview with nursing faculty
Receive two personal references
Obtain at least 78% on a basic math class
Hold current CPR card
Results of a pre-admissions criminal history record
Provide documentation of medication list, physical exam, negative drug and alcohol screening, negative serology, negative PPD or chest x-ray, a dental exam, Hepatitis B vaccination, and MMR vaccination
Tuition costs $5,530. Books and supplies cost an additional $900.
Website: www.wvact.net
Address: 390 Stanaford Road, Beckley, WV 25801
Phone: 304-256-4615
Fax: 304-256-4674
Email: info@wvact.net
NCLEX-PN Pass Rate: 88.60%
Summers County School of Practical Nursing
The practical nursing program at Summers County School of Practical Nursing is accredited by the West Virginia State Board of Examiners for Licensed Practical Nurses. The curriculum is designed to be completed in 12 months. Admissions occur in October, and the class runs to the following September. Only twenty-two students are admitted each year. Classes meet Monday through Friday from 8:30 am to 3:00 pm. Course topics include the fundamentals of nursing, nutrition, mental health, medical surgical nursing, maternal child nursing, pediatrics, geriatric nursing, pharmacology, growth and development across lifespan, and issues and trends in nursing.
Admission criteria:
Have a high school diploma or GED
Provide three letters of reference
Score above the 40th percentile on the National League for Nursing pre-admission exam
Attend an interview with a member of faculty
Students will be selected based on pre-entrance test scores, background education, and experience in health care.
Address: 116 Main Street, Hinton, WV 25951
Phone: (304) 466-6000
Fax: 304-466-6008
NCLEX-PN Pass Rate: 98.00%
Mercer County Technical Education Center
Mercer County Technical Education Center's practical nursing program includes 1,350 hours of practical training, lectures, presentations, theory, and off-campus patient care experiences to help students develop the skills to work in a medical setting. The program content includes anatomy and physiology, fundamental skills, geriatric nursing, medical and surgical nursing, mental health, nutrition and diet therapy, obstetrics and pediatrics, pharmacology, and success in practical nursing. Students will develop their skills and apply the classroom theory at a few of MCTEC's eight clinical affiliates. Graduates will be eligible to sit the NCLEX for Practical Nursing. Classes meet from August to July. Class times are Monday through Friday from 7:30 am to 2:30 pm.
Admission criteria:
A high school diploma or GED
Pass score on the TEAS test
Drug and alcohol clearance
A background check
Interview with a member of faculty
Tuition for the program is $5,197. Books and supplies cost $1,553.
Address: 1403 Honaker Avenue, Princeton, WV 24740
Phone: 304-487-1551
NCLEX-PN Pass Rate: 100%