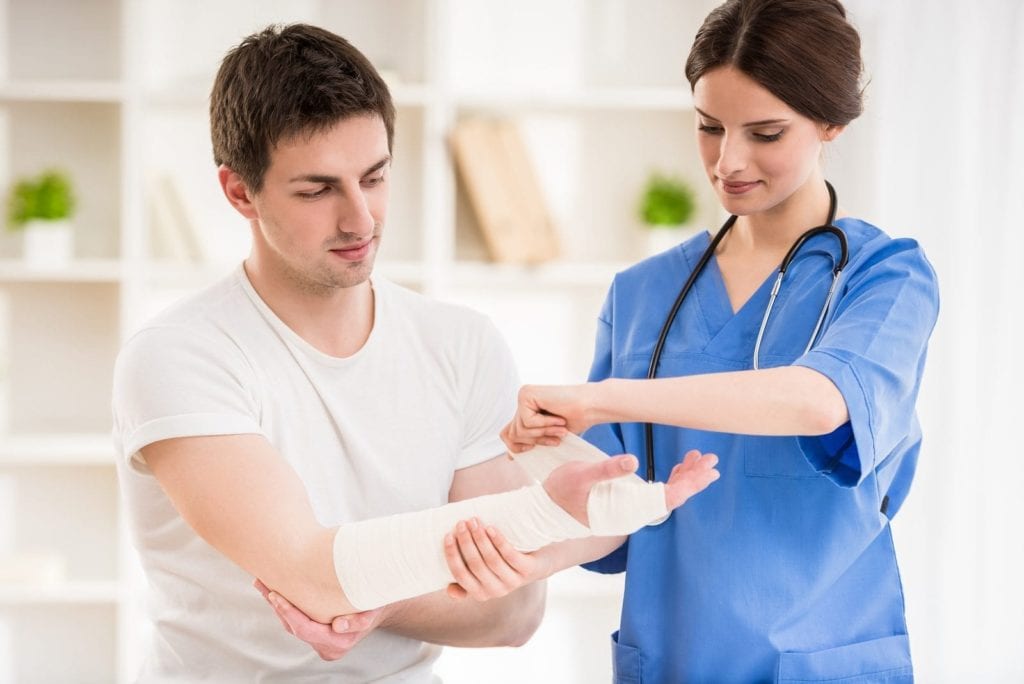 As an essential part of the patient care team, a licensed practical nurse must be competent, efficient, and compassionate to manage the needs of patients who may be in physical and emotional distress. Practical nursing programs generally last one year and give students the preparation they need to work in a complex healthcare environment. Graduates possess the critical thinking, sound clinical skills, and effective communication and decision-making skills to function as a manager of care. Licensed practical nurses work under the supervision of registered nurses and physicians in hospitals, clinics, long-term care facilities, and home health. Practical nursing programs are available at community colleges and vocational schools in Charlotte, North Carolina.
ECPI University
The Medical Careers Institute at ECPI University's College of Nursing prepares practical nursing students for employment as part of a healthcare team, working under the direction of a registered nurse or physician. The curriculum covers a solid foundation in nursing theory, hands-on laboratory, and practice in a clinical learning environment to ensure students become competent practical nurse practitioners. The 48-credit hour curriculum includes instruction in anatomy and physiology, dosage calculations, foundations of nursing, pharmacology, medical/surgical nursing, acute nursing care, nursing leadership and normal life span. Graduates will be eligible to apply for the NCLEX-PN to become a Licensed Practical Nurse and deliver care to clients and families, perform nursing treatments, and communicate effectively with clients, their families and members of the healthcare team. Sessions amount to 1,736 contact hours covered over a period of 60 to 90 weeks.
Admission criteria:
Attend a personal admission interview
Submit a completed Application for Admission and sign the Enrollment Agreement
Provide official high school diploma transcript or official GED test scores
Take and pass the Admissions Assessment with a satisfactory score
Complete a criminal background check and drug screen
Tuition for the program is $35,865 plus $1,559 for books and supplies.
Address: 4800 Airport Center Parkway #100, Charlotte NC 28208
Phone: 704-751-4558
Toll Free: 844-611-0624
Fax: 704-399-9144
NCLEX-PN Pass Rate:48%
The College of Davidson and Davie Counties
The Practical Nurse Education program at Davidson and Davie Counties gives students the foundational knowledge and skills to care for children and adults and pursue further study to become registered nurses. The curriculum incorporates sessions for students to assess, plan, implement, and evaluate nursing care. Course modules are General Psychology, Practical Nursing I, Basic Anatomy and Physiology, Developmental Psychology, Practical Nursing II, Writing and Inquiry, and Practical Nursing II. The program delivers 44 credit hours. Graduates are eligible to apply to take the NCLEX-PN to become a Licensed Practical Nurse and provide evidenced-based care, work with interdisciplinary teams, utilize communication and information technology, and demonstrate legal and ethical behaviors in practice. The duration of the program is 12 months.
Admission criteria:
Complete the process for admission to DCCC
Demonstrate English and mathematics "college readiness" level through the completion of college-level English/math courses or completion of waiver credit for co-requisite courses
Submit official transcripts the Admissions Office or provide evidence of completing a high school diploma
Schedule and take the ATI TEAS test at DCCC or another site and achieve a minimum score of 62
Meet with an admission representative to complete a nursing admissions review
Must have current CPR/First Aide certification
Must have current Nurse Aide certification
Complete a satisfactory background check and drug screen
Submit a physical exam report. Documents must be submitted to CastleBranch and signed by the licensed medical provider. It must include immunization records for MMR, Varicella, Tdap, TB screening, and Hepatitis B
The Practical Nursing Diploma costs $3,344 for tuition plus $2,000 for books and supplies.
Address: 297 DCC Road, Thomasville, NC 27360
Phone: 336-249-8186
NCLEX-PN Pass Rate: 100%
Gaston College
Gaston College accredited (ACEN) practical nursing diploma program prepares students for practice by providing the knowledge and clinical skills they need to care for children and adults. Graduates are eligible to take the NCLEX-PN with the Board's approval to become licensed practical nurses capable of working as a part of the interdisciplinary team in clinics, physicians' offices, rehabilitation centers and home health care. The curriculum comprises of 44 credit hours of theoretical and clinical courses. During the supervised clinical experience, students will participate in client assessments, analyze collected data and recognize the relationship between the data accumulated and the patient's health status, apply basic communication techniques during client interviews, participate in therapeutic and preventative procedures, record and report assessment information, demonstrate active learning, and much more. The deadline for completing all the application requirements is March 1 yearly.
Admission criteria:
Meet all the requirements for general admission to Gaston College
Complete Residency Determination for in-state tuition
Attend an information session
Submit official transcripts
Demonstrate readiness for College level reading and math through a High School GPA or 2.8 or higher, an associate or bachelor's degree from an accredited institution, or satisfactory scores on ACT, SAT, GED, COMPASS, ASSET, or ACCUPLACER
Attend a Practical Nursing information session
Take and pass the ATI TEAS exam with a minimum composite score of 60
Must have a minimum grade C on all required college courses listed as part of the nursing major
Submit a completed Health and Human Services Student Medical form demonstrate satisfactory physical and emotional health
Complete a satisfactory criminal background check and urine drug screen
Must have professional liability insurance
Tuition is $3,344 for resident students. Additional costs include fees, textbooks, uniforms, background check, liability insurance, ATI TEAS, immunization, and CPR certification.
Address: 7220 Wilkinson Blvd., Belmont, NC 28012
Phone: 704-825-3737
NCLEX-PN Pass Rate: 100%
South Piedmont Community College
The Practical Nursing Diploma Program is 44 credit hours. It includes theoretical coursework in the classroom along with hands-on practice in a simulated lab. Instructors will use lectures, demonstrations, multi-media, and interactive discussions to deliver course content. Students will participate in a clinical externship to reinforce the skills learned on campus. Course modules are Writing and Inquiry, General Psychology, Anatomy and Physiology I, Anatomy and Physiology II, Practical Nursing I, Practical Nursing II, and Practical Nursing III. It is strongly recommended that students complete the General Education courses before commencing the nursing courses. The nursing courses can be completed in three semesters. Admission to the practical nursing program at Piedmont is a two-step process.
Admission criteria:
Complete the requirements for general admission to SPCC
Submit official high school transcripts or equivalent transcript
Submit official transcripts for all college courses completed
Take and pass the placement test
Must have taken or are eligible to take ENG 111 and BIO 168
Must earn a minimum grace C or higher on the general education courses
Must have a GPA of 2.5 or higher on general education courses
Must have current NC Nurse Assistant I certification
Take and pass the ATI TEAS with a minimum score of 65
Submit a completed application to the Practical Nursing Program
The estimated total cost of the program is $6,130.10 for resident students. It includes tuition, textbooks, uniforms, lab fee, liability insurance, health course fee, testing fee, watch with second hand, stethoscope, graduation fees, online course fee, and class pin.
Rowan-Cabarrus Community College
The Practical Nursing program at Rowan-Cabarrus Community College delivers knowledge and skills that adults need to provide holistic care as part of the nursing team. Theory and practical coursework build on the domains of healthcare, nursing, and the holistic individual. There will be an emphasis on safe and personalized care, informatics, and quality improvement. Program graduates will be eligible to take the NCLEX for licensure as a Licensed Practical Nurse.
Admission criteria:
Complete an Application for Admission to RCCC College online
Place into college level Math (Tier 1 & 2) and English (Tier 1 & 2) or have completed college level coursework in Math and English
Attend a required group Nursing Admission Advising Session
Meet with an assigned health programs advisor
Meet the biology and chemistry competencies
Provide documentation of completing NC state approved CNAI course or equivalent and have a current listing on the NC Nurse Aide I Registry
Provide satisfactory ATI TEAS or Kaplan test scores
Must have current CPR/AED Certification – BLS Healthcare Provider level
Attend Orientation Day/Readiness for Nursing
Complete a satisfactory criminal background check and drug screen
Provide documentation of physical exam and immunization status
The estimated cost of the program is $4,644. It includes tuition, activity fee, liability insurance, nursing program fee, books, technology fee, and graduation fee.
Address: 489 N. Cannon Blvd., Kannapolis, N.C. 28081
Phone: 704-216-7222
NCLEX-PN Pass Rate: 100%