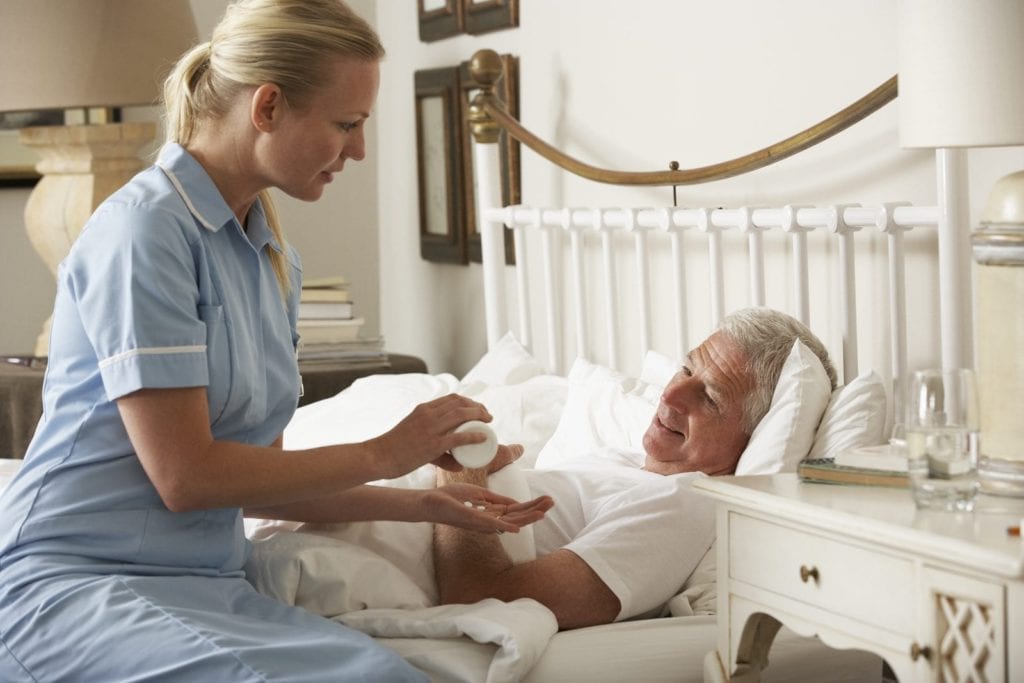 Licensed practical nursing is a high-demand and rewarding career. LPNs are an indispensable member of the health care team. They work closely with patients, recording their vitals and observing them for any adverse reactions to medications and treatments and reporting any change in status to senior members of the patient care team. LPNs work under the supervision of registered nurses and doctors, and in some settings, they act as supervisors to certified nurse assistants and orderlies. The in-demand career is expected to experience a 25 percent growth in opportunities through 2022, which is faster than the average for all occupations. It's an exciting time to study nursing as the demand for trained individuals continues to grow. Licensed practical nursing is also a great way to get started in the profession, as you can later enroll in a bridge LPN-to-BSN program and earn a living while working to become a registered nurse. If you have a sense of compassion and feel a genuine need to help and nurture others, then nursing might be the career for you.
Southeastern College – St. Petersburg
Southeastern College prepares practical nursing students for an entry-level position in the healthcare industry. Instructors use classroom instruction and clinical experiences to familiarize students with the procedures and technical skills related to bedside care. Applicants must have a high school diploma or GED and pass the entrance exam for admission to the college. For the nursing program, candidates must submit an application, pass the nursing pre-entrance exam, provide TB test results or a chest x-ray, complete a 10-panel drug screen, provide documentation of a health exam and current immunization, receive abuse registry clearance, and complete an interview with the director of the nursing program. During the 1350-hour course, students learn how to take vital signs, observe patients and report adverse reactions, collect samples for testing, record food, and fluid intake and output, perform routine tests, and feed patients. At the program's conclusion, graduates will have all the educational requirements to earn a Diploma in Practical Nursing and are eligible to take the NCLEX-PN with the Board's approval. Tuition for the 12-month, 52-credit program is $26,394 plus $3,132 for books and supplies. Financial aid is available through federal loans.
Website: https://www.sec.edu/
Address: 11208 Blue Heron Blvd, Suite A, St. Petersburg, FL
Phone: (727) 576-6500
NCLEX-PN Pass Rate: 28.57%
Galen School of Nursing
Graduates of the practical nursing program at Galen College of Nursing have the confidence and capability to face the challenges of working as a licensed practical nurse. The program is 1,440 contact hours covered over a period of 12 months full-time or 21 months part-time. Classroom instruction includes a series of interactive learning strategies to encourage learning. Administrators update the curriculum constantly to reflect the most current trends in practice. Small class sizes, to ensure a small student-to-teacher ratio, give students access to faculty, greater interaction, and personalized instruction. Clinical experiences begin early and take place in multiple real-world settings where students care for patients under the supervision of Galen faculty. Students also spend a sizeable amount of time developing technical skills in the campus learning laboratory. Prospective students are encouraged to meet an admissions specialist to identify the right nursing degree. Since classes fill up quickly, it is vital to apply early. Basic requirements are a high school diploma or GED, ability to communicate effectively in English, and ACT/SAT scores no older than five years. Clinical requirements include immunization (TD, MMR, varicella, Hepatitis B, and influenza), a physical exam, health history, drug testing, criminal background check, and CPR certification from the AHA. The cost of attendance is $21,312 including books, clinical supplies, tuition, uniforms, immunization, and CPR.
Pinellas Technical Education Center – St. Petersburg
The objective of the practical nursing program at PTC is to educate and empower students with the ability to care for people of all cultures and varying stages of health. Students are prepared to take the NCLEX-PN to practice as licensed practical nurses. The curriculum combines classroom and clinical instruction that covers basic health care and safety procedures, interpersonal skills, legal and ethical responsibilities, infection control, body structure and function, human growth and development, nutrition, medical, surgical, and oncology nursing, medication administration, and pharmacology. During the final stages of the program, students learn geriatric and pediatric nursing, obstetrics, and biological, psychological and social support. PTC offers an online, hybrid option, which is similar to the traditional campus program. The program's 675-hour theory component is delivered online with the occasional scheduled campus-based activity. The 675-hour clinical component requires students to practice in medical facilities in the local area. Clinical sessions are scheduled in the evening and weekend hours as much as possible. Applicants must have a high school diploma or GED and passing scores on the Test of Essential Academic Skills (TEAS). A criminal background check, immunizations, drug screen are required for clinical practice. The total cost of attendance includes $5,035 for tuition plus $2,335 for books and supplies.